We use affiliate links. If you buy something through the links on this page, we may earn a commission at no cost to you. Learn more.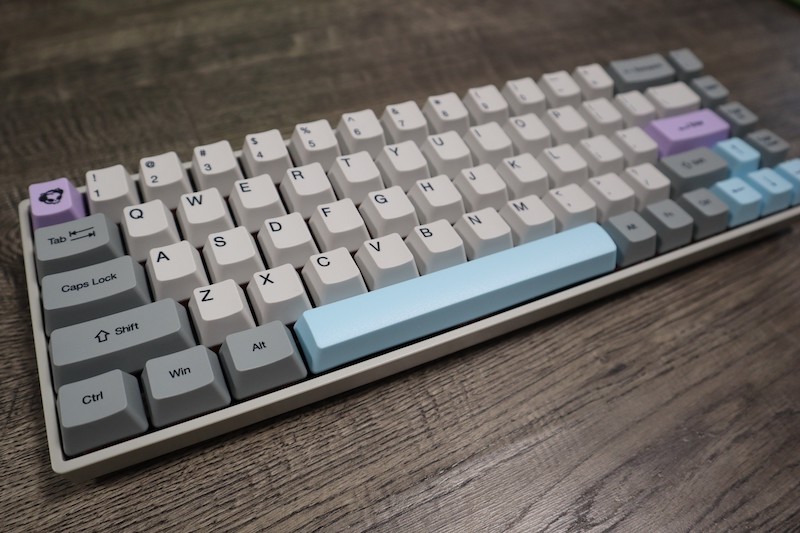 REVIEW – The Epomaker AKKO 3068 Silent Bluetooth 5.0 keyboard is a fusion of the wireless Bluetooth combined with a nostalgic design.  On paper, this ticks all the boxes for what I want in a mechanical keyboard these days – design (highly subjective to your tastes though, if you love RGB gaming flashiness you'll want to move on): Bluetooth wireless, battery life, size, and typing experience.  I used this for work for several weeks, and I'll now dispense with my judgments.
What is it?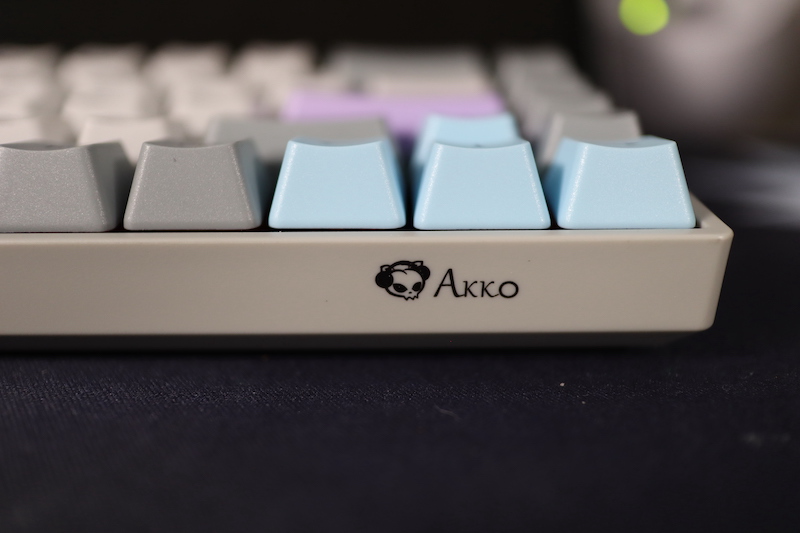 The Epomaker AKKO 3068 Silent Bluetooth 5.0 mechanical keyboard is a 68-key customizable and stylish compact wireless keyboard.  It can be selected with one of four different Gateron switches depending on your preference (Pink, Orange, Green, and White).   The review unit I was sent had Orange switches preinstalled.
What's in the box?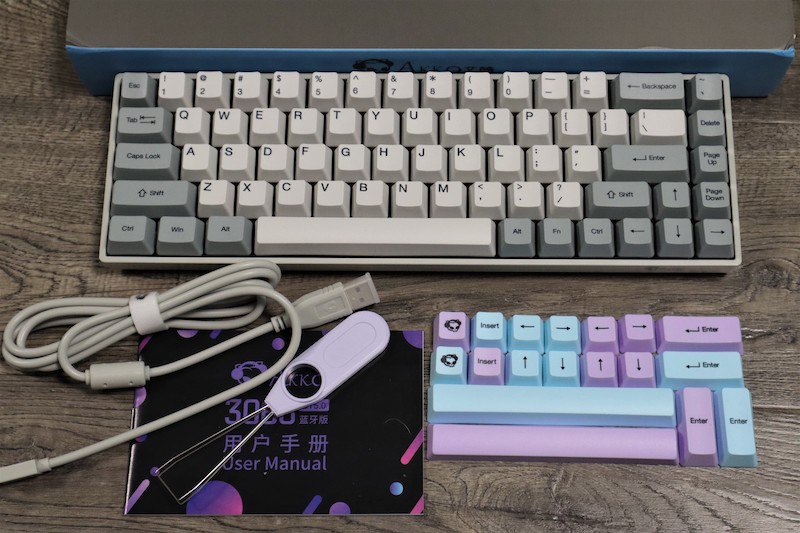 In the box is the Epomaker AKKO 3068 Silent Bluetooth 5.0 keyboard itself, a USB-A to USB-C charging cable, instruction manual, keycap puller, and "novelty keycaps".  I especially love the Akko-logo alternate Escape keys.
Hardware specs
Dimensions: 312 mm x 102 mm x 40 mm (12.3 inches x 4 inches x 1.6 inches)
Weight: 0.59 kg (1.3 lb)
Material: PBT
Keycaps: PBT, OEM profile
USB connection: USB-C
Multimedia and Function keys: yes
Backlight: white
Macro: yes
Design and features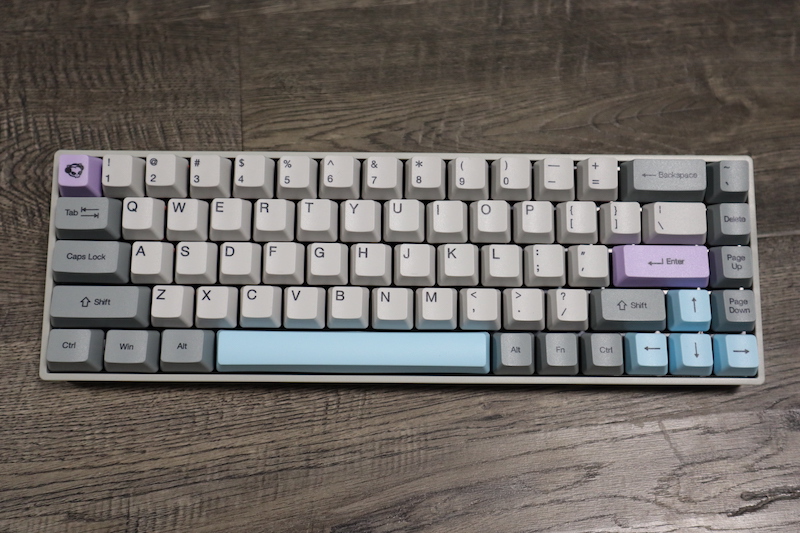 The Epomaker AKKO 3068 Silent Bluetooth 5.0 keyboard is a compact keyboard with full-sized keys.  The layout is pretty standard, with the function key row at the top removed and the usual cluster to the right of the main keys rearranged.  If you're not used to this layout (like me), it will take a bit of getting used to.  The main typing area doesn't have any surprises though, so in my daily work it was an easy transition.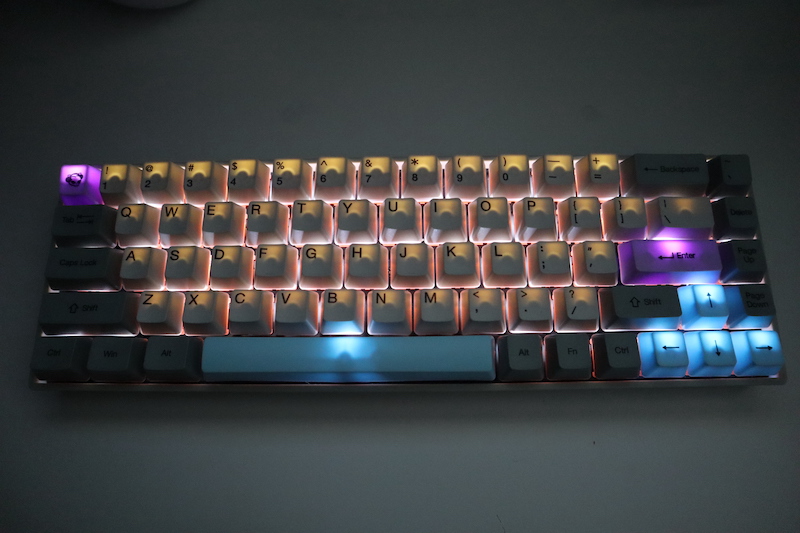 The backlighting worked well in a dark room though it's not as even as I prefer. I can easily read most of the keys, but the darker grey keycaps aren't translucent so they were hard to read in dim lighting.  Apparently, the LEDs are customizable on this model, but I didn't have alternate LEDs laying around to test with so I didn't.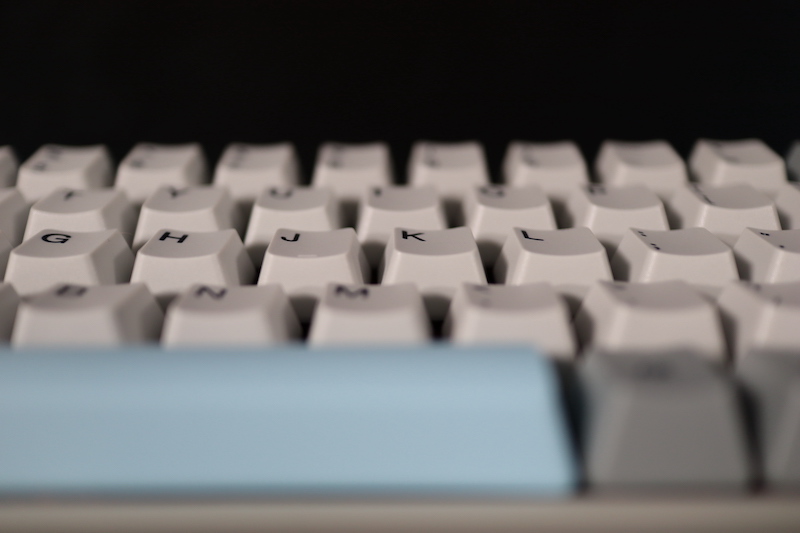 The keycaps themselves seem to be high quality.  I noticed no signs of wear after several weeks of testing, they seem like they'd hold up well for a long time.  The gentle curve of the keys makes touch-typing easy.  I was able to achieve my usual 90+ wpm on this keyboard.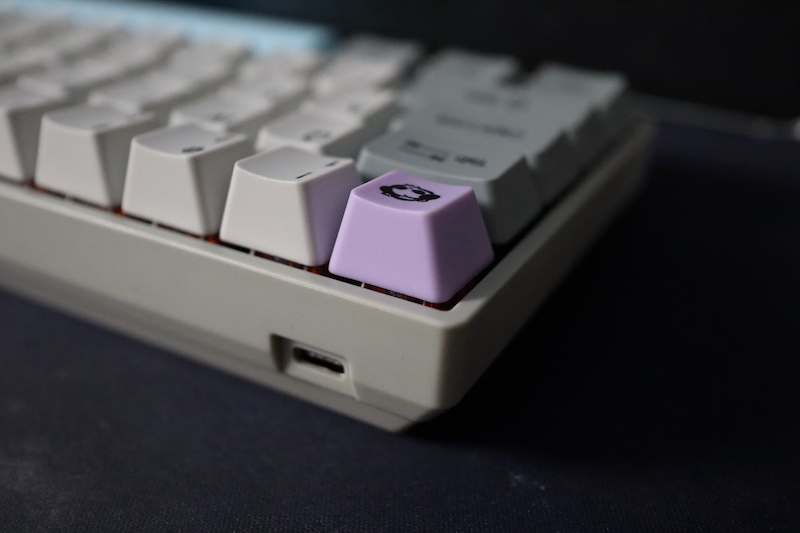 Pictured here is the USB-C connector, I'm glad it's not another micro-USB connector like so many other peripherals these days.  The included USB-A to USB-C cable seems to be good-quality, but I used a USB-C to USB-C I already had with my work Macbook for charging.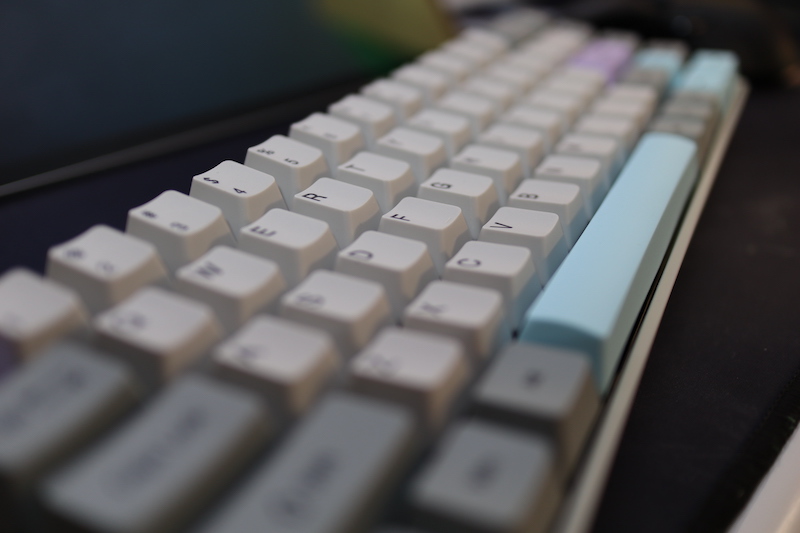 Overall, I absolutely love the design of the Epomaker AKKO 3068 Silent Bluetooth 5.0 keyboard.  It reminds me of the keyboard I first learned BASIC on as a child on the family IBM 8088 computer.
Installation and setup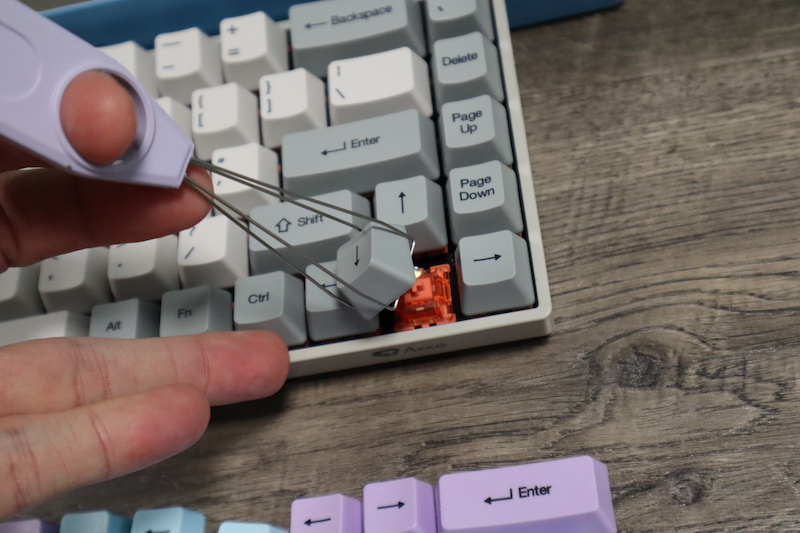 Part of the beauty of customizable mechanical keyboards is the ability to swap out keycaps, and the first thing I did was swap out some of the grey keys for some pink and blue alternates that are included with the Epomaker AKKO 3068 Silent Bluetooth 5.0 keyboard.  The switches are standard size, so you can use most other standard keycaps as well.
Bluetooth setup was easy, as soon as it was powered on it showed up as a device to connect to on my work Macbook.  The keyboard supports 4 different "profiles" with macro keys to select each one, so you can easily switch connections to different devices.  I tested with both a Macbook and a Windows 10 laptop, and the Epomaker AKKO 3068 Silent Bluetooth 5.0 keyboard worked great on both.  No drivers or software was needed, everything worked plug-and-play for me.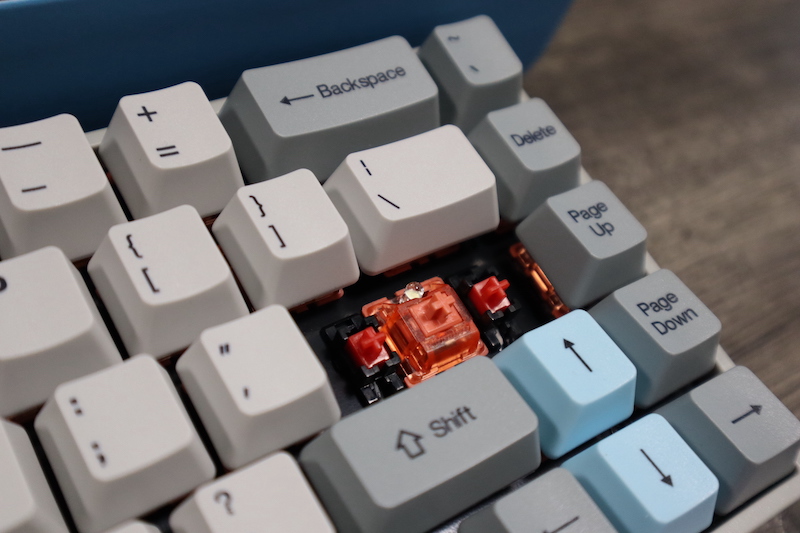 At the top of the switch you can see the LED, Epomaker advertises these as customizable.  The Gateron Orange switch is supposed to feel like it's a hybrid of a Cherry MX black and red switch.  It has a tactile bump, seems like it actuates near the top of the keypress, and isn't too loud compared to clicky mechanical switches like Cherry MX Blues.  These switches were great for me for both productivity and gaming.  Before this review I hadn't heard of this switch variant yet, but I'm a believer now.
Above is a short video showing different backlighting modes.  These are built-in and can be controlled by key combos (speed, light intensity, and pattern are all changeable).  I went 2 weeks without charging the keyboard without the backlighting on (but wasn't using it 8 hours a day, probably more like 4).  Epomaker advertises 90 hours standby without backlight and the keyboard powers itself off when not in use, so I would expect this to make it through a work week without issues.  It does operate while charging so you can just leave it plugged in (but I'm not sure why you'd buy a bluetooth keyboard if you're just going to leave it plugged in).
This video shows key travel and noise levels of the keyboard in use.  The 68 key layout results in a very small keyboard that still has the most commonly used functions for me outside the letter and number keys.  I've seen some even more compact options, but I use arrow and page up/down keys too much to go much smaller than this.  I love how tiny this keyboard is without making painful compromises. Once I learned the multimedia and function keys (the manual does a good job of explaining these) I was good to go.
What I like
Reliability (zero issues during test period)
Battery life
Design
What I'd change
Better/more-even LED illumination
Macro/shortcut info on back of keyboard, during the learning period I had to hunt for the manual a few times to figure out volume up/down or bluetooth profile switching
Final thoughts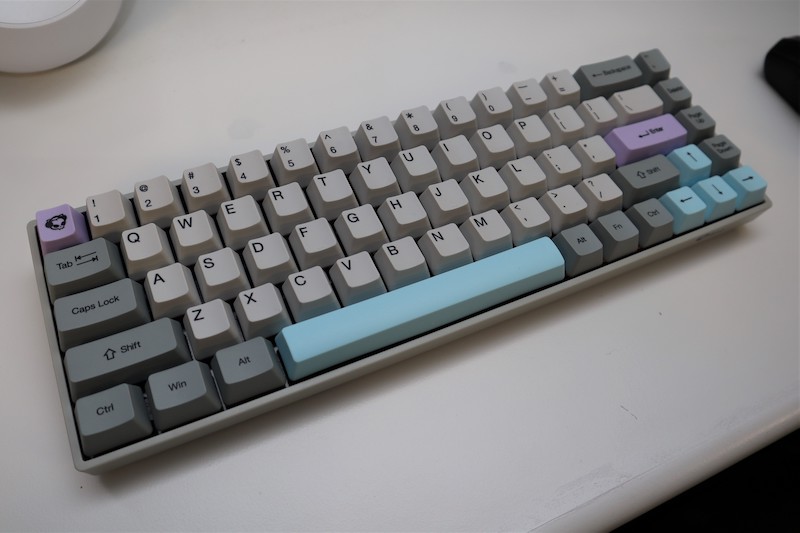 I've used various small wireless keyboards at my workstation, but the Epomaker AKKO 3068 Silent Bluetooth 5.0 keyboard is the best I've tried so far.  For me, it gives me a very small keyboard that still supports all the functions I need without resorting to too many memorized combo keys.  The design ascetic tickles me in all the right ways, the Gateron Orange switches and "OEM" keycaps are great.  Add no-issues reliability and good battery life, and for me this becomes pretty much the perfect keyboard.
Update 6/5/21
The Epomaker Akko 3068 silent Bluetooth mechanical keyboard is a product I still use every day. Battery life is a marathon, and comfort and typing performance among the best I've used. Also, it looks great. I haven't had any issues or problems in months of use now.
Price: $109.99
Where to buy: Epomaker and Amazon
Source: The sample for this review was provided by Epomaker