We use affiliate links. If you buy something through the links on this page, we may earn a commission at no cost to you. Learn more.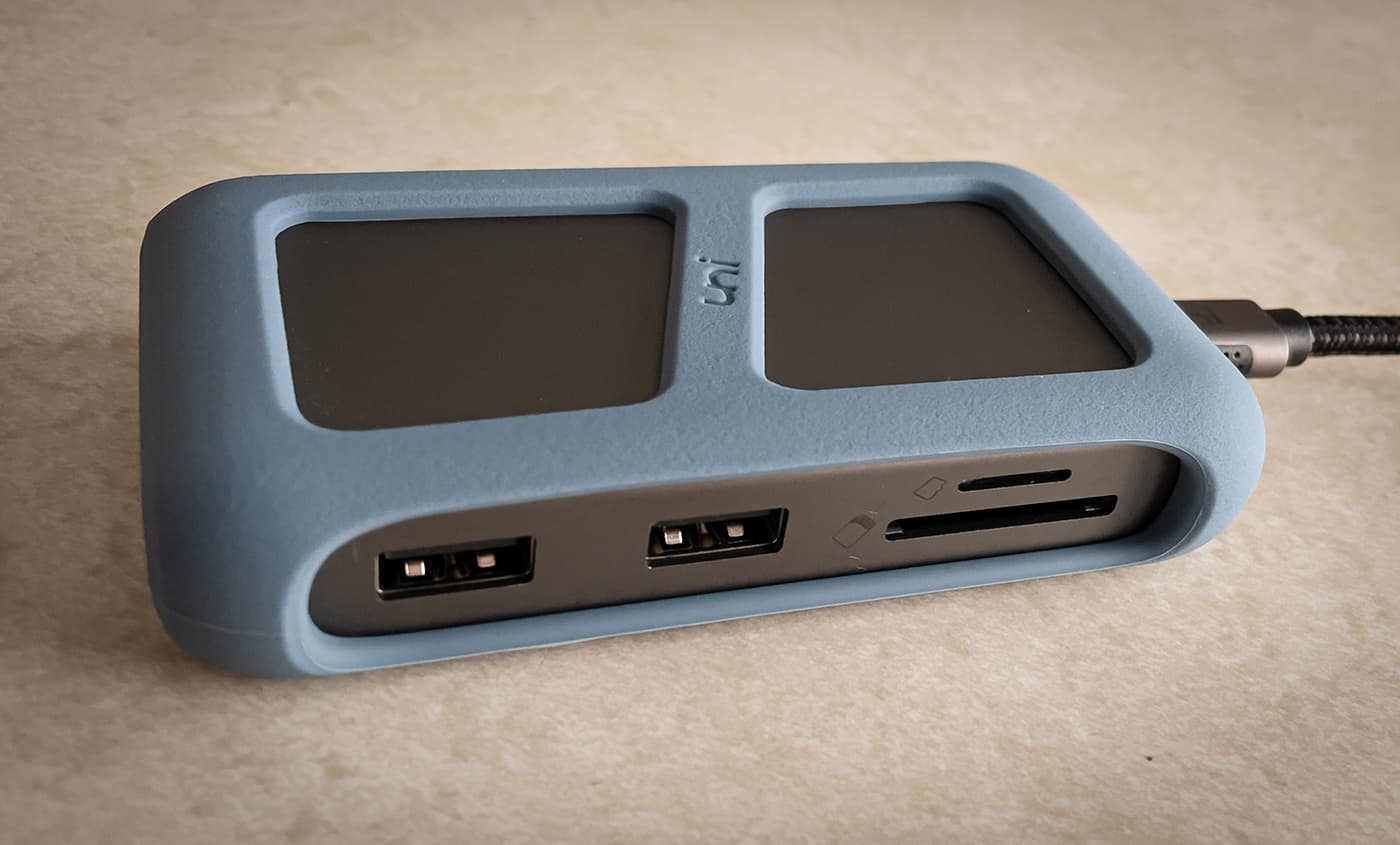 REVIEW – It seems like many modern laptops are going all-in on USB-C, leaving a multitude of older USB devices, adapters and dongles with nowhere to plug. Enter an absolutely necessity for this brave new tiny-ported world, the uni USB-C 8-in-1 Hub.
What is it?
The uni USB-C 8-in-1 Hub is a small external device that connects via USB-C to a desktop, laptop or tablet and offers a multitude of connections like USB 3.0, standard SD, MicroSD, HDMI and ethernet.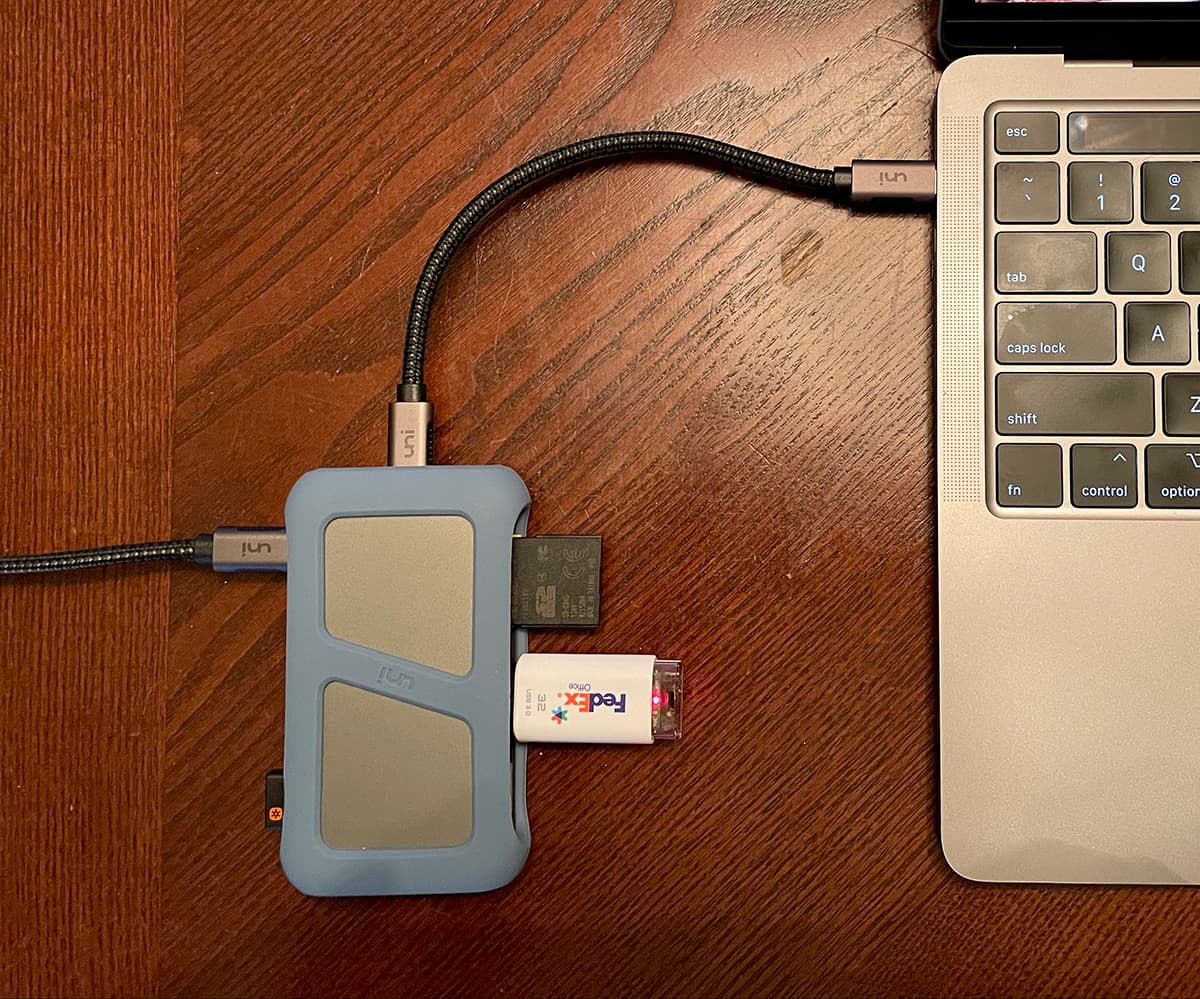 What's in the box?
8-in-1 hub
8″ USB-C to USB-C connector
Hardware specs
Size: 4.3″ x 2.3″ x 0.9″
Weight: 3.6oz
Connector length: 8.7″
2 x USB 3.0 ports (data transfer up to 5Gbps; charging up to [email protected])
1 x SD card slot (speed up to 104MB/s)
1 x MicroSD card slot (speed up to 104MB/s)
1 x USB 2.0 port (data transfer up to 480Mbps; charging up to [email protected])
1 x Ethernet port (up to 1Gbps)
1 x HDMI port (resolution up to [email protected])
1 x USB-C Power Delivery (up to 100W, no data transfer)

Note: must use included uni hub connector

Removable rubber case
Design and features
Straight away, let me just tell you that I have a love/hate relationship with Apple. I love their products, for the most part, but it seems like every one of their devices have something that is abysmally broken. I found that out this year when I received a 13″ MacBook Pro to use while working from home and discovered that it has literally 3 ports… one headphone jack (yay?) and 2 USB-C ports. And one of those 2 ports is needed for charging.
So being left with one single free USB-C port, I was very quickly forced to pop onto Amazon and buy a couple USB-A to USB-C adapters, to the tune of $14 or so.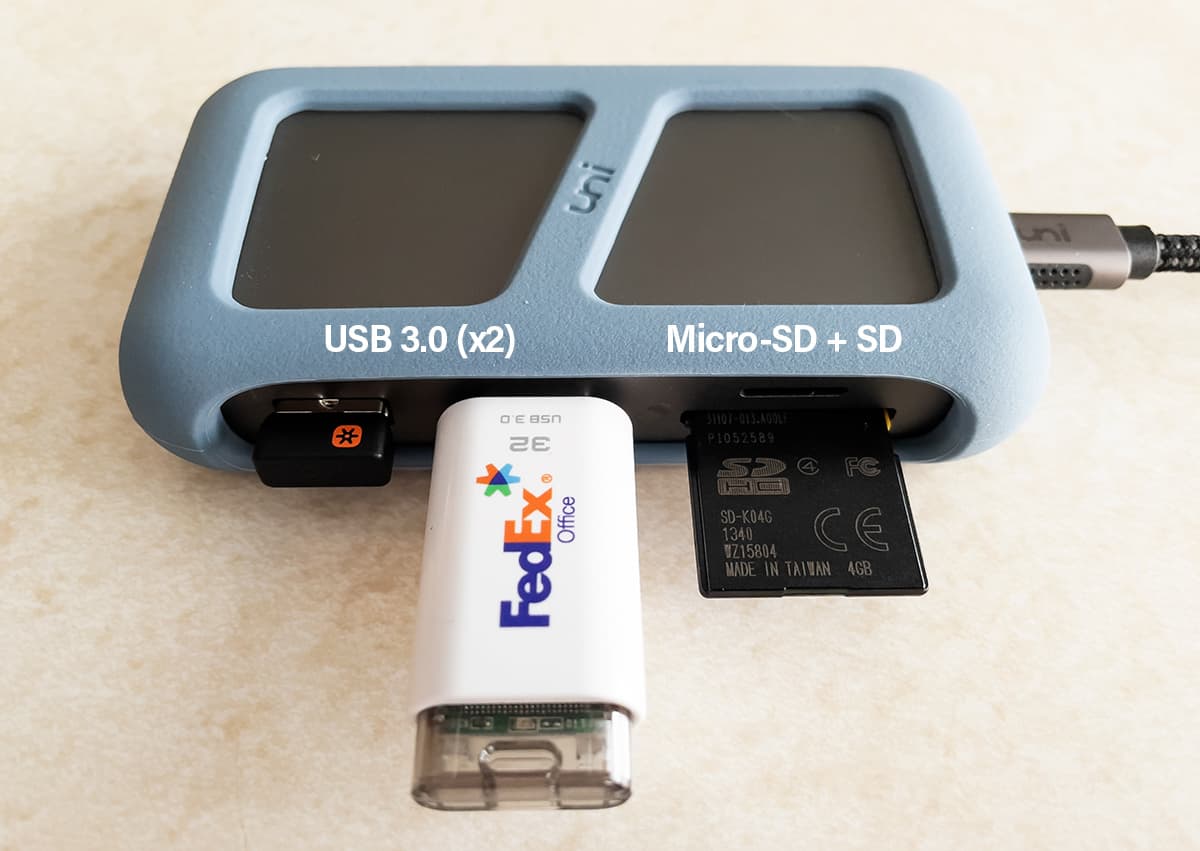 The thing I hated most? It was a necessity. The only peripheral I had, and still have, is a seldom-used USB security key for 2-factor authentication. My camera's SD cards, my SD card adapter, USB webcam, lightning cables and even my Logitech mouse dongle were instantly rendered useless until I got those adapters in the mail.
And even then, using those adapters created an inch-long dongle out of the side of my laptop and barely fit in next to the power cable. To say it was sub-par would be an understatement.
Thank goodness for this uni 8-in-1 hub. Such a breath of fresh air to move all my adapters and cables over to this small, capable device.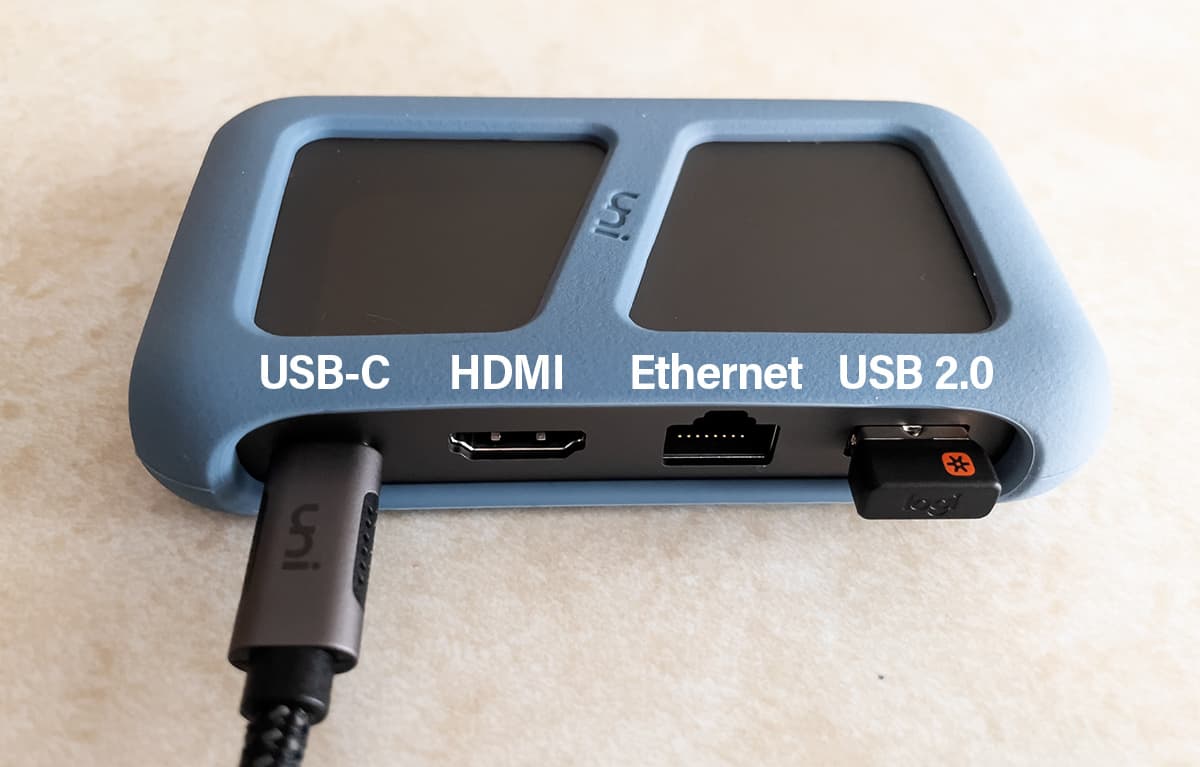 There isn't a bit of wasted space on the hub. It's about the size of a deck of cards, encased in a rubber bumper that serves as ruggedized protection and to elevate it slightly above the desk surface to keep it cool. Since it handles both the charging and the data transfer, it can get a little warm to the touch, so having that rubber casing is nice to keep it from having the metal resting fully on my table's surface.
Everything I tested worked as expected. I tried USB 3.0 thumb drives, standard SD cards, a MicroSD card, and older legacy USB thumb drives … all performed well. I even hooked up my laptop to a widescreen monitor via HDMI and it instantly connected and acted as a second display.
And if you want to use an ethernet connection with your laptop, the uni Hub has one of those ports as well. All while feeding up to 100W of power to your device.
While this Hub is connected to my computer, I still have one USB-C port available, since the USB-C port on the Hub itself is receiving power from the AC adapter.
The Hub comes with an 8″ USB-C to USB-C cable that's a nice size for close use with a laptop, but can be substituted for a longer cable for storing the Hub in a more permanent spot on your desk and feeding the cable to your laptop or desktop.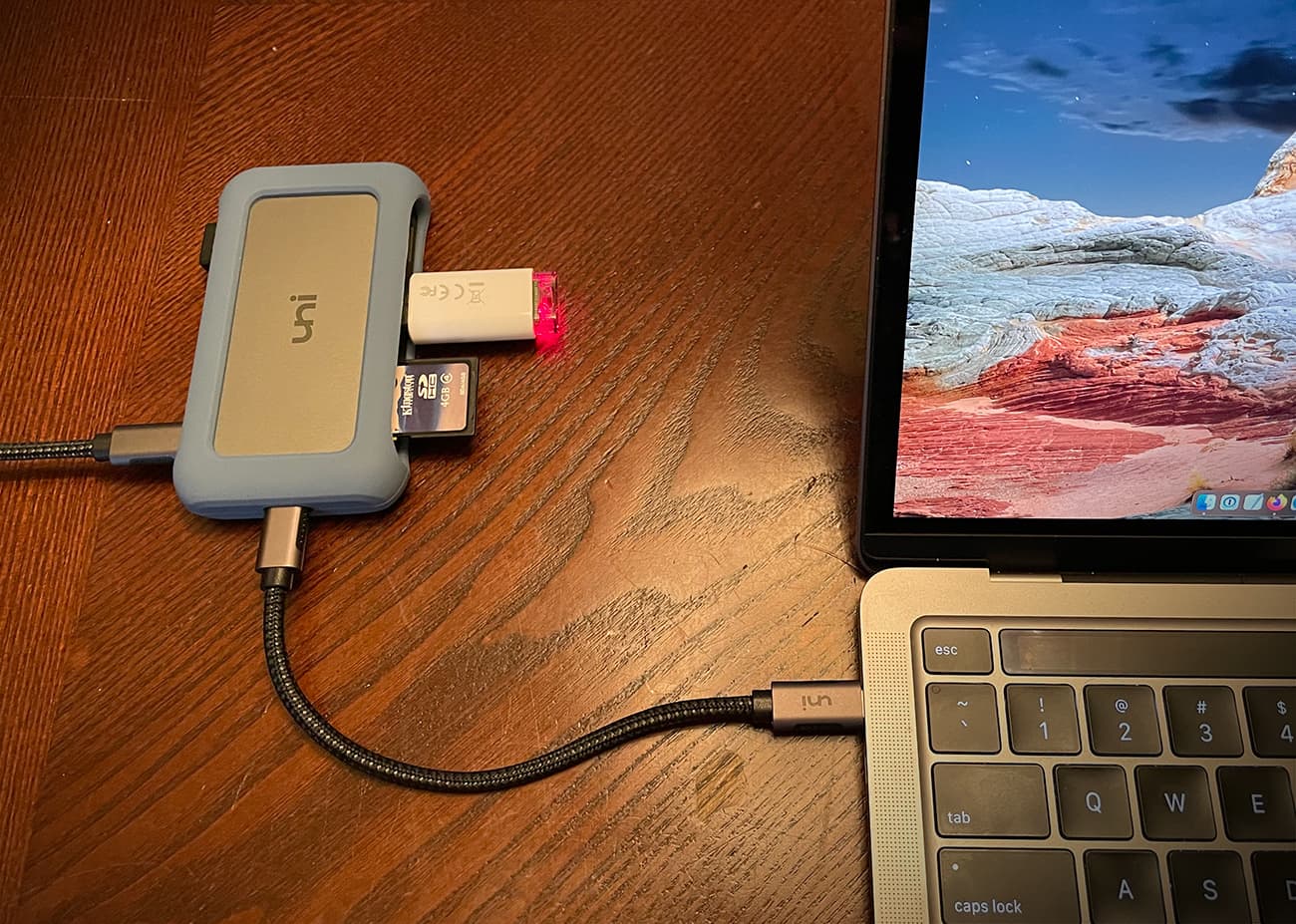 Honestly, if you have a newer laptop, you're probably going to need to get a Hub like this for your legacy devices that require older ports, and if you want to get ethernet speed or use an external monitor. The uni Hub can handle all of that, and at a supremely affordable price. You can't go wrong.
What I like
Extremely compact
All the ports you could want
Can power my laptop as well
What needs to be improved
Final thoughts
I really can't tell you how nice it was to have quick and easy access to non-USB-C accessories, again. Owning a laptop by a company that embraces an all-USB-C future makes many current peripherals (and storage cards) difficult or impossible to use. Thankfully, the smart design and affordable price of uni's hub make it absolutely invaluable if not necessary.
Price: $39.99
Where to buy: The uni 8-in-1 USB-C Hub can be purchased directly from Amazon.
Source: The sample of this product was provided by uni.