We use affiliate links. If you buy something through the links on this page, we may earn a commission at no cost to you. Learn more.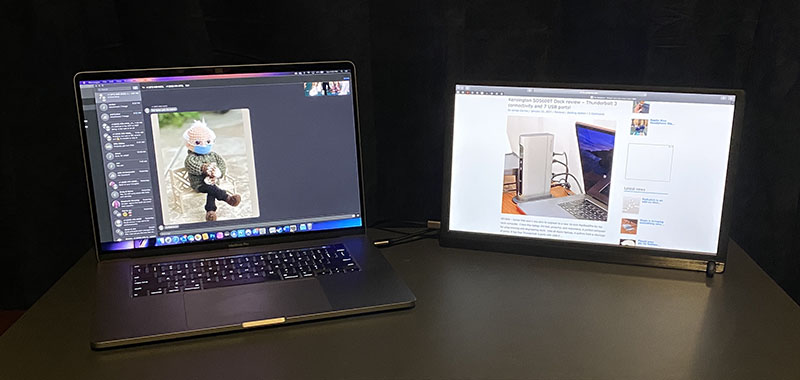 REVIEW – For those of you who need a second monitor on the fly for greater productivity, better gaming on your Switch, or just stream your favorite show on the side, there are a surprising number of options in the world today as compared to just a year ago. Back when we left our homes, I could be on travel for weeks at a time. And let's face it, when you're used to several large monitors or a single massive one, a 13″ (or any sized) laptop screen can feel pretty dang cramped. To help with this, the folks at Geoyeao have introduced the EVP-304, a nicely sized USB-C enabled portable monitor engineered to provide extra screen workspace while on the road. Let's take a look. 
What is it?
The Geoyeao EVP-304 is a 15.6″ 1080p USB-C enabled portable monitor engineered to provide extra screen real estate where and when you need it.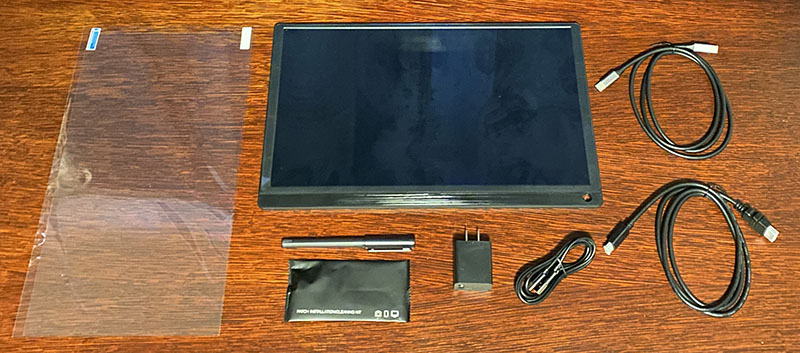 What's in the box?
EVP-304 16″ 1080p portable monitor

HDMI to Mini HDMI Cable

Type C to Type C Cable

Type C to USB Power Cable

5V 2.4A adapter

Screen Protector

Product Manual
Hardware specs
Screen Size: 15.6″
Screen Type: 1080p IPS HDR display
Refresh Rate: 60 Hz
Response Time: 5ms
Dimensions: 14.75″ x 9.1″ x 0.4″
Weight: 1.65 lbs
Viewing Angle: 78° wide
Color Gamut: 72% sRGB 
Interface Ports: mini HDMI, Type-C (2 in 1 power supply and data transmission), Type-C (Charging), micro USB port, and 3.5mm headphone port.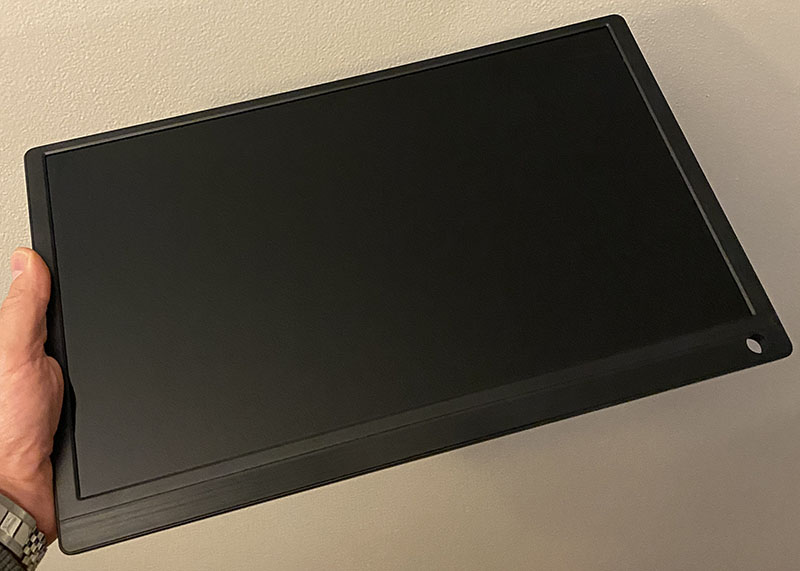 Design and features
The Geoyeao EVP-304 is a 15.6″ 1080p USB-C enabled portable monitor. The display is an "A-grade IPS" full-HD 1920 x 1080p resolution screen with vibrant HDR color, 178 degree viewing angle, and 4 low blue light modes (to prevent eye fatigue and filter out harmful blue light). It measures 14.75″ x 9.1″ x 0.4″ in volume and weighs in at a little over a pound and a half. 

The EVP-304 is approximately the size of my 16″ MacBook Pro display. When I first saw it, the EVP-304 reminded me of a laptop lid you ripped off and used as a second screen.

The left side has speaker holes, mini HDMI, USB-C (power and data), and 3.5mm headphone ports.

The right side has the power button, menu controller, USB-C (power) and another speaker.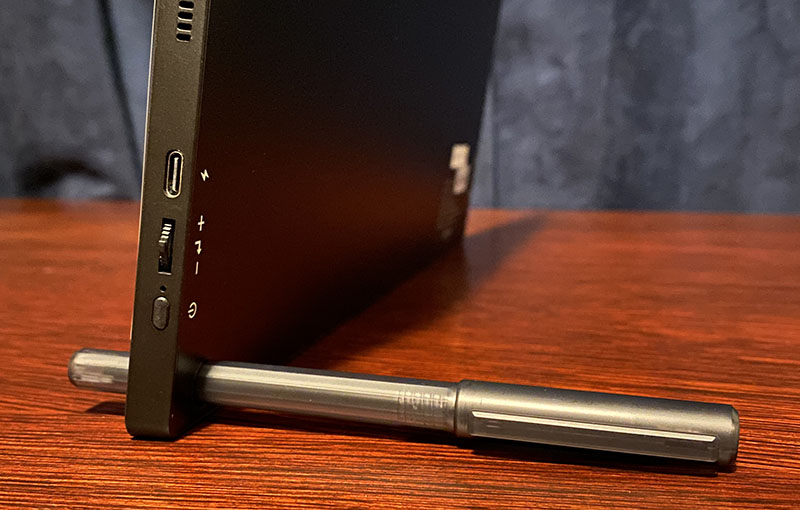 The EVP-304 has a hole in the lower right corner (when used horizontally) that goes thru the portable monitor engineered to slide a pen into that holds it upright. This works but I would MUCH prefer a carrying case that doubles as an adjustable stand. Being a portable monitor, it would be nice to have a case included to protect the screen during travels. This pen solution locks the screen at the angle you see here with zero adjustability.  You can also flip the screen 90 degrees and use it vertically if need be as well. 
Since I have been reviewing the EVP-304, I've been using old iPad stands (vs the pen) for more choices on height and angles. If/when I finally travel with this portable monitor, I'll definitely be carrying it in a case though I probably could live with the pen option to hold it up when needed.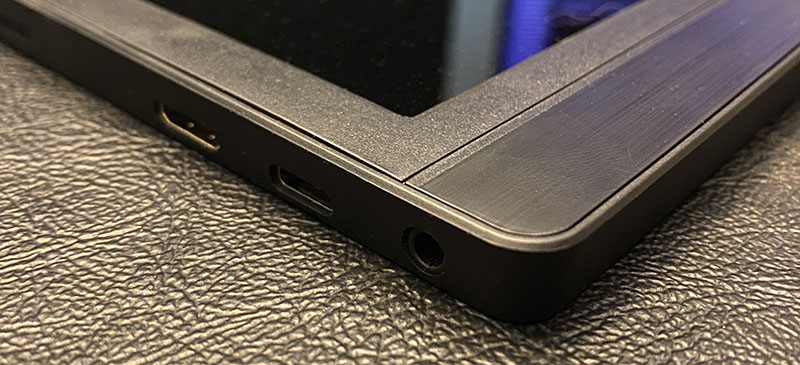 Build, Material, and Screen Quality 
Being an Apple Fanboy, I am used to my devices being nicely polished and extremely well-built. That said, the EVP-304 is nice enough but it's definitely not a 12.9″ iPad Pro. Its casing is made from a black plastic with an overall decent build quality. The bezels aren't huge but they're not as slim as they could be either.  While the casing is just alright, the screen looks great though unfortunately is not a touchscreen. As I stated above, the EVP-304's 15.6″ 1080p is a "A-grade IPS" HDR display that does look really sharp and vibrant across all the devices I connected it to. I used it with my 2019 16″ MacBook Pro, 2018 Dell Latitude 2-in-1, 2015 13″ MacBook Pro, Apple TV 4K, and 2018 iPad Pro.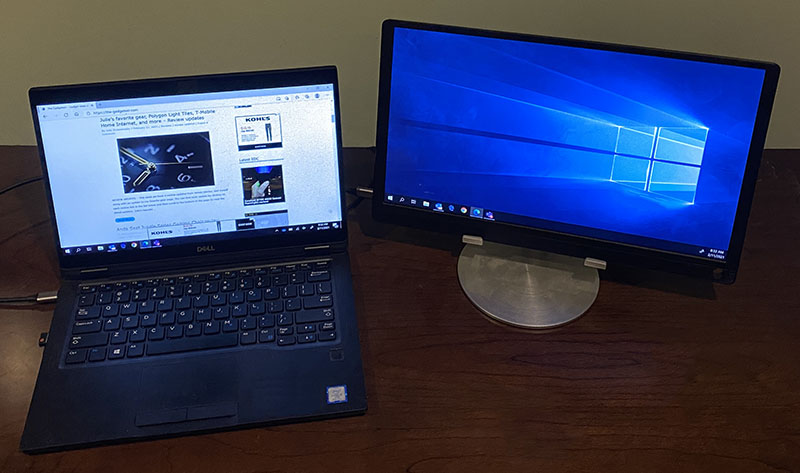 Setup
Getting the EVP-304 operational is quick and easy. Geoyeao includes a handful of cables including: USB-C to USB-C, USB-A to USB-C, and HDMI to Mini HDMI that will cover you in most cases. For those of you with USB-C/Thuderbolt 3 enabled laptops and tablets, the USB-C to USB-C cable provides both display data and power to the monitor. This included my 2019 MacBook Pro, 2018 Dell Latitude, and iPad Pro with no need for any drivers, simple plug and play. The computers immediately recognized, powered, and sent data to the portable monitor.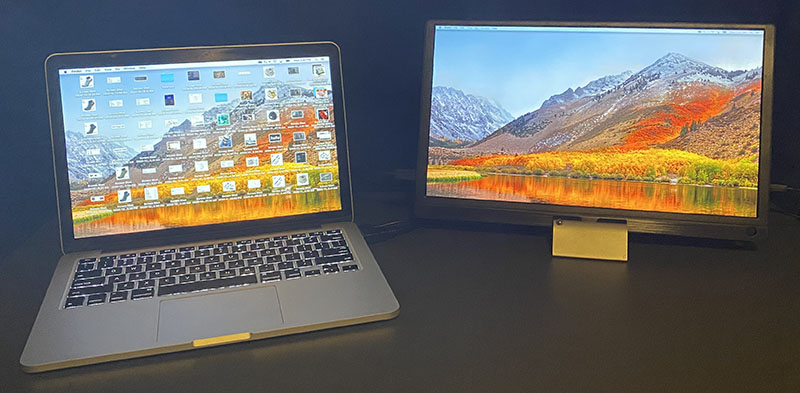 The EVP-304 can also be powered directly from the USB-A port of an older laptop. So, what you see here is my 2015 MacBook Pro using its older USB-A port for power and its HDMI for display signal.

And lastly, here is my Apple TV connected to the EVP-304 using the USB-A to USB-C cable and plug for power and HDMI cable for signal.  Also, these two pictures show how much better HDR is on this display. Where the laptops didn't need anything adjusted to look great, the Apple TV looked washed out until I figured out the HDR was set to 'OFF' vs 'AUTO' or 'ON'.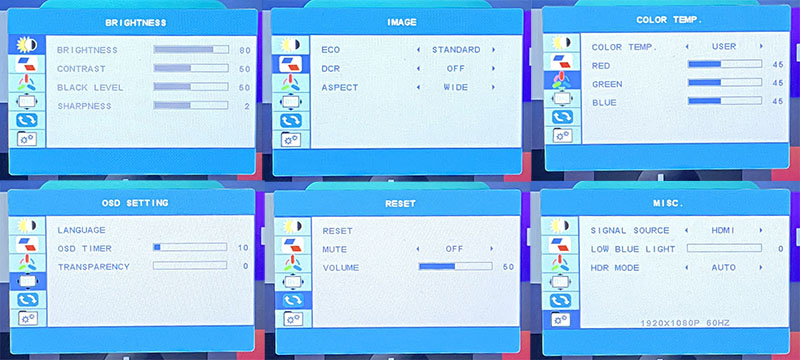 Accessing and using the menus to adjust the EVP-304's settings is simple and intuitive, very similar to tweaking your desk monitor or flatscreen TVs. For those of you who spend long hours in front of screens, this monitor has four "Low Blue Light" modes to prevent eye fatigue and filter out harmful blue light that causes eye strain.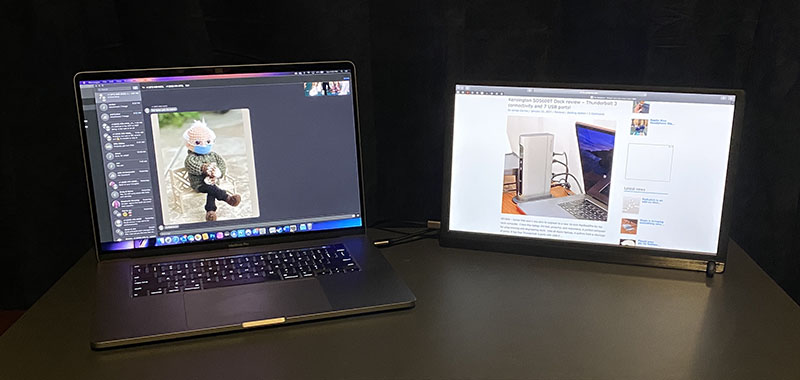 Performance
As I stated above, the screen itself is very crisp and vibrant. Even though it is only 1080p, that resolution is more than adequate for a 15.6″ monitor. I used it for dancing the web, basic Office (Word and Excel), Photoshop, and watching videos but no gaming. Its refresh rate and response time were just fine for my use. 
The monitor's built-in stereo speakers are mediocre at best in both volume or audio quality. Even at full volume, the audio is weak with little bass. Unless I absolutely had to, I would never use the EVP-304's speakers. Wireless earbuds, wired headphones or the laptop's speakers are much better options.
What I like
Bright/vibrant screen
Portable
No power adapter needed/USB-C powered
USB-C & mini HDMI connectivity
Can be used horizontally or vertically
Compatible with many computers and other tech devices
Inexpensive
What needs to be improved
Mediocre hardware quality
Plastic shell/casing and bezels could be thinner
Non touchscreen
Poor speaker quality
Lack of dedicated stand
Should include case
Final thoughts
All in all, the Geoyeao EVP-304 is a cost-effective way to have additional screen workspace wherever you need it. Its lightweight, portable form factor and single cable connectivity makes it an excellent travel companion. While the build, material, and speaker quality are mediocre by today's standards, the EVP-304's display quality, low cost, and size definitely makes up for those shortcomings. If I was going to be on the road for a while with no available desk monitors, I would likely toss the EVP-304 in my bag for the extra screen real estate and greater productivity. 
Price: $189.99 
Where to buy: Amazon (currently $50 off with coupon)
Source: The sample of this product was provided by Geoyeao.