We use affiliate links. If you buy something through the links on this page, we may earn a commission at no cost to you. Learn more.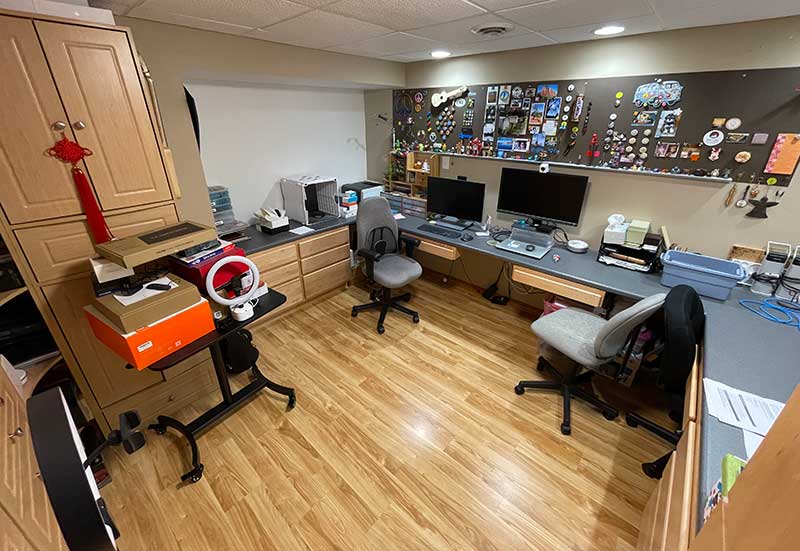 ARTICLE – Like so many others, COVID has changed our daily routines in a big way. For me, I've been working from home since the middle of March 2020. Before then, I rarely worked from home during the 33 years that I've worked for Cummins Inc. After a few months it started to feel like it was going to be a permanent situation, so I started updating my office and computer gear to make this new normal feel more comfortable.
Before you see how my office is today, the image above shows how it looked at the beginning of my WFH adventure.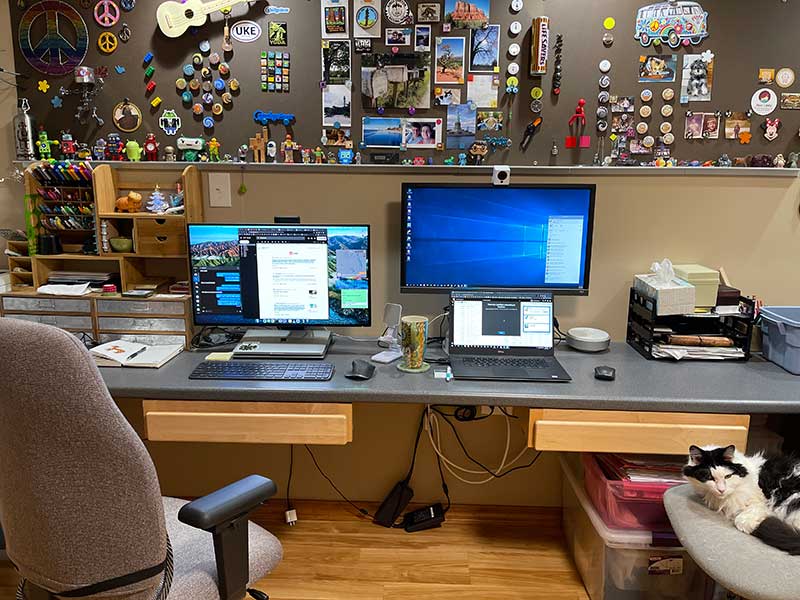 Before COVID, I had one monitor on my desk that I used with my 12inch MacBook. That's the BenQ PD2710QC DesignView 27-inch Designer monitor that you see on the left in the image above. For my day job at Cummins, I work in what most people call IT, but we prefer being called Engineering Application Support. The main tool for my job (other than my brain) is a Dell laptop which is shown on the right. I didn't want to flip back and forth between the MacBook and the Dell, so I set up the BenQ EL2870U 28″ 4K eye-care monitor that I previously reviewed with the Dell laptop so I could have a separate setup for my day job and Gadgeteer "job". FYI: That's my co-worker Max that you see taking a break/nap.
Upgrades!
My first update was upgrading my refurbished 2016 12inch MacBook with a 13inch MacBook Pro M1. Wow, what a difference it has made. I am really enjoying how much faster it is and the battery life is stellar. I thought I'd miss the size and weight of the 12MB, but I don't even notice the difference now.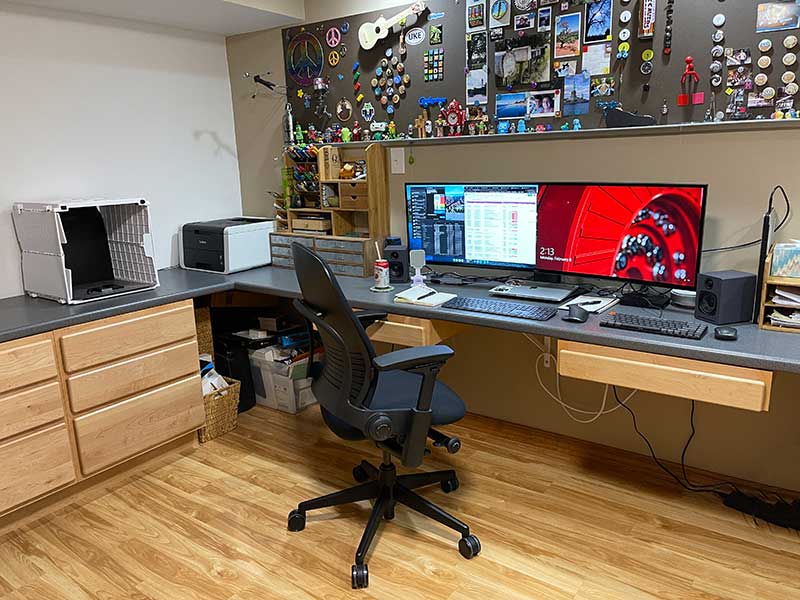 My next upgrade was my office chair. I had been using the same chair for probably the last 30 years and no, I'm not exaggerating. I read a bunch of reviews and ended up choosing a Steelcase Leap chair. It's comfortable which is good because I sit in it for hours at a time day in and day out.
You'll also notice that the two BenQ monitors that I was using have been replaced with a Dell U4919DW UltraSharp 49in Curved Monitor. It's awesomely massive.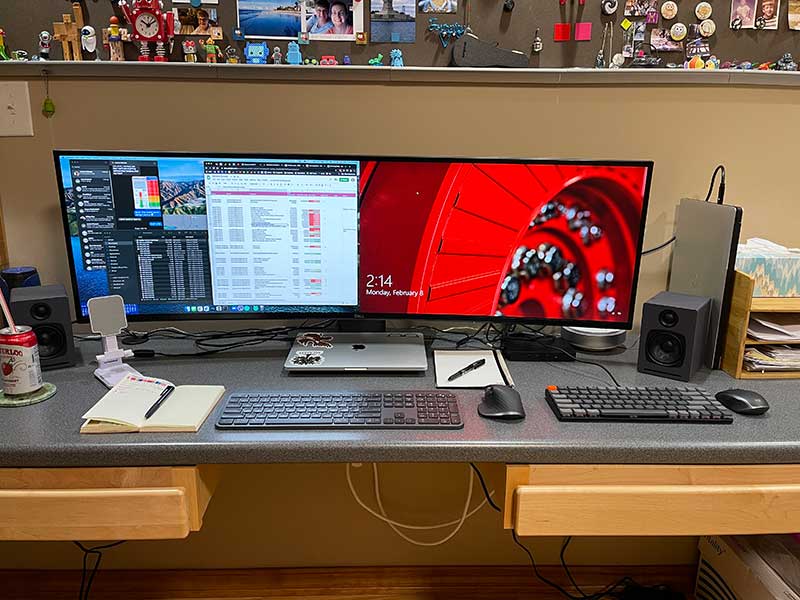 Why did I buy it? Because it's huge and can be split into two separate monitors when two different computers are attached to it. I love that it doesn't have a huge power brick but just has one regular power cord.
This monitor also has a built-in KVM that is supposed to allow you to connect one keyboard and one mouse and then switch them between the two computers. I was very excited to use this feature but so far, I've found it to be completely underwhelming. In my head, I had pictured that I would be able to easily switch back and forth with a keyboard combo, but I haven't found that to be the case. Maybe I gave up too soon…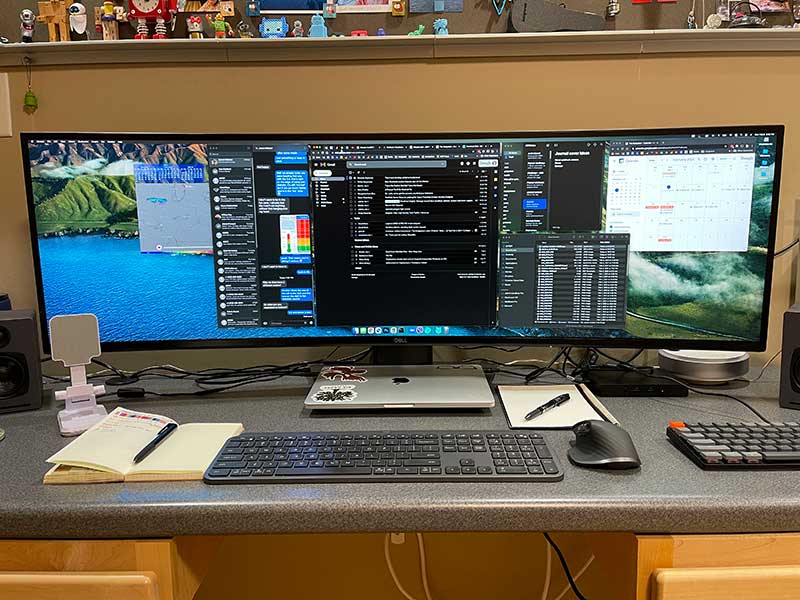 So, as you can see, I am using separate keyboards and mice. I like using the Logitech MX Keys and Logitech MX Master 3 mouse with my MacBook Pro and I'm using a Keychron K3 ultra-slim mechanical keyboard (which I'm not using in wireless mode) and a Logitech MX Anywhere 2s mouse with the Cummins Dell laptop.
When I'm just using the monitor with my MBP, it does feel a bit too wide, but hey, I'm not going to complain!
I am also lucky enough to know an awesome speaker reviewer who gifted me a pair of Audioengine A1 Home Music System small bookshelf speakers. Thanks Bill Henderson, I am thoroughly enjoying them.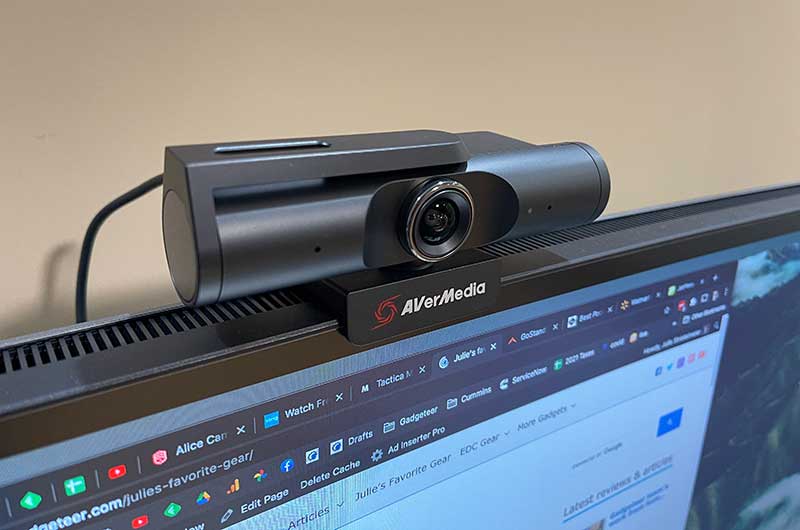 For Cummins team meetings, I got tired of using the Dell laptop's built-in webcam real quick. I ended up hacking a Wyze cam by flashing a different OS which turned it into a webcam. That worked pretty well, but now I'm using an AVerMedia Live Streamer CAM 513 webcam. My review is coming soon!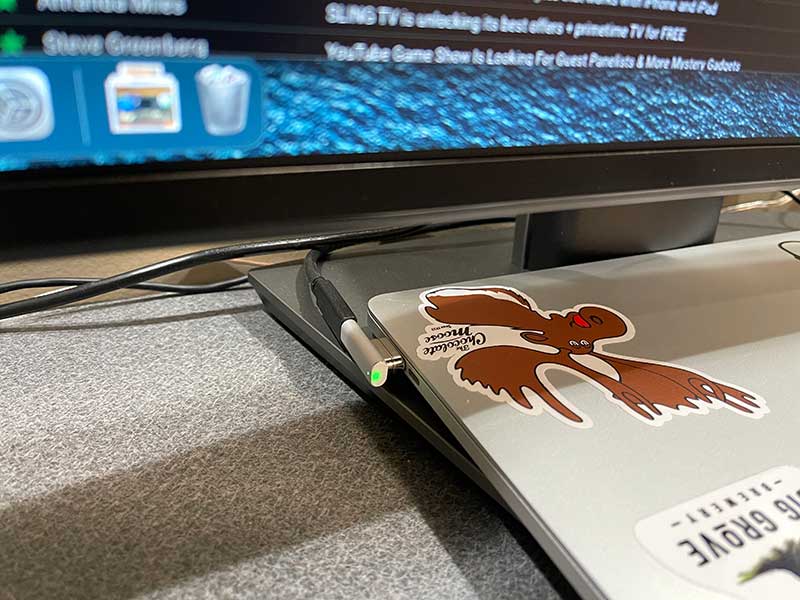 I usually unplug the MacBook Pro and take it into the living room to do some couch surfing in the evenings. I don't like yanking the USB-C cable out of the MacBook, so I found a magnetic MagSafe style USB- C adapter on Amazon that attaches to the end of the existing Dell USB-C cable.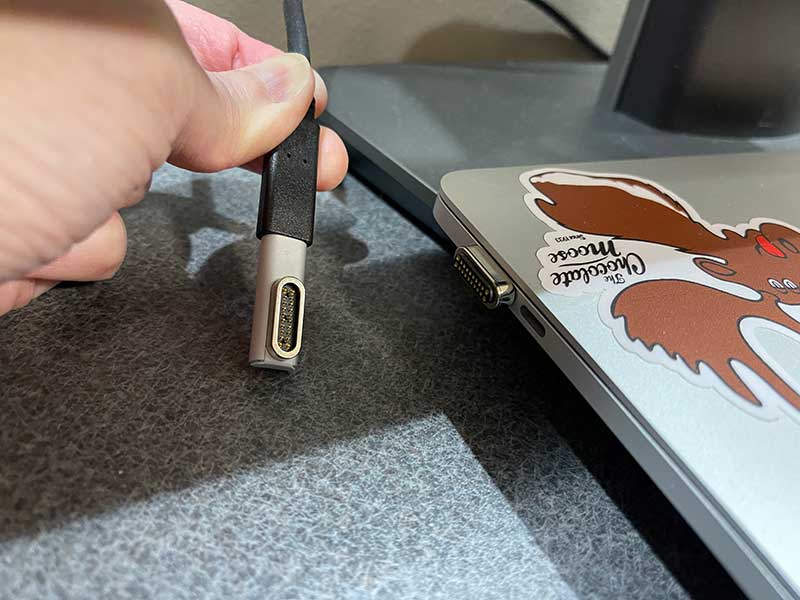 A matching adapter fits into the USB-C port on the MacBook and presto, I have an easy-to-use MagSafe cable. There's even a green LED that lights up when the cable is attached. How cool is that?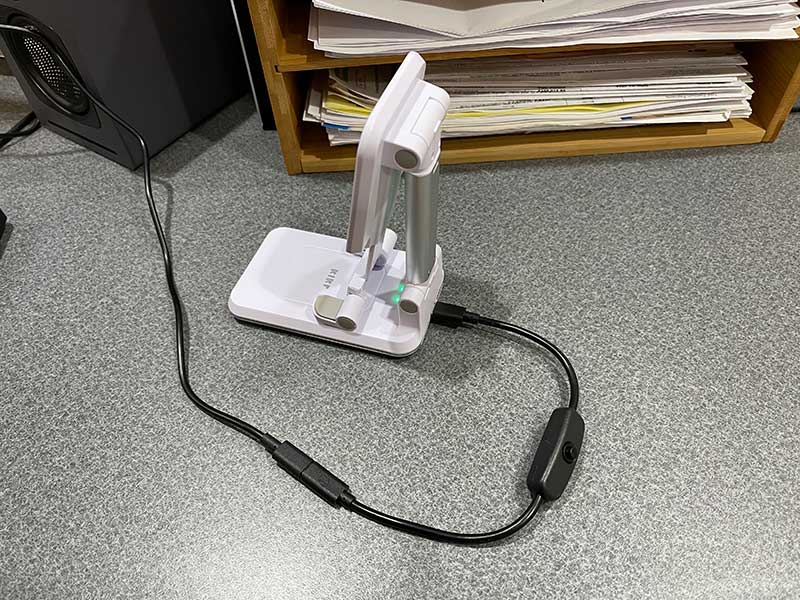 I also added a USB-C switch to the cable that powers my KiKr S1 Dual Wireless iPhone charger so that I can use the charger as a stand for Marco Polo chats with friends and family. I don't like leaving my iPhone on a charger when it's already fully charged, so this little push button switch is a cool hack.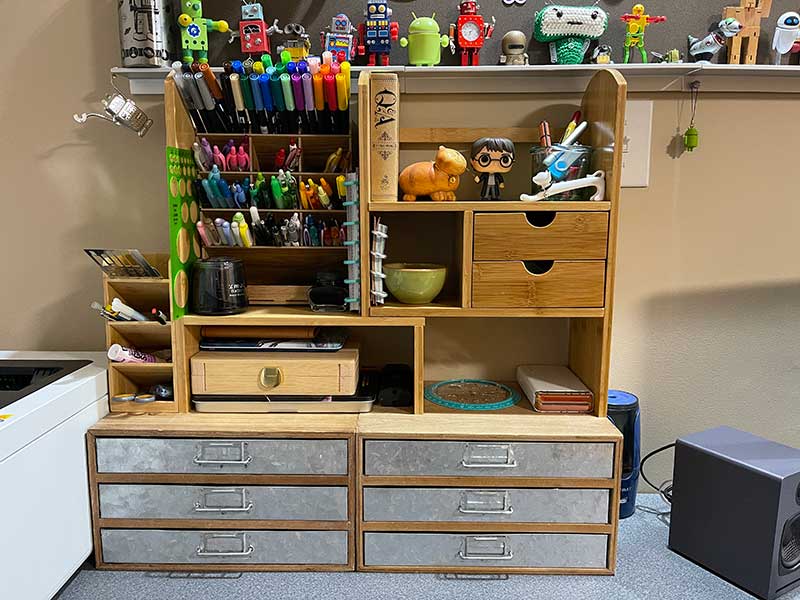 I've also been upping my stationery game with some bamboo organizers that I bought from Amazon and two wood and metal drawer units that my sister found for me at Hobby Lobby that were on clearance. During COVID, I've rediscovered my love for drawing, and journalling and have gone a little crazy putting together a collection of pens, markers, stickers, washi, tape, etc.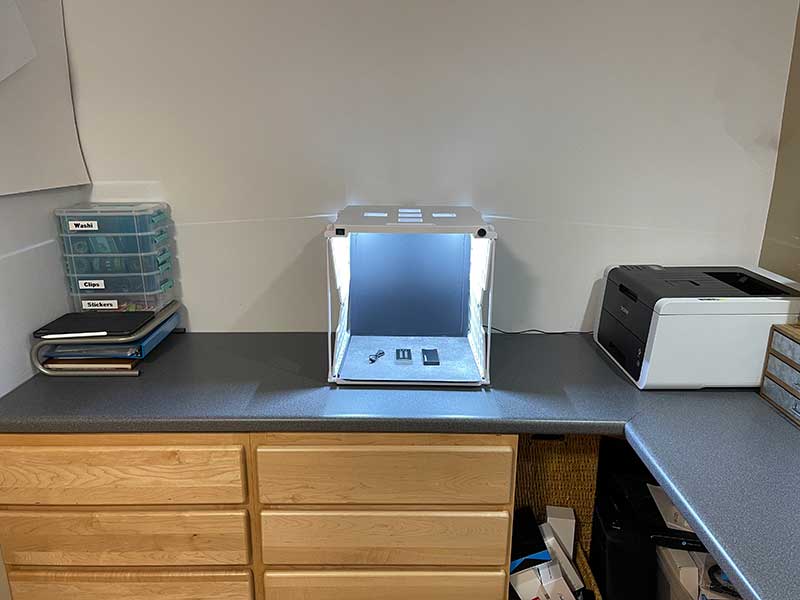 The left leg of my U-shaped desk holds my printer and my Shotbox photography lightbox which is a favorite Gadgeteer tool. Then in the corner is a bento-style stack of plastic storage cases that hold stickers, various paperclips, etc. There's also a new iPad Pro with an Apple Pencil that I bought for myself at Christmas. I've not yet found a job for it and it sits there being lonely.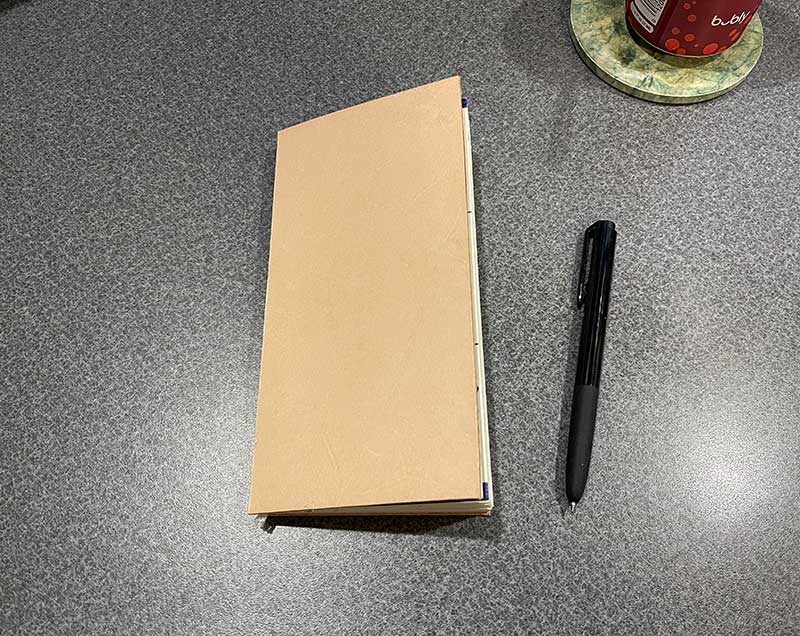 Speaking of journaling and drawing, I've also gotten back into leathercraft. I've made several hand-sewn leather notebook covers for my sister (check out my Instagram where I've been posting my work) that are very similar to the Do-It-Yourself Midori Traveler's Notebook Cover that I made years ago. The notebook above is a Midori MD notebook that I cut down to a narrow width and then glued some undyed leather to the front and back covers just to make it unique.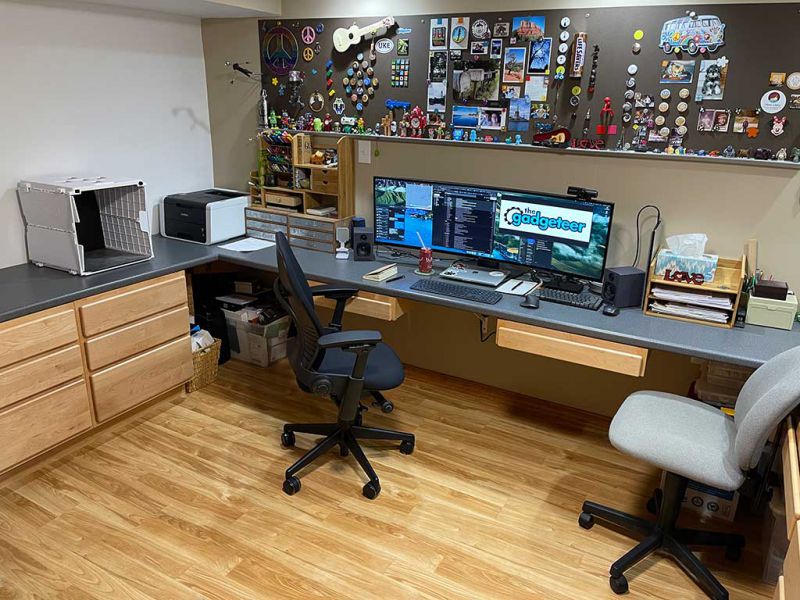 There you have it, a tour of my office and the upgrades that I've done in the last 10 months or so. What do you think? Am I missing anything?
Be sure and check out the other WFH setup articles in this series.