We use affiliate links. If you buy something through the links on this page, we may earn a commission at no cost to you. Learn more.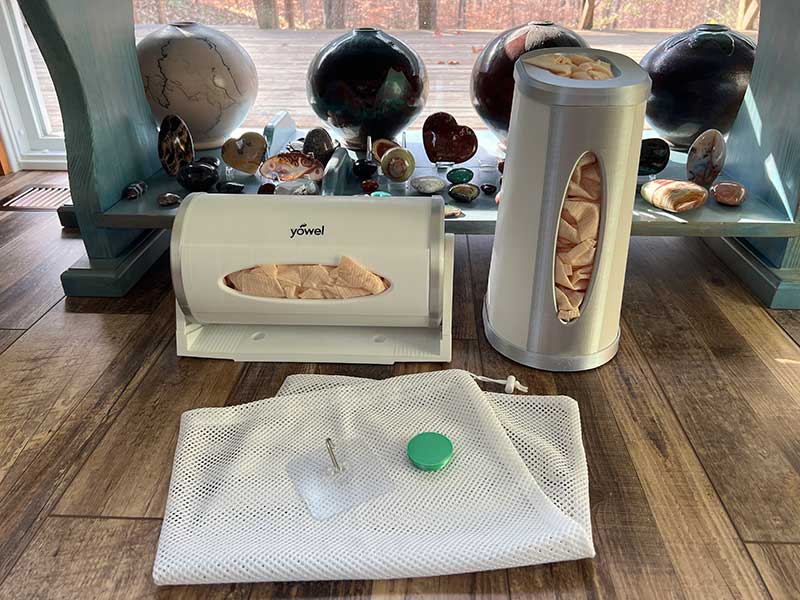 CROWDFUNDING REVIEW – How many paper towels do you throw away in a day, week, month, year? I know we use a combination of paper towels that come on a roll and paper napkins at my house. Convenient? Yes. Wasteful? Definitely. Is there a better alternative to paper towels? That's where the Yowel comes in. Let's check it out.
What is a Yowel?
Yowel is an eco-friendly and reusable/washable alternative to expensive one-use regular paper towels.
According to Yowel:
Globally, discarded paper towels account for 254 million tons of trash every year.
The problem with any conversation on sustainability is defining it. For instance, most cotton towels are made with an incredible amount of pesticides and are shipped from overseas. So, the pollution on the front end is enormous. The primary way to combat this is with certified organic cotton. However, due to the expense you will then dramatically lower the adoption in the mainstream marketplace which is really where we think we can do the most good. For instance, we believe that each pack of Yowels will cut the paper towel use by 90 rolls. If you have 10,000 people trading in their paper towels, we can save 900,000 rolls of paper towels along with the plastic they're wrapped, the diesel from the truck that delivers them, the CO2 that produces them, and the methane produced through the decomposition of the paper. Even if you cut that in half, that's saving 450,000 rolls.
What's in the package?
A countertop or under counter dispenser that includes 40 towels
Drawstring mesh washing bag
Adhesive hook for the washing bag
Design and features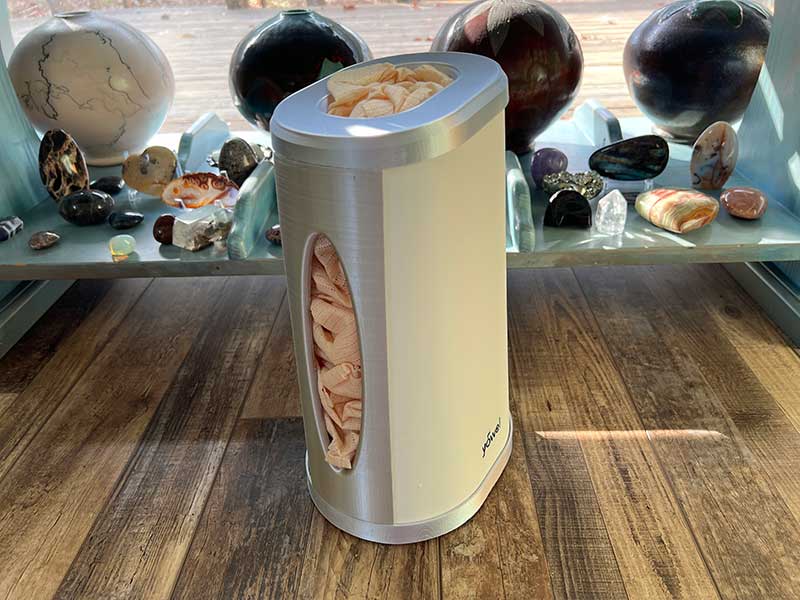 Yowel sent me both versions of their dispensers. There's the countertop version which is designed to sit on a counter, table, workbench, etc. It's made of plastic and features two openings. There's one on the front and one on top.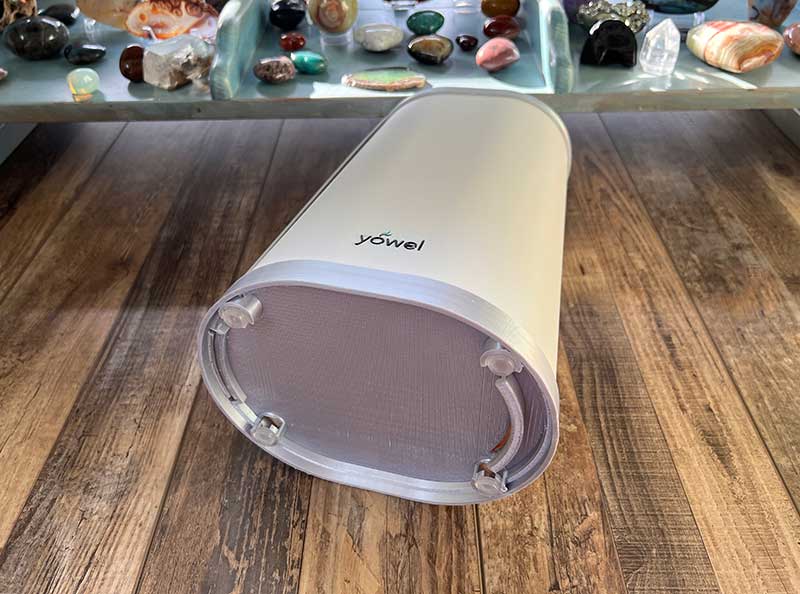 The base has non-skid feet.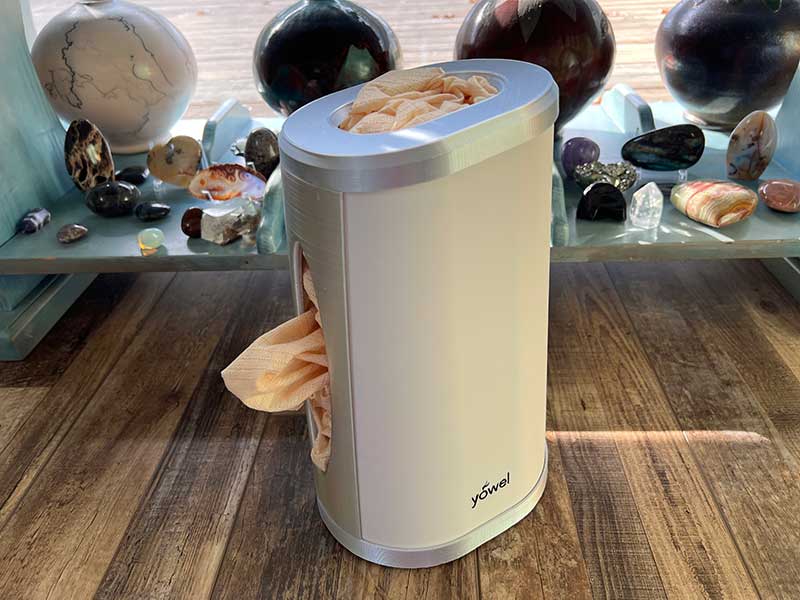 The idea is that you pull one of the Yowels from the front slot and you can insert clean Yowels in from the top slot. Note that you don't have to fold them. Just smoosh them in.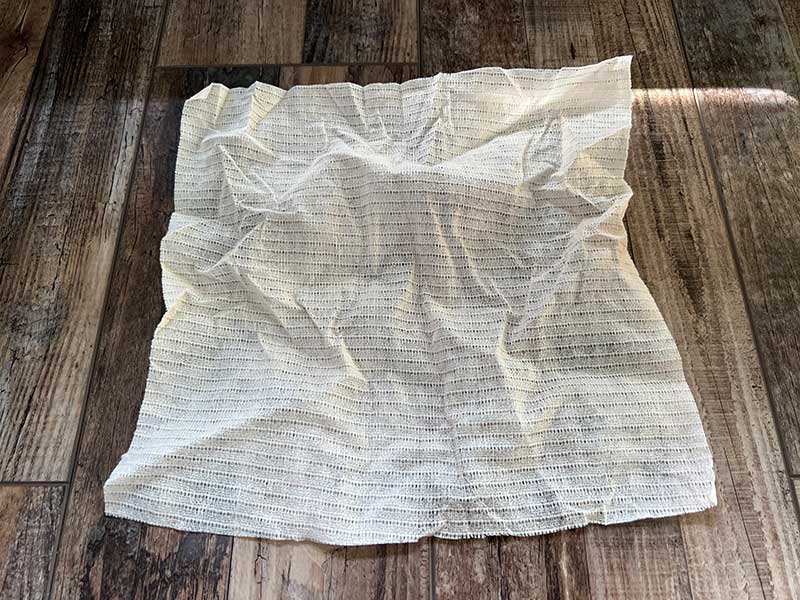 The towels themselves are made of soft viscose and polyester.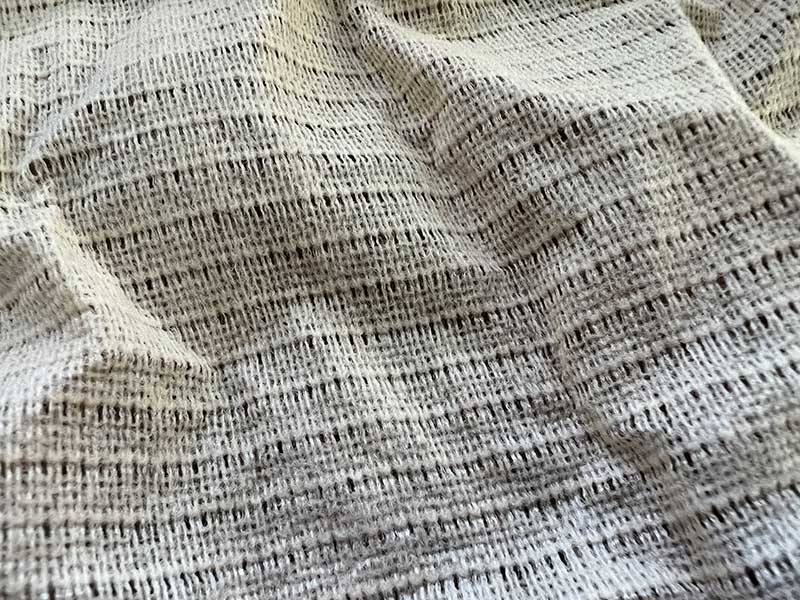 They might look meshy and delicate, but they aren't. You can drench them in water, use them to scrub stains and dirt, then rinse, ring out the water, and repeat.
Each dispenser comes with 40 Yowels and each Yowel can be washed and dried 100-150 times. That's at least 4000 uses from one set of Yowels.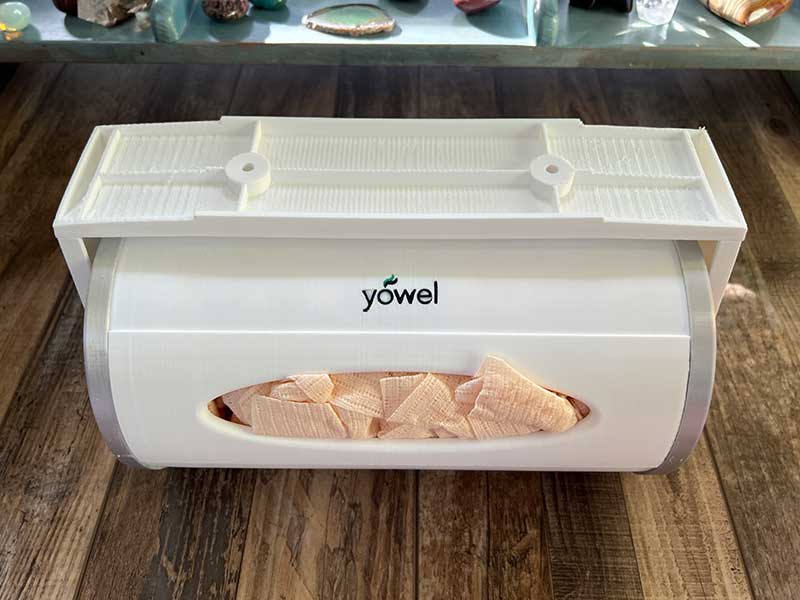 Here is the under cabinet version of the Yowel dispenser. If you look closely, you can see that my samples were 3D printed. That's because they are prototypes.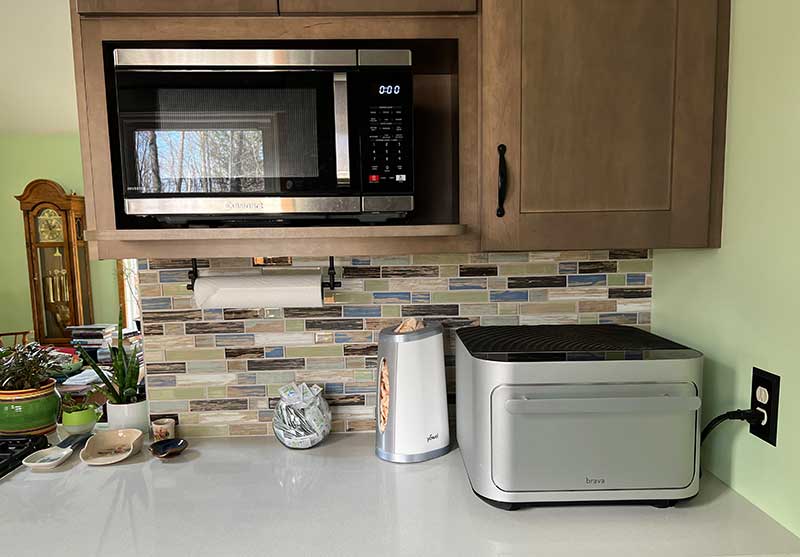 I prefer the countertop version because as you can see from the image above, I already have an under cabinet paper towel holder.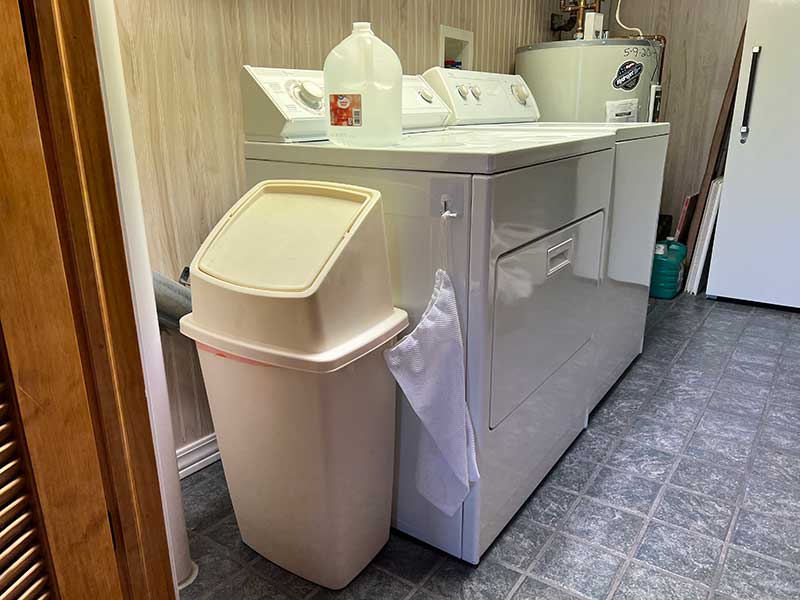 Once your Yowel is dirty, instead of throwing it away, you can put it in the mesh bag and wash/dry them with the rest of your laundry. I stuck the Yowel laundry bag on the side of my dryer and just throw the soiled Yowels in there when I bring down other kitchen towels.
According to Yowel, the towels can be washed and reused 150 or more times without degrading. Don't try that with your traditional paper towels!
What I like
Reusable
Soft
Less expensive than buying packages of paper towels over and over again
What I'd change
It would be nice to know where Yowels can be recycled
Final thoughts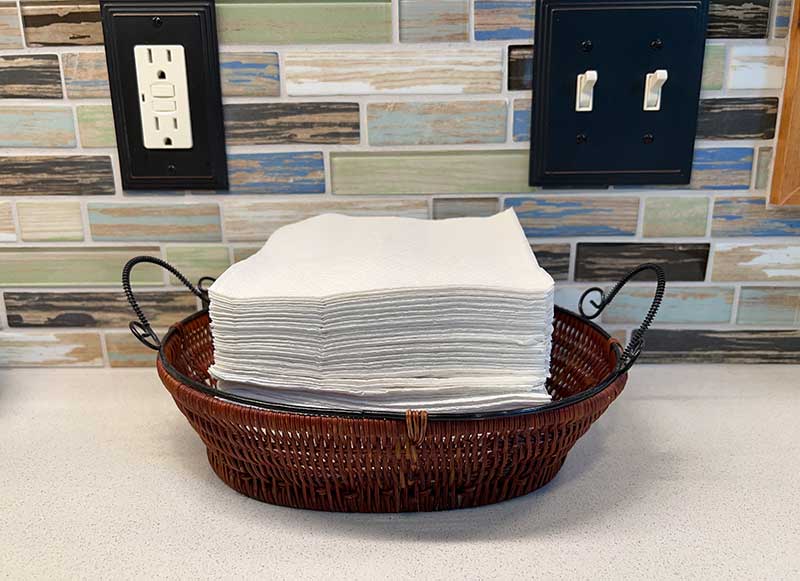 We've mainly been using the Yowels as a replacement for our one-use paper napkins and for cleaning up messes in the kitchen. When we use them as a napkin, we will sometimes use them more than once (depending on what we had to eat). It reminds me of when I was a kid and we had cloth napkins that my mom made and napkin rings with our initials on them. We'd use them all week and then switch them out for clean ones.
I like that Yowels last much longer than traditional paper towels and napkins, and are saving me money. I just wonder if there's a way to recycle the worn-out Yowels once they are no longer able to be used.
Update 6/23/22
I've continued to use the Yowel towels for the past 6 months and don't see changing that. I really like them – a lot. We've not purchased any new paper napkins in 6 months and I even started using the Yowel towels to clean up messes on the kitchen counter so we haven't purchased many rolls of traditional paper towels in awhile either. I really like that I can use them and then wash them. They've been holding up great with no signs of breaking down/falling apart yet after multiple washes.
Price: $43 and up
Where to buy: Indiegogo INDEMAND
Source: The sample for this review was provided by Yowel.