We use affiliate links. If you buy something through the links on this page, we may earn a commission at no cost to you. Learn more.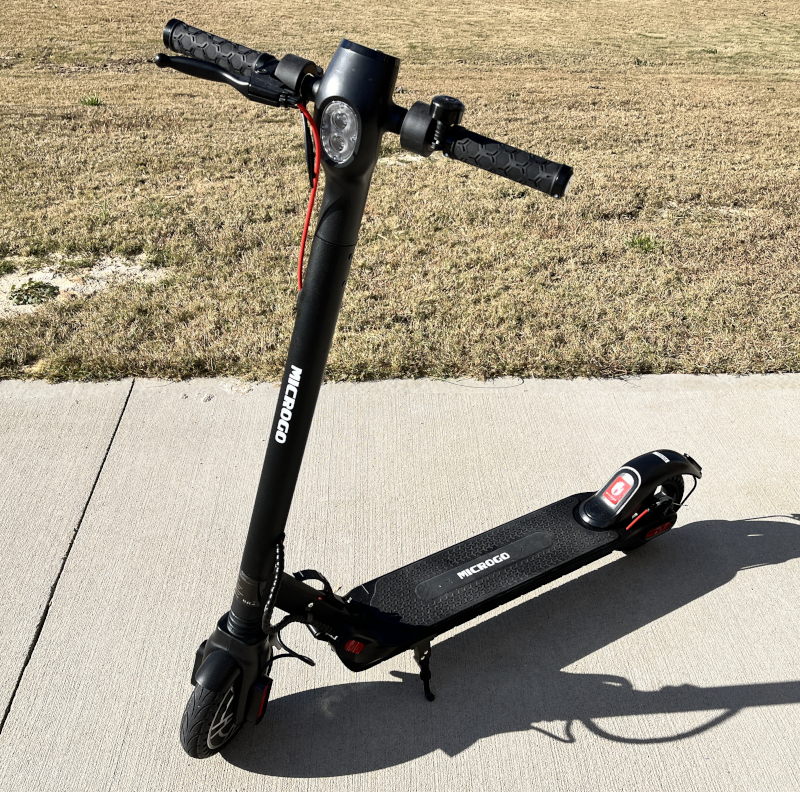 REVIEW – We live in a more rural setting, but our kids are more urban.  Our daughter is finishing her last year at college, and our son moved to a job in a major city.  She's able to walk to classes, but her campus is huge, and some buildings are over 30 minutes away.  He has some restaurants within walking distance of his apartment, but many are too far.  For all those times when it's too far to walk but too much of a hassle to get out the car, they need an easier way to get where they're going.  I think an electric scooter, like the M5 from MICROGO, could be a handy gadget to have.
What is it?
The MICROGO M5 Electric Scooter is a battery-powered scooter that can reach speeds of 19 MPH, travel up to 20 miles on a single charge, and can handle up to 220 lbs.  It has a dual braking system, can be folded up for storage, and can be plugged into the wall to be recharged.  The M5 is one of four scooters offered by MICROGO, a Chinese company, and part of their mission statement is "to create, a smarter, greener, and more unique traveling experience."
What's in the box?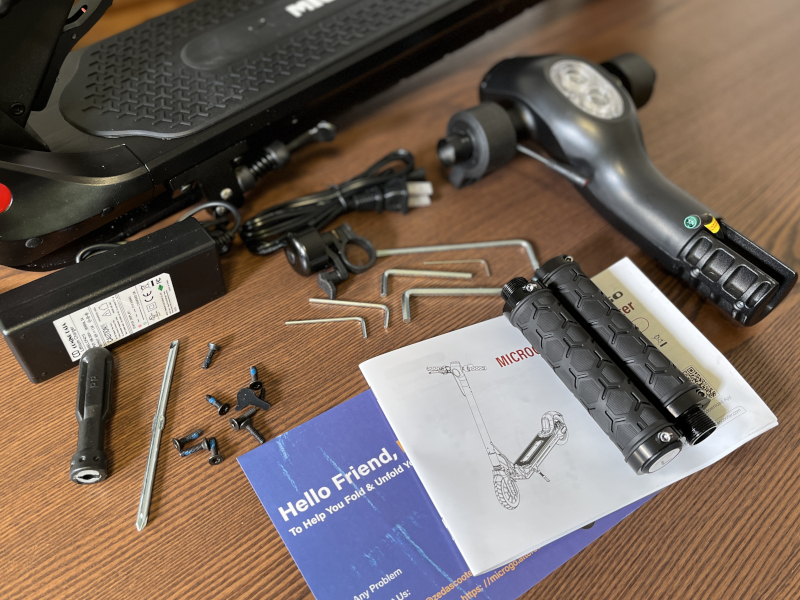 The MICROGO M5 Electric Scooter (disassembled)
Screws and hex wrenches
DC charger
User manual
Customer care card
Hardware specs
It's hard to know exactly what are the specs for the MICROGO M5 Electric Scooter, because the values on their website are different from the values on their Amazon page.  The Amazon page mentions that it has the 2021 model, which I assume is newer, so these specs come from the user manual and Amazon:
Motor: 350W
Battery: 36V/7.5AH Lithium-ion
Frame: Aluminum alloy, ABS, and PC
Tires: 8.5-inch rubber, tubeless
Brakes: Front (electric) and rear (disc)
Max Load: 220 lbs
Size: 47 inches from front to rear tire, 44 inches tall when extended, but only 17 inches when folded
Weight: 36 lbs
Weather Rating: IPX4 (splashproof)
Design and features
The M5 has a typical scooter design.  There's a single wheel in front and behind the deck, which is where the passenger stands.  A handle bar extends up from the front wheel and has a pair of grips to steer.  There are, however, a few features that are not so common.  There's both a white headlight and a red tail light.  The handle bars sport a pair of "thumb pedals," one a break and one an accelerator, and a more traditional hand break as well as a bell.

The deck is quite large (19×6 inches) and has plenty of room for both feet.  There's also a cool set of blue lights along each side.
Installation and setup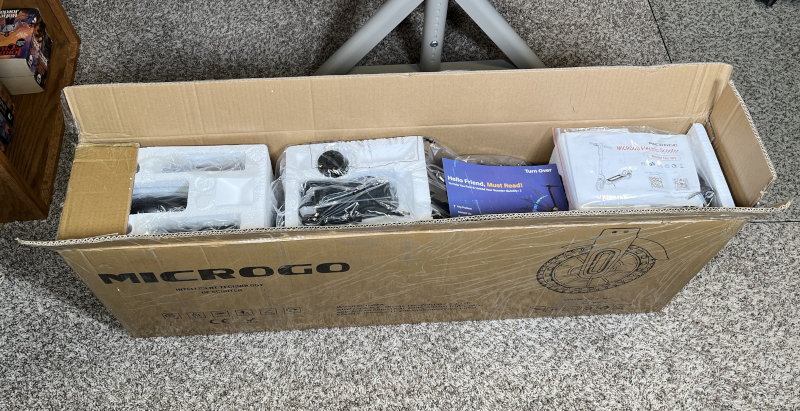 The MICROGO M5 Electric Scooter arrived carefully packaged in a large box.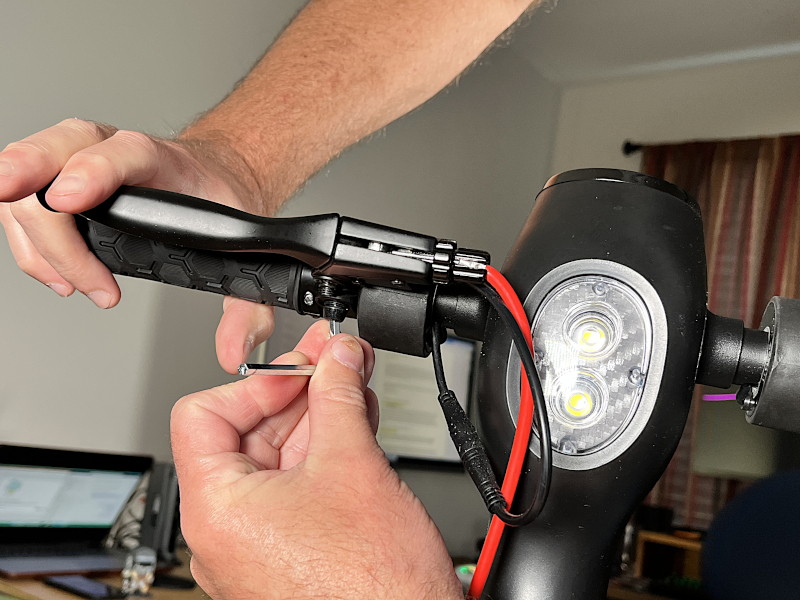 The scooter comes partially assembled, so the first step was to attach the remaining pieces.  It comes with a small screwdriver and a set of Allen wrenches (only one of which is needed).  For the most part, the manual is clear and easy to read, and I think MICROGO did a nice job with it.  For assembly, however, they only have one page, and it's not really enough explanation.  Thankfully, MICROGO has a well-done YouTube video that showed me exactly what to do.  With its help, I was done in less than 10 minutes.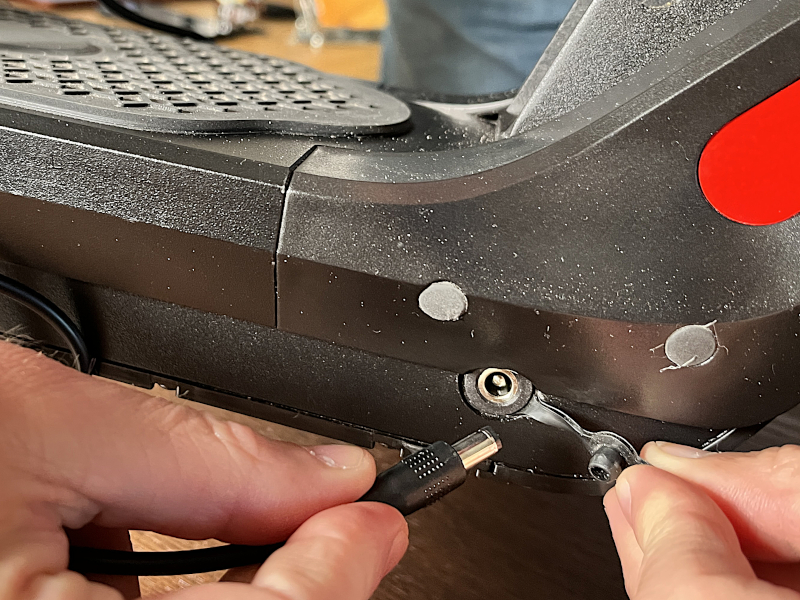 The second step is to charge the battery by pulling out the little rubber plug and plugging the DC charger into it and the wall.  MICROGO says that it takes 4-6 hours to fully charge, and I found that it normally takes me about 5 hours when the battery is nearly drained.  When it's charged, the light on the charger changes from red to blue.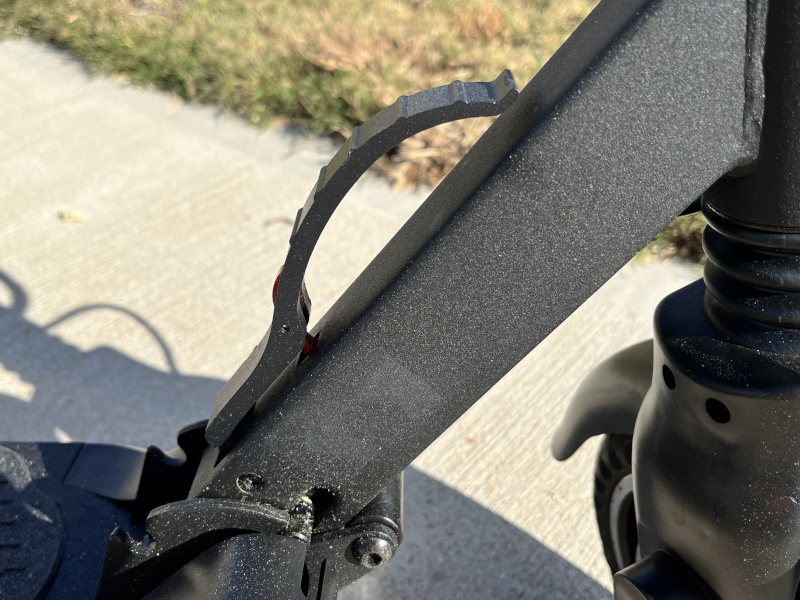 The MICROGO M5 Electric Scooter has two positions:  folded-up and fully extended.  The former is good for storing the scooter or for carrying it; the latter is for riding.  To move from one position to the other, I followed the instructions on the back of the customer care card and pressed the red button, which releases a safety lever and then pulled on the handle.  When I moved it into the folded-up position, there was an audible click as a pair of pins snap into a pair of slots and the safety lever catches.  When I moved it to the fully extended position, however, I didn't hear that snap, and the safety lever didn't catch.  When I examined it closely, I found that the pins slipped into the top of the slots, but didn't pop into them all the way.  This is obviously a serious safety concern.  The pins need to be all the way in that slot, and the safety level needs to catch.  I created a short video that shows this problem.
I read through the manual and the customer care card again, looking for help.  The manual referred me to another YouTube video, which shows the guy shoving the scooter fairly hard to get it into place; similarly, the customer care card says to "push with strer gth & hear a click."  (No, I didn't mistype that; that's exactly what it says.)  I think that means I need to shove it really hard, but no matter how hard I shoved it, it never locked correctly into place.
I emailed the tech support address I found on the manual ([email protected]) and explained the problem.  They asked me to create a video, which I did (the one above).  They then responded with, "Note: [It's normally that the new scooter will need you to press the red button harder]. Pls kindly read the QUICK START GUIDE carefully before use, it will help you better understand how to correctly fold and unfold our scooter.  The new product can use manual pressing and manual pressing to press the folder into the buckle. After pressing a few times, you don't need to press manually, and it can be stuck in well."  Broken English aside, it's obvious that MICROGO knows that there's a problem with their manufacturing or their assembly, but they won't admit it.  (It's like Steve Jobs saying you're holding it wrong.)  Their solution is just shove it harder, which doesn't give me any peace of mind.  Even so, I decided to try one thing new:  After shoving the handle forward, I then pushed firmly on the black release lever, and I was finally able to get the red safety level to click into place.  I took a closer look at the pins, and while they were in a better position, they still weren't in the slot all the way.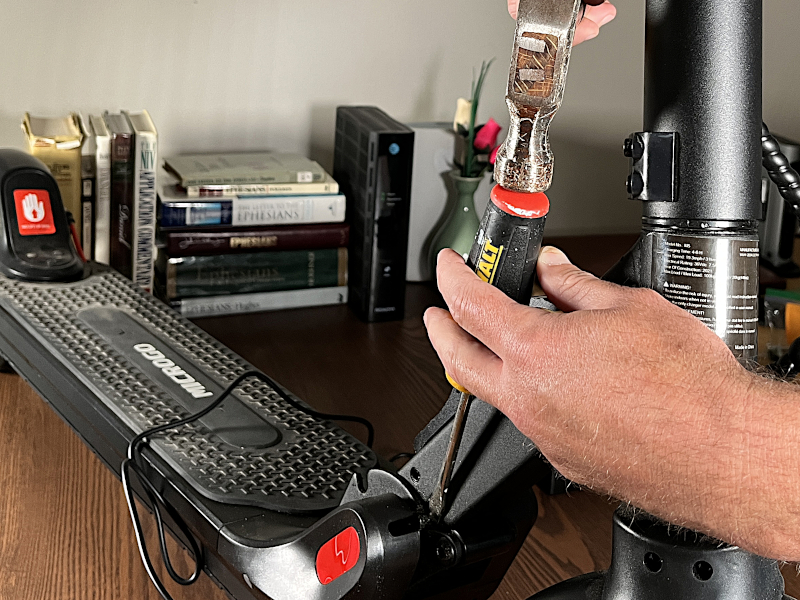 Finally, I decided to take matters into my own hands:  I took a hammer and a screwdriver and drove those pins down where they should have been in the first place.  For the first time, I felt like it was safe to ride.  Obviously, this is not cool.  I shouldn't have to take a hammer to a gadget before I feel like it's safe to use.  I'm especially concerned for any kids that may try to ride this.  They may not be able to force these pins and the safety lever into place.  If a kid is riding the M5 and hits a bump, then the pins could pop out of place, causing the deck to fold.  When the front end drops and hits the pavement, the kid is going to flip over the handle bars and face plant on the pavement.  At 18 MPH, this cause could serious injuries.  Maybe this is why MICROGO's manual says that the MICROGO M5 Electric Scooter is only for people who are ages 16-50.  Ignoring the ludicrous detail that apparently I'm too old to ride this thing, they are saying they don't want kids on it; but you know kids will get on it.
Performance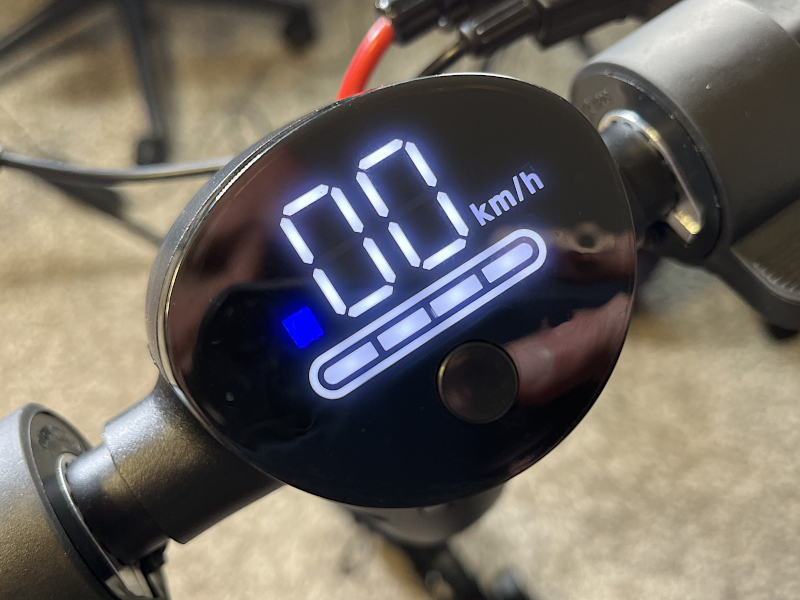 The M5 sports a crispy and clean digital display that also functions as the control panel.  The power button has multiple purposes:
Long press to turn it on and off
Click to switch between modes (beginner, normal, sport)
Double click to turn the headlight on and off
Triple click change from km/h to MPH.
The display shows the current mode, the speed, and the battery indicator.  Each mode caps the max the speed of the scooter; beginner is capped at 9.3 MPH, normal at 13.6, and sport at 18.5.  There's a world of difference between 9 and 18 MPH, especially when you're riding only a few inches off the ground.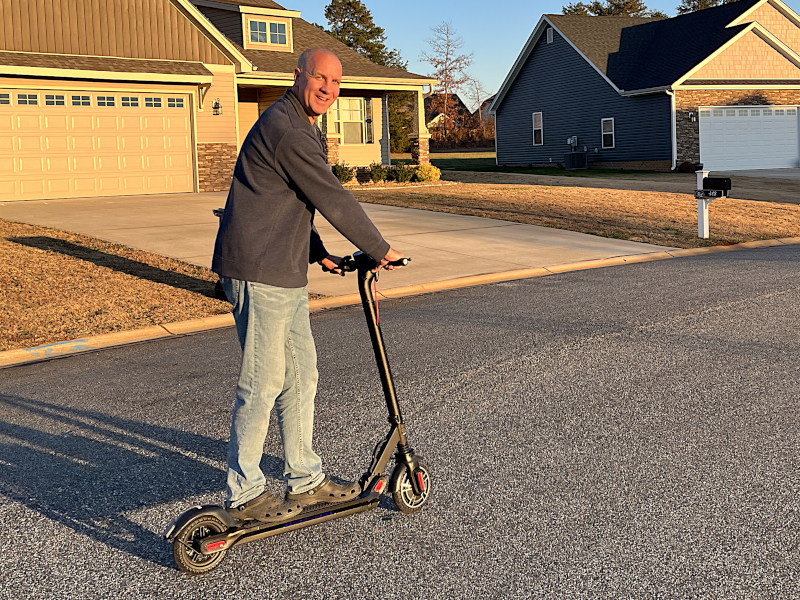 The scooter is super easy to use.  I find that it works best when I give it a push to get going and then press on the accelerator throttle on the right handle.  Acceleration is not rapid, but it's decent.  I like how the M5 has three different modes, so I can control the speed.  My wife preferred keeping a more sedate speed, while I preferred full speed ahead.  At 18 MPH, I really feel like I'm booking!  The deck is both long and wide, so it's easy to keep my balance.  Even though it's big—or maybe because it's big—it's an easy scooter to operate.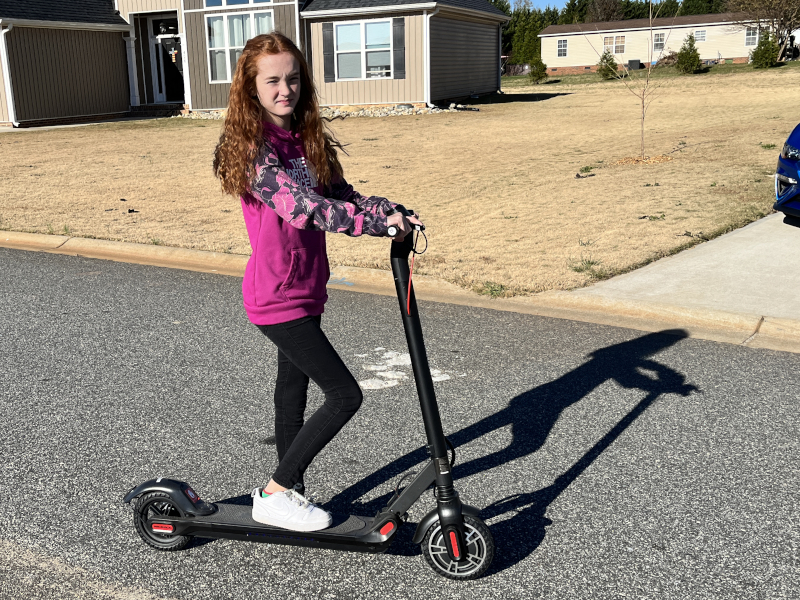 I lent the MICROGO M5 Electric Scooter to Courtney, my assistant tester.  She took it home for the weekend, and after scootering all over her neighborhood declared it to be a blast.  Unlike my neighborhood, which is flat, hers had a lot of hills, but the M5 didn't have any problems with them.  It may be this scooter is designed more an urban commuter, but it would be blast for older kids as well.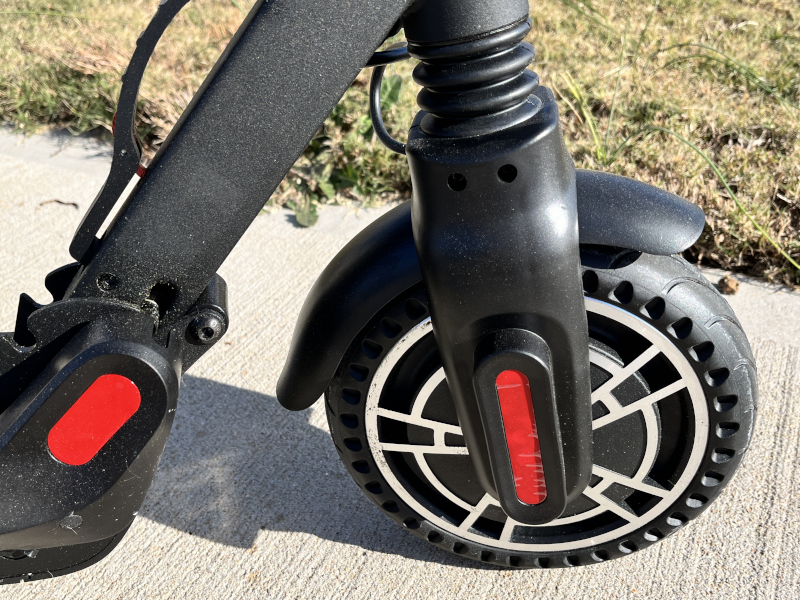 MICROGO describes the tires as "8.5 [inch] rubber honeycomb tires."  They are basically 1.25 inches of hard rubber wrapped around a cylindrical rim; unlike a bike tire, they don't need to be inflated.  Additionally, there's a kind of shock absorber on the front to help cushion things.  It appears to be a solid spring, and when I stand on the front of the deck and bounce, I can feel it give some.  With these features, this scooter takes bumps and holes really well.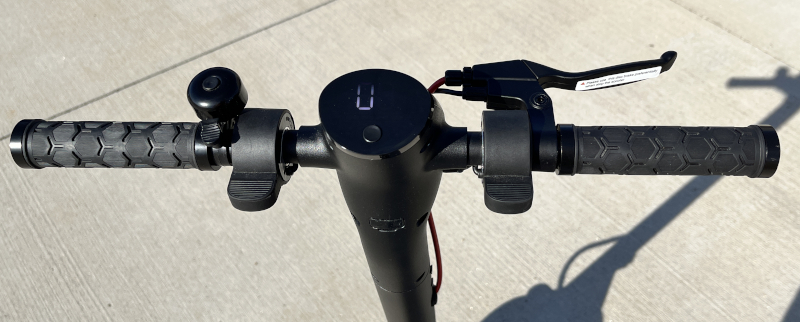 The MICROGO M5 Electric Scooter has two different braking mechanisms.  On the right handle is a break that looks like it belongs on a bike, and it controls a disc brake on the rear tire.  This brake feels very natural and comfortable to me, and it slows down the scooter at a firm, steady pace.  On the left handle is another throttle that controls the electronic brake on the front tire.  This brake grabs really hard and stops the scooter really quick.  This one scares me a bit, because if I hit it hard while going full speed at 18 MPH, I think it could pitch me off the scooter.  I view this as an emergency brake, one that I use when I really need to stop right now so that I don't hit someone or run into something.  At slower speeds, it's very effective at that.
Here's a 1080p video that shows the M5 in use:
For the most part, the MICROGO M5 Electric Scooter has plenty of power and speed.  The only time I noticed a loss is when the battery indicator dropped down to one bar.  At that point, the M5 began dragging, only capable of reaching about 10 MPH.  The secret, of course, is simply to charge it up again.
What is the MICROGO M5 Electric Scooter good for?  Who should get one?
First, I think it would be perfect for both of the situations that I described above:  A college student on a large campus and an apartment dweller who has restaurants and shops that are a bit too far to walk.  Second, I think it would be great for someone who lives and works downtown or in an urban setting.  The only issue for people like this is the size and weight of the scooter.  If you take it into buildings, it will take up a lot of space, even when it's folded down, and at 36 lbs, it's fairly heavy.  You don't want to be carrying this up and down stairs very often.  Third, despite the warning label, I think it will be fun for older kids, especially at faster speeds.  Finally, I think it would be great to use when touring an urban setting, so long as everyone in the group has one.  Scootering around a city like Washington, DC, for example, would be a blast on the M5.
Extra Features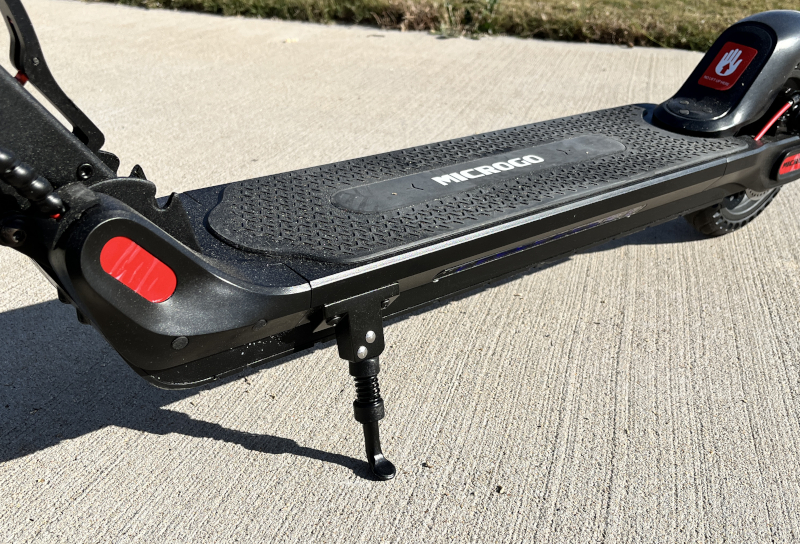 The M5 scooter comes with a number of extra features.  There's a kickstand on the left side of the deck that does a really nice job of holding it up, despite the deck's weight.  I left the scooter sitting both in my garage and in my office and never felt worried that it was going to fall down.  The M5 has a bell that is very forgettable.  If you feel like you need some sort of noise to warn other people when you're coming down the sidewalk, you'll want to get something else for that purpose.  It also has a cruise control feature.  If I travel at the same speed for six seconds, it will give a short beep.  If I let off the accelerator throttle, it will maintain speed.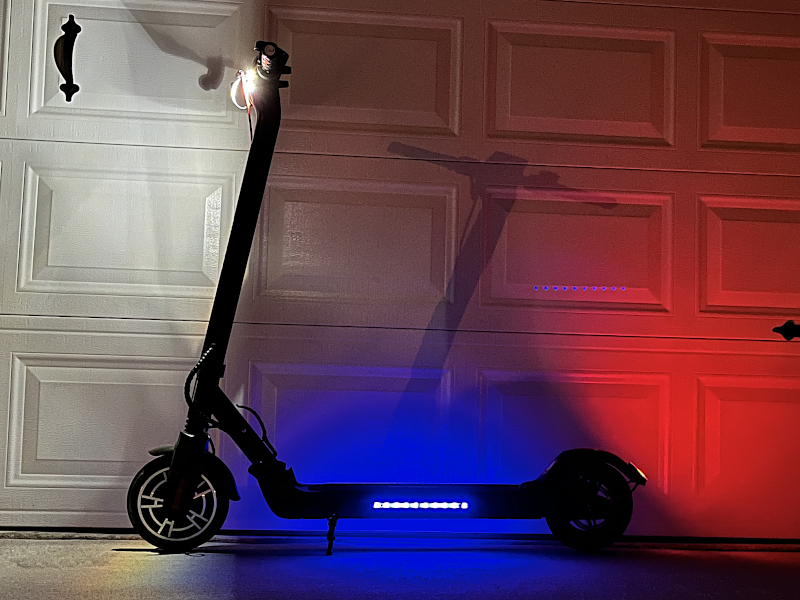 There are set of LED lights on the front that are surprisingly bright and a red taillight on back.  These lights are a great addition for when you have to travel at night.  Even so, I wouldn't want to use the MICROGO M5 Electric Scooter on a road at night; there's no way it's safe.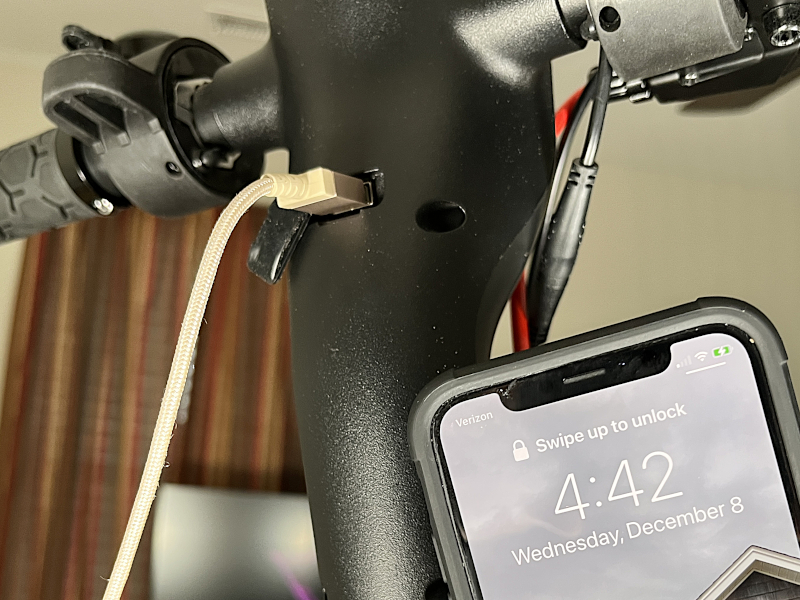 The M5 has a USB port at the top of the handle bar that can be used to charge my phone, and by golly it actually works.  This is, however, a very silly use for an electric scooter.  If you find yourself out and about a lot and needing to recharge your phone, get a good power bank.
The manual mentions that there's an app that I can use to connect to my scooter, and MICROGO's website says, "Connect to your phone with Bluetooth and monitor distance travelled, time spent, battery power and location parked!"  I gave it a try and found that it worked well.  I could use it control parts of the scooter (like turning the head lights on) and keep tracks of certain stats (like total miles travelled).  In the end, however, I found there wasn't really much value in this app, and so I deleted it.
What I like
Solid construction
Large deck
Easy to control
Fast!
Lights
What I'd change
Fix the problem with pins failing to pop into place properly
Final thoughts
The MICROGO M5 Electric Scooter is an electric scooter with a large deck, big wheels, and dual brakes.  It's easy to start, easy to control, and easy to ride.  In sports mode, it can get up to 18 MPH, which is fast and fun on a scooter.  I thoroughly enjoyed riding it, and I think it could be a lot of help to people in urban environments or school campuses who regularly need to go places where it's too far to walk.  Unfortunately, the M5 has a problem where the pins do not easily pop into the proper position when the scooter is extended.  I had to use a hammer in order to force them into place.  MICROGO is aware of this issue, but they are treating it as if it's not a problem.  Unfortunately, this is a safety issue; if these pins are not properly seated, it's possible that they could pop out when hitting bump or a hole at higher speeds, thus injuring the rider.  I really like this scooter and want to recommend it, but I cannot in good conscience recommend anything that has a safety concern to our readers.  Until such time as MICROGO fixes this problem, you should look elsewhere for your scootering needs.
Price: $469.99
Where to buy:  Amazon
Source: The sample for this review was provided by MICROGO.