We use affiliate links. If you buy something through the links on this page, we may earn a commission at no cost to you. Learn more.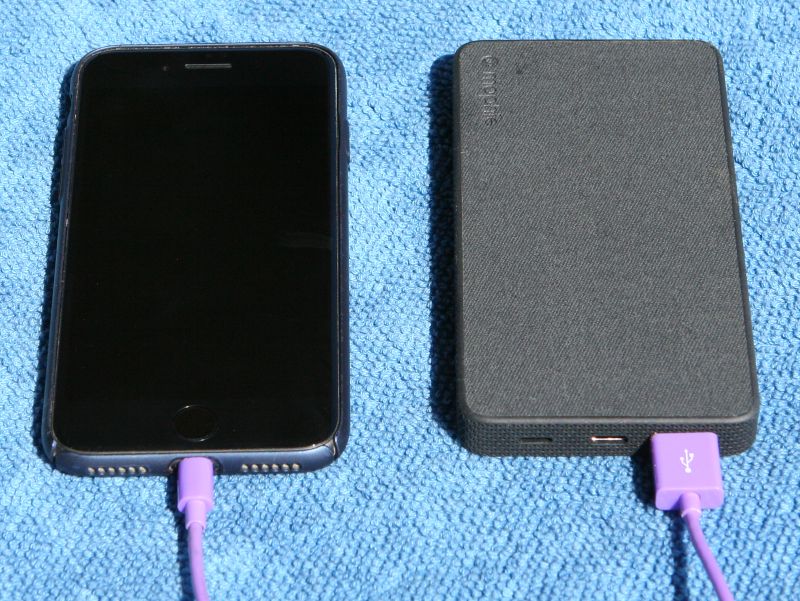 REVIEW – My wife and I enjoy hiking at state parks.  These days COVID-19 is severely curtailing our activities, but once it's over we plan to get back out into nature.  When hiking all day, it's easy to find yourself with a phone whose battery is nearly drained.  For times like this, it's nice to have a power bank in your backpack to pull out and recharge your phone.  I've been looking for a simple, lightweight power bank for my iPhone, and that's why I am reviewing Mophie's Powerstation.
What is it?
The Powerstation is a portable charger that is designed to quickly power your Apple devices.
What's in the box?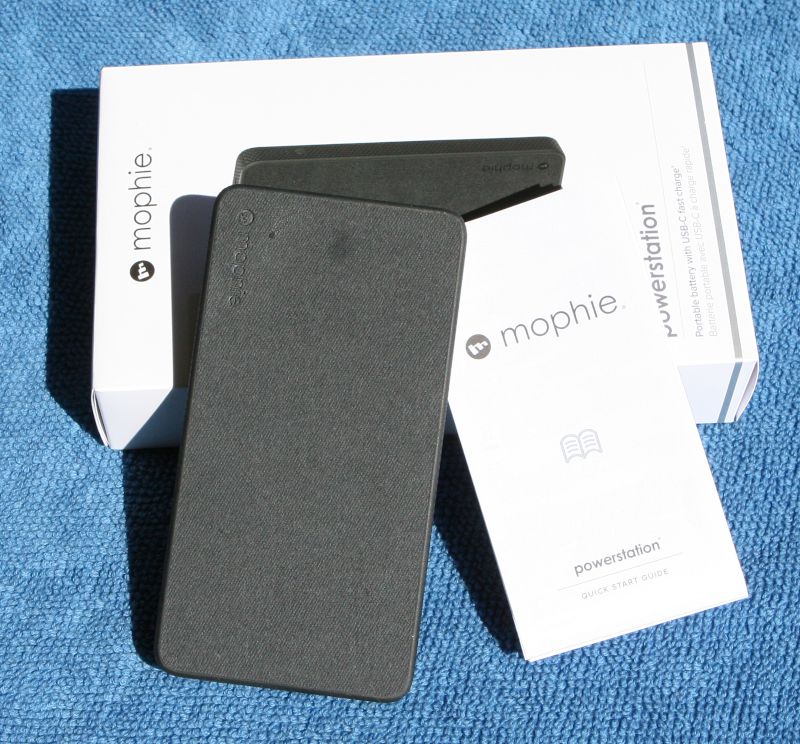 The Powerstation
A Quick Start Guide
Note:  The Powerstation does not come with any cables, so you'll need to supply your own, both for charging the battery and for charging your phone.
Hardware specs
Input:  Lightning and USB-C
Output:  USB-C and USB-A
Passthrough: Lightning in with USB-C out
Battery:  6,000 mAh
Power Output:  18 watts via USB-C
Charging Standard:  Power Delivery (PD) via USB-C
Size:  Approximately 5 x 2.5 x 0.5 inches
Weight: 1/3 pound
Design and Features
The Powerstation is about the same size as my iPhone 8.  This gives it a thin, svelte look.  It's covered with a fabric finish that, unlike most digital gadgets, won't show fingerprints or dust.  The edges are rimmed in a rubbery finish that keeps the power bank from sliding around when it's on my desk or counter.  My Powerstation is black, but it also comes in grey, navy, and pink.  This gadget is so light that I hardly notice it.

On the top of the Powerstation are its three ports, Lightning, USB-C, and USB-A.
On one side is a very small, round button and four tiny, white LEDs.  These LEDs are dim; I can't see them outdoors in the sun, though they are just fine indoors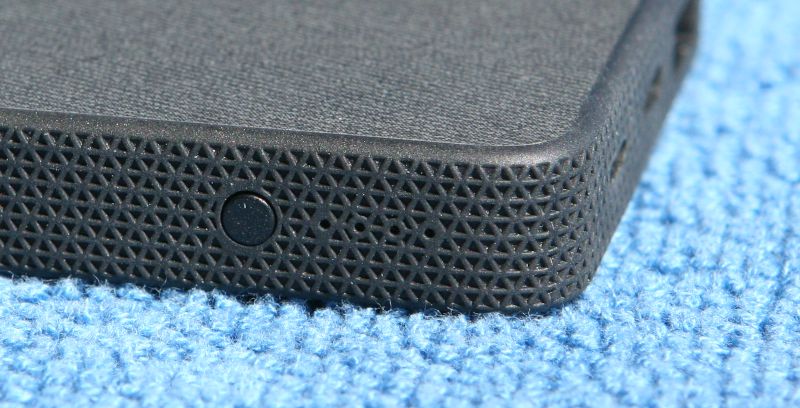 Installation and setup
I began by unfolding the Quick Start Guide to see how to use the Powerstation.  There are no instructions, only four pictures.  It took me a while to realize the differences in the first three pictures:  One is for charging the battery, one is for charging the phone, and one is for passthrough charging.  I am really not a fan of this Quick Start Guide; though it gets the job done, it's just not as clear and obvious as it should be.  If Mophie is selling their product to an English-speaking audience, then they should add some English text to make things a bit easier to understand.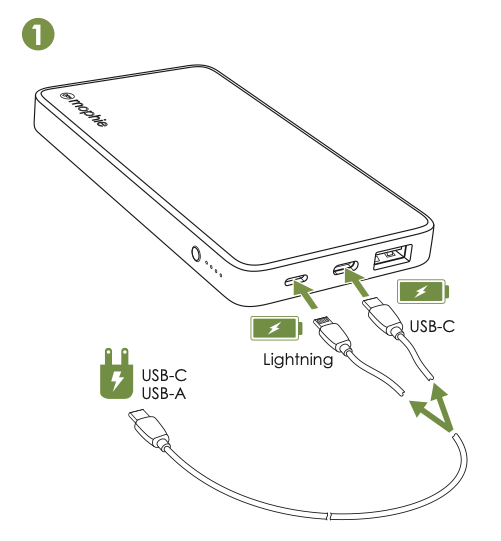 Once I had puzzled my way through the Quick Start Guide, I grabbed a Lightning cable and plugged the USB-A end into my SoundCore Wakey and the Lightning end into the Powerstation.  Once plugged in, the four tiny white LEDs on the side started blinking to let me know that it was recharging, though they turned off after 30 seconds.  In general, I found that it took about two hours to fully charge.  It can also be charged using a USB-C cable.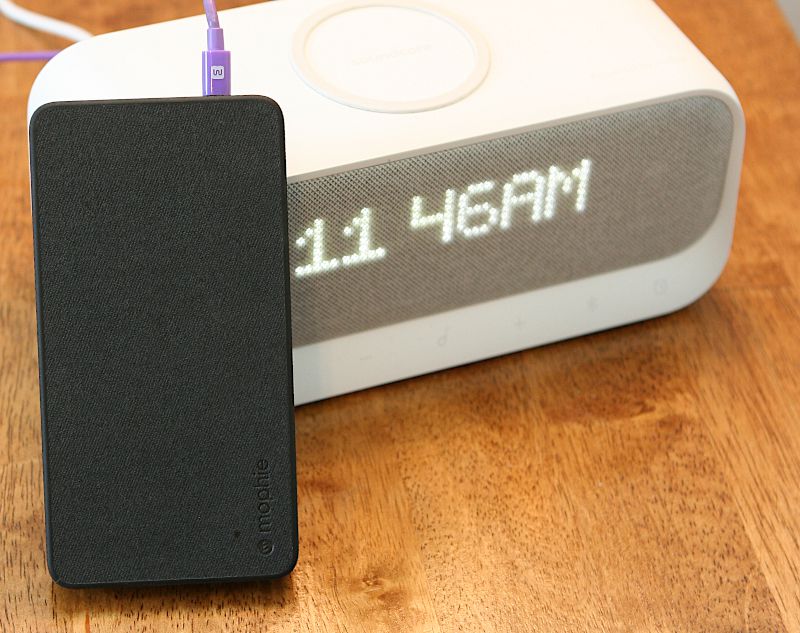 Performance
My personal cell phone is an iPhone 8, so I charged it using the same USB-A to Lightning cable that I used to charge the battery.  Once the cable is plugged in, it immediately began charging.  The Quick Start Guide indicates that I need to press the button for 3 seconds in order for charging to begin, but this wasn't necessary for me.  I found that it took my phone from 20% battery (in the red) to 95% in 2 hours.  I could also use a USB-C to Lightning cable, which I would expect to charge even faster, as it uses the Power Delivery spec, but unfortunately, I don't have this type of cable.  My work cell phone is an iPhone XS.  The PowerStation took it from 20% to 95% in 1 hour and 20 minutes.  I'm not sure why the iPhone 8 took longer—I ran this test twice with the same results—as the battery in the XS has 50% more capacity than the one in the 8.  Perhaps the XS supports a newer, faster charging standard.  In either case, the Powerstation had no trouble charging up my phones.
As my next test, I used the Powerstation to charge my 5th generation iPad, an older tablet.  Unfortunately, it did not have the capacity to fully charge it; it could only get it to 56%.  This is probably due to the fact that the battery in the Powerstation is fairly small, only having a capacity of 6,000 mAh.  I think it's safe to say that this Powerstation is best used for charging phones rather than tablets.  If you need more capacity, take a look at the Powerstation Plus XL, which has 8,000 mAh and sports wireless charging, the UGREEN Power Bank that I reviewed last year, which had 10,000 mAh and could fully charge my iPad, or the AUKEY PB-Y24, which has a massive 26,800 mAh.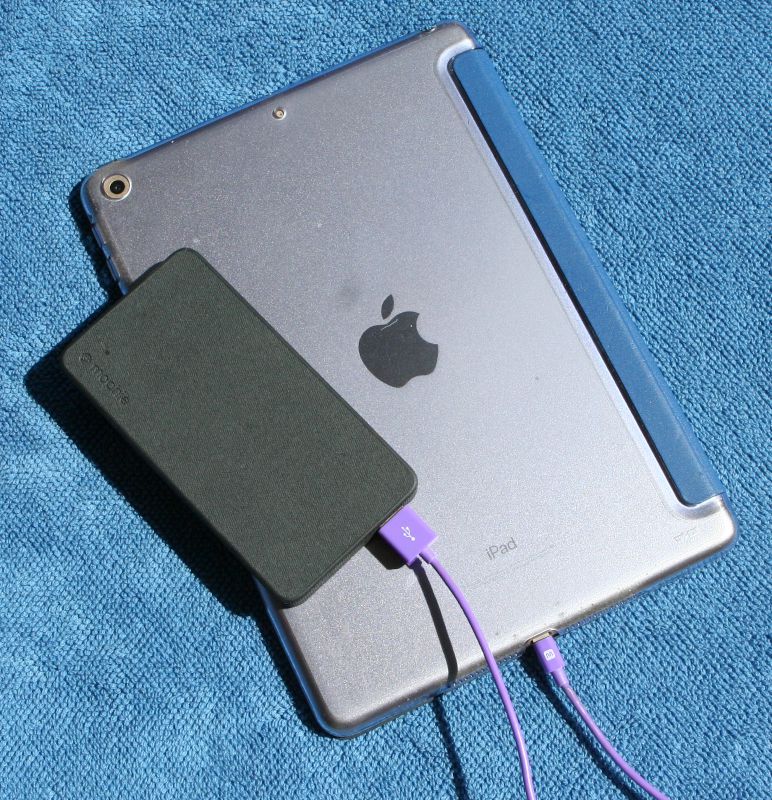 Finally, I used it to charge my Tribit QuietNoise Bluetooth headphones.  It took it from empty to full in about 3 hours.
Extra Features
To estimate how much power remains in the battery, I can press the small, round button on the side, and anywhere from zero to four of the tiny white LEDs will light up, thus representing from 0 to 100% in 25% increments.  It's a rough estimate, and I think I would prefer a digital readout, like the one on this UGREEN Power Bank.
Mophie's power bank has the ability to do passthrough charging, where you charge the battery with a Lightning cable, while it in turns charges your phone with a USB-C cable.  Mophie's website calls this Priority+ charging and states that the phone is charged first and then the battery.  I don't quite see the value of this feature for me.  I can simply plug both into either my Wakey or my Anker charger, and they will both charge at the same time.
The Powerstation also has the ability to charge two phones at once.
What I like
Fabric finish with rubber edges
Thin and light
Easy to use
What I'd change
Add English instructions to the manual
Include a USB-C to Lightning cable
Final thoughts
Once my wife and I hit the trails again, I'm definitely going to toss Mophie's Powerstation into the backpack.  While it's not very useful for charging my iPad, it's perfect for charging my iPhone, fast and easy to use.  If you're in the market for a simple power bank for your iPhone, I recommend taking a look at this gadget.
Price: $59.95
Where to buy:  ZAGG's online store and Apple
Source: The sample for this review was provided by Mophie.