We use affiliate links. If you buy something through the links on this page, we may earn a commission at no cost to you. Learn more.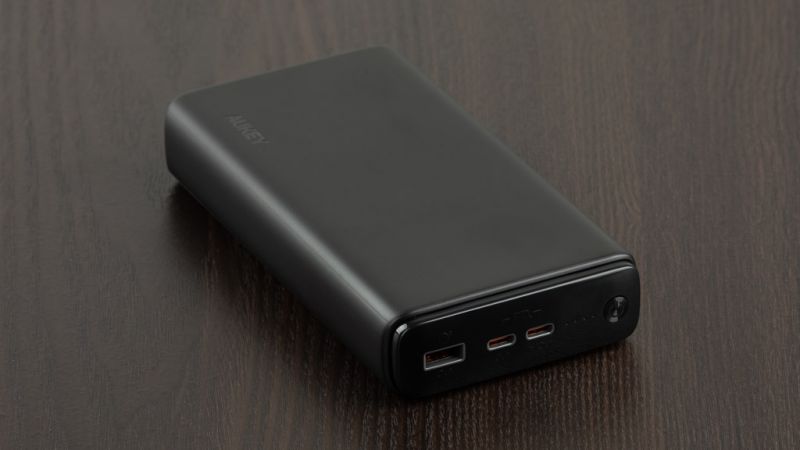 REVIEW – Much of our modern life revolves around power. I have quite a few small portable chargers, but when the AUKEY USB C Power Bank came along, I thought that it would be a great chance to try out a large capacity portable charger.
What is it?
The AUKEY USB C Power Bank is a 26,800 mAh portable charger.
What's in the box?
AUKEY USB C Power Bank
Carry pouch
USB-C to USB-C cable
User Manual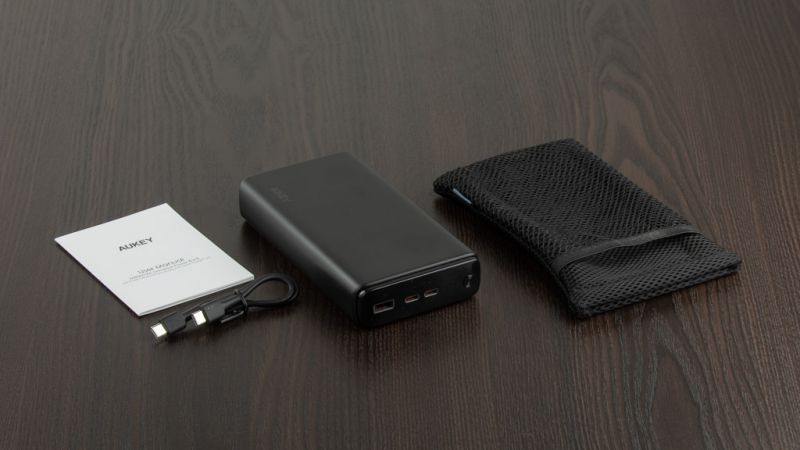 Hardware specs
+ 26,800mAh lithium-polymer battery
+ Qualcomm Quick Charge 3.0
+ Max Power Output 65W
+ USB-C In: 5V 3A, 9V 3A, 12V 3A, 15V 3A, 20V 2.25A Out: 5V 3A, 9V 3A, 12V 3A, 15V 3A, 20V 3.25A
+ USB-C Output: 5V 3A, 9V 2A, 12V 1.5A
+ USB-A Output: 5V–6V 3A, 6V–9V 2A, 9V–12V 1.5A
Design and features
Our devices are getting more power-efficient every day; however, we somehow still end up running out of battery life. For quite some time, I've had portable chargers in the 4,000 to 5,000 mAh range, and though they are quite handy, now and then the need for more power comes along.
The AUKEY USB C Power Bank is a larger, more powerful portable charger. There's no getting around the weight vs. capacity when it comes to batteries. This power bank is on the larger and heavier side of things, but when you need a fair amount of capacity, that's just something you'll have to live with.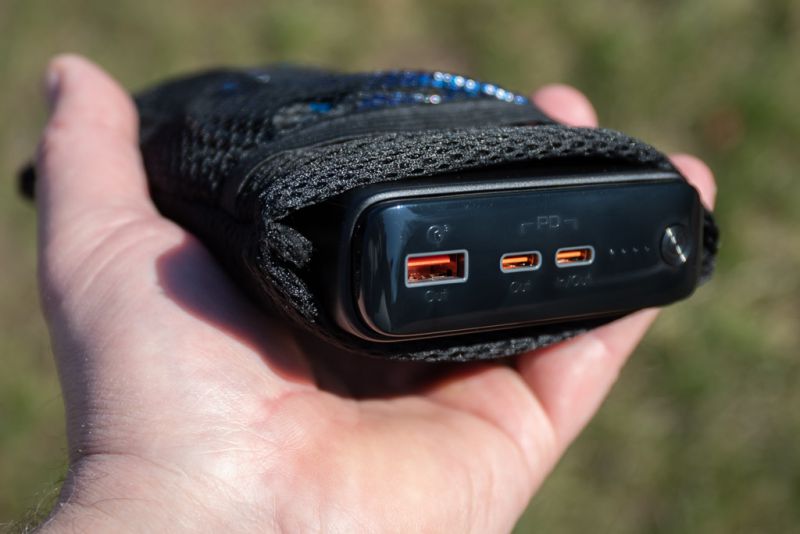 At 26,800 mAh and a maximum output of 65W, it has what it takes to charge most of your portable devices. From phones to laptops, it has you covered.
Featuring two USB-C PD capable outputs, and one USB-A output, the AUKEY USB C Power Bank should be able to provide power for all your USB charging needs. USB PD (Power Delivery) is a new, universal multi-voltage charging standard that dynamically negotiates power output over a USB-C connection. USB PD requires a device (phone, tablet, or laptop) that supports the technology.
The Qualcomm Quick Charge 3.0 technology can charge devices up to four times faster than conventional charging. It is faster and more efficient than previous versions of Quick Charge.
The AUKEY USB C Power Bank can also be charged faster than a standard power bank. Using a 45W PD or higher charger, you can charge the power bank at maximum speed to a full charge in 7.5 hours.
A special low-current charging mode can be used to charge low-current devices such as fitness trackers or wireless headphones. Pressing the power button for 2 seconds will enter or exit the low-current mode. This mode is indicated by one of the LED's turning red.
The included carry pouch has an external pocket to carry cords, or if your phone is small enough you can put it in there also.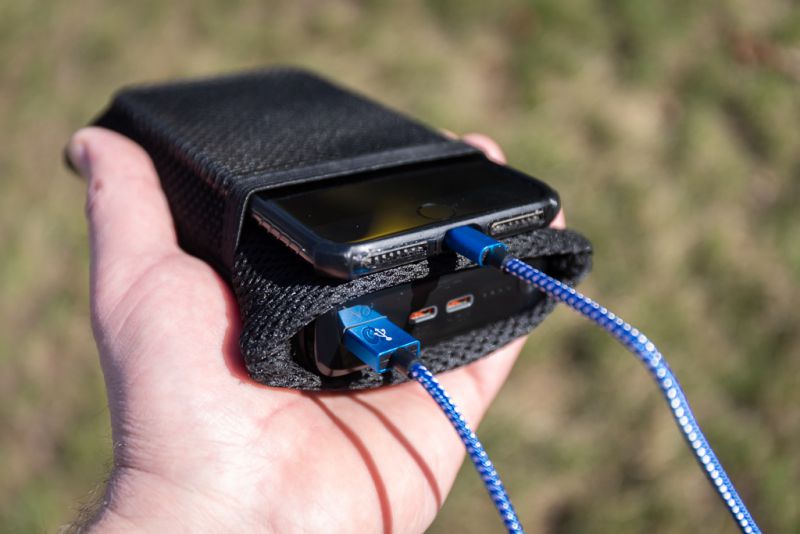 With a maximum output of 65W, the AUKEY USB C Power Bank has enough power to charge devices such as a 13″ MacBook Pro or Google Pixelbook Go at full speed. I had intended to test this with my Motile laptop, but I was unable to get an adapter that I needed due to this coronavirus thing going on right now.
The AUKEY USB C Power Bank has a power button, four battery level indicator LED's, and three USB ports. One USB-C in/out, a USB-C out, and a USB-A out. Both USB-C ports support PD charging, and one supports PD in to charge the power bank.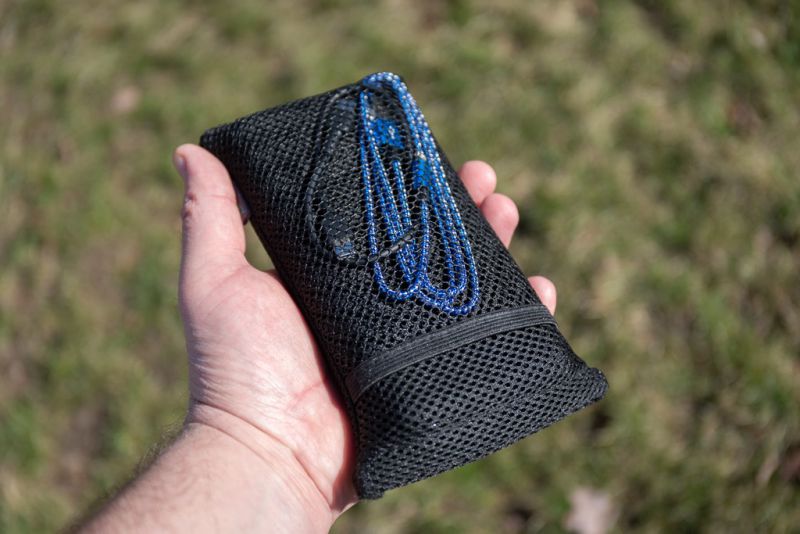 What I like
Large Capacity
The included pouch is nice
What I'd change
It would be nice if the included pouch had a belt loop
Final thoughts
I found that the AUKEY PB-Y24 portable charger performed flawlessly. I ran it for various devices such as my phone, headphones, and gimbal without any problems. It is a little on the larger side, but it is very comforting knowing that I can take it with me and not worry about power for the entire day, and even several days if needed.
Price: $79.99
Where to buy: Amazon
Source: The sample of this product was provided by AUKEY.