We use affiliate links. If you buy something through the links on this page, we may earn a commission at no cost to you. Learn more.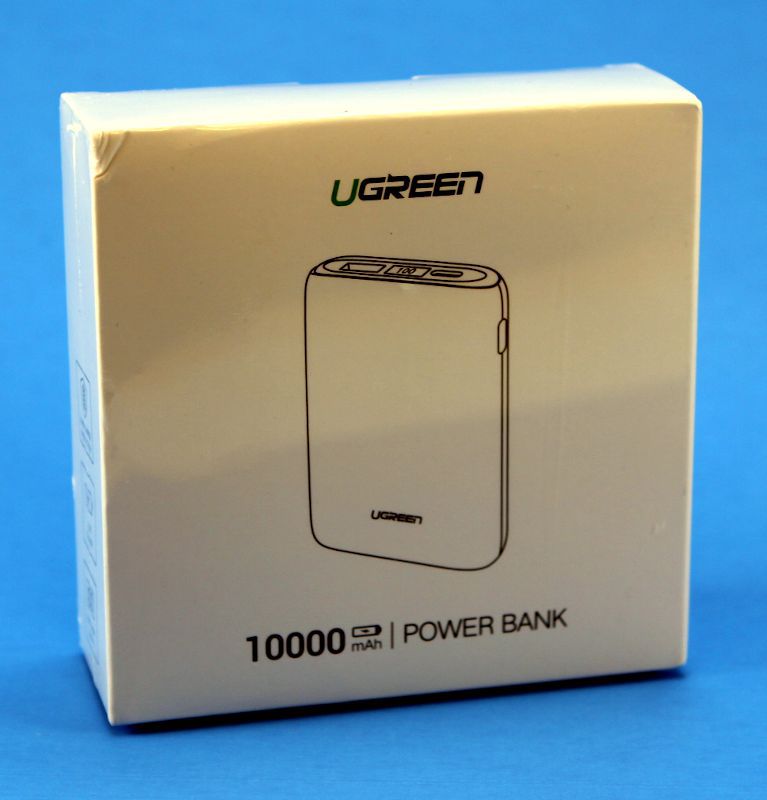 REVIEW – Some days it's easy to keep our phones charged:  We're at home, at the office, or in the car.  Other days, however, are more difficult:  We're out and about, shopping or hiking, or at a conference or in an airport. If we're constantly using our phone, or if it's older and can't hold a charge as well, we can easily find ourselves with a nearly drained battery.  For days like these, UGREEN's Power Bank is a great gadget to have on hand.
What is it?
The UGREEN 10000mAh PD 18W Power Bank is a charger for your phone that also works with any device that can be charged from a USB cable, such as a tablet, a Nintendo Switch, or a GoPro camera.
What's in the box?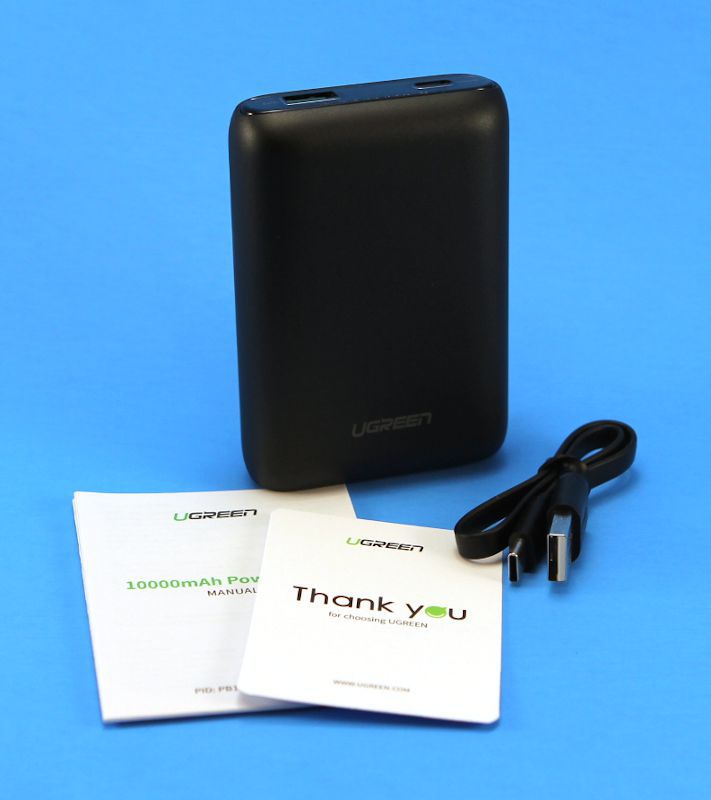 The Power Bank
A USB-A to USB-C cable
A manual (with 2 pages of English instructions)
A thank you card with UGREEN's support email
Hardware specs
USB C input and output
USB A output
10000mAh capacity
18 watt output
Smart LED indicator
3.75 x 2.5 x 1 inches
Design and features
The Power Bank is a compact black gadget with clean lines and rounded edges.  It's specifications are printed on one end and its ports are located on the other end.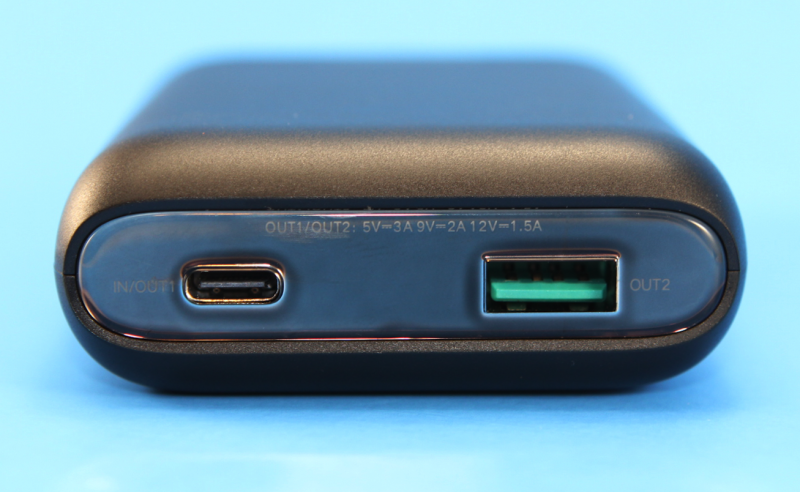 A difficult-to-see button on the left side can be pressed to reveal what percentage of charge remains.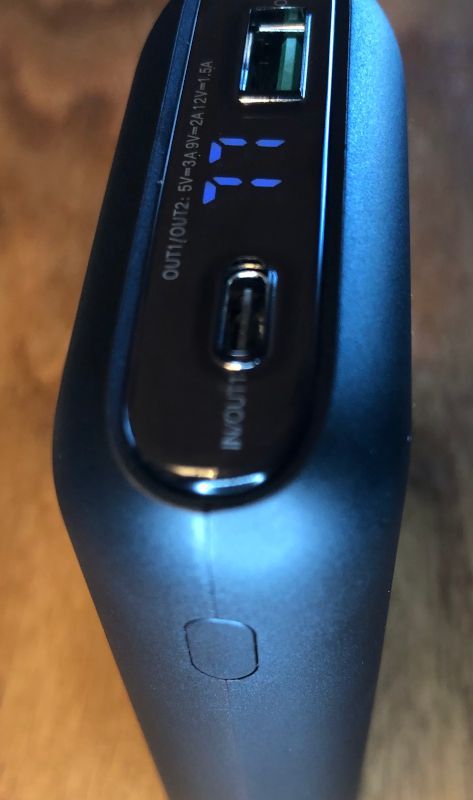 The total volume of the Power Bank is about the same as my iPhone 8; the difference is that my phone is longer and skinnier.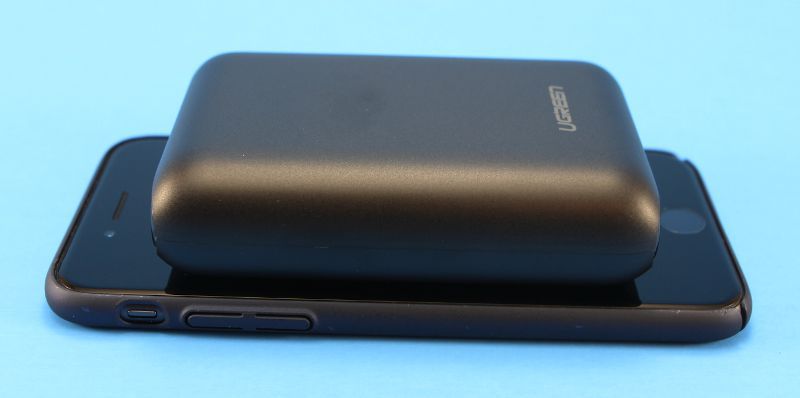 Installation and setup
The only setup required is to charge it up.  UGREEN's Amazon page says that the Power Bank can be fully charged in 3 hours via its USB C port.  I connected the supplied cable to our trusty Anker USB charger and found that it took 4 hours.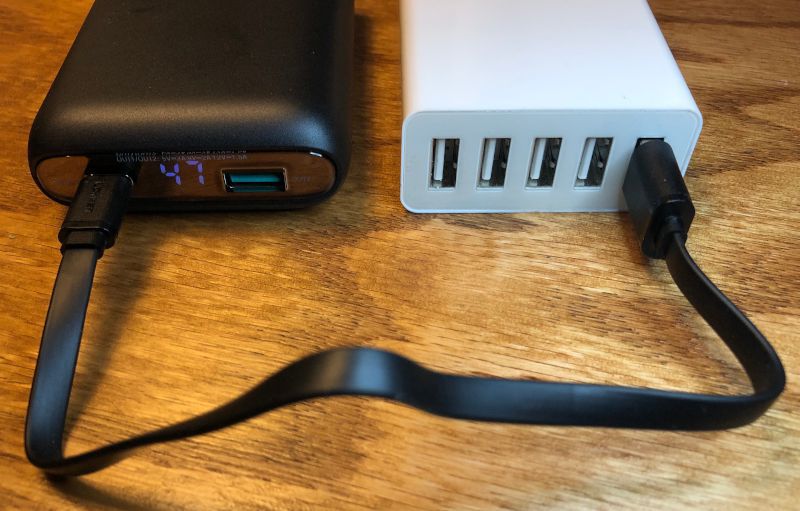 I suspect the reason for the extra hour is that my Anker charger is older; it doesn't support the latest charging standards.  If I upgraded to a newer charger, like this one, I think that the charging time would probably drop down to 3 hours.
Performance
The Power Bank uses its USB C port to be charged, but it can use either its USB C or its USB A port to charge other gadgets.  It can even use both to charge two gadgets at once, though it does so more slowly, as using fast charging techniques creates a lot of heat.  Unfortunately, I don't have the right cables to test charging with the USB C port, so all of my testing was conducted with the USB A port.
First, I tested the charger on my iPhone 8.  I ran it down to the red-zone, which is 20%.  Using a USB A-to-Lightning cable, the UGREEN charged it back to:
74% in 47 min
95% in 105 min
When it had charged my phone to 95%, the power bank still had 85% of its battery left, more than enough to charge my phone twice more.  These are really good numbers!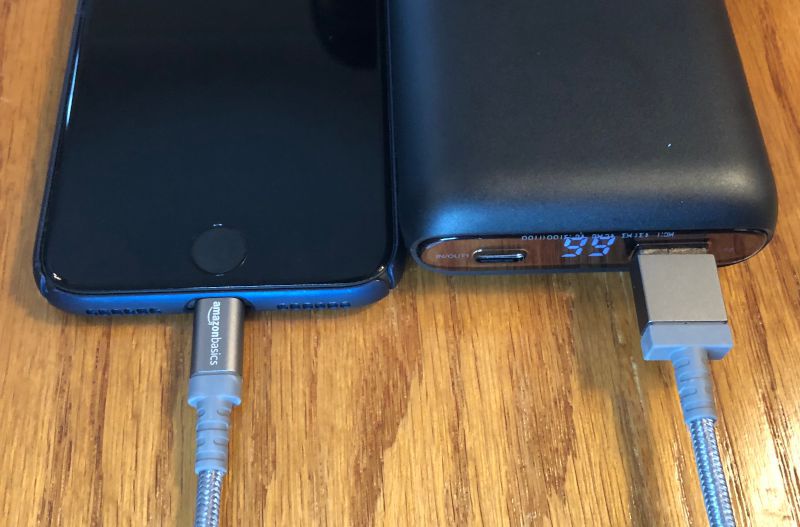 Second, I tested it on my iPad (5thgen).  I ran it down to its red-zone, which is 10%.  The UGREEN charged it back to:
55% in 81 min
99% in 207 min
When it had charged my table to 99%, it only had 3% left.  The tablet, of course, has a much bigger battery than the phone, thus it takes longer to recharge and consumes more power.
Third, I tested it on my GoPro.  I ran it until I drained the battery.  Using the GoPro's charging cable, the UGREEN charged it back to:
75% in 120 min
85% in 240 min
At this point, it seemed to exponentially slow down.  Leaving it charging for another hour only increased it 1%.  I guess this is as far as the Power Bank can charge it; the good news is that it's ready to go!
Extra Features
UGREEN's Power Bank supports a number of standards that allows gadgets to be charged quickly via its USB C port:
Power Delivery (PD) 3.0/2.0 – a universal standard for USB
Quick Charge (QC) 3.0/2.0 – A Qualcomm technology
Fast Charger Protocol (FCP) – A Huawei technology
Adaptive Fast Charging (AFC) – A Samsung technology
What I like
Clean design
Large battery
Fast charging time
What I'd change
Final thoughts
This is a great gadget. It's small and light, perfect for dropping into a purse or a backpack.  Being able to charge your phone multiple times a day gives you the freedom to travel wherever you want without worrying about a drained battery. If you find your phone to frequently be in the red-zone, I suggest giving the UGREEN 10000mAh PD 18W Power Bank a try!
UPDATE (25 August 2020) – I would tend to think that power banks aren't a very important item during the midst of a global pandemic.  Last year I gave the UGREEN to my son.  He used for a some trips, but once COVID hit it pretty much sat on his shelf, especially since he's working from his home.  Until last night!  A local storm knocked out power, and suddenly this power bank was handy, helping him to keep his phone charged.  You never know when you might need one.
Price: $21.99
Where to buy:  UGREEN and Amazon (Coupon Code: UGUS18W2 to save 20% – Expires 9/30/19)
Source: The sample for this review was provided by UGREEN.