We use affiliate links. If you buy something through the links on this page, we may earn a commission at no cost to you. Learn more.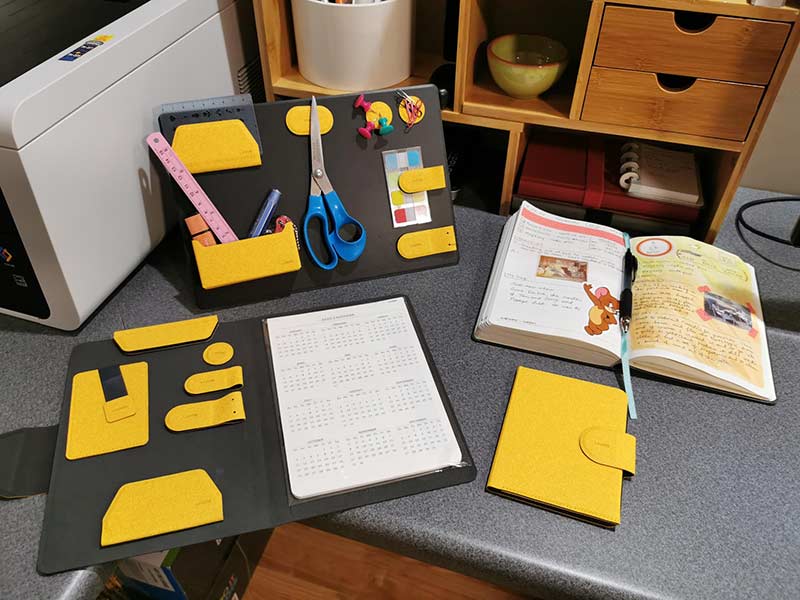 CROWDFUNDING REVIEW – I'm the type of person who performs and focuses best when my work area is neat, tidy, and all my needed tools are within reach. With many offices going to open concept working areas instead of cubicles with a desk and cabinets that are assigned to one worker, it can be tough to make a generic flat surface feel your personal work area, let alone give you the easy access to your work gear. That's where something like MagEasy comes in.
What is it?
LHiDs MagEasy is a modular magnetic organizing kit that is currently seeking funding on Kickstarter. There's the Board which adds an upright organizer for your office tools and the MagEasy Folio which goes with you to organize your on-the-go productivity gear.
Why do I like it?
I'm a sucker for anything that uses magnets, so MagEasy won me over from the get-go in that respect. But after playing with an early production kit that they sent me to try out, I found that I liked the MagEasy Board quite a bit. I like that the PU leather board comes with 7 magnetic holders for small items like paperclips and pushpins, and larger holders for items like earbuds, scissors, pens, and bulkier items. The cool thing is that the whole board folds flat for easy storage in a bag or drawer when it's not being used. Including the small magnetic box.
If you're looking for something a bit more mobile, the PU leather Folio is an A5 sized paper holder that you can use as a planner. It even comes with a 40 sheet paper pad that includes a 2020/2021 calendar, monthly planner sheets, todo pages, meeting minutes, lined paper, and grid paper. Included with the Folio are 6 magnetic holders that you can use for business cards, clips, pens, pencils, and more. There's even an RFID blocking cardholder if you want to use the Folio as a wallet.
Where can I find more info?
The MagEasy campaign ends on 6/6/20 and they have already surpassed their funding goal of $1,000. You can pre-order a MagEasy Folio or Board starting at $35. After the MagEasy campaign ends, rewards are estimated to start shipping in July 2020. Visit their Kickstarter page for all the details.