We use affiliate links. If you buy something through the links on this page, we may earn a commission at no cost to you. Learn more.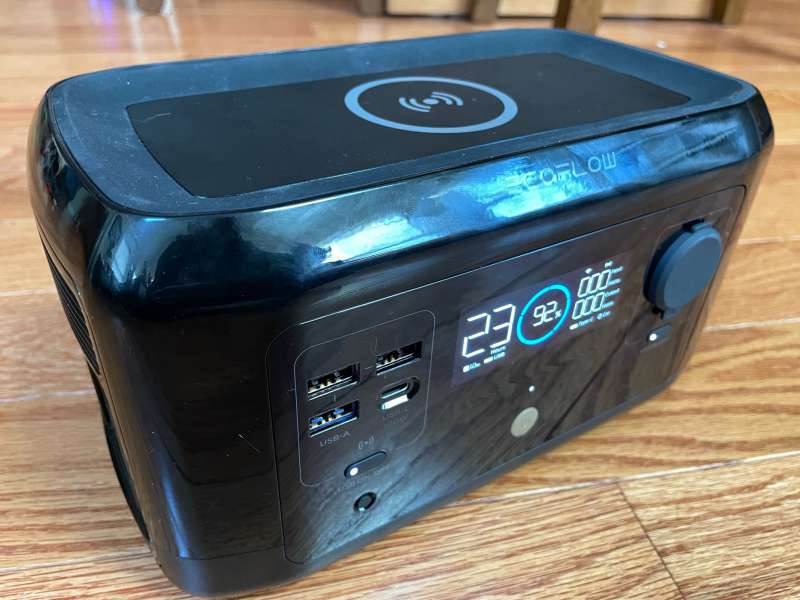 REVIEW – EcoFlow's innovative power stations have only been on the market for a few months, but have made a big impact in portable power. I was very impressed with the Delta Pro power station and jumped at the opportunity to have a look at their River Mini.
What is it?
The EcoFlow River Mini is a portable power station with an integrated battery, AC inverter, USB-A, USB-C, and DC outputs.
Hardware Specs:
210Wh (watt-hours), 58400mAh
9.8 x 5.5 x 5.2 inches
6.2lbs
AC input: 100-120V~ 50Hz/60Hz, 6.0A Max,
Pure Sine Wave, 300W total (surge 600W), 120V~ 60H
DC Input: 11-39V 100W, 8A Max
DC Output: 12.6V 10A
Charges to 80% in 1 hour
2 AC wall outlets
1 DC car outlet
3 USB-A ports, 5V 2.4A
1 USB-C fast-charge port. 100W, 5A MAX (River Mini Wireless only)
1 inductive charging pad, 15W Max (River Mini Wireless only)
Supports AC, car, and solar charging
Solar charging input to full in 3–6 hours, 11–39V, 8A max, up to 100W
Battery Technology: NCM
Shelf life: 1 year (after a full charge)
Cycle life: 80%+ capacity after 500 cycles
Discharge temperature: -20°C to 45°C (-4°F to 113°F)
Charge temperature: 0°C to 45°C (32°F to 113°F)
Optimal operating temperature: 20°C to 30°C (68°F to 86°F)
Storage Temperature: -20°C to 45°C (-4°F to 110°F)
What's in the Box?
RIVER mini Wireless
AC Charging Cable
Car Charging Cable
Solar Charging Cable
Quick Start Guide
Warranty Card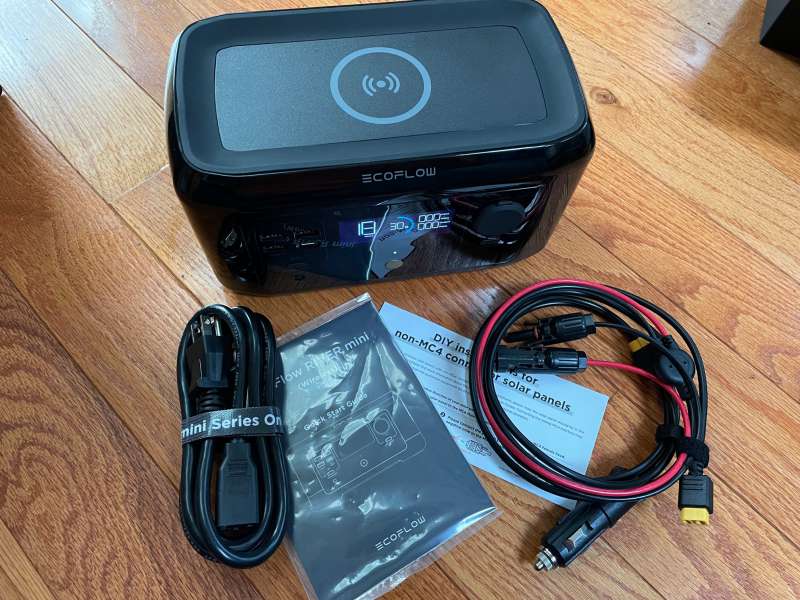 Design and Features:
I previously reviewed EcoFlow's behemoth Delta Pro Portable Power Station and was very impressed with its performance.
The River Mini arrived in cardboard comfort.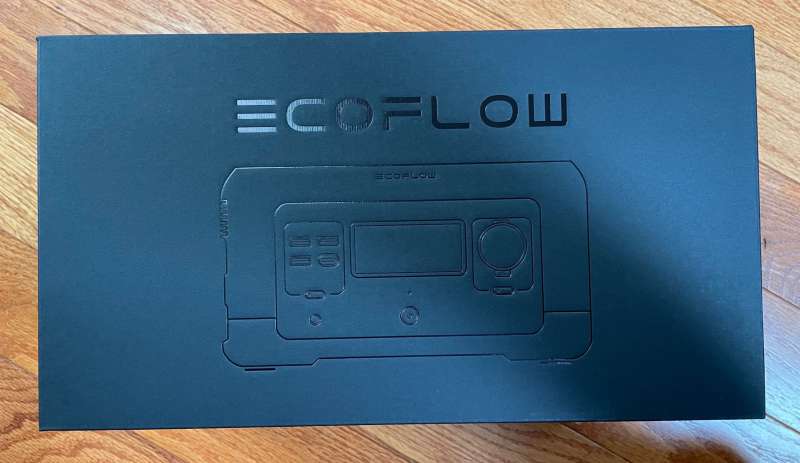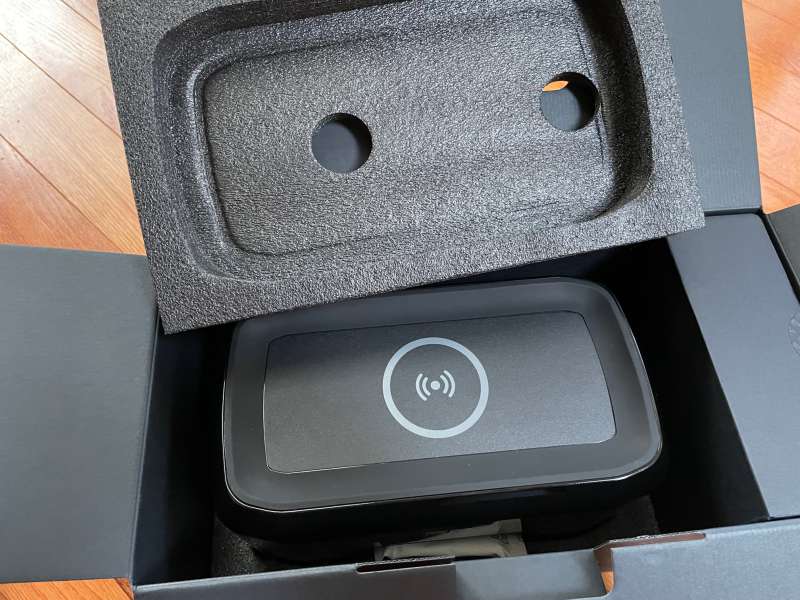 This power station is considerably smaller than expected at about half the size of a Scooby-Doo lunchbox.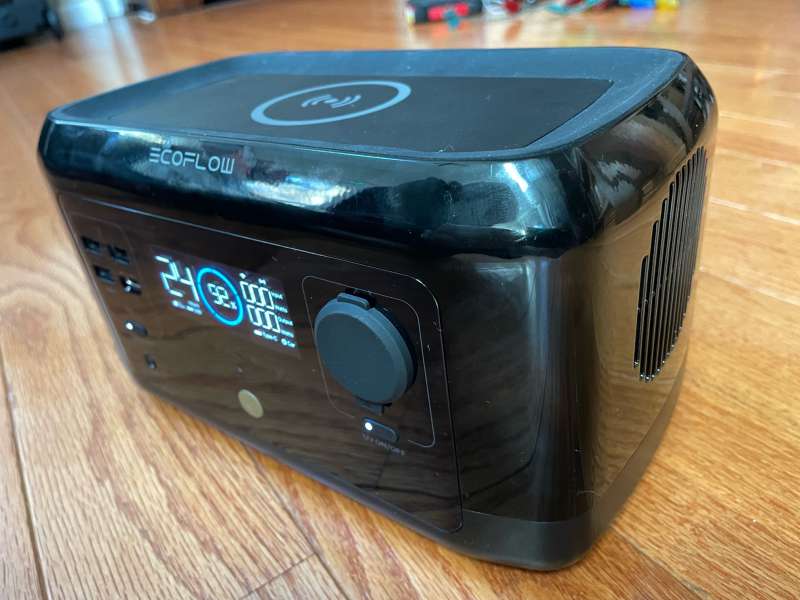 Like its bigger brethren, the River Mini has an informative display. Information includes which outputs are turned on, input and output consumption, percentage of battery remaining, and a time estimate until charged or discharged depending on whether it's being supplied or dispensing power.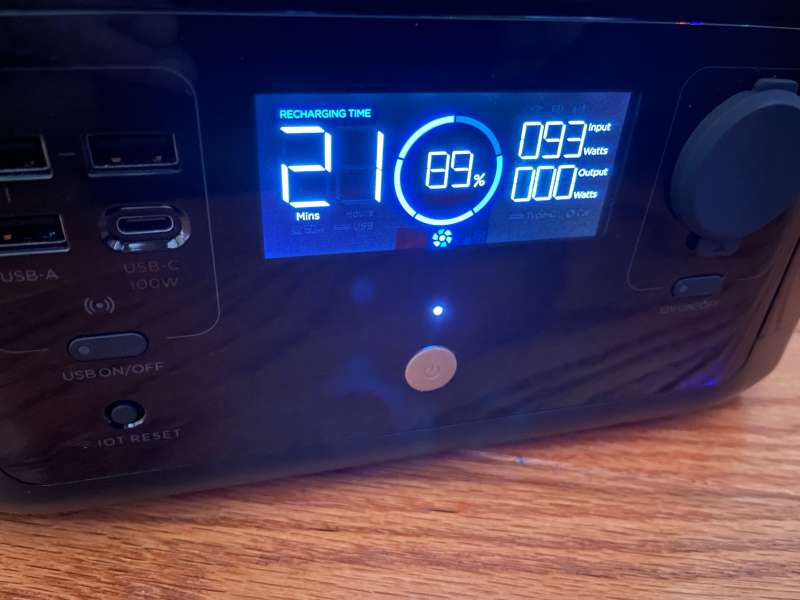 Under a little door on the side, power connections for charging include an IBM-style and solar/DC input sockets are found. Charging is crazy fast, 0 to 80% in one hour. Wow!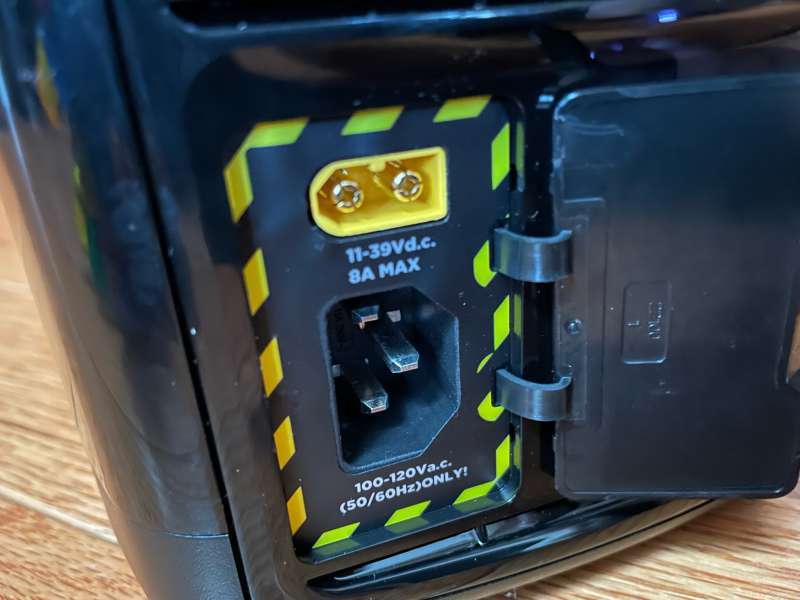 On the same side are two AC power sockets. The design for the sockets is clever – there is a hole between them allowing a grounded power cord to be plugged in, although the ground prong doesn't connect to anything.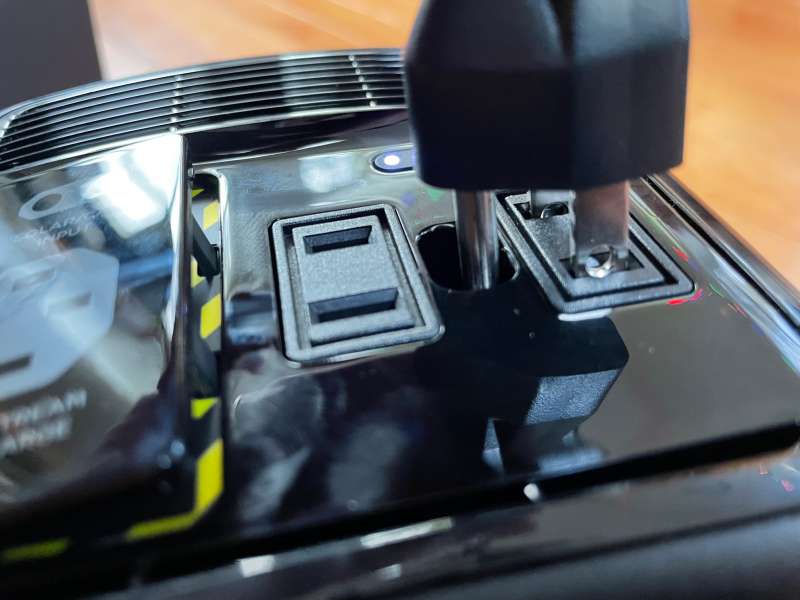 There isn't enough space to plug in two cords with ground connectors, but there is no problem using a grounded (3-prong) and ungrounded (2-prong) plug simultaneously. Of course, using two ungrounded plugs is no problem.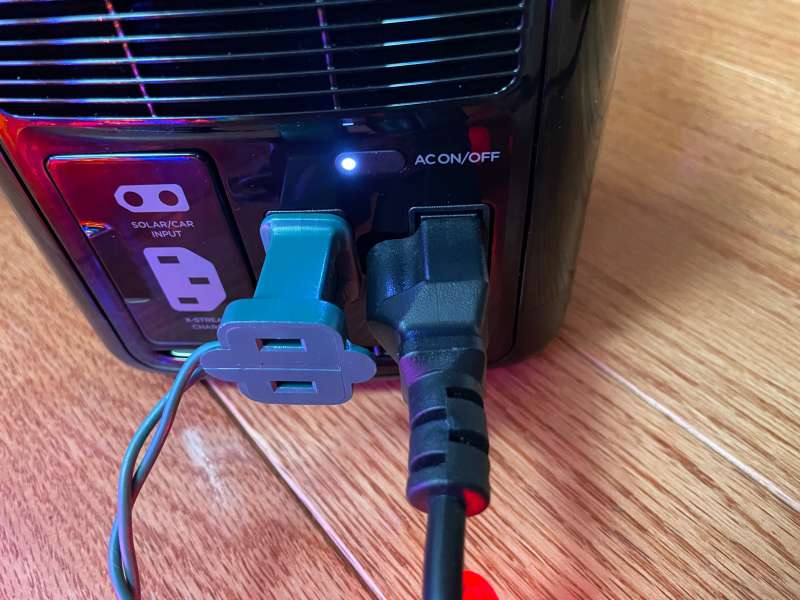 To activate the AC sockets, the inverter can be turned on using the button just above the sockets. There is a white LED to let you know it's working.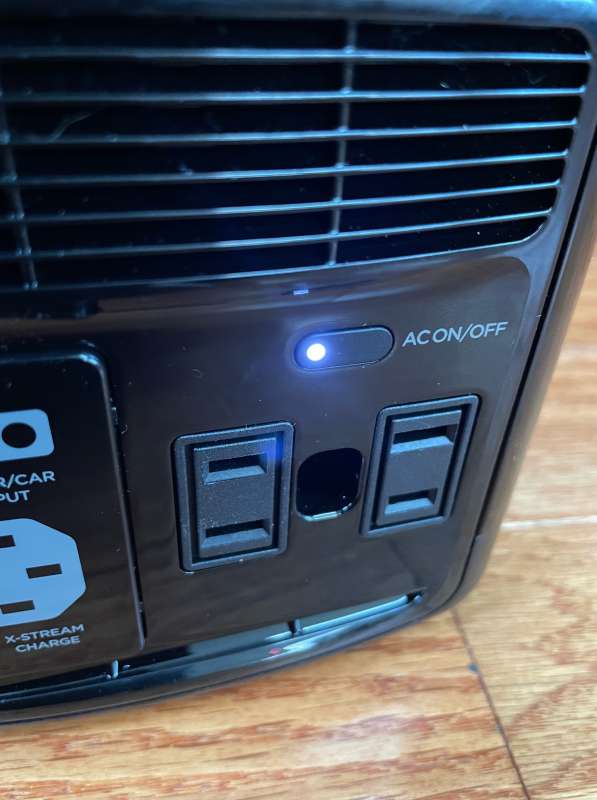 Similar performance to the Delta Pro, the pure-sine wave AC is as good as it gets for an inverter. Bravo, Ecoflow. Power rating is 300 watts continuous, 600 watts peak. At the rated power, the internal battery should be able to power the full 300 watts for about 45 minutes. That may not sound like much, but 300 watts is a good chunk of power – That's a refrigerator continuously running for about an hour. Refrigerators don't run continuously – they cycle on and off – so real-world running time would be considerably longer.
The River Mini is also equipped with EcoFlow's X-Boost, permitting the use of devices up to 600-watts without overloading – X-Boost lowers the output voltage and current to inductive loads (like drills, hairdryers, and waffle irons) to allow the device to function. It's a slick solution and is implemented remarkably well.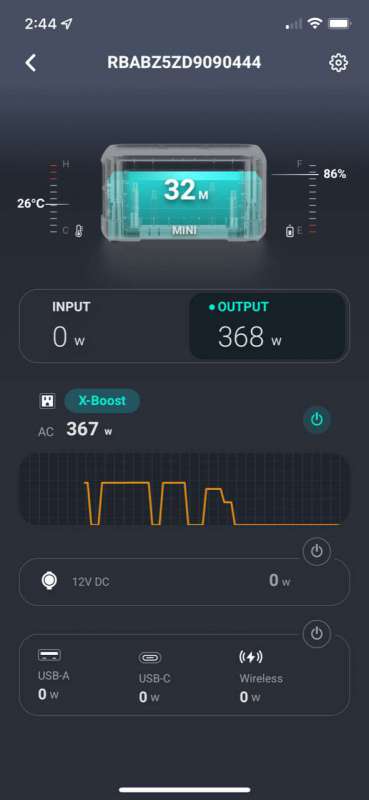 EcoFlow provides many configuration settings to customize your portable power experience.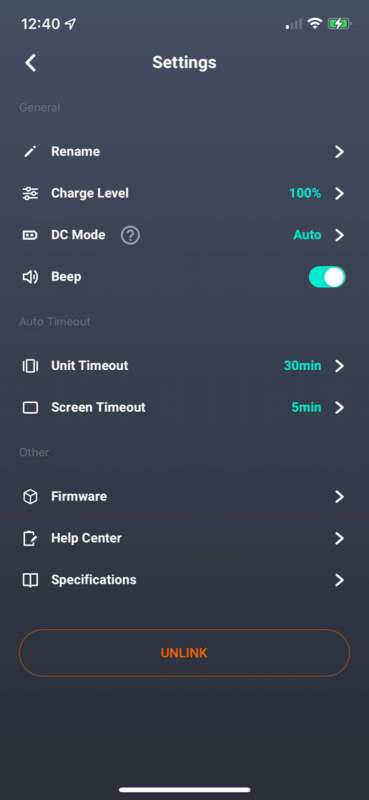 The user can specify the type of DC charging: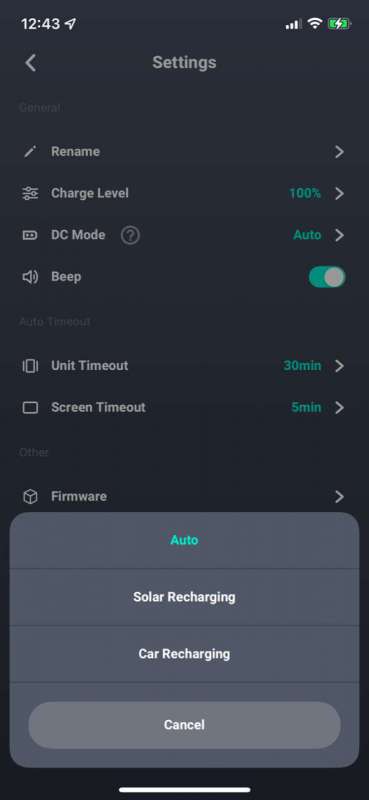 Need to make sure what you want to plug in is compatible? The app has a handy-dandy specifications page: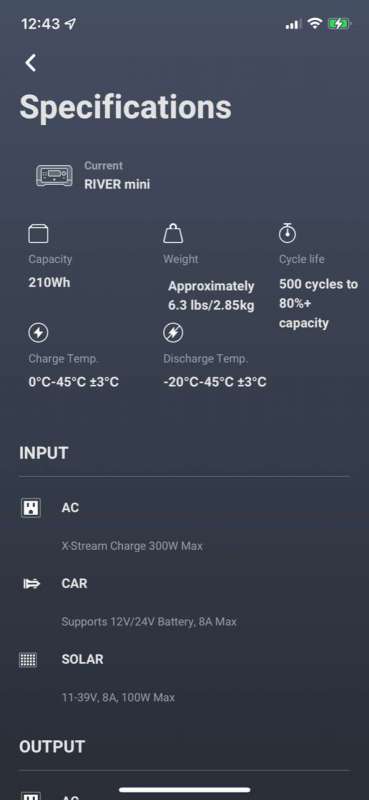 On the front, to the left of the display is the USB power panel. Three USB-A and one USB-C socket are available with an on/off button and requisite white LED to accompany them.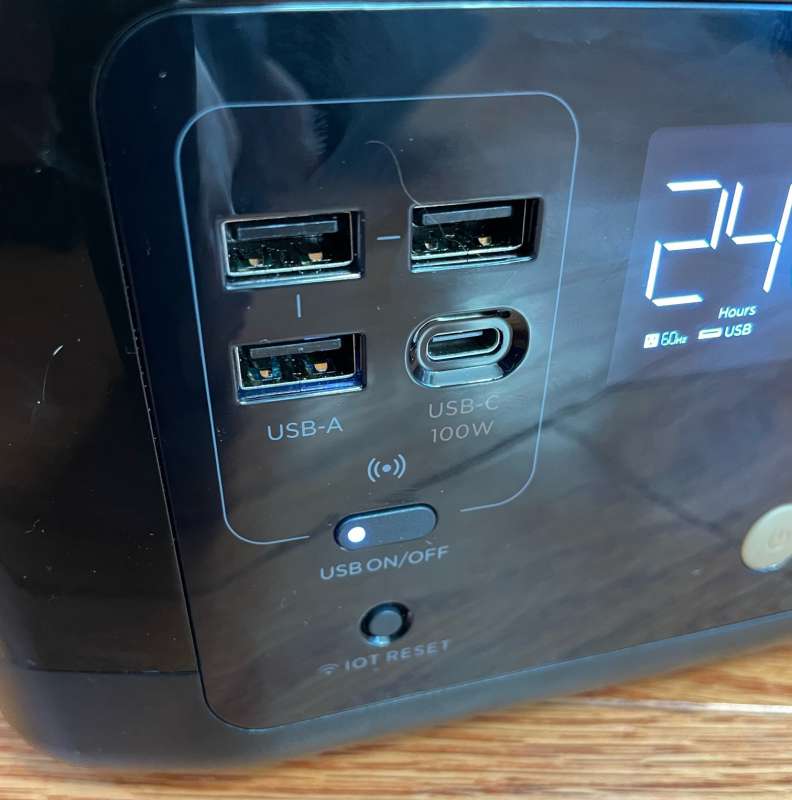 To the right of the display is the 12-volt car socket, protected from debris and toddler fingers with a plastic cap. The power button and, you guessed it, white LED is below the socket.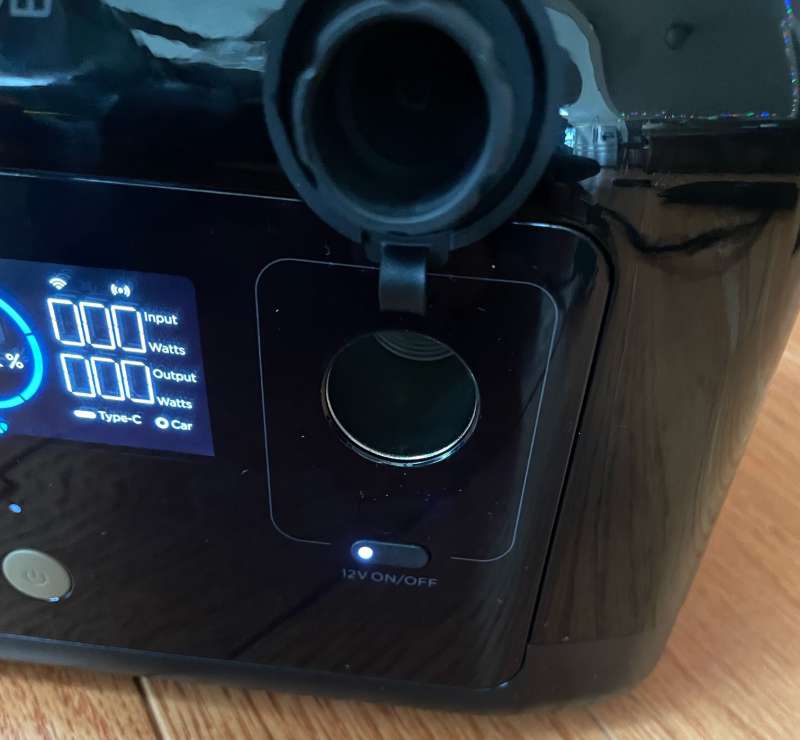 Directly under the USB power button is the IoT (Internet of things) reset button, used to connect the River Mini with EcoFlow's app.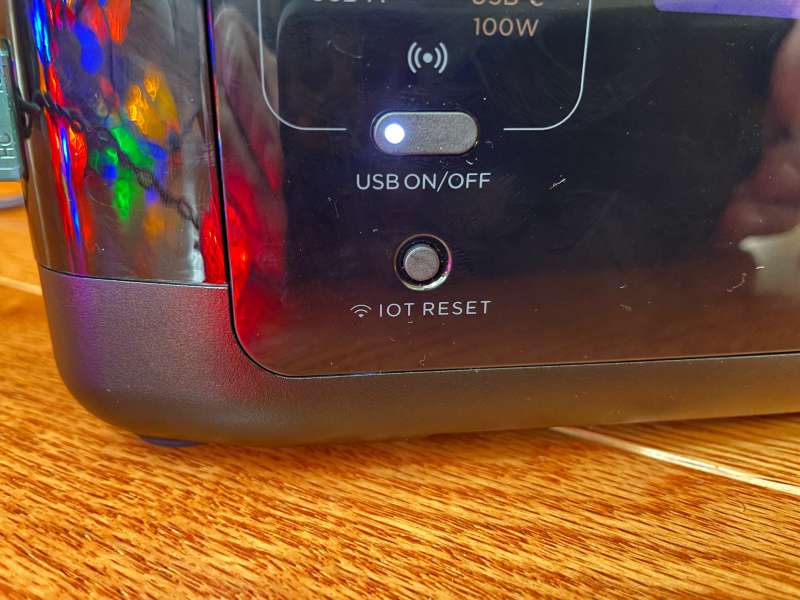 The app allows remote control and monitoring of all of EcoFlow's Wi-Fi-connected products. Lots of information is available at the touch of a finger. Data from each power socket set (USB-A, USB-C, 12-Volt, AC, and wireless) is available. AC output data also features a graphical history of usage.
At 210 watt-hours at full charge, that's just shy of 20 charges of my iPhone 12 pro's battery.
Felling in a festive mood? A 100-LED light string consumes about 4.8 watts (the string I'm using in the photo is much longer). The River Mini would be able to power it for a touch more than 40 hours. On the more practical side, a 100-watt household fan can run for an estimated 2 hours, a 50-watt 32-inch LCD TV for 4 hours, and a beefy 75-watt laptop for 2.5 hours. Camping with the comforts of home, anyone?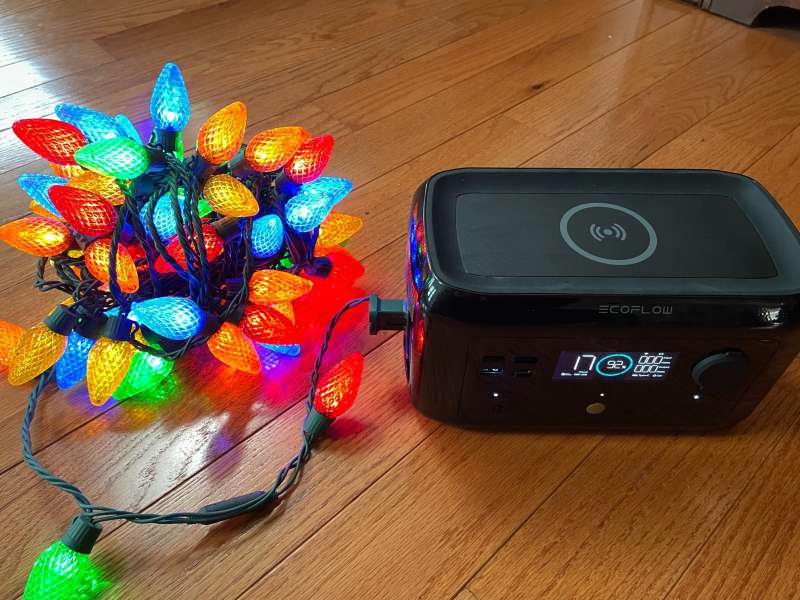 The River Mini does have an audible cooling fan that turns on when charging or powering devices. It's not the quietest, but not horrible either.
The day after receiving the River Mini, my block experienced a blackout and we were without power for about 5 hours. During that time, I used the Power Station to provide light and power to a 40" TV and Roku (my Wi-Fi is already running on an uninterruptable power supply) to keep my wife and I entertained until power was restored.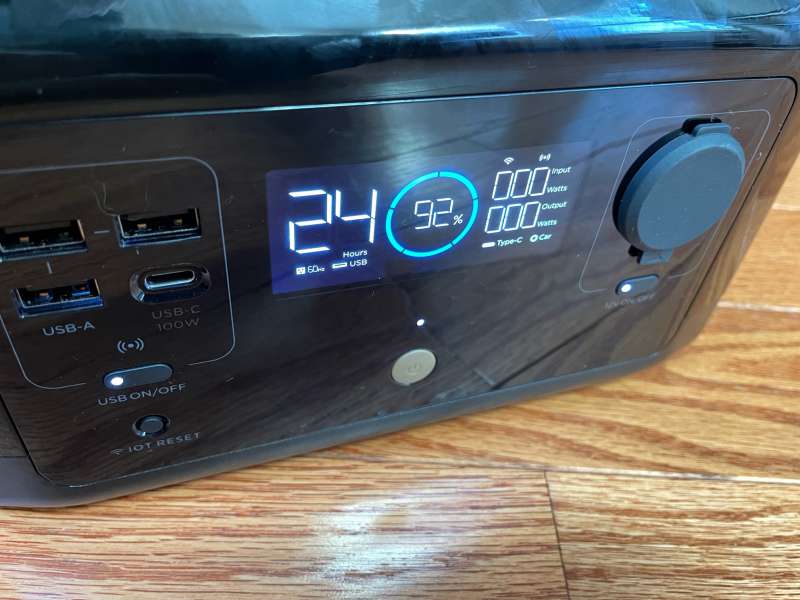 What I Like:
Solid, clean power output
Super-fast charging
A capable, connected app
What I Would Change:
Final Thoughts:
Again, I'm impressed with EcoFlow's innovation and utility with the River Mini Portable Power Station. I can't express the real-world practicality of having a power station like this available. Power outages happen (especially at my house) and there is great comfort in knowing that I'm prepared with
Price:  $349.99 on EcoFlow's website, $299.00 on Amazon
Where to buy:  EcoFlow, Amazon
Source: The sample for this review was provided by EcoFlow