We use affiliate links. If you buy something through the links on this page, we may earn a commission at no cost to you. Learn more.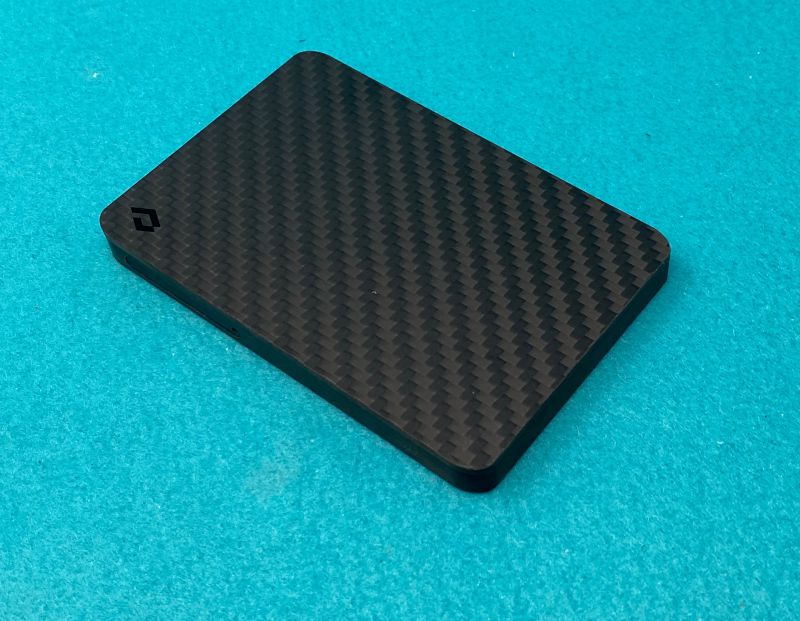 REVIEW – At some point in the past and future, we were and will be digital nomads. In that future time, we will need tools to keep our gadgets charged and connected. Pitaka has released a Travel Kit into their MagEZ line of products to make these tasks much easier. I look forward to our future wanderings with excitement but am still limited to roaming the vast wastelands between my home office, my dining room, the TV room, the back deck, and the front porch. Someday, though. Someday.
What is it?
A collection of various modules building from a base level of a tech adapter kit.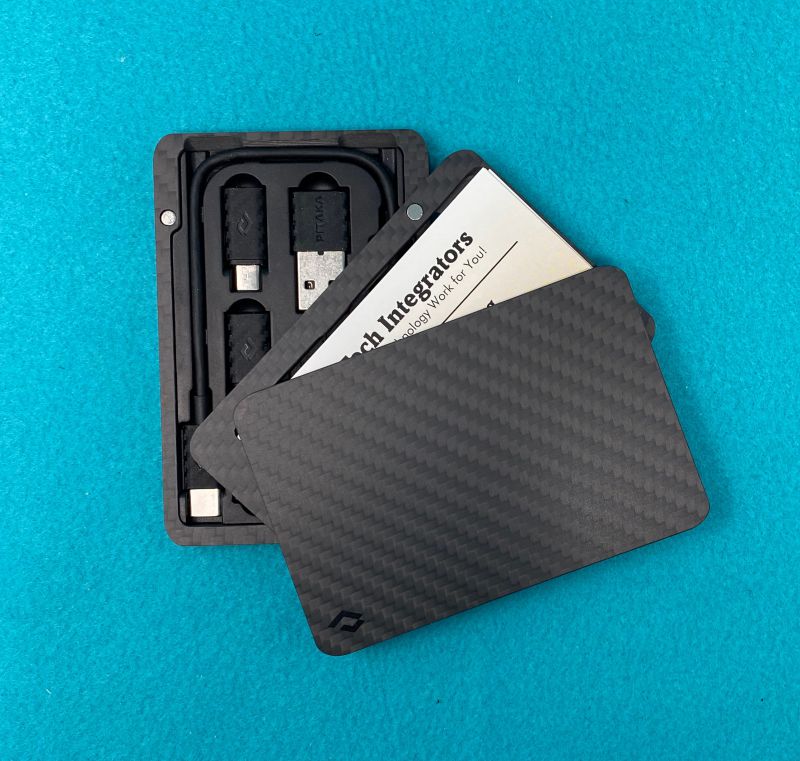 What's in the box?
Carbon Fiber base unit (tray)
USB-C<->USB-C cable
USB-C adapters for Lighting, micro USB, and USB-A
16GB Flash Drive USB 2.0
Memory card reader (supports MicroSD (TF), SDHC, and SDXC flash memory cards)
Card Module
Cover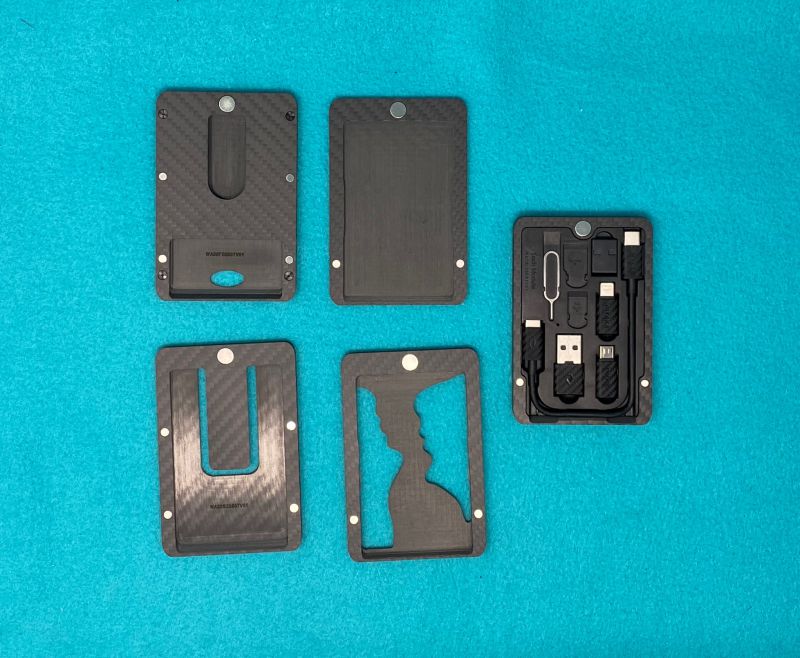 Dimensions
Length: 4in (101.5mm)
Width: 2.7in (67.5mm)
Thickness: 0.48in (12.4mm)
Weight 2.75oz (78g)
Design and features
The Pitaka Tech Kit is a flat tray 4″x 2.5″ and about a half-inch thick that magnetically attaches to a cover with an intervening layer for holding cards. The tray bottom has molded spaces for a short (6.5″ between the base of the two metal plugs) USB-C <-> USB-C cable, and USB-C adapters to fit Apple's Lightning ports, USB-A, and micro USB. (Sorry mini USB – you didn't make the cut!) Additionally, there is a SIM tool space (tool included), and spaces for both a single SIM card and a microSD card, as well as a tiny (included) 16 GB USB storage drive.
But that's not all! (I feel like a Ronco pitchman at this point!) If you look at the side of the unit under the SIM tool, you'll see a covered SD-card slot with an included microSD adapter! The one item missing from the set of adapters is a USB adapter for reading a microSD card.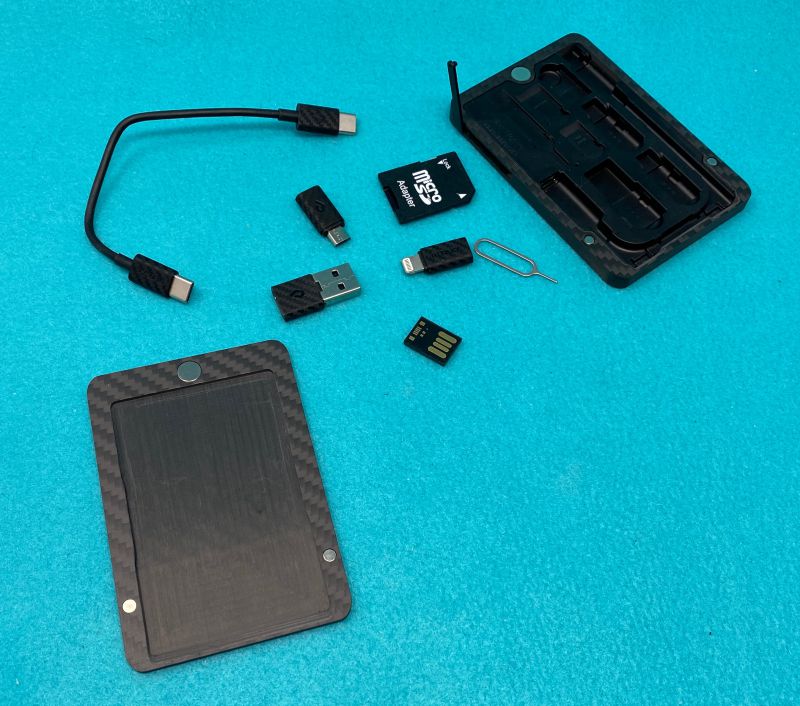 The cord wraps around the lower and right edges of the tray, and is OK, as long as you're using a laptop, phone, or another item where the charging port and the device can be close together. But it's just as easy to toss a longer cable in your bag and use the adapters with it. Handily, the spots for each adapter are labeled so you don't try to put the wrong one into the wrong spot!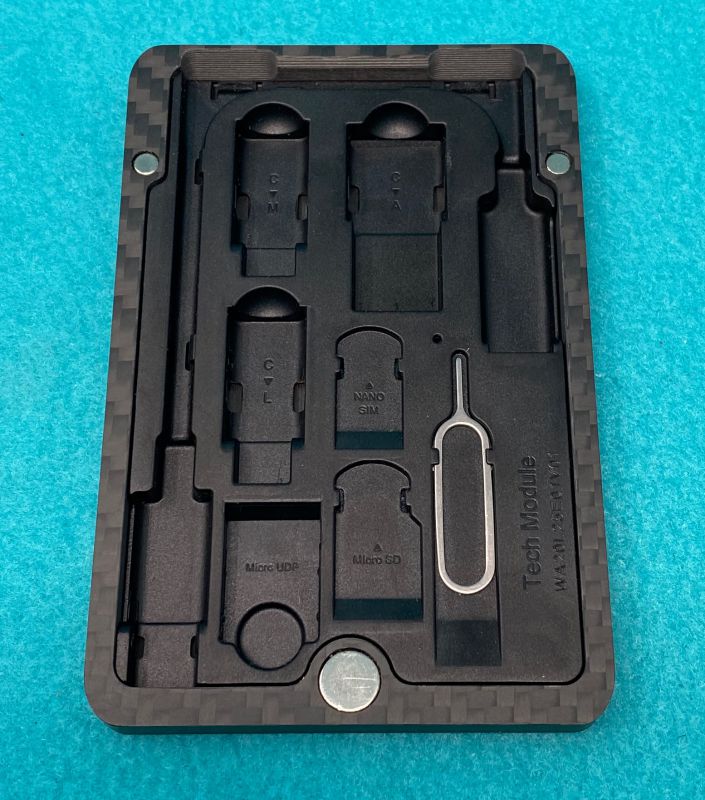 Performance
The Pitaka Travel kit really does what it promises in regard to providing you with just about every size and shape adapter currently being used. Having business cards stored somewhere that will not get them dirty and wrinkled is also very nice. I have been using the various adapters with a battery bank and a bit longer USB-C cable around my house's various "office" locations over the past few months, and really like that I never have to, say, leave the front porch and go hunt down a USB-A <-> Lightning cable for my 10.5″ iPad, because I forgot it doesn't have a USB-C port. The one thing I have to remember to take along is an Apple Watch charger, but everything else is perfect. I really like the provision for both the microSD Card and the adapter for a standard SD slot, but do wish there was a microSD<->USB adapter as well.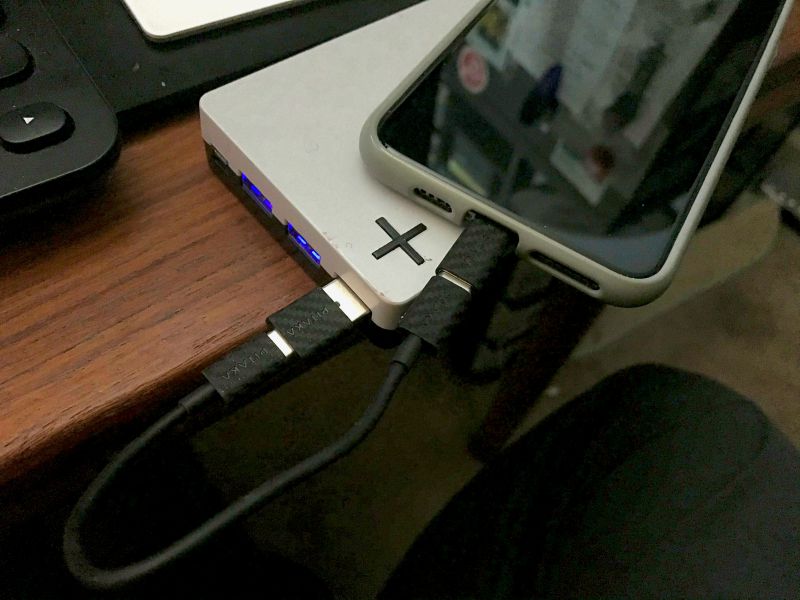 I'm not as big a fan of the wallet aspect of the offering. Sure, cards will fit in the places provided, and bills fit into the bill holder, but it's too small for more than a driver's license and a health ID card. And, due to the huge number of magnets on every part, you can't use magnetic striped cards (like most hotel key cards, if I recall what hotel key cards look like!).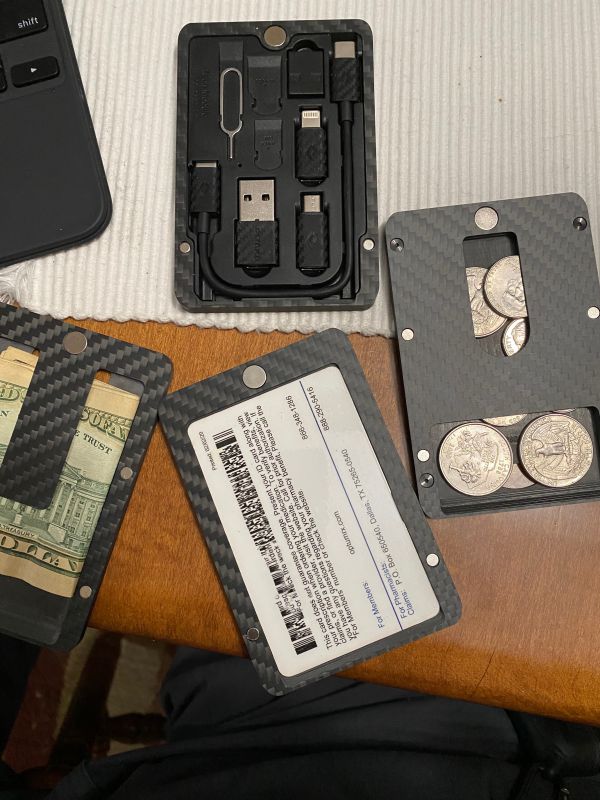 Also available and sent for review were the Money Clip and the Box Clip (on the left and right, respectively, in the photo above.) Each of these adds less than a quarter inch. The Box Clip holds coins, which in EU and UK countries are larger denominations than they are in the US. (I can't remember the last time I tried to cover cab fare in a US city with coins, except that time at Liberty Airport where I foolishly bought a $4 train ticket to my hotel with a $20, thinking I would get bills back. Sacagawea dollar coins are not smiled upon by NYC cabbies, and 16 of them weigh a good bit!) Euros and Sterling coins would fit, but probably no more than 6-8. The bill situation is the same: sure, you can put three $50 bills in there, but then you get change and can't fit it all in.
What I like
All the modules connect only in their proper orientation – you can't force them on wrong. (Magnets!)
Also, Magnets!
All the adapters are well made and fit well to the cable and back into the tray.
What I'd change
Missing a microSD<->USB adapter
The short cable is a drawback, but there's really no way to make it longer unless it were a flat ribbon cable.
Final thoughts
This is the perfect Gadgeteer's pipe dream: all the needed adapters and a place to keep them. The overall size of the Pitaka tech kit is roughly that of a deck of cards and will keep all your tech items connected easily, and look smart doing it. A bit pricey, but great performance-per-ounce!
Price: $80.00
Where to buy: Company Webstore
Source: The sample of this product was provided by Pitaka.