The Gadgeteer is supported by readers like you! If you buy something through links on our site, we may earn an affiliate commission. Thank you! Learn more.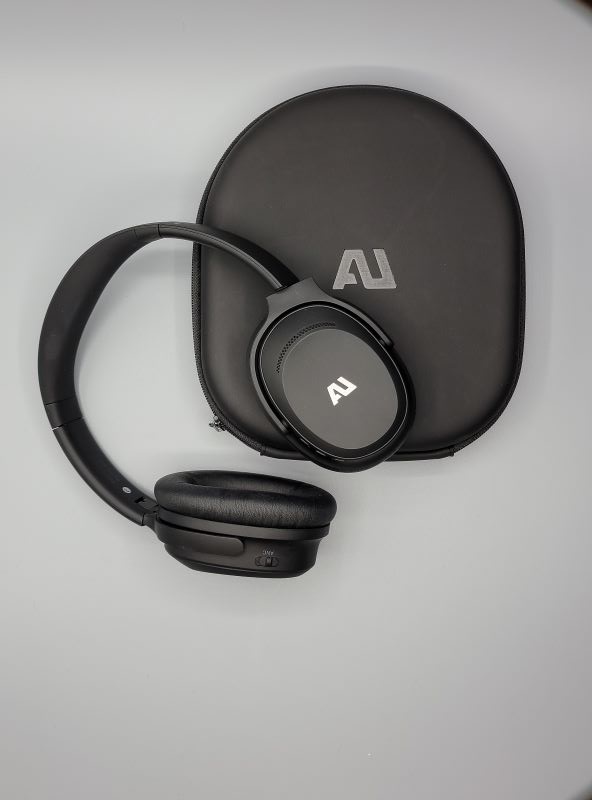 REVIEW – I've wanted noise-canceling headphones for a while now but I guess for me they are one of those things that you want, but you tell yourself you don't really need.  Then you get them and you realize you do need them … a lot!  I think everyone living in quarantine needs them!  It's like having your own private little silent space that you can fill with music or Netflix or nothing at all.  Ahhh silence.   I forgot what you sounded like! Let's check out the Ausounds AU-XT ANC over-the-ear wireless headphones.
What is it?
The Ausounds AU-XT ANC over-the-ear wireless headphones are Bluetooth headphones with a built-in noise-canceling feature.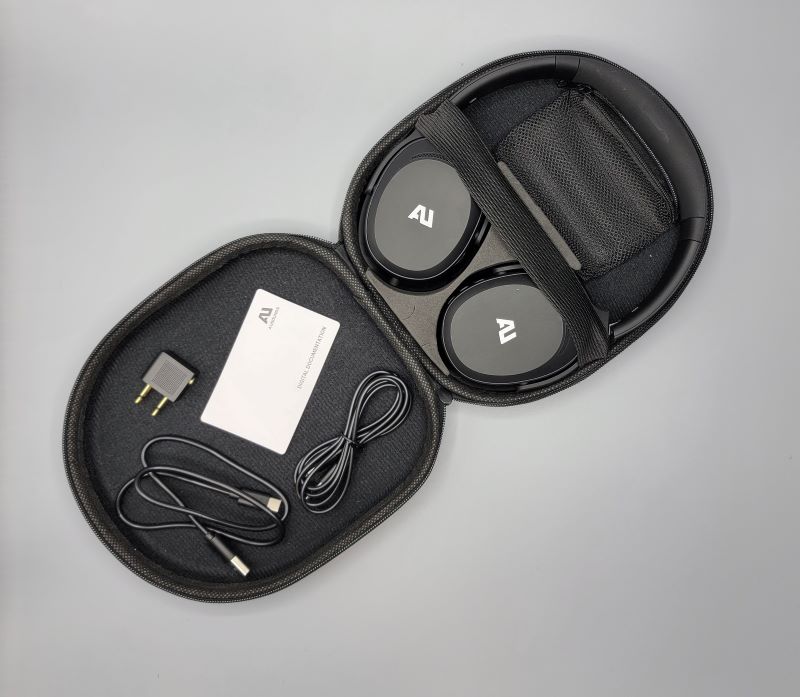 What's in the box?
Over-ear headphones
Carrying case
USB-C charging cable
Warranty card
3.5mm audio cable
Aircraft adapter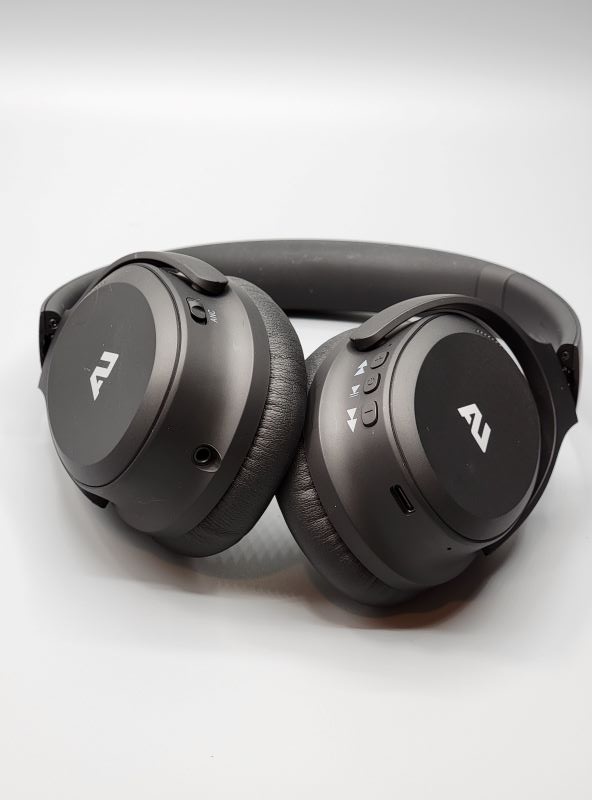 Setup
Before use, the headphones need at least an hour of charging before you can move on to pairing. You may note that these didn't come with an instruction booklet.  Instead, they came with a warranty card directing you to the website where you can download instructions.  Once you do that, pairing is straightforward.    There is only one switch on the left headphone for turning on and off the automatic noise canceling (ANC) feature and three buttons on the other. All of the buttons multi-task.  For example, if you are listening to music and a call comes in, you can hit the power button to answer the call.  If you press and hold the button, you decline the call.  If you press and hold while there is no call involved, you can summon the voice assistant (I assume Google, Alexa, Siri or that black sheep Bixby) of your choice.  While I didn't mind downloading the instructions, and I don't mind that there are only three buttons, I will never remember all of the "press and hold" functions for all the buttons.  I fear I'll be hitting the buttons and hoping they do what I want them to do because I'm too lazy to call up the instructions on my phone.  It might be different if I wore them more, though.
Design and Features
The earphones come in a protective case with a detachable pouch that holds the charging cord, the audio cord and the airplane adapter.  I really like the way the entire back of the pouch is made of Velcro because you can stick it down anywhere inside the case and it will stick.  I find the case pretty snug, though.  It can be a bit of a pain to put them back in the case and at one point I was trying to wrangle them under the elastic that secures them and I heard a loud snap.  I thought for sure I broke off one of the ear cups but it snapped right back into place.  So while I think all earphones are pretty delicate (and I say that because my son has gone through a string of them), it seems like these will stand up to normal handling.
The Ausounds AU-XT ANC over-the-ear wireless headphones themselves are adjustable (because most heads aren't) and the earcups are very comfortable, with average-sized earcups.  I have pretty small ears and they do fit completely inside the cups but I'm sure most people's ears won't.  The memory foam cushioning is very comfortable, though, and the protein leather is soft.  If your ear doesn't fit, it shouldn't bother you.  As a glasses wearer, I can also report that these didn't interfere with the stems of my glasses or press uncomfortably on them.  They were a pleasure to wear.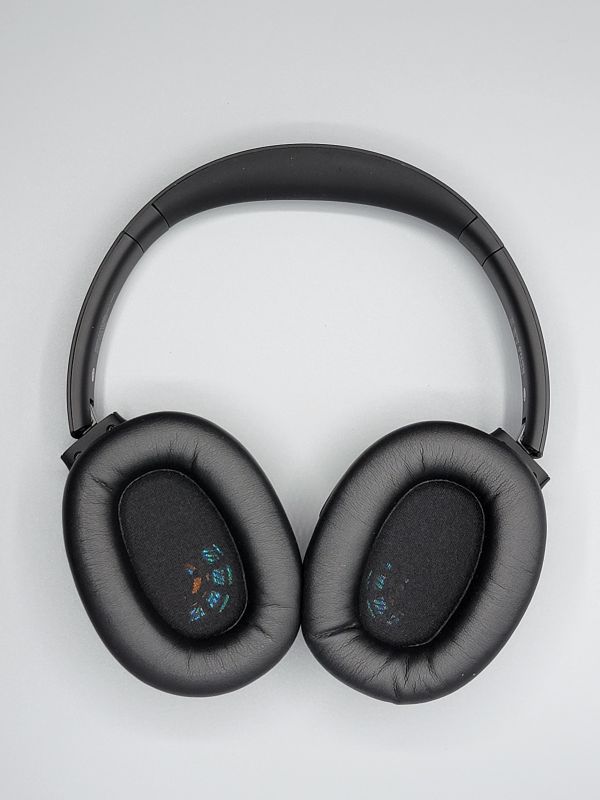 I was very excited to try the noise cancellation feature.  In the past when I've tried ANC, I've heard a white noise sound in the absence of music that I find annoying. In these headphones I barely hear it — really I only hear it if I try and hear it, if that makes sense.  If there is steady background noise in my house (like the neighbors mowing their lawn or the washing machine running, for instance) you really don't hear anything but quiet.  I also liked the fact that there was a light that told you when ANC was active … if you can't hear a difference, you might not know when it's on or off otherwise.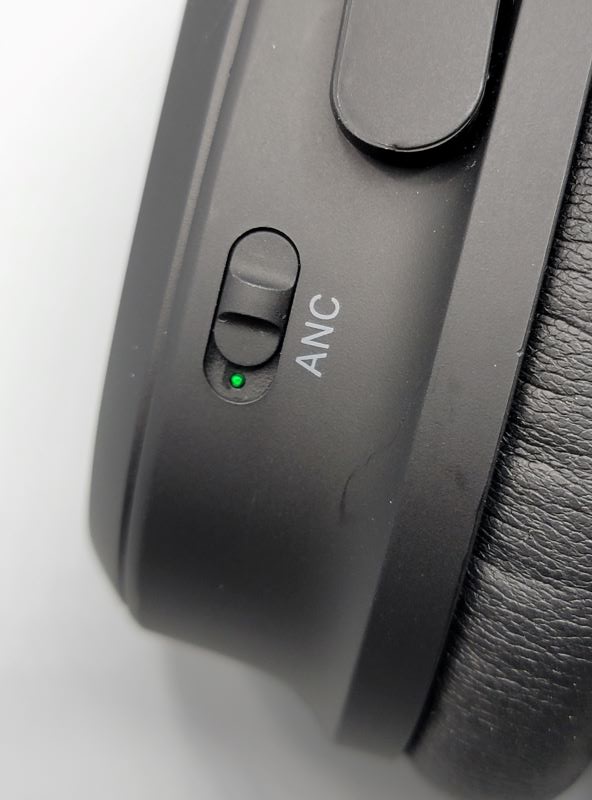 The literature about the headphones says they are specially made to create a great audio experience when listening to music whether the ANC is on or off, and I found that to be the case.  I honestly couldn't tell when the ANC was on or off when I was playing music.   It sounded the same to me.  When I watched streaming media,  it was like I was in a private screening room.
I'm not an audio expert, but the audio quality sounded really good to me while I was listening to my 80s and 90s pop/rock (the music of my glory years).  I handed them off to my son who is a big jazz fan with better/younger ears.  He is very particular about how the bass sounds and he was complimentary.  He ran a test on the bass and these headphones scored better than any of his Bluetooth speakers, one of which is from a major manufacturer known for audio quality.  I also compared them to my husband's earphones that are similar in functionality but made by a different manufacturer and they sounded comparable, but his headphones had inferior battery life when compared to these.
The Ausounds AU-XT ANC over-the-ear wireless headphones feature a 40MM AU Graphene speaker driver.  Graphene is being used more and more in earbuds and headphones because it produces low distortion, increased bandwidth and great response while helping to make earphones lighter and more electrically efficient.  I am sure that has paid off in many ways, but one stands out:  these headphones feature a whopping 30 hours of battery life!   They also have a quick charge feature:  90 minutes of use in just 15 minutes of charging, if you are in a rush.
The Bluetooth range for me was adequate.  I ran a little test around my house and I only lost connection if I was on the other end of my house with a room or two in between.
What I like:
The sound quality
The noise-canceling quality
Great battery life
Comfortable
What I'd Change:
Just a smidge larger case
Final thoughts
I'm not an expert by any means but I really liked Ausounds AU-XT ANC over-the-ear wireless headphones.  They are comfy, have excellent audio quality and they block out the rest of the world's noises that at times can be overwhelming.  They are the kind of thing that you don't realize you really need until you have them, so if you're on the fence about getting some, trust me.  You need a pair of these if you are couped up and working from home with other people around.
Price: $199.95
Where to buy:  Ausounds and Amazon
Source:  The sample of this product was provided by Ausounds.
Support The Gadgeteer
:
The Gadgeteer is supported by readers like you! If you buy something through the links on our site, we may earn a small affiliate commission. Thank you! Learn more.