We use affiliate links. If you buy something through the links on this page, we may earn a commission at no cost to you. Learn more.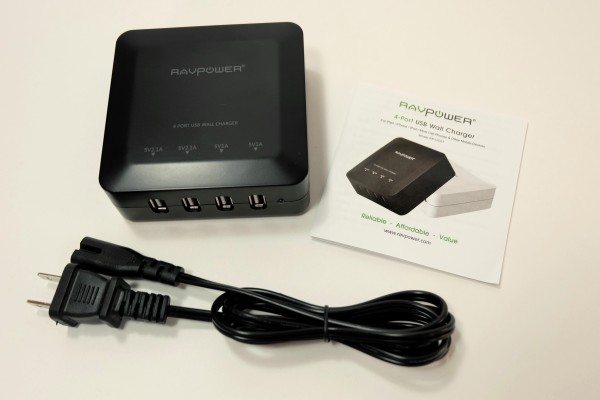 I am always on the hunt for an open outlet to charge my devices. And where are they located? Generally behind some piece of furniture! It's a wonder I haven't become a contortionist by now after all the practice I've had squeezing into narrow spaces to plug in our phones and tablets. Older houses or hotels make finding an outlet especially challenging with a distinct lack of this precious real estate. Hence, there is an increased demand for multiport wall chargers. The RAVPower 30W/6A 4-port USB Wall Charger is one of many that are currently available. How well does this charger work and is there anything that makes it stand out from the plethora of wall chargers out there? Let's take a look.
TECHNICAL SPECIFICATIONS:
Model: RP-UC07
Input:110-240V
Output:DC 5V 6A
Product Dimensions: 3.6 x 3.5 x 1.2in
Weight: 6.1 ounces
COMPATIBLE DEVICES:
All smartphones and tablets with Micro/Mini USB connector
iPhone 3GS, 4, 4S, 5, 5S, 5C
iPod Touch, Classic, Nano
iPad 2, 3, 4, 5, Air, Mini

Kindle Fire HD, HDX

Google Nexus 4, 5, 7, 10
HTC: One S, V, X, XL/Sensation 4G, XE, XL/Amaze 4G/Radar 4G/ EVO 4G/Inspire 4G/Vivid 4G/ ThunderBolt/Incredible 2/Rezound
LG G2
Samsung: Galaxy S4, S3, S2/Skyrocket/Epic 4G/Galaxy Nexus Prime/Galaxy note 2, 3/Focus S/Infuse
Motorola: Atrix 2/Droid X/Triumph/Photon 4G/Droid 3, X2, Bionic, Razr, Maxx Moto X
Blackberry Bold 9900
Sony Xperia Arc S
Nokia N9/Lumia 800, 

920 1020 1520 2520

PS4

Bluetooth Speakers & Headsets

External Battery Packs and More
The RAVPower 4-port USB Wall Charger measures 3.6 x 3.5 x 1.2in, is made of hard plastic, and is small and robust enough to handle travel.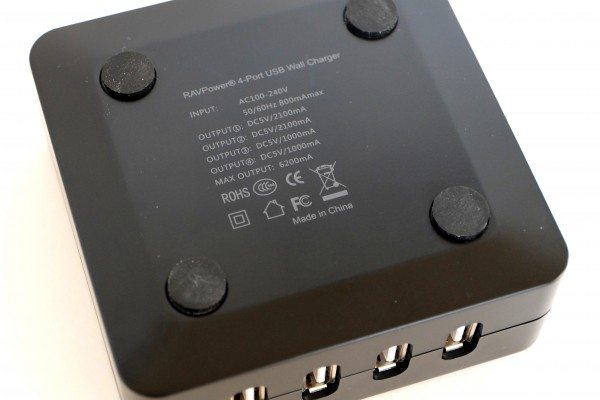 The technical specification of the the RAVPower wall charger are printed on the bottom of the device. Also located on the bottom are four rubber pads to prevent furniture scratches when the charger is placed on a desk or nightstand.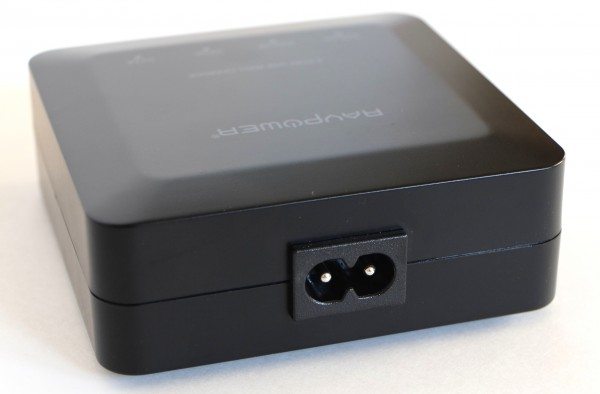 Located on the back of the wall charger is a place to insert the detachable power cord which is 3.84 feet long (117cm). Having a cord to plug into an outlet avoids blocking the outlet which is possible with a charger that has no cord and plugs directly into the wall. In addition, this charger allows you to have easier access to the USB ports because it can be placed on a desk or nightstand. However, because the power cord plugs into the back, the unit will not sit flush against a wall.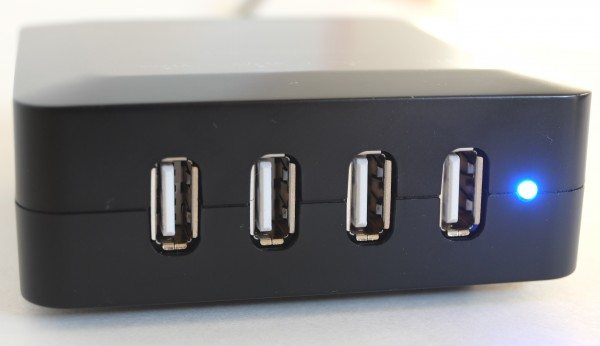 Located on the front of the charger is a blue LED light that illuminates to indicate that the unit has power. This light is excessively bright. It drove me and my husband crazy at night while trying to sleep because even when facing away from us, it was bright enough to illuminate an entire wall. We first tried to place tape over the light but since the light protrudes slightly from the body of the charger, the tape would pull away, leaving a gap for light to stream through. We ended up having to cover it with small amount of Fun Tak (mounting putty), which molds around the light leaving no gaps. However, if you are in a hotel and have need of a night light, this LED will absolutely serve this purpose. In addition to the light being extremely bright, another drawback of the RAVPower USB Wall Charger is that this light is the only status light available on the device. There are no others to determine whether or not your devices are charging or when they are fully charged.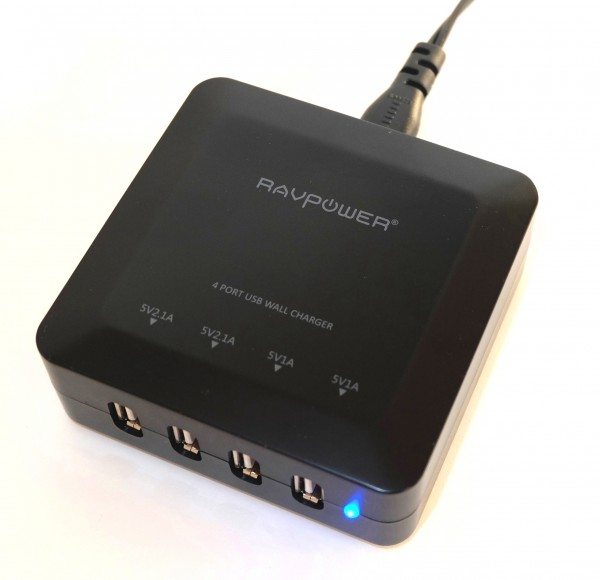 Also located on the front of the charger are four USB ports to charge up to four devices simultaneously. The two USB ports shown on the left of the unit on the above photo are the 5V/2.1A ports used to charge iPads and Android tablets while the two on the right are the 5V/1A ports used to charge cell phones. The connections between the USB ports and the USB connectors are a good tight fit and another thing to note is that while the devices are connected and charging, the charger gets slightly warm.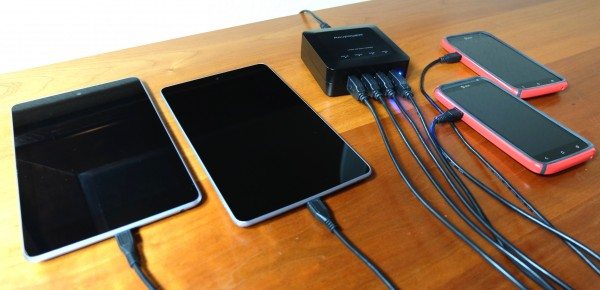 I used the RAVPower 4-port USB Wall Charger to simultaneously charge our two HTC One X phones and two Google Nexus 7 (2012) tablets several times and compared them to their OEM adapter charging times. After performing these trials I found that the 5V/1A ports fully charged our phones (1% – 100%) within four to five hours which was as fast the the HTC charging adapter. However, our Nexus 7 (2012) tablets took almost twice as long to fully charge (1% – 100%) when compared to using their OEM charging adapters (about eight to nine hours vs. five hours, respectively).  I tried charging a Nexus 7 tablet alone on the RAVPower wall charger but received the same paltry results. I then wondered if this was a problem for other tablets. I tested the charging time of my niece's iPad 3 using the RAVPower charger and found that the charging rate was between five and six hours for a complete charge. No problems there. So, even though the Nexus line of devices is supposed to be compatible with the RAVPower wall charger, the charging rate for our Nexus 7 tablets was much slower than expected.
Although nothing in my mind really makes the RAVPower 30W/6A 4-Port USB Wall Charger stand out among many of its competitors, it seems well built, is portable, and is handy for charging multiple devices simultaneously when you travel or are short on outlets.  Even though the charging rate is incredibly slow for the Google Nexus 7 (2012) tablet using the RAVPower charger, the tablet does charge and thus this charger will suffice when in a pinch. Because this charger uses a power cord instead of directly plugging into the wall, it avoids blocking other outlets and allows easy access to the USB ports when placed on a desk or nightstand. The bright blue LED light can drive a person to distraction, but this is easily remedied by placing mounting putty over the light. As long as you don't mind the slow charging rates of the Nexus 7 (2012) tablets, the lack of status lights to determine charging status, and the blinding power indicator LED light, the RAVPower 4-port USB Wall Charger gets the job done.
Updates 07/13/16
We still use this charger and it does a wonderful job of charging our devices without any issues. Even though two of the ports are one amp ports, there are two others available that are 2.1 amp ports. The charger is particularly handy when traveling. The blue LED light is still quite blinding but works well as a nightlight when you need one!
Source: The sample for this review was provided by RAVPower. Please visit their site for more info and Amazon to order.

Product Information
Price:
$19.99
Manufacturer:
RAVPower
Retailer:
Amazon
Pros:

Charges 4 devices simultaneously
Most devices tested charged at about the same rate as OEM adapter
Doesn't block the outlet
Power cord makes the charger easily accessible
Portable

Cons:

Takes about 2 times as long to charge Nexus 7 (2012) tablets vs. OEM adapter
Has insanely bright blue LED light indicating the device has power
No status lights to indicate when devices are charging or fully charged
Does not sit flush against the wall because of power cord