We use affiliate links. If you buy something through the links on this page, we may earn a commission at no cost to you. Learn more.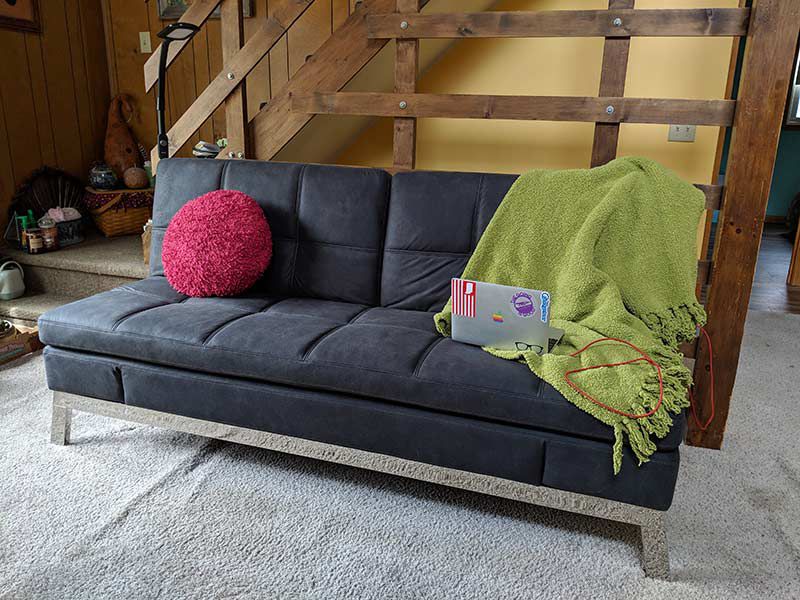 REVIEW – Is a couch a gadget? Normally the answer would be no. But the couch I'm going to show you today is different. The Gjemeni Couch from Coddle is the transformer of couches. Let's check it out.
What is it?
The Gjemeni Couch from Coddle is a couch, it's a bed, and more.
What's in the box?
Coddle Gjemeni Couch
4 legs
2 thumb protectors
Assembly instructions
Unboxing

When I agreed to review the Gjemeni Couch, I was told that it would be delivered by a special delivery service and not UPS or FedEx. So I took the day off to wait for it. A large truck showed up and deposited the giant bubble wrapped package on my front porch that you see above. They asked if I wanted them to take it in the house but I figured it would be easier for me to open, and assemble and take it in side myself. Note to anyone who is thinking of buying this couch – let them take it inside for you. Trust me.
I waited for Jeanne to get home from work so she could help me. I'm lucky to have someone who rarely questions me when I have something new that needs to be set up.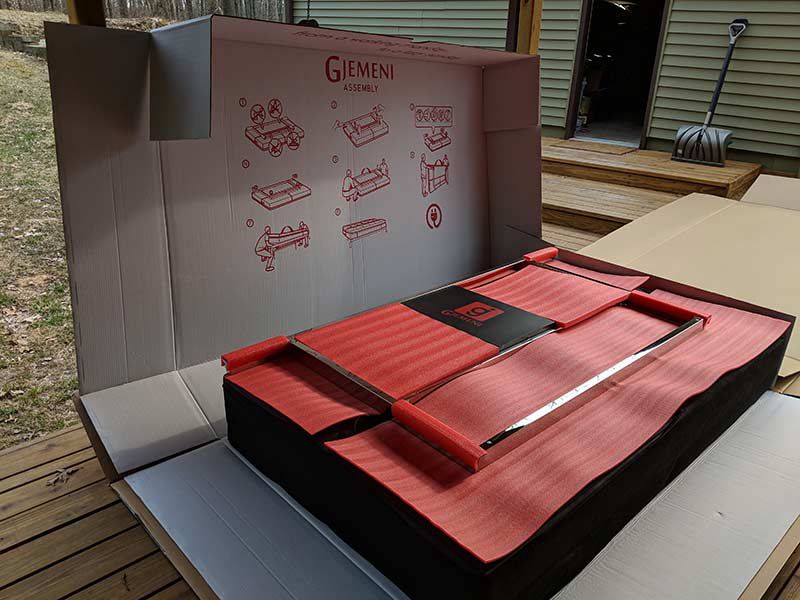 After removing the bubble wrap on the outside of the box, we opened it to see what you see above, a very large flat piece of furniture that required no assembly other than attaching 4 legs.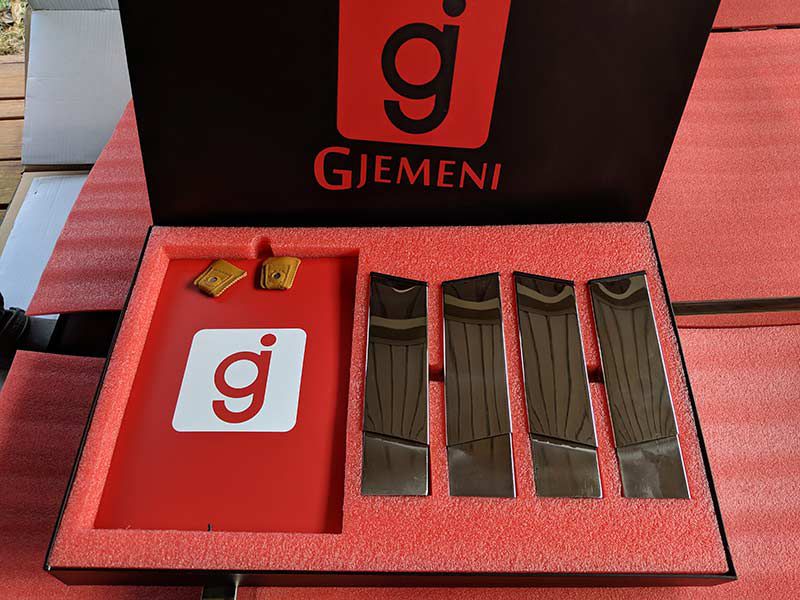 The chromed legs were contained in a small box with instructions and two strange pieces of leather.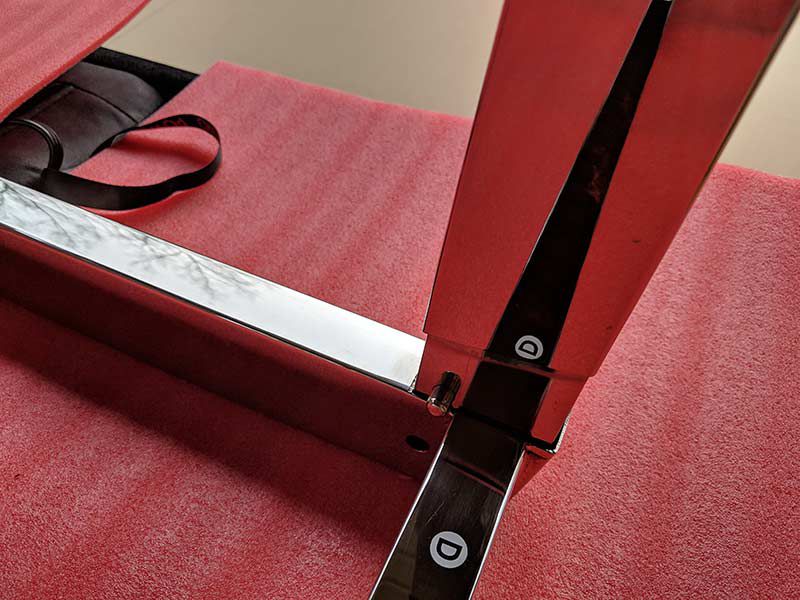 The assembly of the Gjemeni Couch was quick and easy given that the legs were marked and no tools were required. Just slip the leg over the post and then press the spring loaded button with your thumb while pressing the leg in place.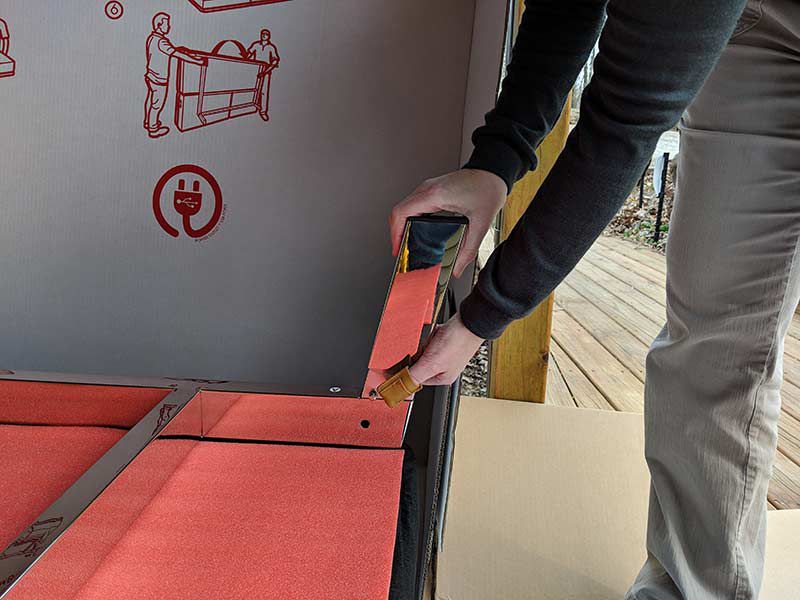 Hey, that's what those little leather pieces were for. Thumb protectors. They were a nice touch and are important to use if you don't want to pinch your fingers.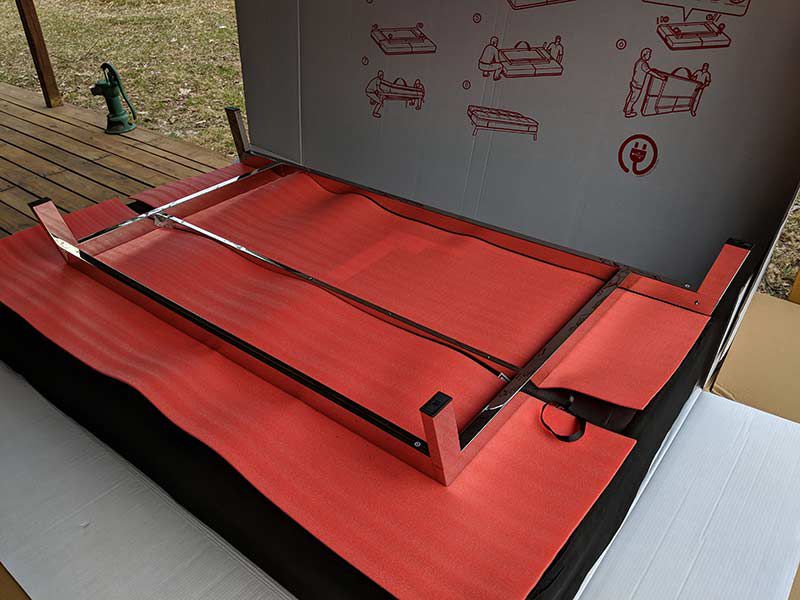 With the 4 legs attached and the protective red foam sheets removed, the next step was to get the whole unit into the house. Let me just say that this was the hardest part of the whole review. Luckily the couch was protected with a black canvas cover because we had to slide/push it across the deck. It was not easy because we are wimps and the couch was heavy (~140lbs) and there weren't any easy ways to grab it.
Design and features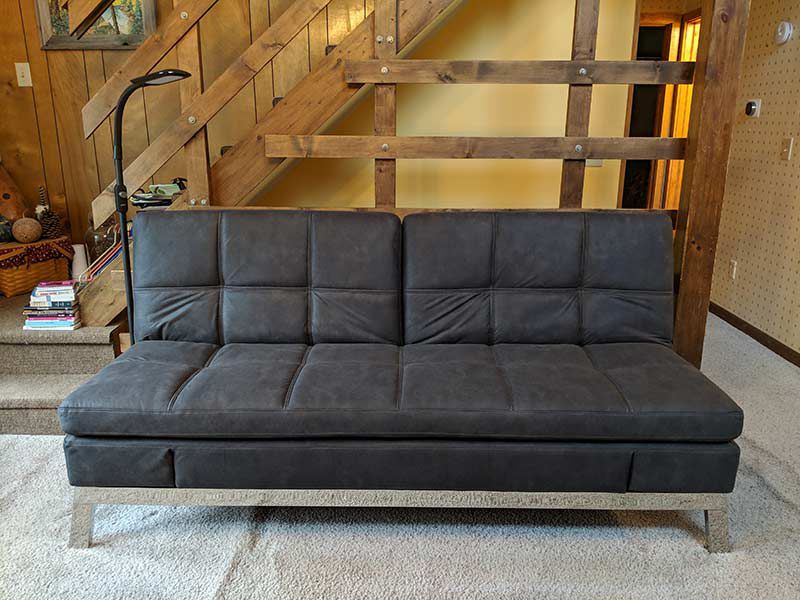 It took some effort, but we got it in the house and from there it was easy to fold up the 2 back pieces to create the couch that you see above. I was sent the grey microfiber version of the couch, but it's also available in brown, black, white, and red leather. Unfortunately, the base/legs are only available in chromed stainless steel which might not be everyone's style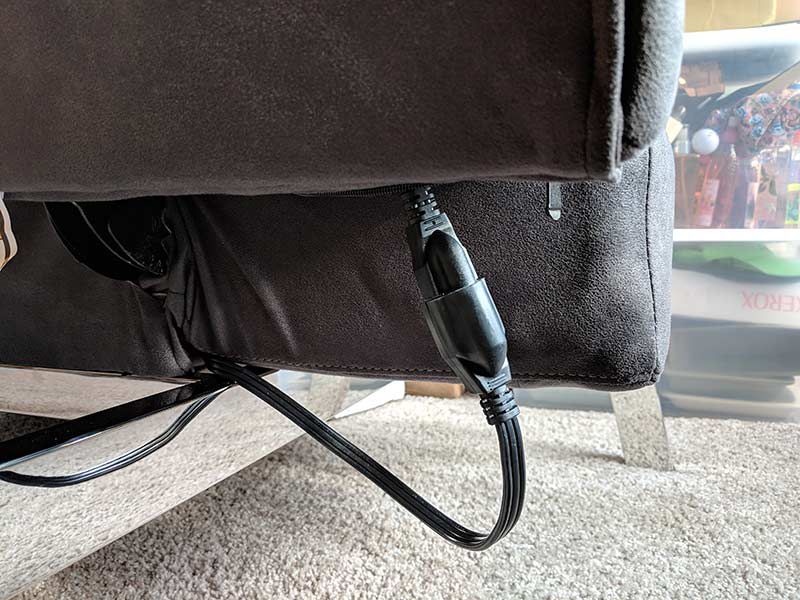 One of the cool features of the Gjemeni Couch is that each side has its own power outlet and 2 USB ports. You just have to plug the couch into power (wow, I never thought I'd ever need to type that sentence!) with the built-in power cord. If you don't want to use this feature, the cord stores inside the couch in a zippered pocket.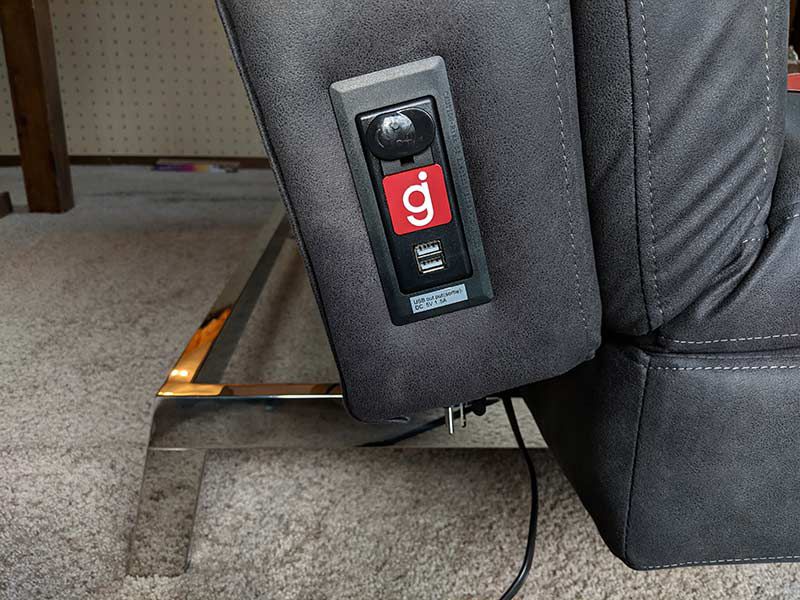 The outlet on each side comes with a protective plug cover that is easily removed.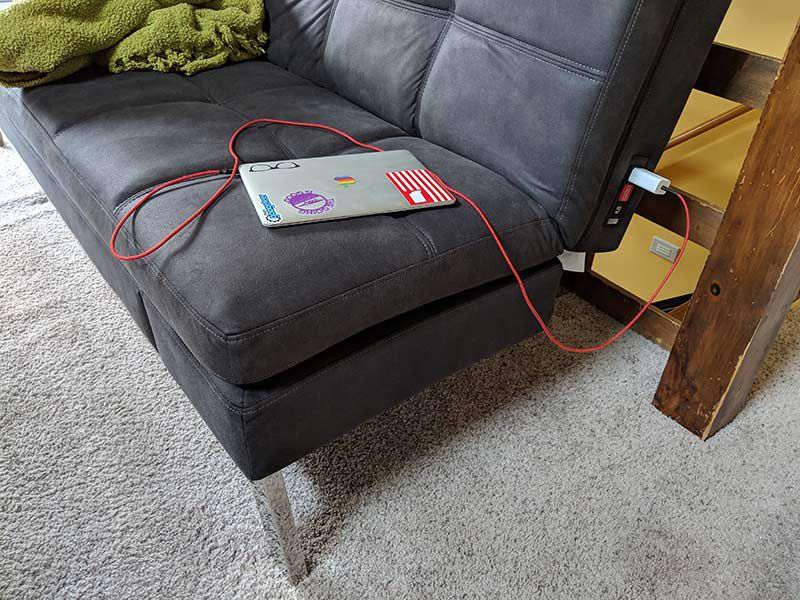 Being able to charge my gadgets from the couch is convenient as I've had many times when my MacBook or phone was low on juice while relaxing on the couch.
Comfort and functionality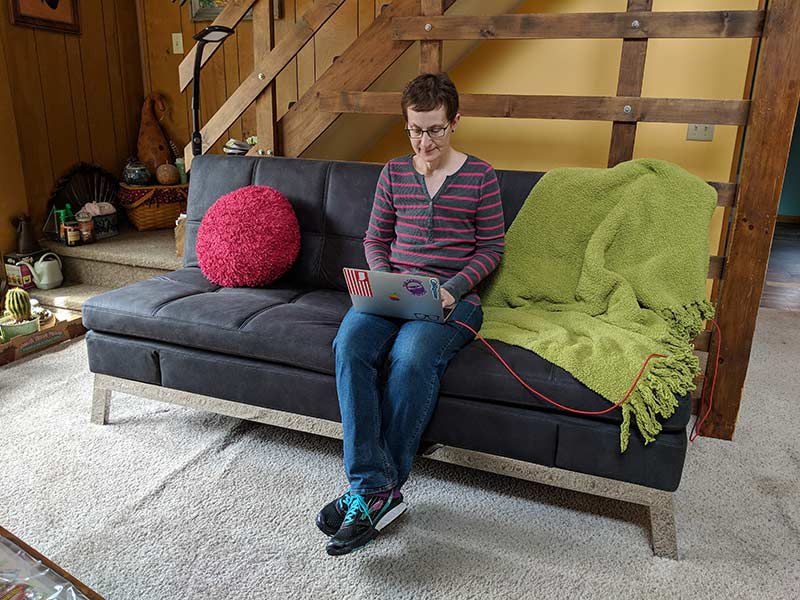 The Coddle Gjemeni Couch is a great size. It's long enough to accommodate 3 or even 4 people. The couch is made of 4 layers of foam but it is important to understand that this couch is really firm. I wish it was a little more comfy cozy, and hope it will "break" in with time.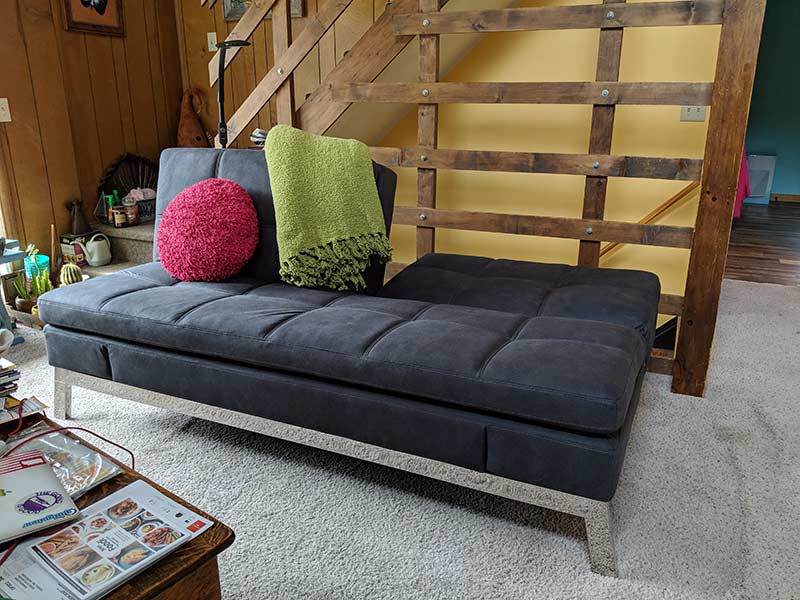 What it might lack in coziness, it more than makes up for in versatility. Each back piece can be positioned up or down.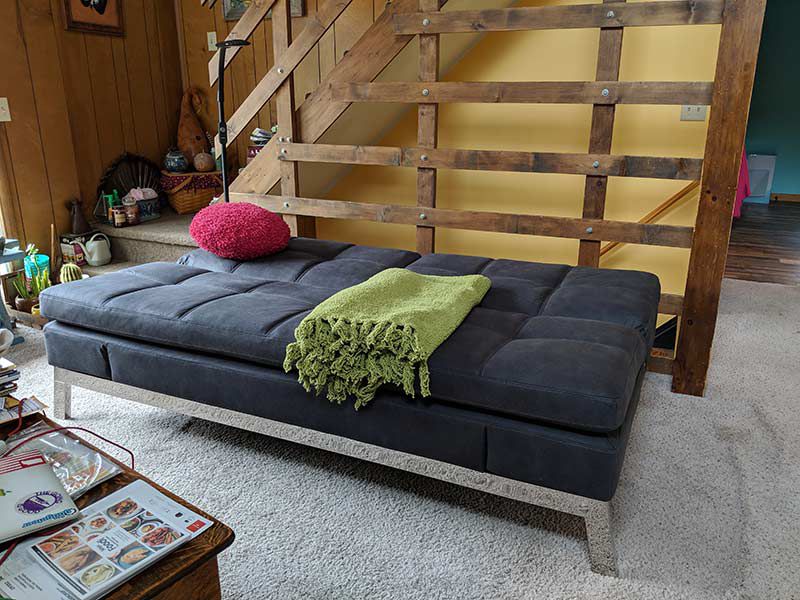 With both pieces down, the couch converts into a bed. You can even buy an optional 3-inch padded couch topper for added comfort.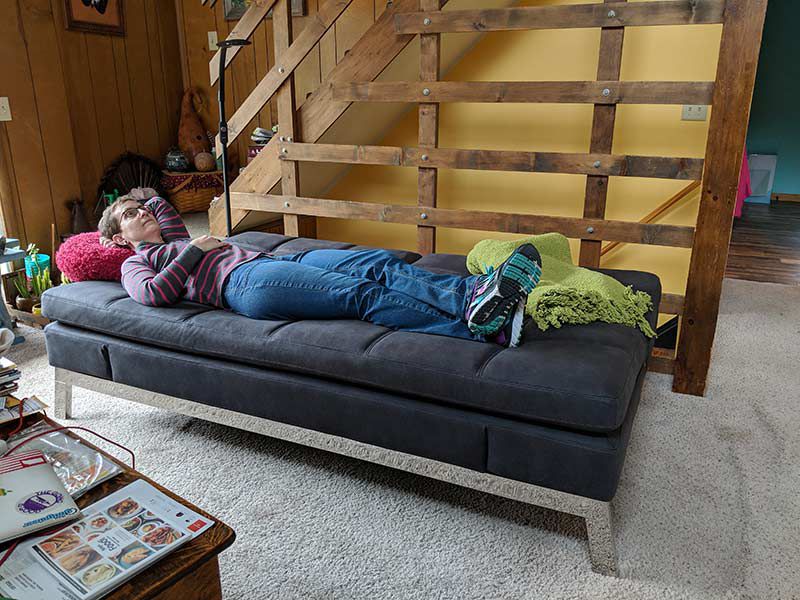 I like a firm bed, so lying on the couch feels comfortable to me and I love the idea that we now have a way for a guest to stay over if needed. Note that I'm 5'6″ tall, so you get an idea of the length of this couch/bed.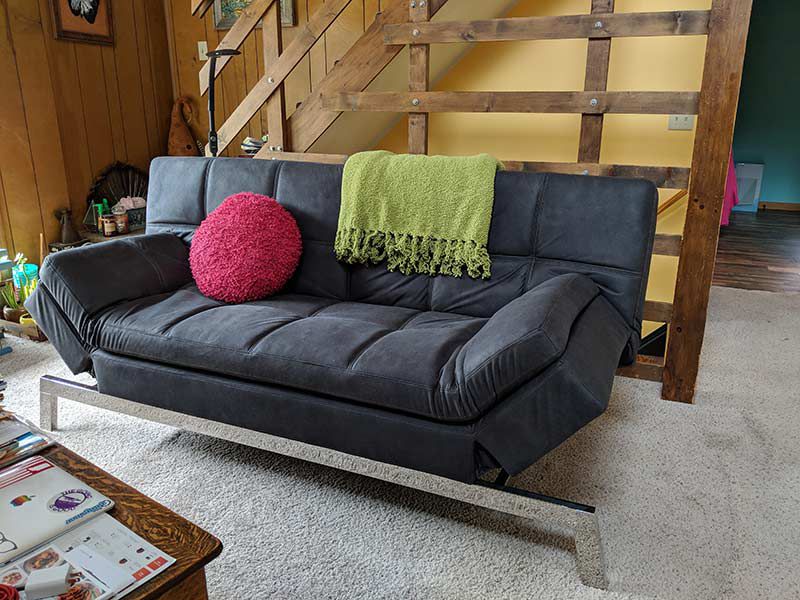 The sides can also fold up to create a shorter (looking) couch.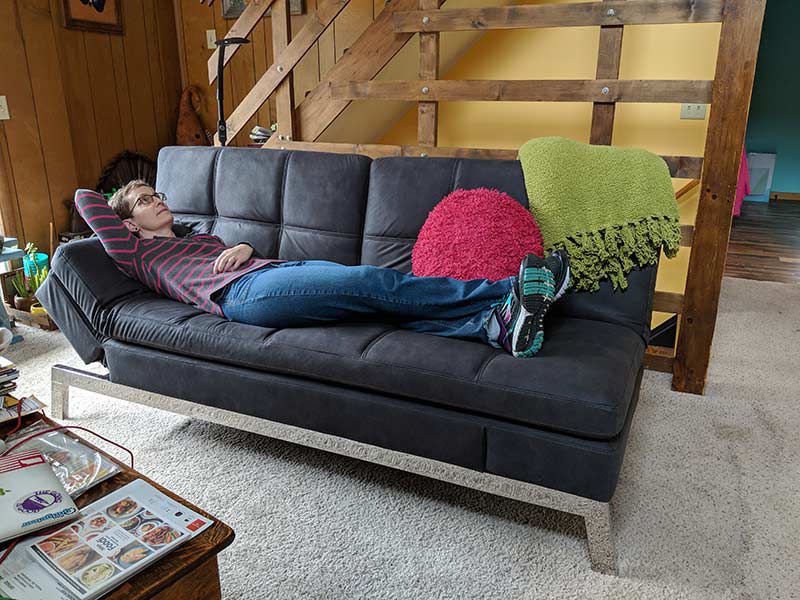 Or just put up one side to create a lounger.
Check out the quick video that I made showing how to convert the couch into the different forms.
What I like
Easy to convert from couch to a bed
Built-in power and USB ports on each side
What needs to be improved
Expensive
Might be considered too firm
Offer other finishes for the base
Final thoughts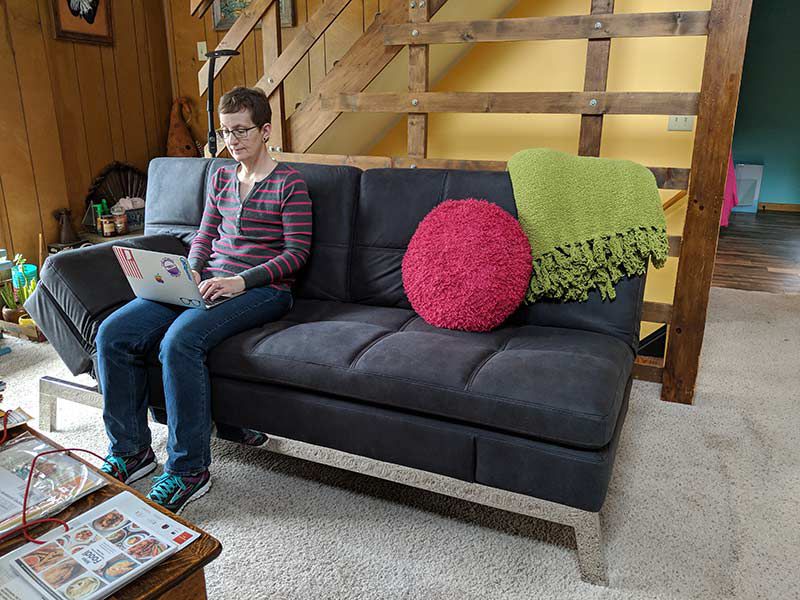 If you don't have a guest room in your home or any way to accommodate overnight guests, a sleeper sofa is a great option. The Coddle Gjemeni Couch is a couch that can convert into more than just a bed and even keeps your gadgets charged while you're relaxing. If the price fits your budget (they do offer a 60-day return policy) and you don't mind a firm cushion, this couch it is a winner.
Updates 11/25/19
In preparation for a huge remodel on my home, we ended up gifting the Coddle couch to a friend since it was going to be difficult to store for the 2 months that it was going to take for the remodel. It also the chrome legs just didn't quite fit with our decor and in all honesty, it's not that comfy for sitting any length of time because it's so firm.
Price: $999.00 (includes free shipping)
Where to buy: Coddleme.com
Source: The sample for this review was provided by Coddle.