We use affiliate links. If you buy something through the links on this page, we may earn a commission at no cost to you. Learn more.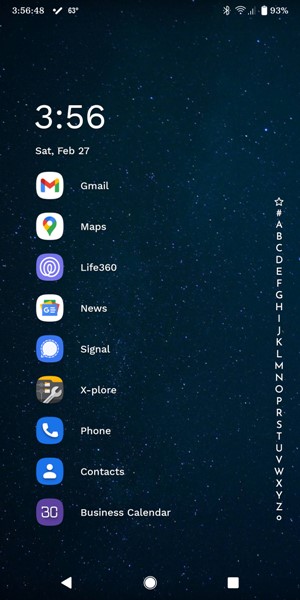 NEWS – I love customizing my Android phone using apps like Nova Launcher and I recently discovered a new and innovative minimalist launcher called Niagara Launcher. It's quite different from others and is fun to mess around with. Note: This is not a review of the launcher, but rather just letting you know that this clever app is out there for you to try out.
The Niagara Launcher gives you one home screen which aligns your favorite apps vertically along the left side of the screen and by default, gives you an alphabet list along the right side of the screen (which can be hidden). There is no app drawer. Instead, you slide your finger up and down on the right or left side of the screen as shown in the video above to access your apps.
Tapping on the star symbol at the top of the alphabet list gets you back to the homescreen (as does your virtual Home button) and tapping on the "o" at the bottom of the alphabet gives you access to the Niagara settings. If you wish to change your list of favorites on the home screen, just long tap on any of the apps on the home screen and select "Edit favorites".
You can make your homescreen as minimalist as you like. You can hide the alphabet list and the names of the apps as shown in the screenshots above to showcase your wallpaper and give your homescreen a cleaner look. If you get the paid version of the app, apparently you can hide your status bar too.
Even though it is a minimalist launcher, you can customize several things. You can adjust the shape and size of your icons, change the font, add shortcuts, and add widgets among other things (Niagara widgets come with the paid version, but app-specific widgets can be added to your homescreen in the free version).
There is a free version and a paid version of the Niagara Launcher. The paid version gives you two options: pay $5.99 annually or pay $14.99 for a lifetime version.