We use affiliate links. If you buy something through the links on this page, we may earn a commission at no cost to you. Learn more.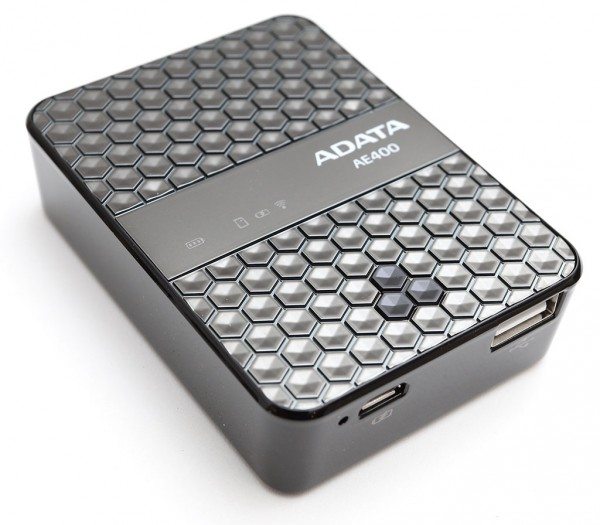 Over the years we've reviewed quite a few backup batteries for smartphones and other devices. These accessories come in very handy for frequent travelers who never know when they will have access to a power outlet to recharge their devices. But for the most part, backup batteries have just one purpose and that is to recharge a battery using a USB cable. Today I want to show you something a little different. The ADATA DashDrive Air AE400 is a 5000 mAh backup battery which also includes an SD card reader and a wireless file streaming features.
Note: Images can be clicked to view a larger size.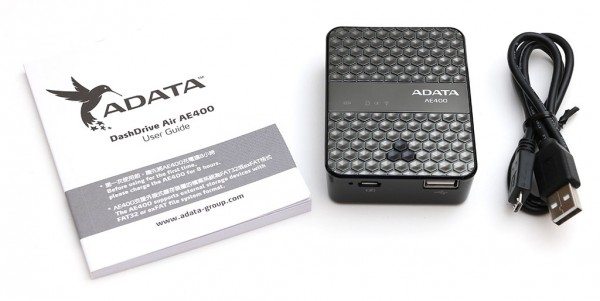 Package contents
DashDrive Air AE400
micro USB cable
User guide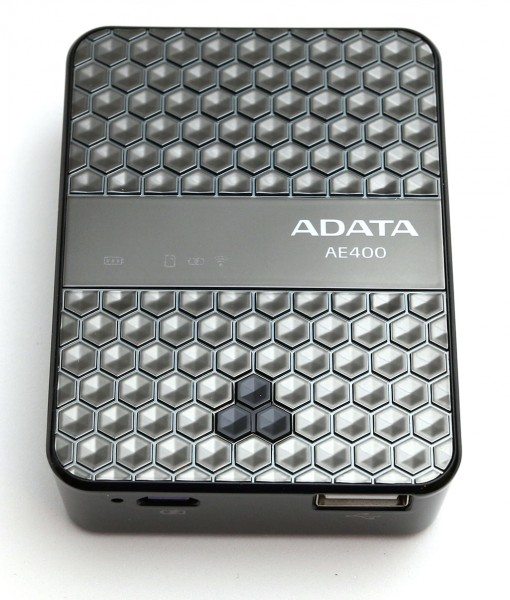 The DashDrive Air has an attractive eye catching design with a shiny black faceted hexagonal top surface that has a panel of status LEDs in the center and the power / mode selection switch near the bottom edge.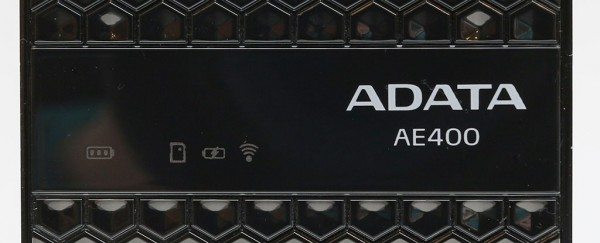 The LEDs are indicators for power, SD card reader, power bank and WiFi status.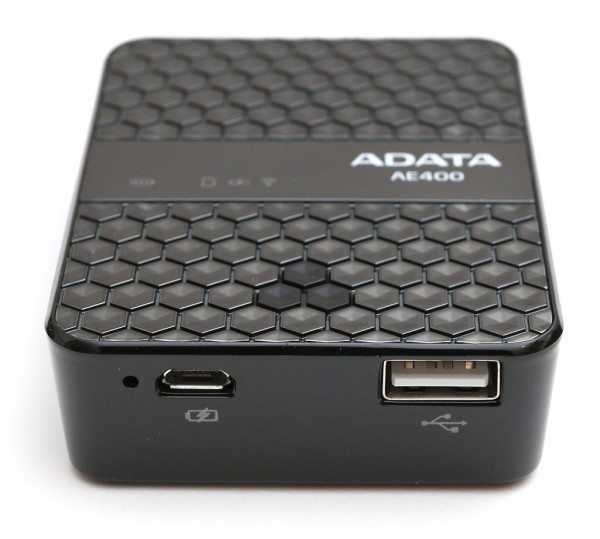 On the front edge you will find a micro USB connector which is used to charge the AE400's internal 5000 mAh battery when connected to a PC or Mac. When connected to a computer, the DashDrive Air also becomes an SD card reader. There's also a full-sized USB port that is used to connect the backup battery to compatible USB devices like an iPhone, or Android smartphone, and this port is also used to attach a USB flash drive or hard drive for wireless file streaming.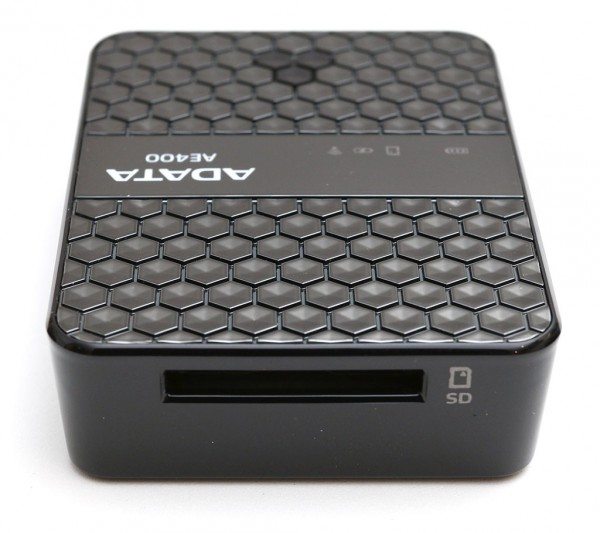 On the back edge is the SD card reader slot. Be aware that only one storage type can be used at a time. If you have both a USB flash drive plugged into the USB connector and an SD card in the slot, by default the SD card will be used and the USB flash drive will be ignored.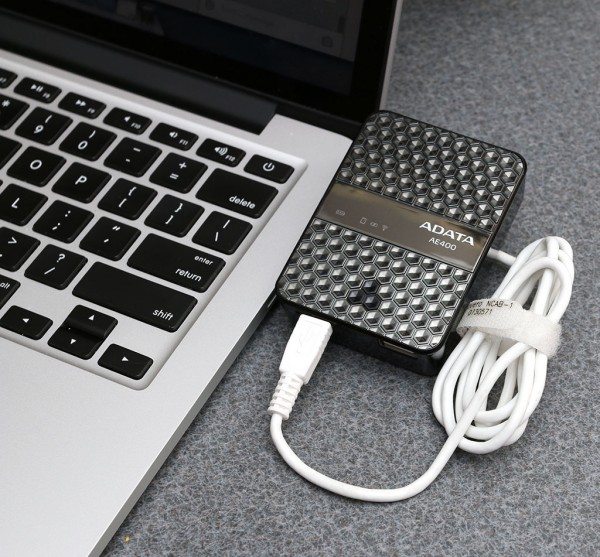 Power bank feature
The power bank has a capacity of 5000 mAh, which isn't huge in comparison to other backup batteries that we've looked at that provide up to 3 or more times that capacity. But it has enough charging capacity for two full charges of an iPhone 4S. So it's nothing to sniff about.
To use the AE400 as a backup battery, you attach the included USB cable to the full sized USB port on the side of the unit and attach the micro USB connector on the other end of the cable to your device. Of course if your device does not have a micro USB connector, you can use the USB cable that shipped with that particular device. Once everything is connected, just hold down the power button on the AE400 to turn it on. By default it is NOT in power bank mode. You'll need to then press the button once more to switch to that mode. At least that's what the user guide says. I noticed that the AE400 started charging my Samsung Galaxy Note 2, S5 and Nexus 7 tablet as soon as I powered it on. But I had to put it in power bank mode to charge my iPad mini.
The battery status LED on the AE400 is an indicator of the power level. When green it is 50-100% full, yellow means 25-50% full and red means 0-25% full.
Recharging the AE400's battery with a USB adapter takes about 4 hours. Recharging through a USB port on a computer will take up to 8 hours to fully recharge.
Wired and wireless card reader feature
One of the more interesting features of the ADATA DashDrive Air AE400 is the fact that it has an SD card slot on one side and a full sized USB connector on the other side. The device can be used as a wired or wireless card reader. There is one caveat though. You can't use both SD and USB at the same time. The SD card slot takes precedence with both wired and wireless access.
To use the AE400 as a card reader, you plug the micro USB cable into the AE400 and the other end into your PC or Mac. I tested this with my Macbook Pro and had no problems reading the data on the inserted SD card or a connected USB flash drive. If I had a USB flash drive inserted and then inserted an SD card, it would unmount the USB flash drive and mount the SD card. If the SD card was plugged in and I inserted a USB flash drive, nothing would happen… it would be ignored until I popped out the SD card. Then the USB drive would mount.
Note that when ever you plug in an SD card or USB flash drive, that the AE400 will automatically create a set of folders on the card/drive that includes Music, Photos, Documents, Video and an Air Elite folder. These folders correspond to the folders in the free DashDrive Air Elite app that is available for iOS and Android.
This brings us to the wireless streaming features of this device. I tested this feature with 4 devices, a Samsung Galaxy S5, Samsung Galaxy Note 2, Nexus 7 tablet (2013) and an iPad mini (1st gen).
After installing the free DashDrive Air Elite app on all the devices, the next step is to connect to the AE400's wireless network. To do this, you just power on the AE400 and then go into your mobile device's WiFi settings and find the AE400's network in the list of accessible wireless networks. You'll be asked to enter a password the first time. Don't worry, it's not hard to type… it's just 12345678 🙂
Once connected, you can launch the DashDrive Air Elite app.
The app shows a list of folders like I mentioned above. When you click on one, it will then show you the files in that folder, which is either on an SD card or USB flash drive, depending on which one you have inserted. You can then click the file to view it, or play it. You can also click the download icon on the right side of the file name to copy it to your mobile device.
I tested a variety of file types from MP3 song files, JPG images, PDF files, and video files. I immediately noticed a problem playing music files (.MP3s). The music would drop out for a second or completely restart every 15-30 seconds on a Samsung Galaxy S5 and a Samsung Galaxy Note 2. This didn't happen on the iPad mini or the Nexus 7 tablet, so I'm not sure what is different with Samsung devices that caused this issue…
Video play back was not reliable either. On Android, .MP4 files played fine if the mobile device was recently rebooted. .MKV also played fine, but with no sound. .AVI video files would not play at all. The app would just act like it was going to play the .AVI but nothing ever happened or the app just crashed while loading the file. On the iPad mini, only .MOV and .MP4 files showed in the video list, but they seemed to play more reliably than on Android. However, they didn't play 100% of the time. Sometimes the app would freeze during loading on iOS too. You might be wondering if the video files I was trying to stream were very large, but they were small/short videos, so I don't think that was the issue.
The only streaming file types that seemed to work without fail were photos and documents like PDF files.
The AE400 is supposed to support up to 3 users simultaneously streaming 1080P video, or up to 5 users simultaneously streaming 720p video. Even though I had 4 devices to test this feature, I had so much trouble with video playback that I was never able to get them all playing video files at the same time!
Wireless hot spot feature
The ADATA DashDrive Air AE400 can also share existing WiFi network access by creating an internet bridge connection, turning it into a hot spot that up to 10 other devices can use to connect to the internet. These days, this can be done very easily with most smartphones, so I'm not real sure why I'd ever use this feature, but it is easy to setup and I did test it to see if it really worked as advertised.
Turning the AE400 into a WiFi hotspot is easy. All you do is connect to the AE400 using the DashDrive Air Elite app on a mobile device and then go into the settings. You'll have to enter the admin password which is set to admin. Ooooh, so secure 😉 Then the AE400 will search for nearby wireless networks and show a list on the screen. Choose the one you want to share and click apply. The AE400 will then automatically restart into hotspot mode.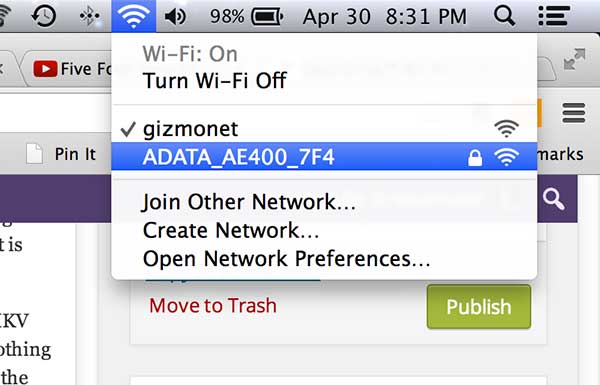 Once restarted you can go to other devices and find the AE400 in the list of available wireless networks which you can then connect and use. The wireless file streaming via SD card or USB flash drive works even when the AE400 is in hotspot mode.
Final thoughts
I like gadgets that can serve more than one purpose, so I was interested in the ADATA DashDrive Air AE400 because it wasn't just a backup battery, but also an SD card reader with wireless streaming features. However once I started using this device to take advantage of its special features, I quickly became annoyed with the different glitches and issues. I think the AE400 worked better with my iOS device than with my Android devices. That's not to say that it worked perfectly with the iOS device… just better. As it stands, I can't really recommend this product for its wireless file streaming features. The other features did work fine though, so it's not a total fail.
Visit ADATA for more info about the DashDrive Air AE400 wireless storage reader and power bank. This device is priced at $49.99 retail, but can be found for less at online shops like Amazon.