We use affiliate links. If you buy something through the links on this page, we may earn a commission at no cost to you. Learn more.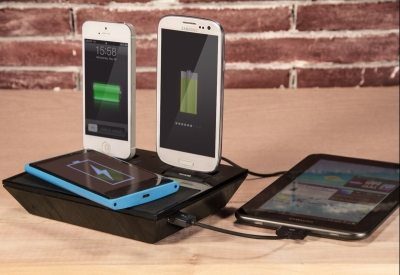 At one time or another throughout a day, desk space can easily become cluttered with gadgets galore sitting and charging (has anyone seen the mouse?). Rediscover the surface of your desk with the IDAPT Wireless Charger i4w Qi. When using this charger, you will use only a small amount of space to charge up to four devices simultaneously, eliminate cable clutter, and actually be able to do some work at your desk! This charger uses an interchangeable tip system for up to two devices, Qi wireless charging for one device, and Turbo Smart USB (10W/2A) for one device. Included with this charger are four of IDAPT's tips (extended tips are available for phones with cases) that can be swapped to charge the appropriate device and charge at 0.5W/1A each: iPhone – Lightning, iPod-iPhone, micro USB, mini USB. Charging does not slow down when used with multiple devices and the charger is compatible with over 5000 devices including current and older smartphones, tablets, gaming consoles, cameras and Bluetooth devices. It recognizes iOS devices and Android devices and fast charges both at a rate comparable to their respective OEM chargers. Now your only dilemma is what to do with all those other superfluous chargers…
The price is listed for $109.99. Check out the IDAPT web site to be notified when this charger becomes available.