The Gadgeteer is supported by readers like you! If you buy something through links on our site, we may earn an affiliate commission. Thank you! Learn more.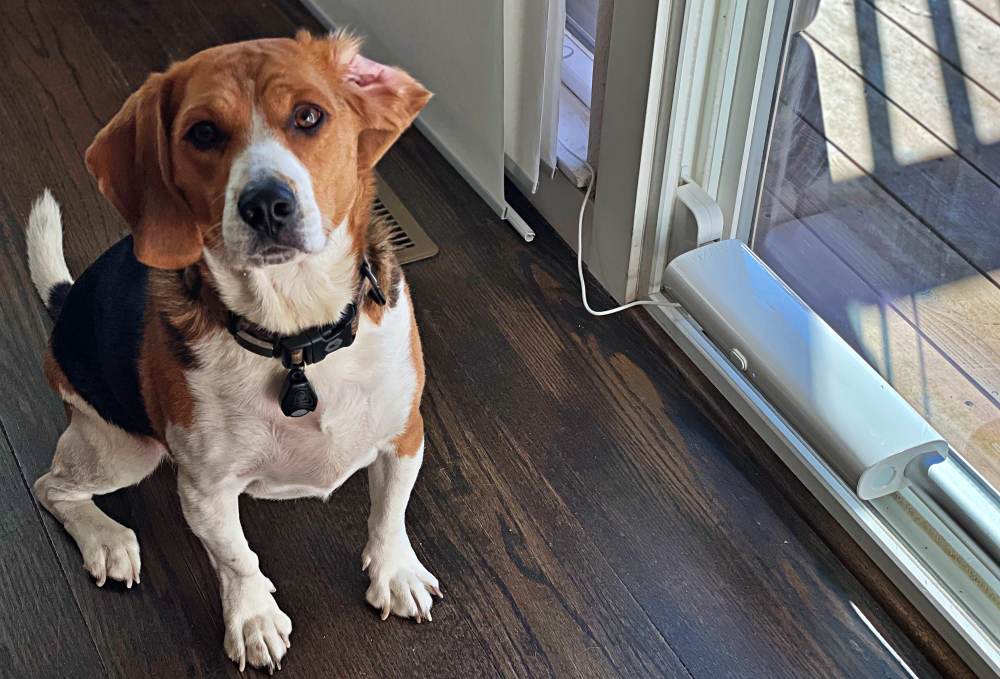 REVIEW – Dog lovers have long struggled with ways to let their dogs in and out of the house outside of the requisite walks. There are the in-door flaps and other dog doors, but what if you have a sliding glass door? There's a couple of "inserts" for sliders, but they've got their own issues. Wayzn has a new product called Smart Sliding Glass Door Opener and it has that key word at the end "opener". Is this the solution sliding glass door pet owners have been waiting for?
What is it?
Wayzn is a door opener for your dogs designed to work on sliding glass doors. It's not a flap to install or an insert, but a connected smart device that installs without any permanent modifications to the sliding doors you have.
What's in the box?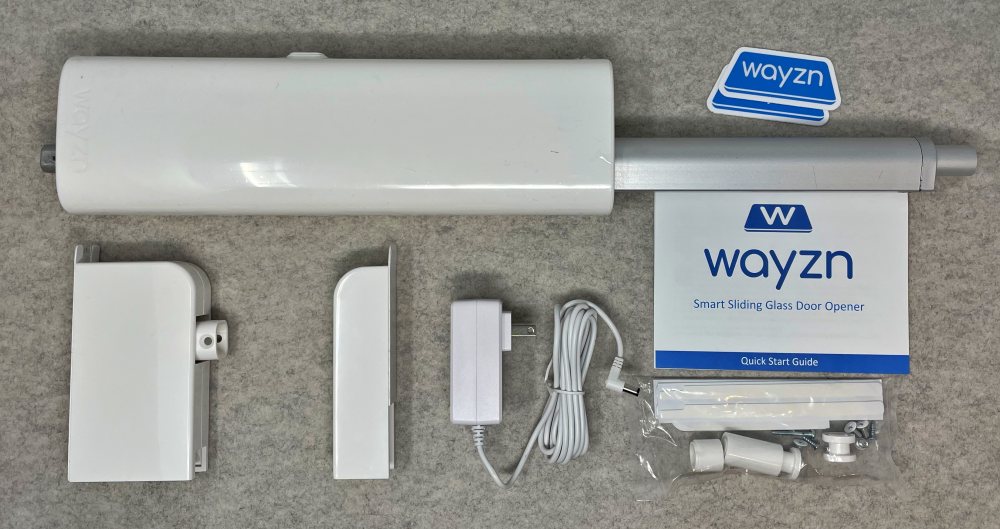 Wayzn door 0pener
Door adapter (fixed side)
Door adapter (sliding side)
Power adapter
Fit kit with size adapters and extra VHB tape
Window stickers
Instruction manual
Hardware specs
Power: AC Adapter (6.5 ft cord)
Compatibility: Can work on sliding doors 27-49.75″ with ≥ 1.25″ track width
Connectivity: Wifi and Amazon Alexa
Installation: Damage-free peel-and-stick hardware
Design and features
The Wayzn Smart Sliding Glass Door Opener is a self-contained solution that looks at home on the doors it's meant to open for your pets. The main unit is a gloss white enclosure that houses a motor to push and pull the matte silver arm connected to the door you want to slide.
Door adapters attach with peel and stick tape so there's no permanent install or damage to your doors.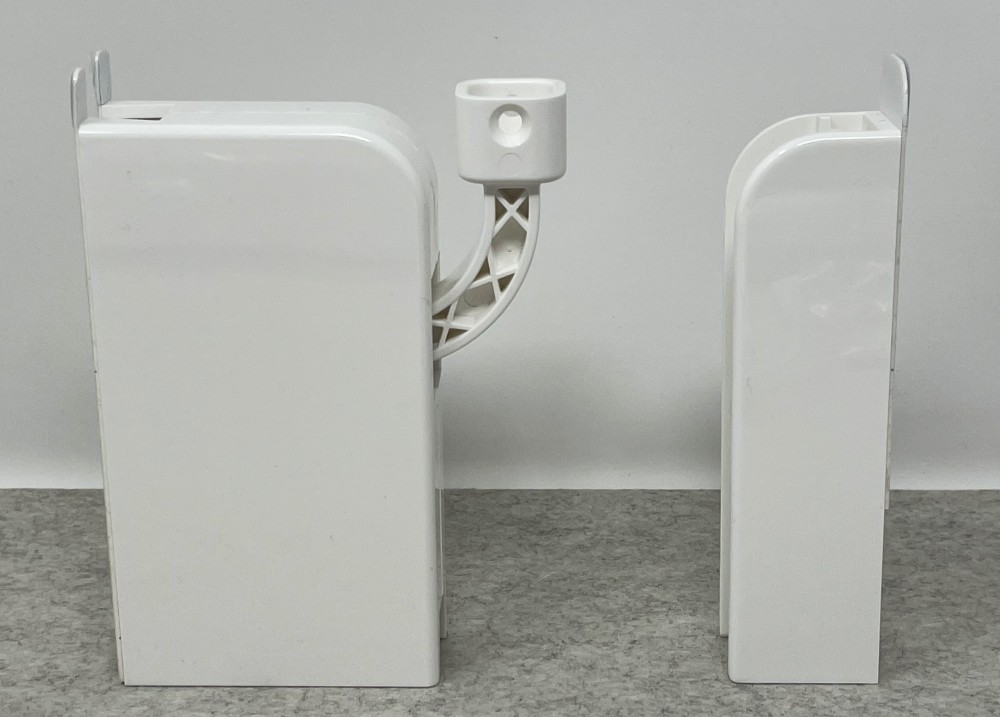 The door can be operated remotely with the Wayzn app, or by using Alexa and the unit pivots up for times you want to use the door manually. (Red light in photo is from during the setup).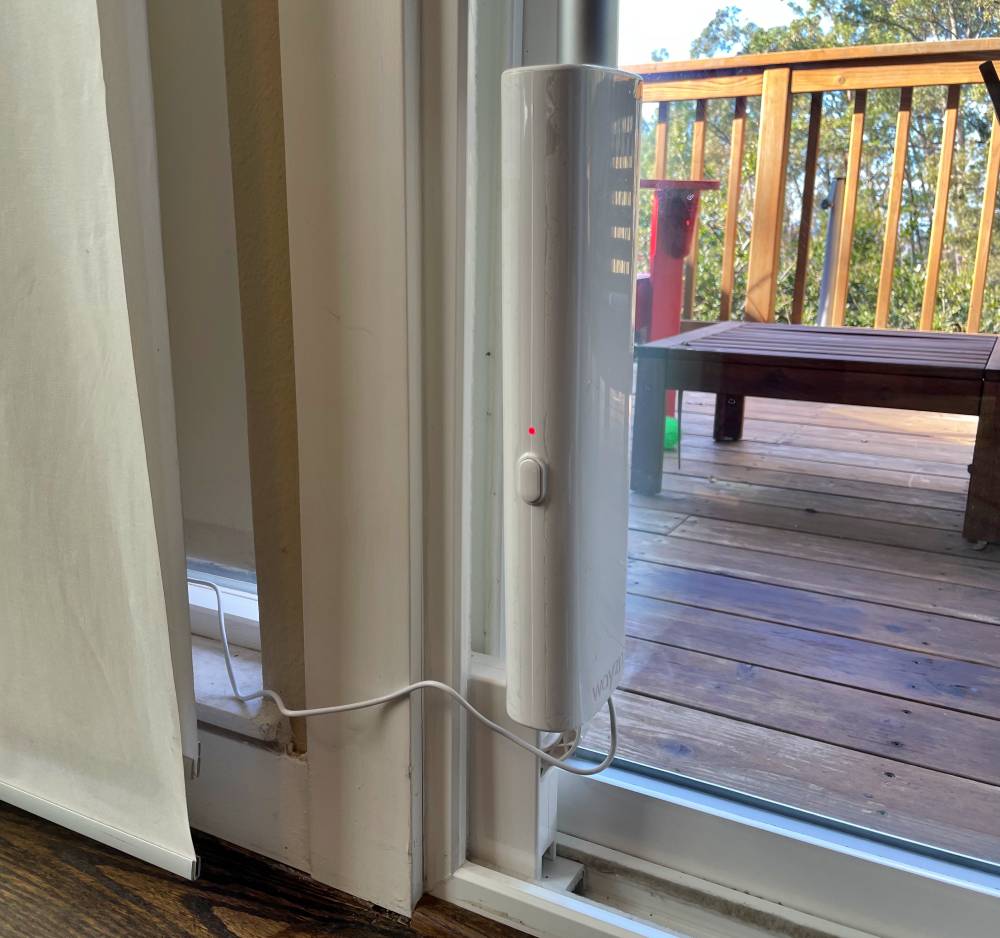 Setup
Installing is easy and kind of fun. There are a couple things you'll want to do before you order one though.
Before answering any of the following questions, make sure you have a power outlet within 6.5 ft of the fixed side of your door. This thing needs power and if your wall outlet is further away or on the opposite side it could get weird.
Confirm your door has a single sliding door and the fixed panel is on the outside (sliding door moves inside the fixed pane)
The slotted frame is a minimum of 1.25″ across (width of track that the sliding door moves on (not both door tracks combined)
Measure the amount of track you can see when sliding door is closed (the range is 27″ – 49.75″ and it will determine how far your door can open and what base kit size you need)
You can walk through this process here to make sure your door will work.
When it comes time to actually install the hardware you'll only need a couple tools handy. A tape measure, a phillips head #2 screwdriver and a pencil. You'll also want to take a minute to clean out the track. Ours was full of pet hair, and I'll spare you the photos. You'll also want to clean the two areas where you're going to peel and stick the door adapters to make sure they stay stuck.
Download the Wayzn app, setup and verify your account and then follow the prompts for installation. They pretty much go like this.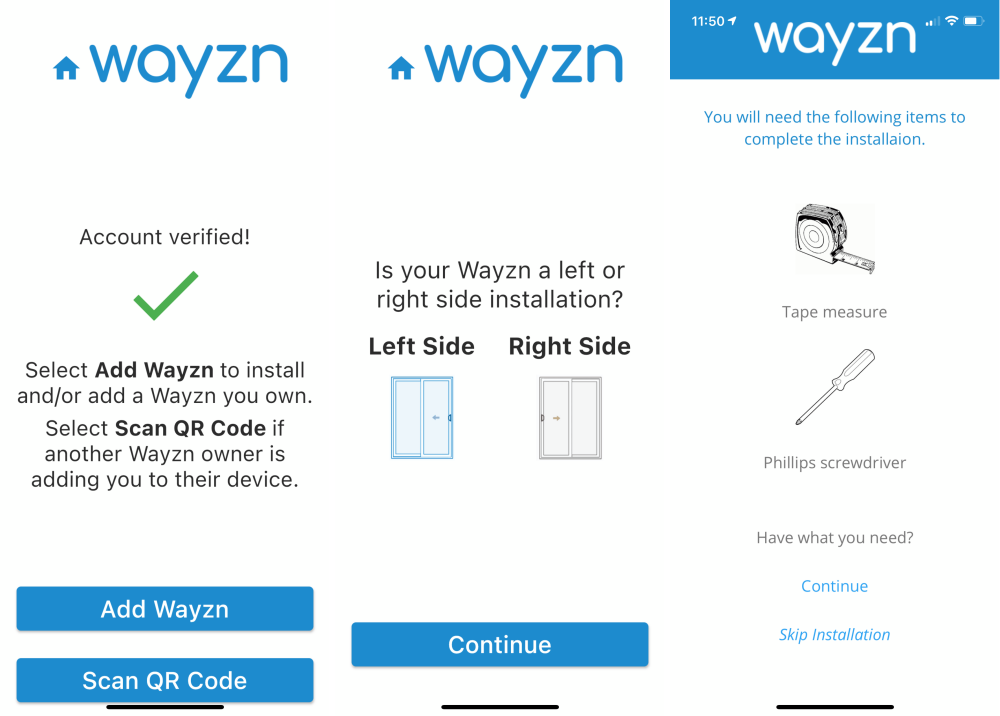 Answer which way your door moves. My door slides to the left which is a "Left Side" installation.
With the door closed, measure the amount of track visible (round up to nearest 1/4″), then reference the chart in the app to find which adapter to use from the kit. I needed the long adapter.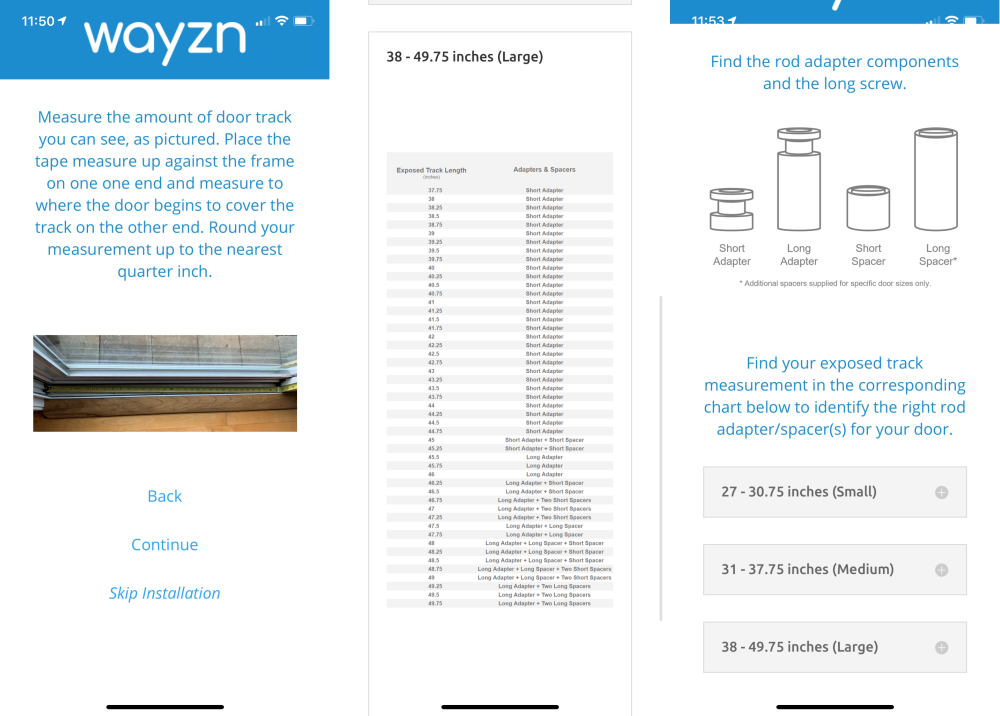 Use the machine screw to fasten the adapter to the end of the silver arm extending from the main unit.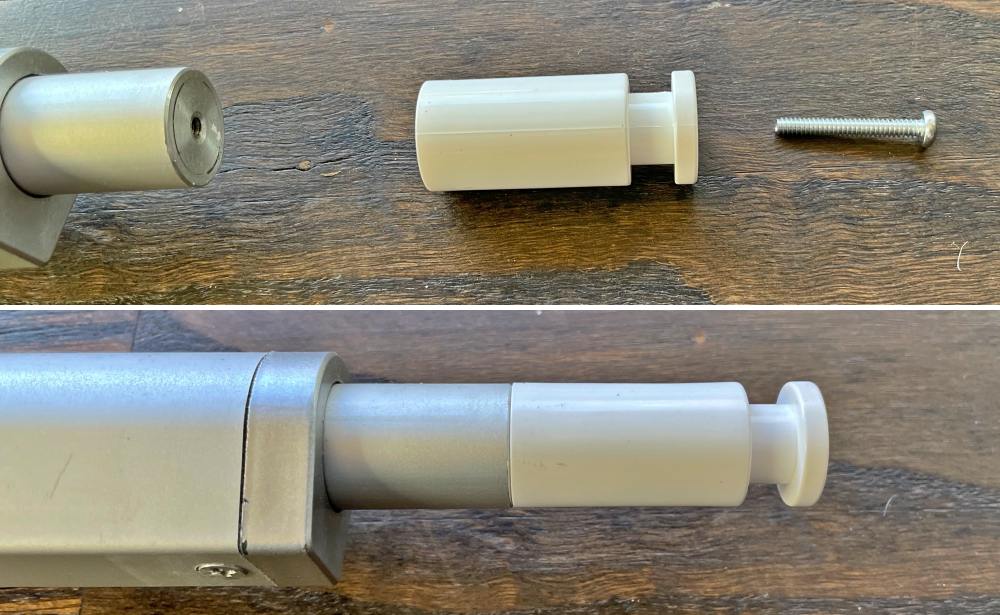 With the button on the main unit facing you, slide the larger door adapter onto the square post opposite the arm. Use the 4 short screws to fasten all four sides of this connection. (Main device still has protective film on it in this photo).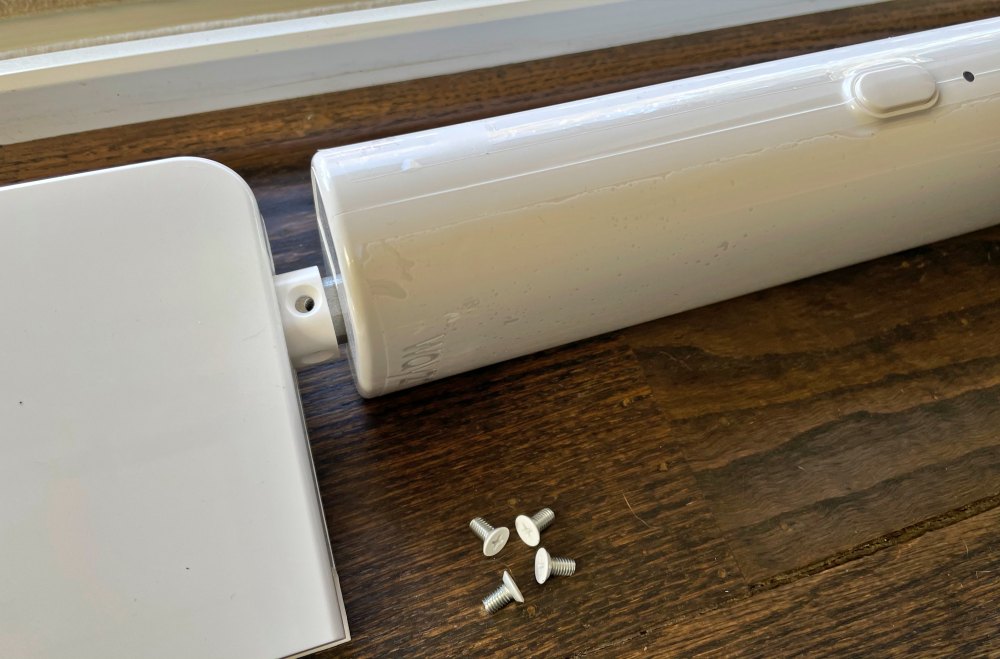 Attach the power adapter to the AC port near that same joint.
Place the small door adapter on the bottom of the sliding door facing the direction it slides. You'll want it to be about .25″ above the top of the track for clearances and smooth operation. Make a pencil mark, peel the backer off the adhesive and then press into place holding for about 30 seconds.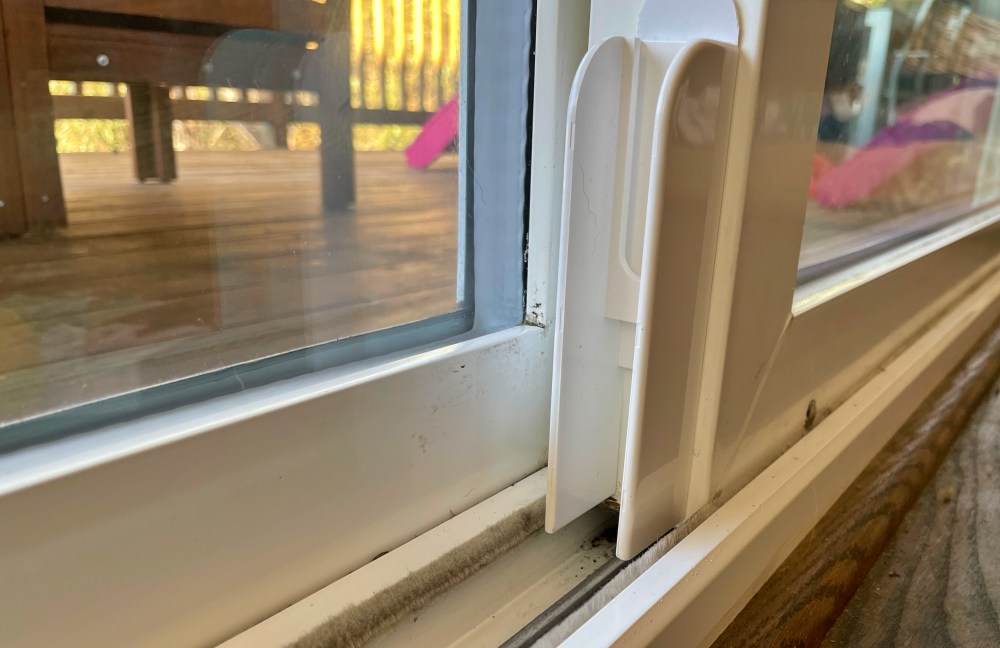 Attach Wayzn to the fixed side the same way. You'll want to pivot the adapter 90º so that when it's against the door the Wayzn unit is vertical against the door jamb. (You can see in this photo how the power cord exits the back of the unit and wraps under the pivot hinge).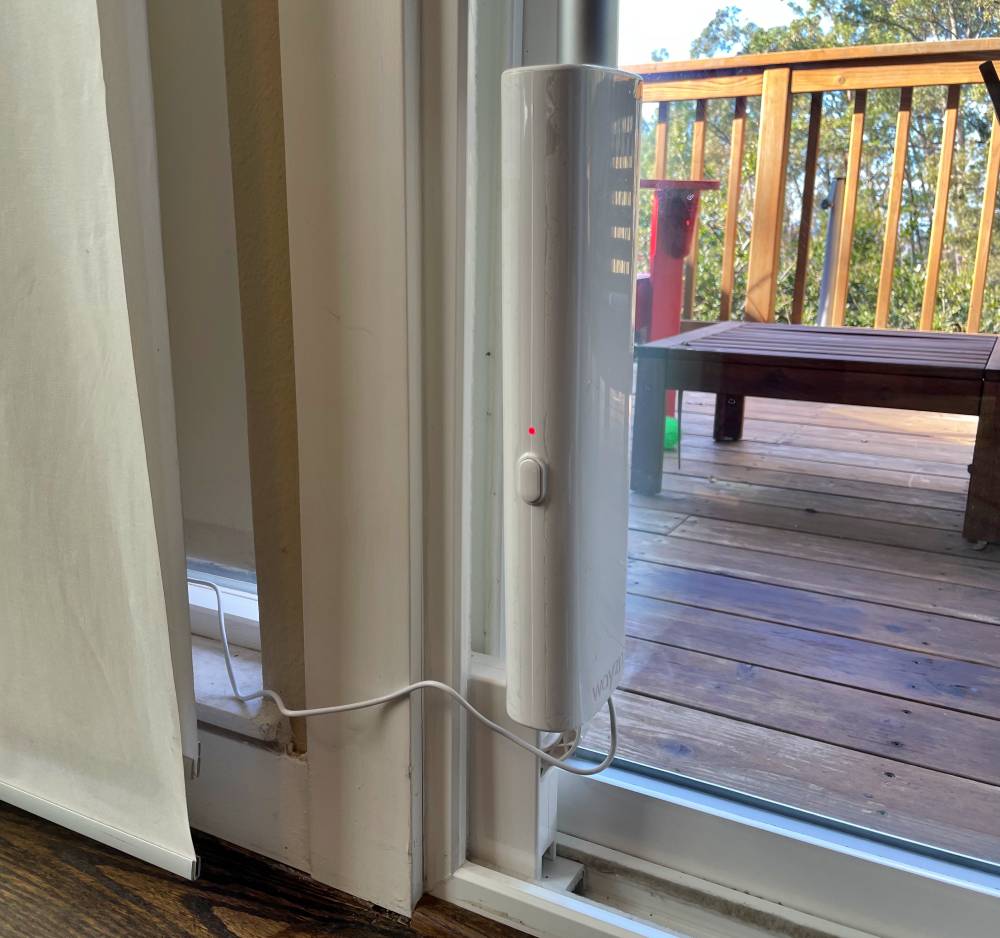 Tilt Wayzn down and then slide your door open until you can slide the T-Connector into the door adapter.
Connect the wall adapter to power and then enter your details in the app to connect to Wifi.
When prompted and you've confirmed, Wayzn will open and close your door three times to calibrate its operation.
If you want to connect Wayzn to Alexa, there's a few more steps and it isn't too different than what you've likely done before. Here's a link to Wayzn's guide. There's also an option to connect it to a webcam, but I didn't get a chance to try this and the website
With that set up you can now operate the door with the app, by asking Alexa to "Open/close sliding door" or as you always have, just remember that you'll need to pivot Wayzn up first.
Performance
Over the years I've installed a few pet door flaps. The old school flappy ones and at some point one that used a collar to unlock. More than anything I just remember having to trick my pets to use them for a few days until it became less scary.
These days they seem like security concerns, especially if you have larger dogs. Scenes from Home Alone are playing my head right now.
In our current home, we don't have a yard. The dogs get their morning and evening walks, but still want some outside time during the day. About 4 years ago I bought a PetSafe sliding door insert to use on the sliding door to our enclosed deck. It worked pretty well, but was drafty, and the sliding door just didn't look good perpetually open the width of the insert.
Since then we just slide the door open and closed as needed. That worked fine during the summer, but deer or turkeys would set the dogs a-barking and we'd have to get them back inside quickly. In the rainy cold season, we don't want the door open, so we hung some bells on webbing from the handle which the beagle figured out how to paw at when he wants to go out. He has a knack for waiting for us all to get settled into our requisite comfy chairs before pawing at the bells so it's a constant open/close cycle that gets annoying quickly.
Installing Wayzn was super easy, and while it's not exactly a small device it blends in with the door enough and way better than the alternative. It's really easy to use the app to operate the door. Press the button and Wayzn springs to life with a relatively quiet motor drone sound as it slowly opens or closes. As easy as the app is to use, it's honestly much easier to ask Alexa to do it. It feels slightly ridiculous, but with our dogs that's about 10-15 times a day I don't have to get up or leave my desk to move the door. Take a look.
For my setup, Wayzn opens the door about 17″ total. Part of the measurement process before ordering calculates travel and total opening to make sure your pets will fit through. It takes about 10 seconds to open my door and about 15 to close it. You'll probably wish it was a little quieter, but its convenience outweighs the noise for us. It also feels pretty slow, but gives the dogs time and that audible warning that it's moving.
Safety was obviously a concern and Wayzn did a good job making sure no one gets pinched. I placed my hand into the path of the door with about 2″ left to close. It made contact with both sides of my hand and Wayzn reversed direction before I even felt a pinch. My larger dog had his snout in there watching a squirrel and Wayzn reversed direction again. He didn't even yelp!
When Wayzn detects an obstruction (pet or another object), it will automatically re-try three times before deciding it's not going to work. The app shows an "obstruction" alert, but does not push it as a notification. So, semi-useful if you're using the app, but if you're using Alexa from elsewhere in the house, you won't know that it failed. This should be an easy fix and hopefully, they'll address it soon.
One thing to note is that you will have to relearn your impulses when trying to use the door normally. If you grab the handle and pull, nothing happens. The door doesn't budge. That's a good thing as far as security goes. You obviously won't be using the lock lever on your handle anymore as then Wayzn couldn't work, so instead, Wayzn is working as a lock bar.
If you want to open the door manually, you'll need to first reach down and tilt Wayzn up into a vertical position. It only takes a couple of extra seconds and the door works as it always has. Any time you pivot Wayzn up, it automatically retracts its arm.
To reconnect Wayzn you'll want to pivot down while sliding your door close to the retracted length of the arm. The last few degrees of pivot start the closing process, so you'll want to make sure you don't pivot all the way down until it's in the adapter. It'll then start closing the door. If you miss and it starts closing, just close the door manually and wait the 15 seconds for full extension before dropping it into the adapter.
Lastly, there's a section in the app for Motion Detection (also where you turn on obstruction detection). There's very little info in the app on how this works other than what you see here (in mega-giant size… sorry).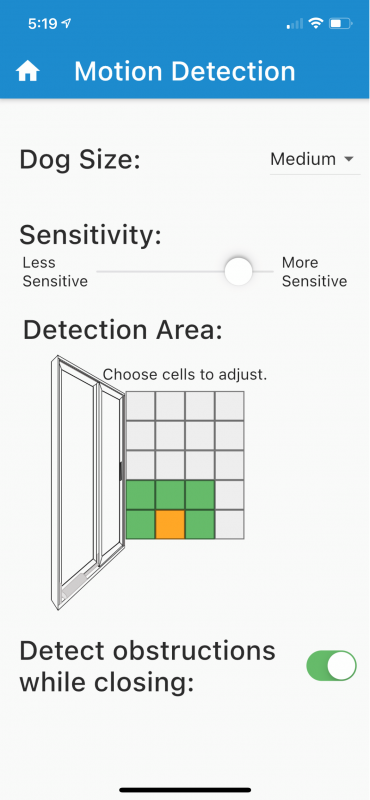 I was able to select those bottom 6 squares which I assume means those are the only ones Wayzn pays attention to. Adjusting the sensitivity slider I was able to get it to automatically open and close, but it did so with a mind of its own. Too sensitive and it would just open and close continuously for no apparent reason (maybe light change?). Dialing back and it wouldn't budge. Set at about 80% was close, but it would still ignore my dog standing right there.
This feature needs a ton of work before I'd feel comfortable leaving that setting active. I did see on their site that they have a dog tag coming that would allow a more direct communication from pet to Wayzn that it needs the door opened. That will certainly help.
What I like
Zero modification to my sliding glass door
Remote operation with app or Alexa
Safety features to avoid pinching/injury
Price
What I'd change
Error messages need to be sent as push notifications
Motion detection did not work for me
Would like to see Google assistant compatibility as an option
Final thoughts
The Wayzn Smart Sliding Glass Door Opener was the exact solution that I needed and didn't know was out there. It installs easily and opens/closes with the app or Alexa. No learning curve for pets other than waiting for a door to open or close. The motion detection needs work, but even without it, this pet gadget is worth a look if you've got a dog and a sliding door.
Price: $399.00
Where to buy: Wayzn
Source: The sample of this product was provided by Wayzn
Support The Gadgeteer
:
The Gadgeteer is supported by readers like you! If you buy something through the links on our site, we may earn a small affiliate commission. Thank you! Learn more.