We use affiliate links. If you buy something through the links on this page, we may earn a commission at no cost to you. Learn more.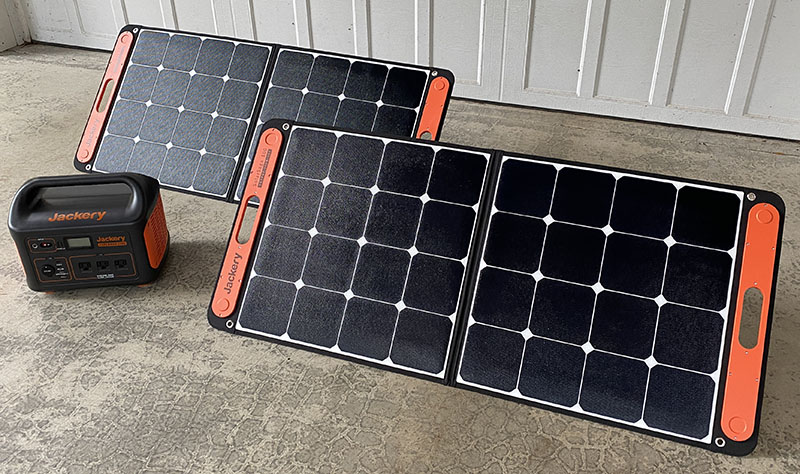 REVIEW – We live pretty far out in the sticks which definitely comes with its pluses and minuses. One of the biggest hassles being when the power goes out. Now I grant you this occasionally happens to everyone but one tree can take us off the grid for days, if not weeks at a time. Well, battery and solar tech has come a long way in the past decade with many midsized/portable solutions hitting the market when you need power while camping or when the lights go out. Jackery has recently released the Solar Generator 1000 that combines their Explorer 1000 and several SolarSaga 100 solar panels to provide power when the grid isn't available…lets check it out.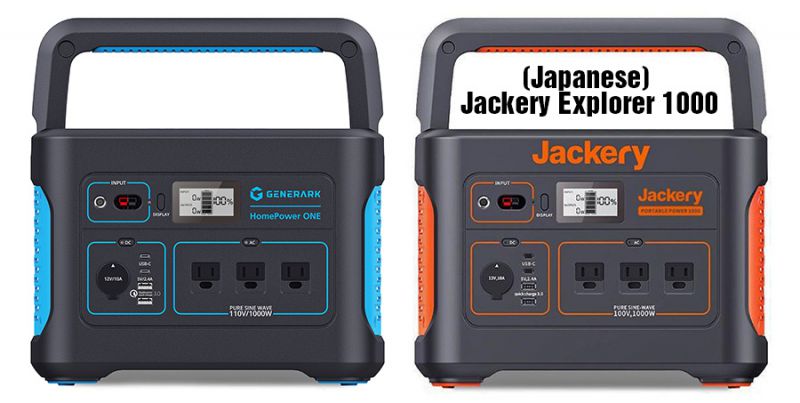 Late last year, Bill Henderson reviewed the Generark HomePower ONE 1000W – Emergency Power Supply | Backup Battery Power Station. In his review he commented on how similar the HomePower One and the Jackery Explorer 1000 are in both form and function. And I must agree…other than coloring, logos, and the Jackery's fixed handle, they are identical. Not a huge deal IMO but there is little doubt in my mind these were made in the same factory. 
Like Bill, I am no electrical engineer nor do I have a bunch of digital meters to look at charging rates or power levels. This is more of a practical review for use of the average person. Also, this will most likely be a two part writeup since I'm doing this review in January when the we rarely see the sun here in Western Washington…that piece will probably have to wait until summer.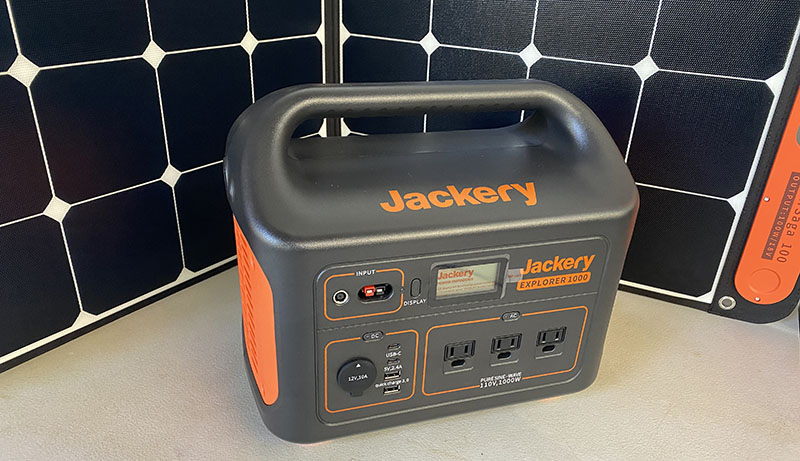 What is it?
The Solar Generator 1000 includes Jackery's Explorer 1000 Portable Power Station and two SolarSaga 100W Monocrystalline Solar Panels. The Jackery Solar Generator is engineered to provide clean, quiet, convenient power where and when you need it. The Jackery Explorer 1000 is at the heart of this system with a multitude of recharging options and power ports to meet your power-hungry devices, equipment, and (modern) outdoor lifestyle 😉 .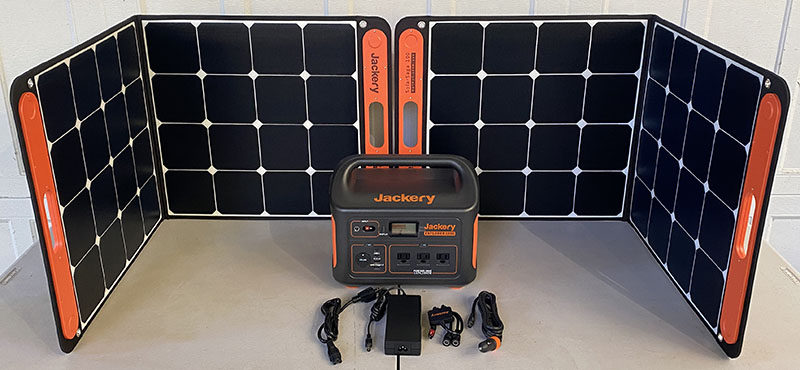 What's in the box?
Explorer 1000 Portable Power Station 

2 x SolarSaga 100 solar panels

AC Adapter

Car Charger Cable

SolarSaga Y Parallel Cable

User guides
Hardware specs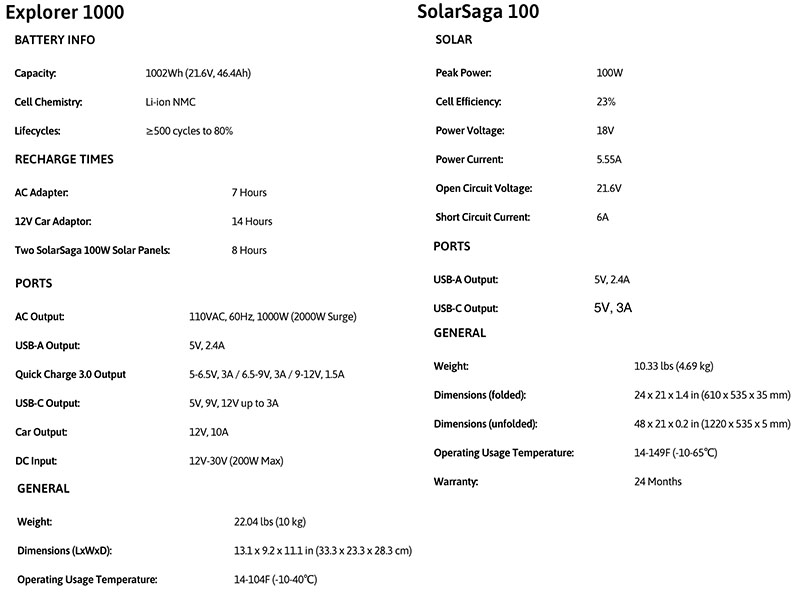 Design and features
As I stated above, the Solar Generator 1000 includes Jackery's Explorer 1000 Portable Power Station and two SolarSaga 100W Monocrystalline Solar Panels. This system is designed to provide a 1000 watts of power (surge to 2000 watts) when shore power isn't available and with the two included SolarSaga 100 watt solar panels generate its own power when weather conditions allow.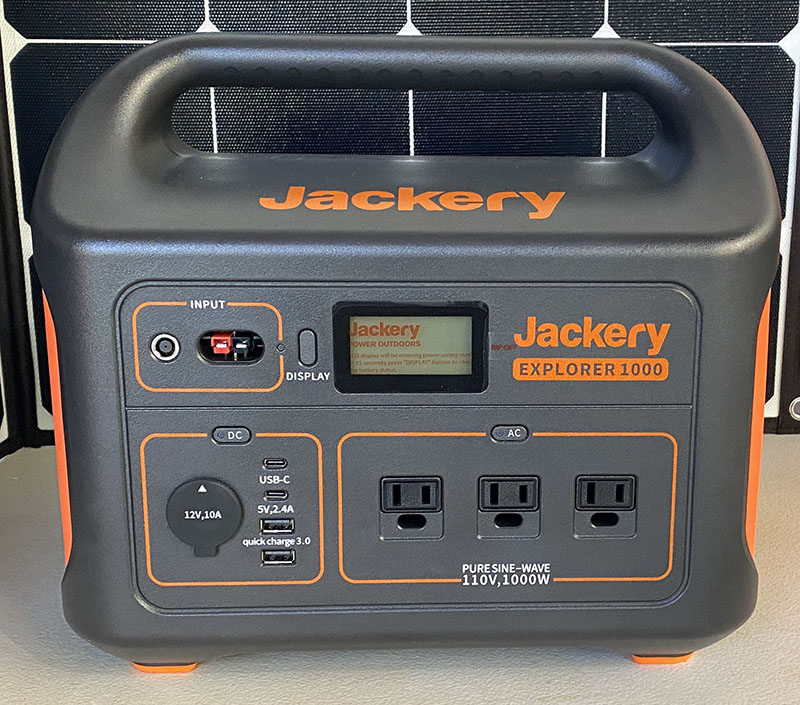 Explorer 1000
The Jackery Explorer 1000 is made from a dark gray hardened plastic with orange vents on either side of the casing and a lithium-ion battery at its core. The Explorer is about the size and shaped like a large lunchbox or small cooler with a fixed, very solid handle for carrying around this semi-heavy yet portable power supply. The Explorer 1000's dimensions are 13 in x 11 in x 9 in and weighs in at 22 lbs.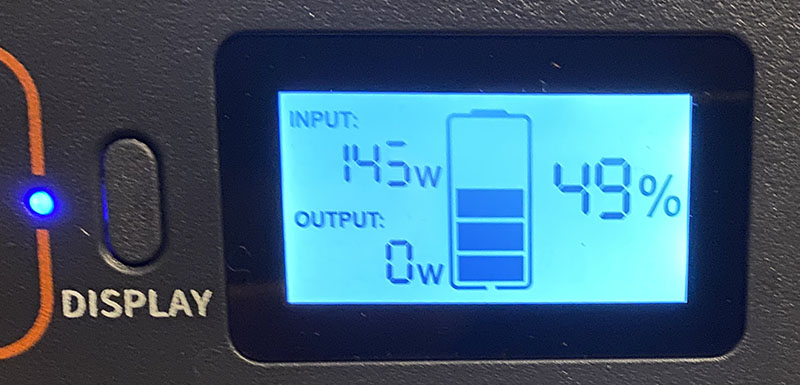 The LCD screen displays charge, discharge and battery status data.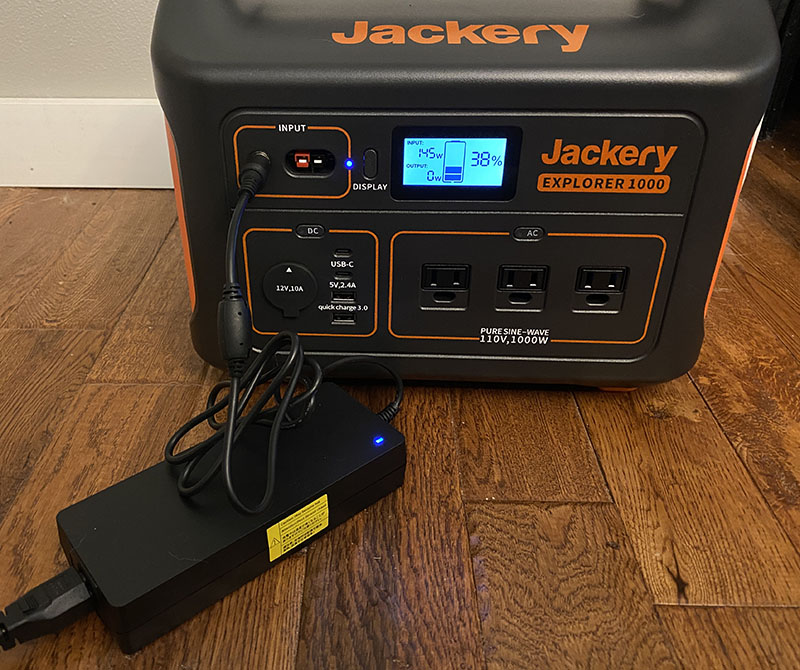 The Explorer can be fully charged via a standard AC wall outlet in about 6-7 hours. The power brick is substantial with a blue LED on it and the Explorer 1000 to indicate power is on and flowing. Jackery also includes a 12V car charger that can fully recharge the unit in about 14 hours. And lastly the two SolarSaga 100 watt solar panels can fully recharge the Explorer 1000 in under 8 hours in ideal conditions.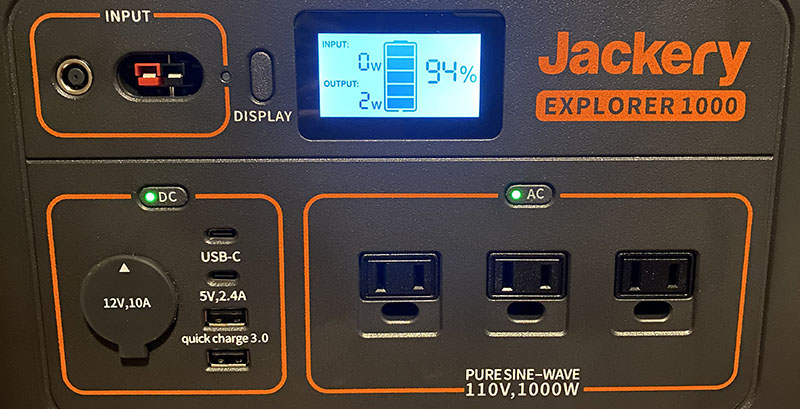 There are three standard 110v grounded AC outlets rated at 1000 watts with a surge capacity of 2000 watts. These plugs provide "clean" power to safely recharge your tech and computer gear. Left of the AC outlets are two USB-A ports (one quick charge and one regular) and two USB-C ports. To turn on either AC and/or DC power, simply press the labeled physical button and a light indicates the outlets are live. AC and DC power can be used at the same time.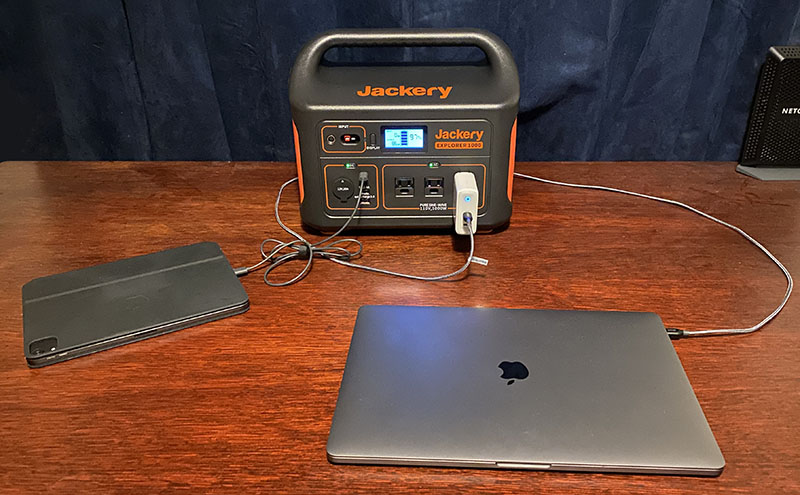 I agree with Bill having these USB ports with fast-charging is definitely a great convenience so no hubs or plugs are needed. The USB-C port weren't able to charge our laptops so I did have to breakout my Anker PowerPort plug to charge my MacBook Pro and Dell XPS.

The handle on the Explorer 1000 is very solid and well constructed but fixed, adding several inches to the height to this portable power station.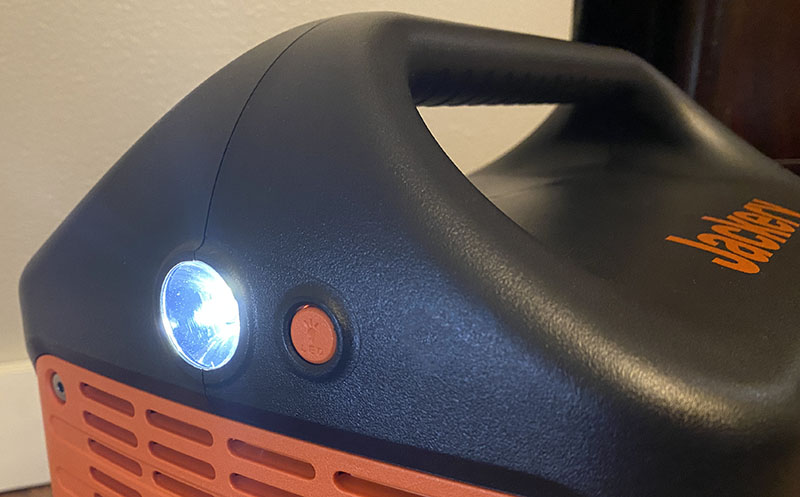 Another great feature of the Explorer 1000 is a LED light built into its side. While it probably wouldn't illuminate a campsite very well and I wouldn't use the Explorer as a flashlight, this light would be great to have as a backup light source in a pinch.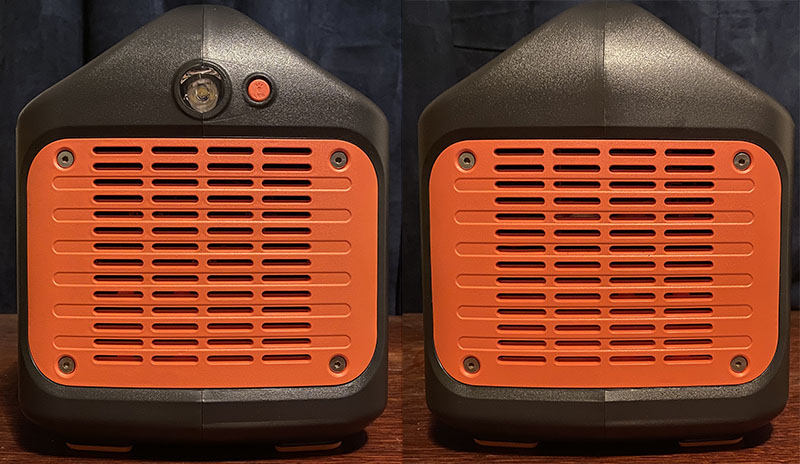 There are vents on both ends of the Explorer for dissipating heat. The internal fans didn't come on often but when they did (other than startup) were quiet enough. Only once when I was both charging and using the Explorer for power did the fans come on but only for a few minutes. Now I was using this in winter time with the temperature about 65 degrees, I'm sure in the heat and sun of summer it will kick on more.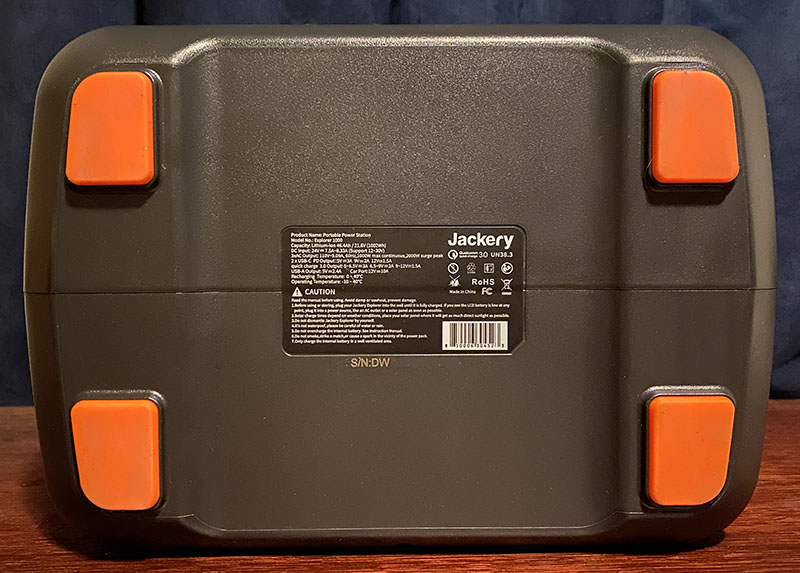 The base of the Explorer 1000 has four non-marring, orange rubber feet for added stability.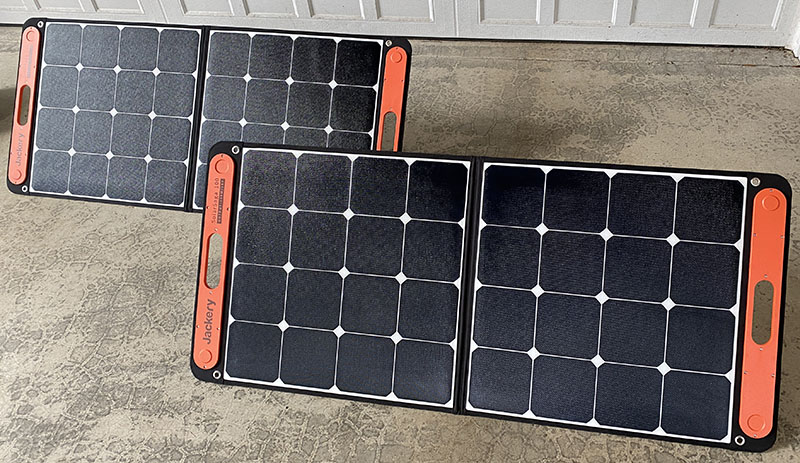 SolarSaga 100 solar panel(s)
The SolarSaga 100 are well constructed, high efficiency 100 watt solar panels with MPPT technologies to better charge in varying lighting conditions. These rugged panels are designed for portability and to be used outdoors. The pair can charge the Explorer 1000 completely in approximately 8 hours.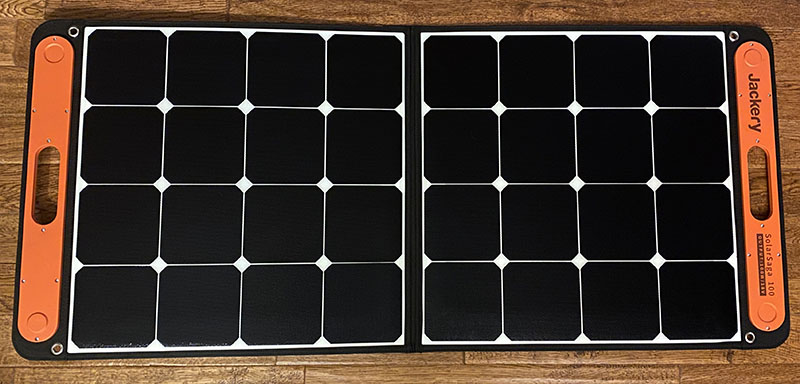 The SolarSaga 100's have a conversion efficiency of up to 23% and are compatible with the Jackery Explorer 1000/500/300/240/160 power stations. The panels are made from durable, high-temperature resistant materials…engineered to survive camping and sitting for many hours in the blazing sun.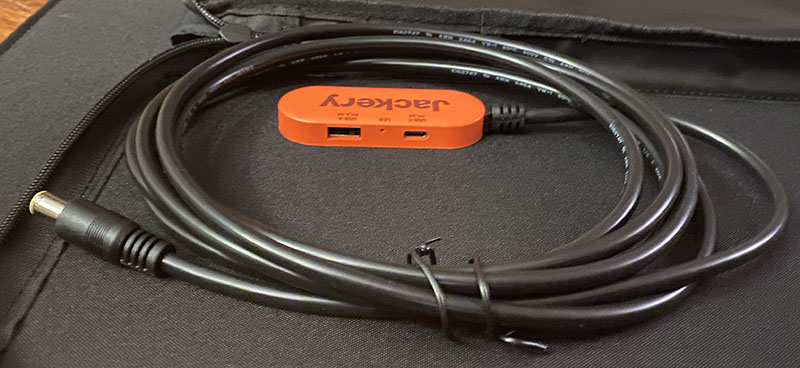 A great feature of the Solar Saga 100 solar panel is that they can independently charge multiple devices at the same time with its integrated USB outputs: 1 x USB-C and 1 x USB-A ports.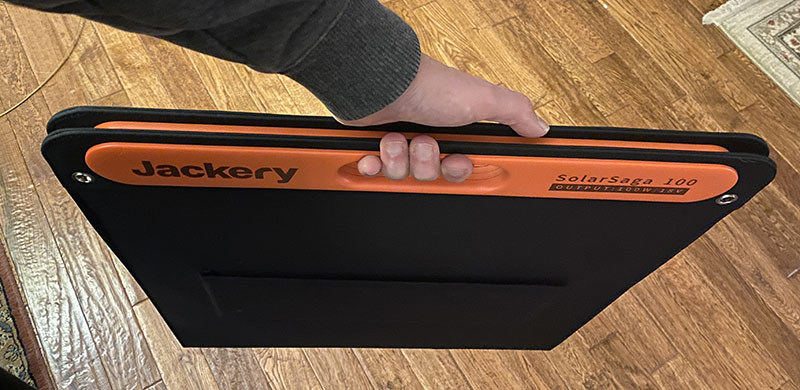 The SolarSaga 100 is designed to fold in half with integrated handles making for excellent portability. The handles have a good, solid, durable feel to them. Each panel weighs in at just over 9 lbs, so two of them in one hand and the Explorer 1000 in the other makes for a balanced trudge up the trail/mountain.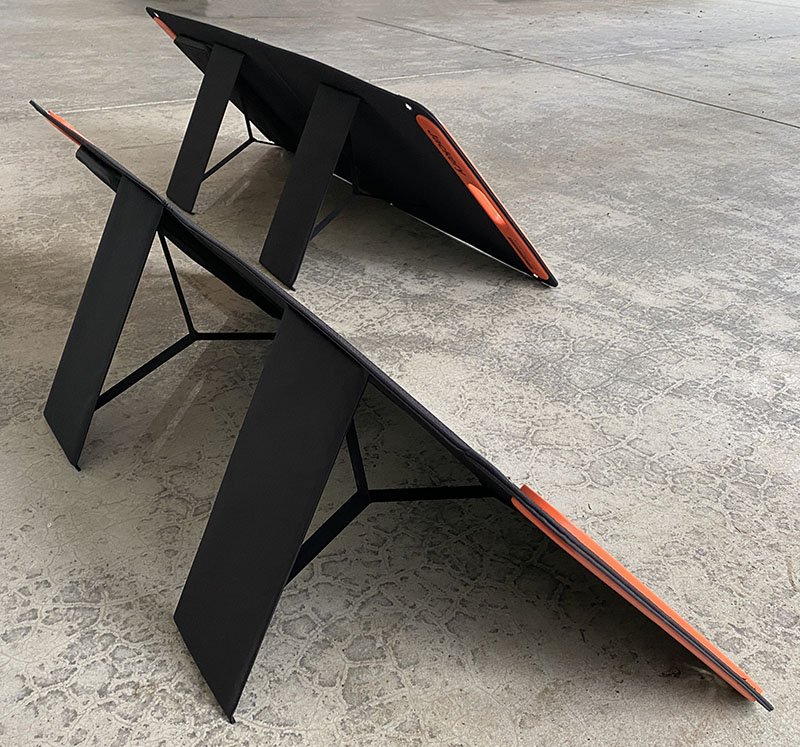 There is an adjustable built-in kickstand on each side of the solar panel that velcros to the back of the SolarSagas when not in use.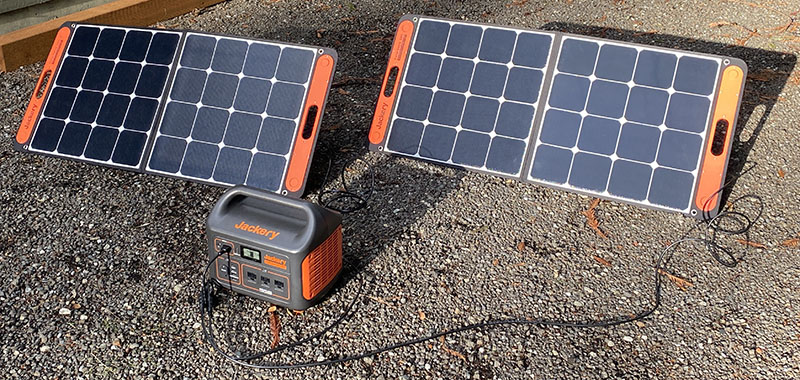 Performance
Well the Seattle rains stopped and the clouds parted so the dog and I bolted outside to see how much power we could generate. It was 3pm with the sun nearing the horizon, a mostly cloudy sky and the sun showing thru every so often. In these less than ideal conditions, the two SolarSaga 100 solar panels were generating between 40 to 60 watts of power according to the Explorer 1000's LCD display. My guess is that under a sunny summer sky these panels would produce approximately 150+ watts of power enabling the system to fully recharge in about 8 hours. 

The Explorer 1000 did a great job in all my testing. It powered my entire WFH "command center", was able to recharge my laptop, iPad Pro, iPhone, and run our fridge with ease. We never really wanted a big, loud, smelly generator for our house or while camping so the Explorer 1000 power station is an ideal solution for bring power when and where you need it. Add in the right weather conditions and the Solar Generator ensemble could keep you going a good long while. 
Real Life "come to the rescue" scenario: as I stated above, Western Washington receives very little sunlight during the winter. Though we do get a cr@p-ton of rain…like 'is it time to build the Ark?' rain…inches upon inches, mudslides, trees down, flooding, and many days without electricity. And like many of you, we're working from home and when the power goes out we can't just find a coffeeshop or go into the office to continue our day anymore. Well, this past week we had a significant storm event that left about a million people without power and for a day we were one of them. Luck would have it, the Jackery 1000 was fully charged and ready to save the day. I plugged our cable modem and WiFi router into the AC side of the power station and were able to continue to work throughout the day and watch shows on my iPad in the evening. The day of internet connectivity used less than 20% of the battery capacity. Pretty solid if you ask me. Based on my back of the envelope math, even with having to charge our laptops, iPads, iPhones I bet we could get 2-4 days out of the Jackery based on this scenario. 
What I like
Excellent build quality
High capacity power storage
Provides/generates clean, tech-friendly off-grid power
Dedicated USB charging ports
Good portability
In the right conditions: good power generation
What needs to be improved
Expensive (but comparable to similar units)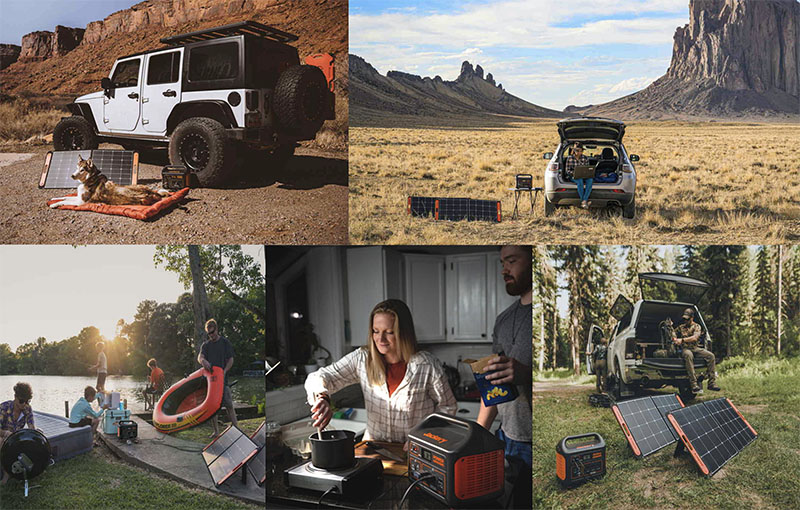 Final thoughts
Let's face it, old school gas or diesel powered generators are loud, smelly, and less than environmentally friendly…definitely taking away from the Zen of getting back to nature. Jackery markets the Solar Generator 1000 as clean, quiet, efficient way to have power while away from the grid and I 100% agree. Whether you're camping in the middle of nowhere or without electricity for whatever reason, the Explorer 1000 and SolarSaga 100 can not only provide significant power but generate it as well. Both are designed for portability while being hardened and rugged enough to survive the great outdoors making for an excellent addition to your camping gear. 
Price: $1,599.97
Where to buy: available on Amazon or directly from Jackery
Source: The sample of this product was provided by Jackery.