We use affiliate links. If you buy something through the links on this page, we may earn a commission at no cost to you. Learn more.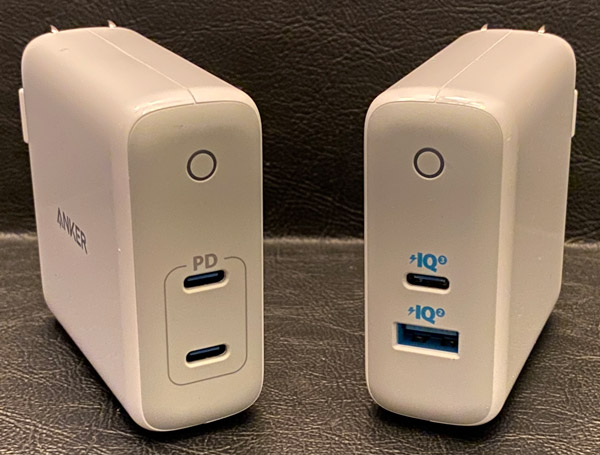 REVIEW – Anker produces a lot of charging accessories for the never ending list of today's power hungry smart devices. Over the past few years, manufacturer specific chargers and massive power bricks have (thankfully) fallen to the wayside. USB-A & -C, better power efficiencies, and fast-charging technologies have led the way for universal charging solutions for a majority of your mobile devices. In the world of travel/wall chargers you no longer need to lug around 2 or 3 power cords/bricks/plugs with you to keep your gear operational. In most cases, a single relatively small power plug is all you need. In this case, Anker sent me several of their PowerPort Atom travel/wall chargers to checkout to see how well they get the job done.

What is it?
Both the PowerPort Atom III and PD2 charging plugs are engineered to deliver high-speed power to all of your tech-gear. These 60 watt universal wall/travel chargers work with most of today's portable devices, from your smartphone to your MacBook Pro.
What's in the box?
Anker PowerPort Atom
That's it…

Hardware specs
PowerPort Atom III —
Size: 2.7 x 2.7 x 1.1 in (68 × 69 × 28 mm)
Weight: 5.0 oz (130g)
Total Wattage: 60W; Input: 100 – 240V ~ 1.8A 50 – 60Hz
One USB-C PowerIQ 3.0 port (45W) and one USB-A PowerIQ 2.0 port (15W)
PIQ 3.0 (USB-C Port): 5V ⎓ 2.4A / 9V ⎓ 3A / 15V ⎓ 3A / 20V ⎓ 2.25A (Up to 45W)
PIQ 2.0 (USB-A Port): 5V ⎓ 2.4A / 9V ⎓ 1.66A / 12V ⎓ 1.25A
PowerPort Atom PD2 — 
Size: 2.7 x 2.7 x 1.1 in (68 × 69 × 28 mm)
Weight: 5.0 oz (130g)
Total Wattage: 60W; Input: 100 – 240V ~ 1.8A 50 – 60Hz
Two USB-C PD2 ports up to 60W charging from one port. Up to 30W from both
Design and features
The PowerPort Atom series of fast-chargers are universal power plugs that for the most part appear no different than the countless others currently available on the market. But don't let looks fool you, Anker has engineered them to pack quite a punch. These relatively small and transportable white bricks provide an excellent power solution when and where you need it.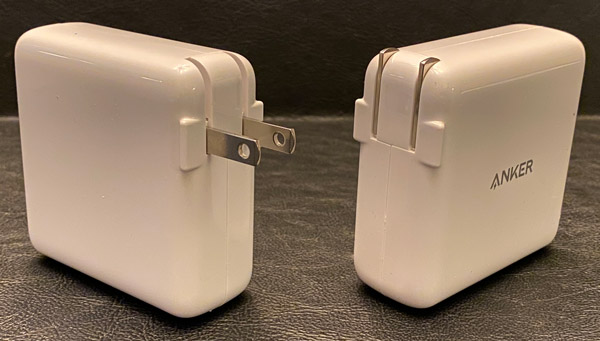 Never miss one of our posts again. Sent MON, WED, and FRI with the latest gadget reviews and news!
The PowerPort Atoms have a foldable plug that flips down when needed and folds away for transport/travel. This integrated design makes for great simplicity and convenience.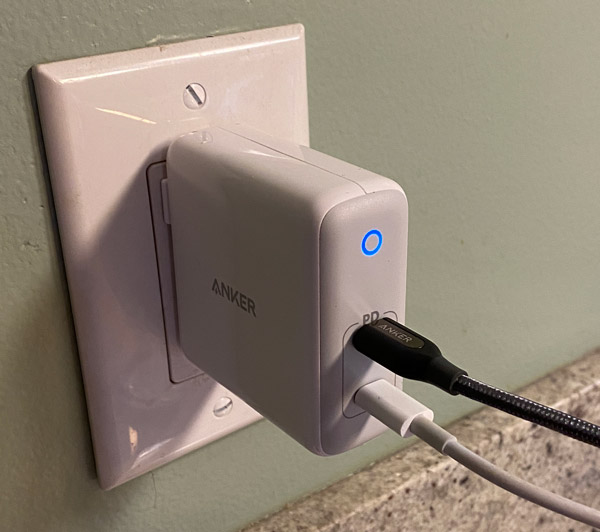 When plugged into an outlet, the circle above the ports illuminates light blue to let you know juice is flowing.
Performance
Other than the PowerPort Atom III having one PowerIQ 3.0 USB-C port and one PowerIQ 2.0 USB-A port and the PowerPort PD2 having two PD (Power Delivery) USB-C ports there is no outward difference in these wall chargers' appearance. Both power plugs are suppose to deliver high-speed charging from all their ports. But I was confused about just what PowerIQ2.0/3.0 and PD2 actually meant in real world power delivery and faster charging in general. Well, I did a little digging and here is what I found…
PowerPort Atom III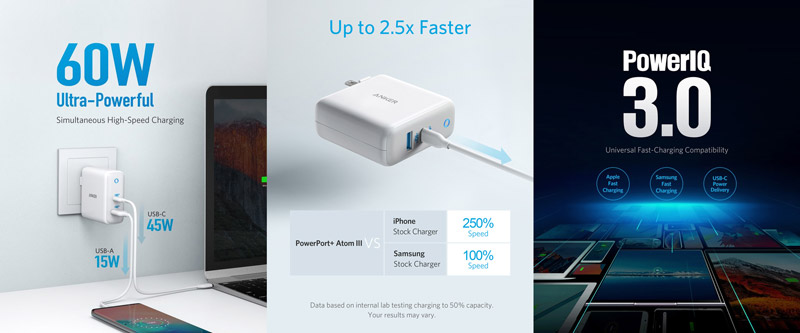 The PowerPort Atom III ports can deliver up to 45 watts of power thru its PowerIQ 3.0 USB-C port and up to 15 watts of power thru its PowerIQ 2.0 USB-A port. Meaning that the USB-C is really meant to charge larger devices like a laptop or tablet where the USB-A port is meant more for smartphones.
PowerPort Atom PD2

The PowerPort Atom PD2 is engineered to deliver up to 60 watts when a single port is in use and up to 30 watts each when both ports are connected to your devices. Meaning you can charge your laptop even faster with the PD2's smart power allocation.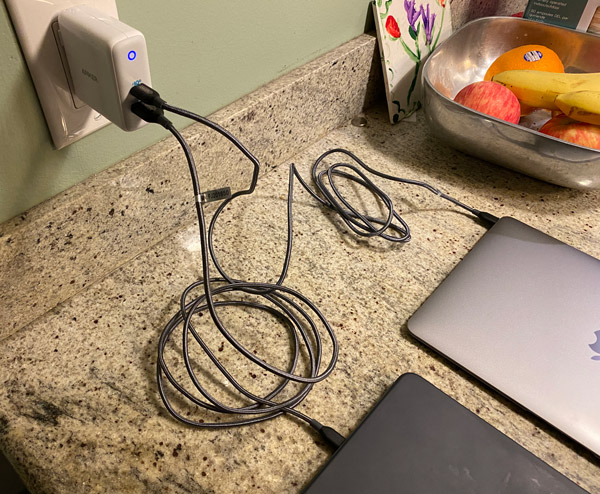 Bottom Line: The PowerPort Atom wall/travel chargers do an excellent job quick charging your tech. Impressively so. While I did not quantitively test the chargers, both charged my 12″ MacBook, Dell laptop, iPad Pro, and iPhone 11 Pro Max very quickly while in use or even faster when their screens were off.
What I like
Well built from quality materials
Smart power allocation
Ultra fast-charging
Can charge multiple devices @one time
What needs to be improved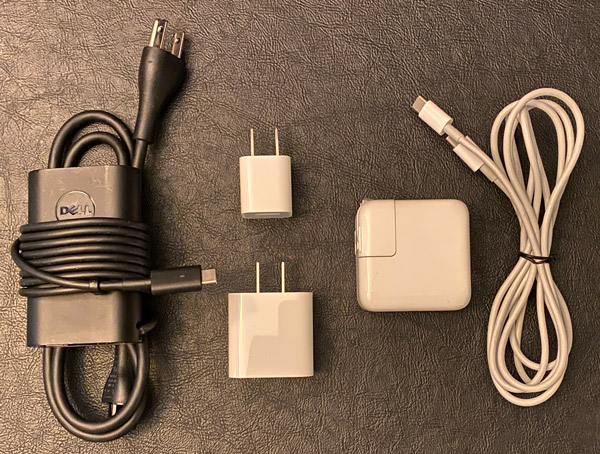 In many ways, the PowerPort Atom can replace this entire collection of power bricks and plugs. Many times, I have to travel with my Dell work laptop, smartphone, and either my iPad Pro or MacBook. And either the Atom II or PD2 could get the job done faster and take up much less luggage/bag space.
Final thoughts
There is little doubt, one of these PowerPort Atoms will be traveling with me no matter what tech-gear I have in my bag. It and a few cables and I am good to go. Anker is doing an excellent job creating well designed fast-charging solutions at a fraction of the cost of what manufacturers charge for their OEM equivalents. Add in the fact they are smaller, lighter, and able to charge multiple devices at one time…I really do not see a down side. I envision/suggest these as an ideal stocking stuffer for a world traveler or someone who just needs to minimize their tech footprint.
Price: Atom PD 2 – $54.99 / Atom III – $42.99
Where to buy: The PowerPort Atom line of chargers is available from Amazon or directly from Anker.
Source: The sample of this product was provided by Anker.