The Gadgeteer is supported by readers like you! If you buy something through links on our site, we may earn an affiliate commission at no cost to you. Thank you! Learn more.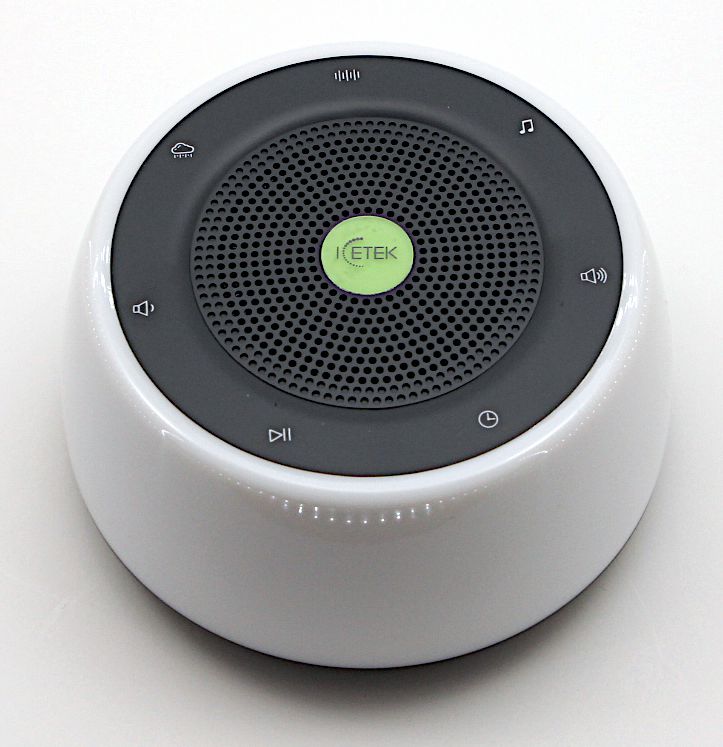 REVIEW – I'm a light sleeper, so small noises around the house tend to wake me up at night.  To combat this problem, I've turned a fan on every night for years.  Recently I've been trying something different to help me sleep at night, the White Noise Machine by ICETEK.
What is it?
The White Noise Machine is a combination of a white noise generator and a nightlight; both are designed to help adults and kids alike to sleep better at night.  The White Noise Machine is created by ICETEK, a Chinese company that is committed to creating fantasy electronic products to improve your life.
What's in the box?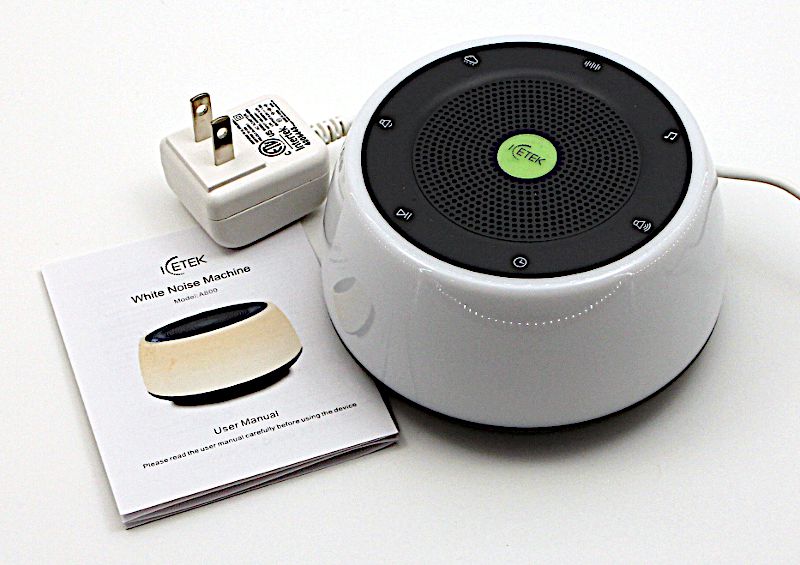 One white noise machine (model A800)
One DC adapter
One user manual with 5 pages of English instructions
Hardware specs
Lamp Power: 2W
Speaker: 52mm
Dimensions: 4.6 x 4.6 x 2.5 inches
Design and features
The White Noise Machines is a small, squat gadget that looks somewhat like a UFO.  The top and bottom are made of dark grey plastic, while the circular sides are white plastic that gracefully tapers from the top down to the bottom.  The speaker grille is on top along with eight buttons for controlling the device, and the DC power port is on the base of the back side.  When the nightlight is turned on, the sides light up all the way around in muted but pleasant hues, making it look like a softly glowing doughnut. It's surprisingly small, only 2.5 inches tall, and the overall design is clean if a bit sparse.
Installation and setup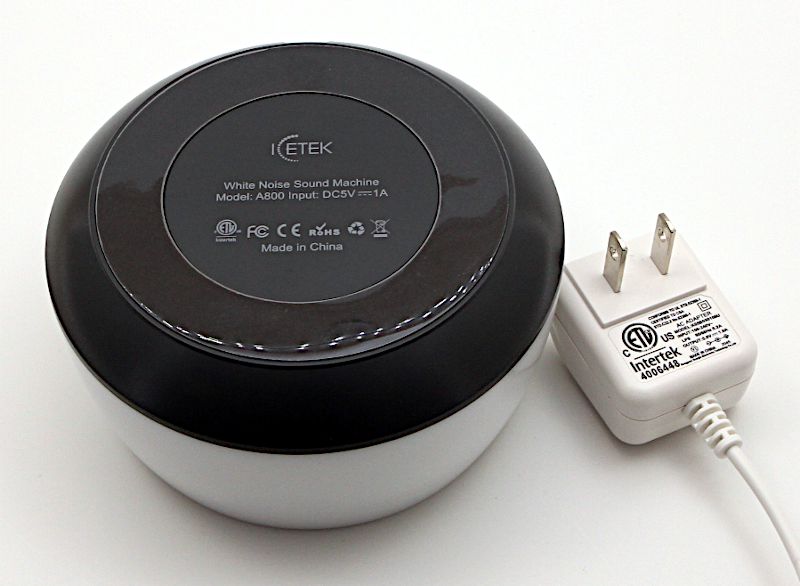 The only installation required is to remove everything from its packaging and then plug it in.  Thankfully, there are no apps to install on my phone or Wi-Fi networks to which I must connect.  The English in the User Manual is pretty bad, and at times it doesn't even make sense.  For example, it says this about the timer, "If can timing night light using and sound when switch on the night light or play sound."  Fortunately, the device is pretty simple to use, so the bad English is not much of a hindrance.
Performance
The White Noise Machine has two capabilities.  The first thing it can do is play one of 16 different audio loops, which are grouped into three categories:
Nature Sounds: Crickets, singing birds, ocean waves, thunderstorms, water in a stream, water in a channel
White Noise Sounds: White noise, pink noise, brown noise, a fan, fetal heart sound, clothes dryer
Lullabies: Twinkle Twinkle Little Star, Hush Little Baby, Rock-a-Bye Baby, Moon Night Song
The speaker is pretty small and thus not very loud.  On its Amazon page, it says that the speaker "will keep you away from loud neighborhood, noisy car whistled, nearby ferocious dog barking and your bedside husband snoring."  The atrocious grammar aside, I'll be very charitable and call this marketing hyperbole; there's no way this little speaker is doing any of this.  It is, however, loud enough for the task of playing sounds without being so loud that it keeps me awake.  The quality of the audio is not very good, especially compared to a decent Bluetooth speaker, but it's sufficient for its intended purpose.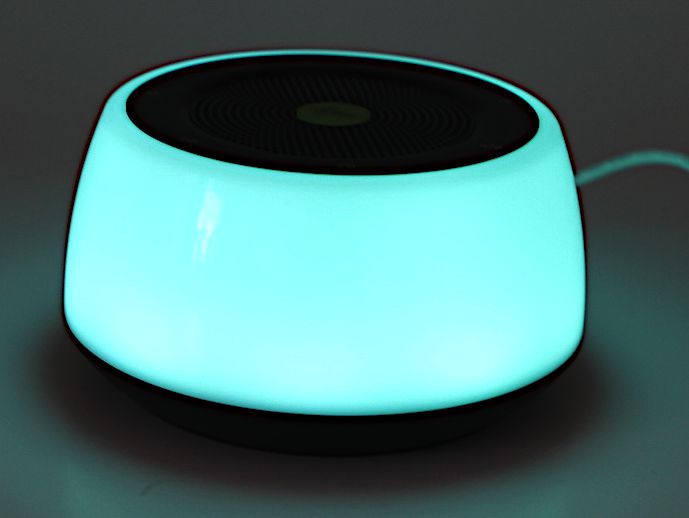 The second thing it can do is light up like a small nightlight.  There are eight color options:  dim white, bright white, orange, light blue (my favorite), green, pink, yellow, and alternating colors. The light is bright enough for me to find my way to the bathroom or locate my glasses in the middle of the night but not so bright that it should wake up my wife while she's sleeping.  It would be perfect for a younger child who's not quite ready to sleep alone in the dark.  The brightness is not adjustable.
You can hear all the sounds and see all the colors in this YouTube video.
For me, I sleep better with steady, even sounds, those without any sharp noises.  Crickets, for example, would drive me crazy.  After listening to each of the sounds, I thought there were three that might help me sleep at night:  Water in a channel, brown noise, and fan noise.  The first night I tried the water, and to my pleasant surprise, I slept great.  The fan in my bedroom is a lot louder, so I thought the White Noise Generator wouldn't be sufficient.  Apparently, it was loud enough, as I woke refreshed the next morning.  My wife, however, had a different story; she woke up several times during the night, heard the water, and thought we had sprung a water leak in our bathroom.  I can understand how that would be disconcerting; perhaps she'll get used to it over time.  The second night I tried brown noise, and again I slept great.  Even better, this sound never disturbed my wife.  I think this sounds works well for us because it is fairly similar to the sound of the fan.  The third night I tried the fan noise, and though it doesn't sound all that much like a real fan to me, it still provided the steady sound that I needed all night, and I again slept well.  I decided that brown noise was the best choice, so I slept with this for the last two weeks. Even though it's not as loud as my fan, it's done the job well.  I'm sleeping fine at night, and I'm pretty sure I'm saving a bit of money by not running the fan's motor for 8 hours every night.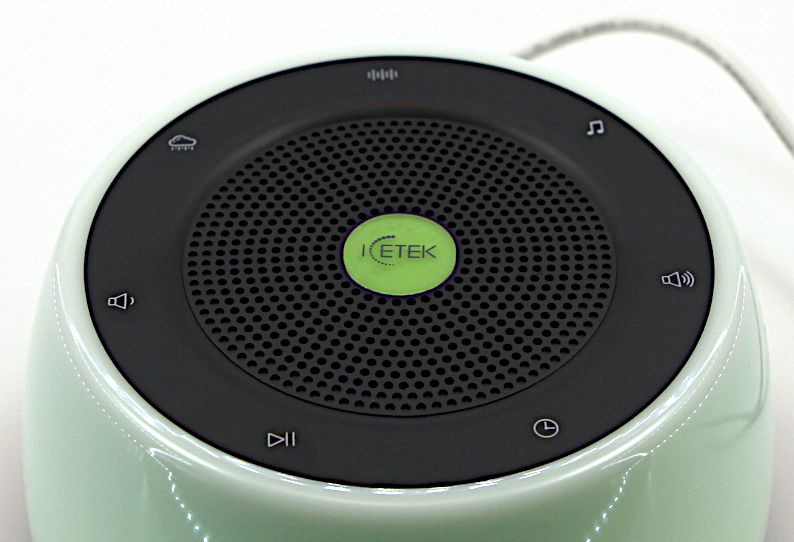 There are eight buttons on the top of the White Noise Machine:  Volume up and down, play/stop, timer, nature sounds, white noise sounds, lullabies, and the center button for changing the night light.  The buttons for the sounds and the lights work on a rotation, so each press of the button changes to the next sound or light.  The buttons have capacitive sensors and respond quickly, but they do have a limitation:  It's impossible to see them in the dark.  If I go to bed after my wife and want to change any of the settings, I can't find the buttons (with the exception of the center button, but only because it's in the center).  There's no physical or visual clue to know where they are, and as the buttons are top and the nightlight around the sides, turning on the nightlight doesn't help.  ICETEK could improve this product by either having the buttons light up when the top is pressed or by changing the physical design so that the nightlight shines onto the buttons.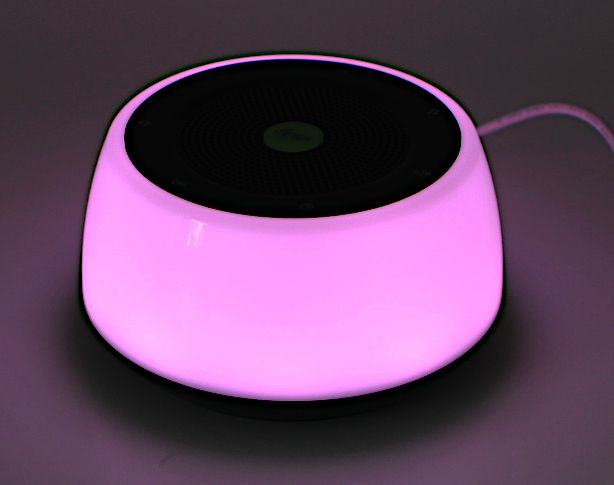 The White Noise Machine has a timer function, where you can specify an amount of time after which it turns off the light and the sounds.  This could be very useful for helping a child to fall asleep without running the Machine all night.  The timer can be set to 15, 30, 60, 60, or 120 minutes.
If you need any support, you can contact ICETEK at globalsupport@icetek.com.
What I like
Simple design
A variety of sounds
Attractive colors
What I'd change
Improve the English in the User Manual
Make it easier to find the buttons in the dark
Final thoughts
The White Noise Machine is both a white noise generator and a nightlight that can help people sleep better.  It has a variety of sounds to play and a handful of soft light colors.  It's a small gadget with a clean design that has found a place on my nightstand.  As a light sleeper, I've found it to be helpful, both to fall asleep and stay asleep.  I like this gadget from ICETEK.  If you're in the market for something to help you or your child sleep at night, I recommend taking a look.
Price: $29.99
Where to buy:  Amazon
Source: The sample for this review was provided by ICETEK.