We use affiliate links. If you buy something through the links on this page, we may earn a commission at no cost to you. Learn more.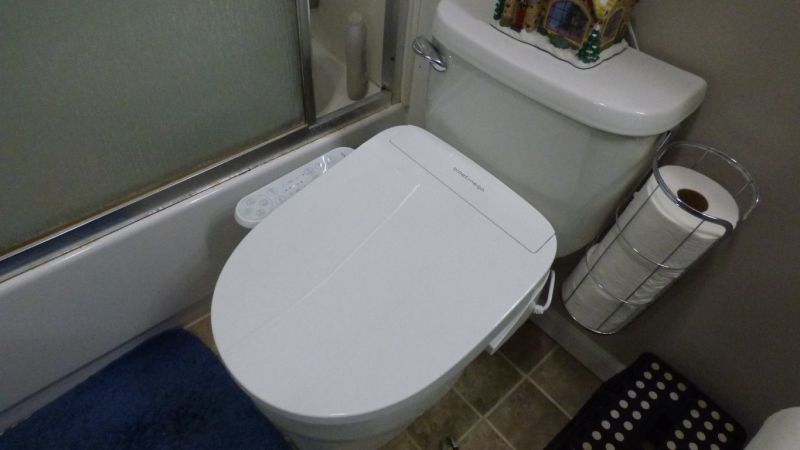 REVIEW – When I lived in Japan, I had the opportunity to use a bidet toilet seat similar to the Coway Bidetmega 150.  Since then, I've been wondering why these have not become standard equipment everywhere!
What is it?
The Coway Bidetmega 150 is a toilet seat that is heated and provides warm-water washing and drying of, um… private parts.
Hardware Specs:
Weight: Round: 13.9 lb, Elongated: 14.3 lb
Dimensions: Round: 20 in (W) x 19.8 in (D) x 5.9 in (H), Elongated: 20 in (W) x 21.1 in (D) x 5.9 in (H)
Voltage: 120V, 60Hz
Operating Water Pressure: 1 MPa ~ 0.68 MPa
Power Cord: 2 in (1.2 m)
Color: White
Certifications cETL, IPX5
What's in the Box?
Bidet seat
2 fixing screws
2 fixing rubbers
2 fixing washers
2 fixing nuts
1 bidet hose
1 T connector
1 rubber packing
1 fixing plate
2 fixing sliders
Instruction manual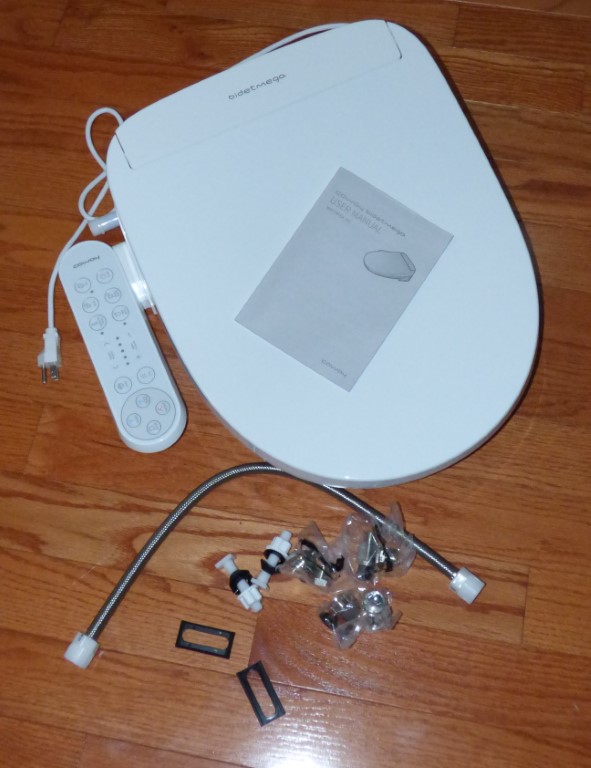 Design and Features:
The Bidetmega arrived well packaged, but not very discreet packaging. If you have nosy neighbors, there isn't much guessing about what you just received! Hehehe!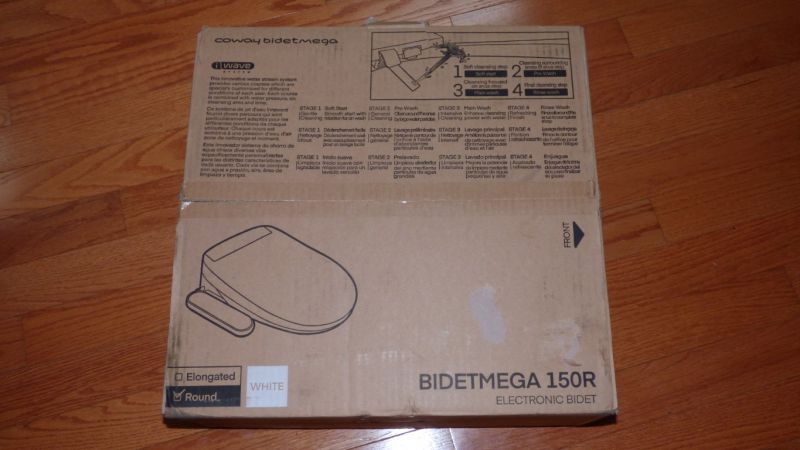 Warranty info is printed OUTSIDE the box!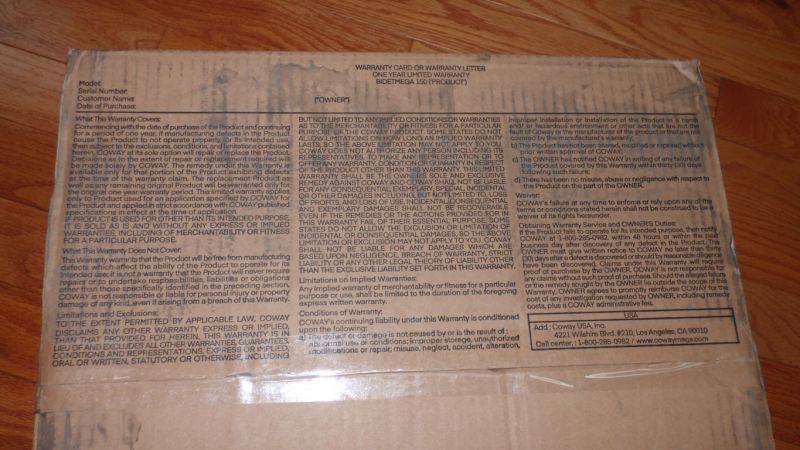 If you are lucky enough to have a power outlet near your existing toilet, all of the parts to install the Bidetmega are included. In my case, I needed to add an outlet.
Never miss one of our posts again. Sent MON, WED, and FRI with the latest gadget reviews and news!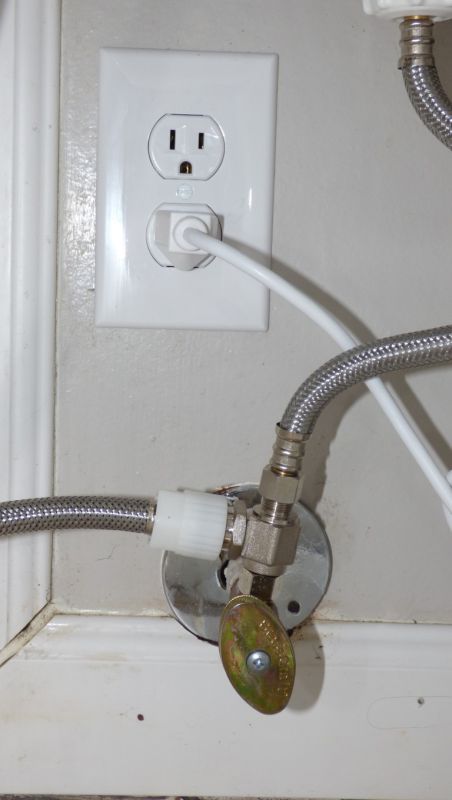 The included hardware is top-notch! Chrome fittings and rubber seals are of outstanding quality.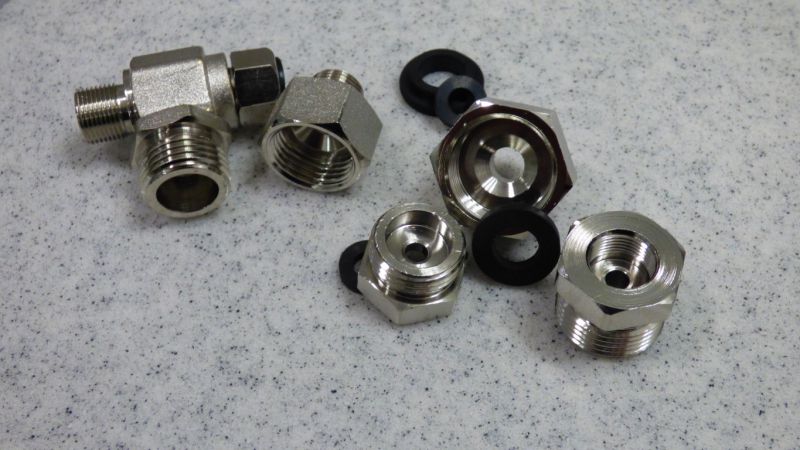 The Bidetmega's water hose attaches to the same hose that fills the tank. The water hose enters straight out of the side of the seat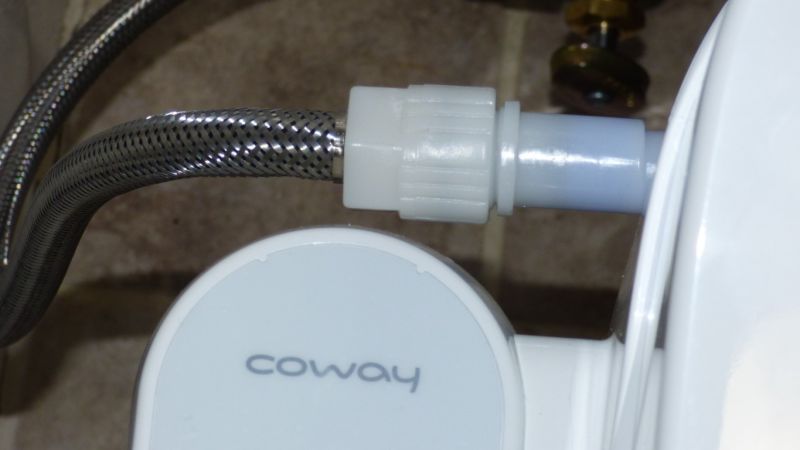 Mounting the seat to the bowl isn't much different than a conventional toilet seat. Instructions and diagrams are very well written.
The plumbing was straight-forward and needed only an adjustable wrench.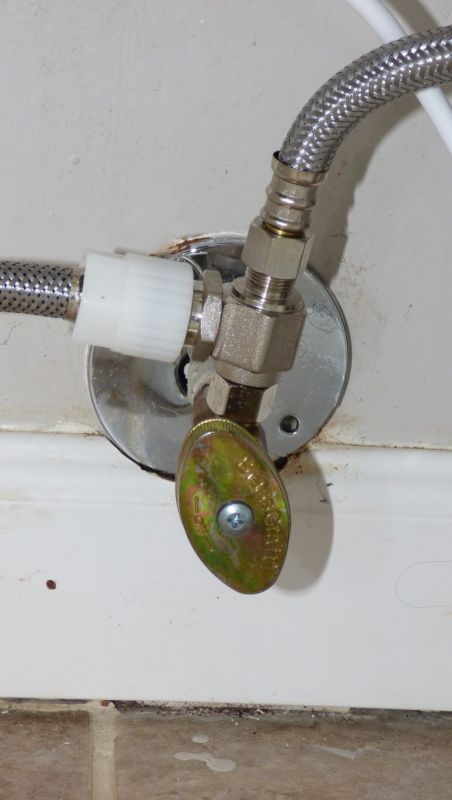 The electrical cord is on the opposite side of the water connection.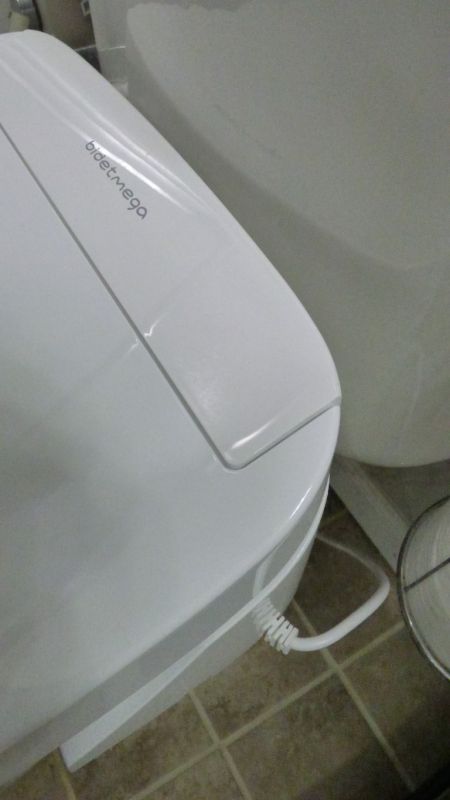 The back of the Bidetmega is considerably larger than a conventional toilet seat which pushes the front of the seat forward. There is plenty of adjustment for installation, but make sure you check the dimensions of your existing bowl and tank to make sure everything will fit before purchasing.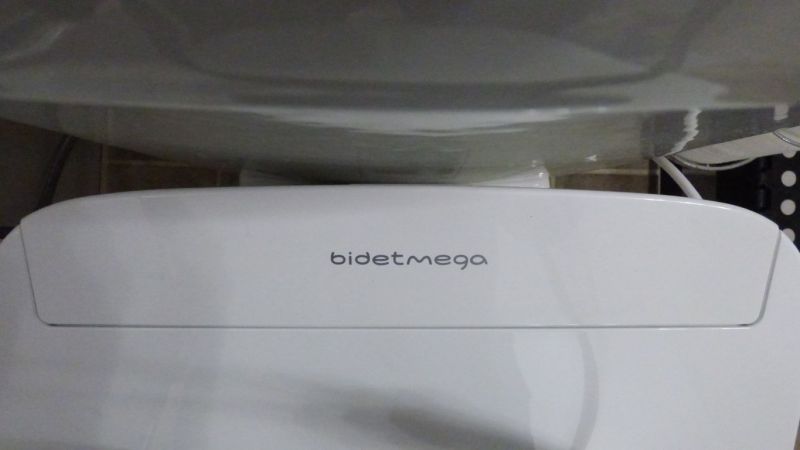 My current commode's tank is a little wide from front to back, leaving the Bidetmega with about an inch of the seat protruding in front of the bowl rim, but this doesn't seem to affect use or operation. That being said, I like the Bidetmega so much, I might replace my toilet to fit it!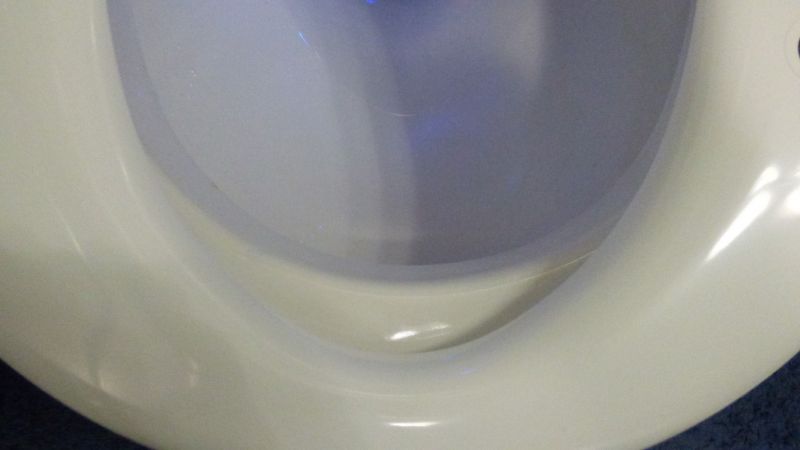 The seat is gently heated. I can tell you how nice this is on a cold day!
Usage modes include "front," "back," and "active."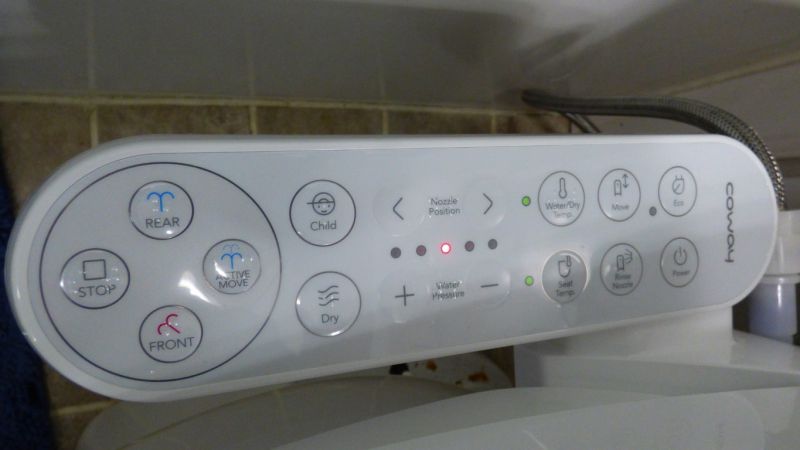 Now, I'm not going to get graphic, but hopefully, you get the idea… after doing your "bathroom business," the primary function of the Bidetmega 150 is to squirt warm water on your "private parts" to clean up. It takes a little getting used to, but once you have one of these, you will never want to go back to a conventional toilet.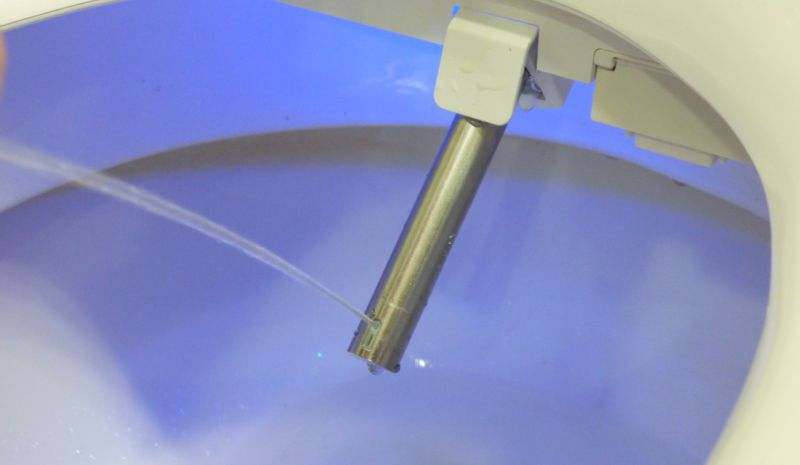 The seat heater, water temperature, pressure, and position are all adjustable. There is also a "child" mode that reduces water pressure for more sensitive washing.
The nozzle completely retracts and cleans itself before and after every use.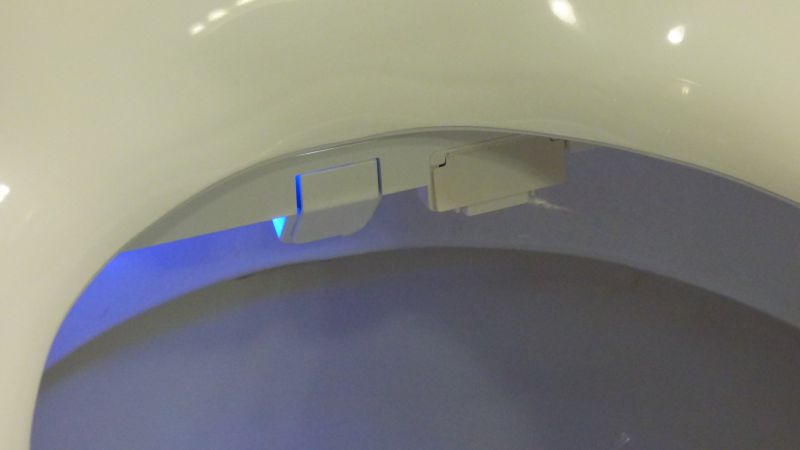 After washing, there is a warm-air drying blower too. I was skeptical about the effectiveness of this feature, but I can report it does work well.
The seat also has a built-in bowl light. The first time I used my bathroom at night, I thought I might be getting a visit from "The Ghost of Bathroom Visits Past." If you have men in the house, I guarantee this handy feature will help with their late-night aim!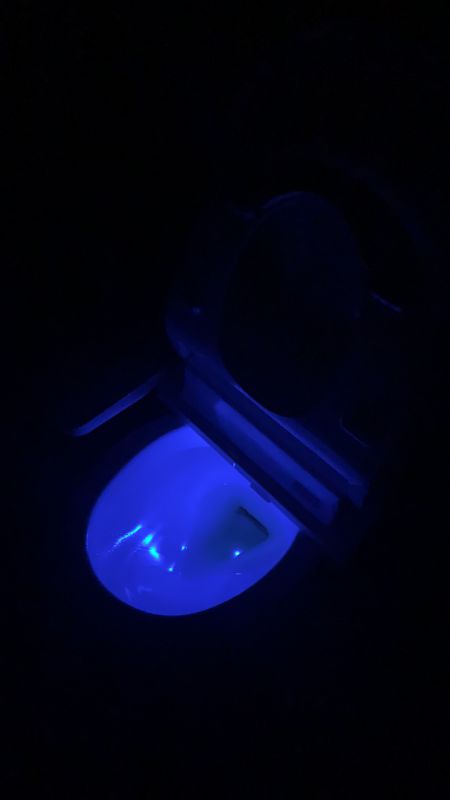 The Bidetmega has an internal sensor that prevents operation unless the seat is occupied. It will turn off the stream in mid-use but there is a delay of a few seconds before the water turns off. In other words, please fasten your seat belt when the Bidetmega is in operation or you will have a cleanup on aisle six.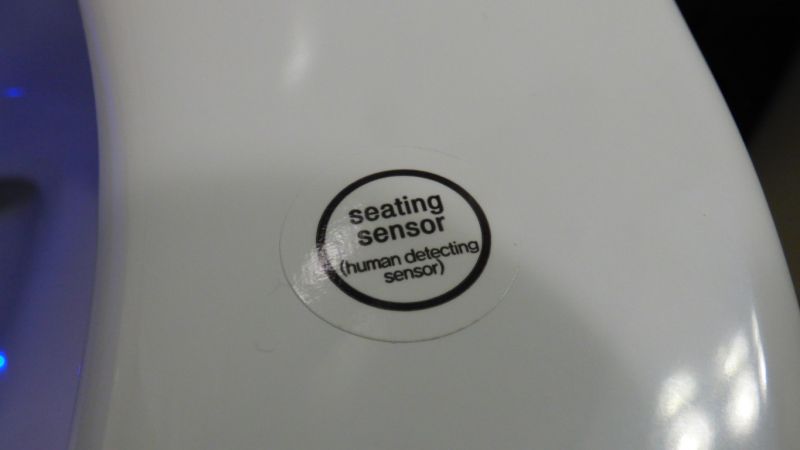 The last time I was in Europe, my hotel room had a bidet which looks similar and takes up the real estate as much as another toilet seat. That would be a tall order in many average-sized bathrooms! There is no doubt that the expense of a stand-alone bidet far exceeds the cost of the Bidetmega.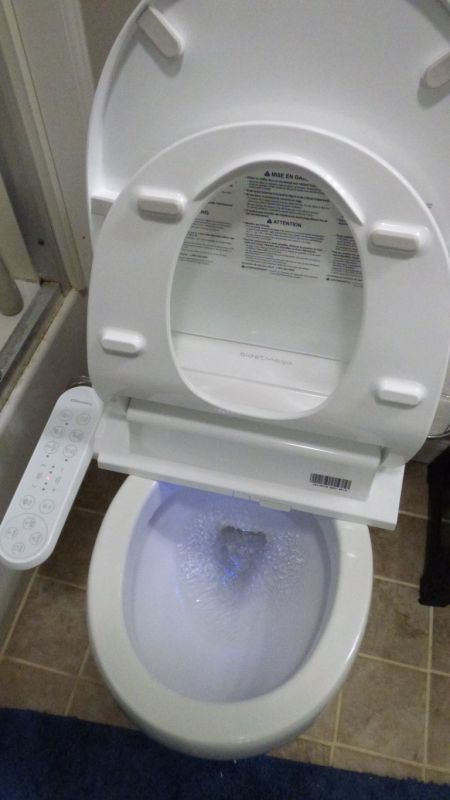 In most of the world, toilet paper is a luxury. In Madagascar, every place I went to had a cold-water nozzle next to the toilet. In The Philippines, many bathrooms were equipped with a bucket of water and a scoop, and zero rolls of toilet paper. Since I've been using Bidetmega, my toilet paper usage has dropped dramatically. I'm not sure if the trade-off (less toilet paper versus more water and electricity use) is better for the environment, but it's gratifying to feel "after shower" clean and still saving some trees!
My daughter stopped by my house just to give the Bidetmega a lap around the track. She liked it so much that she told a few of her friends. Now I have people that come to my house just to use my bathroom!
What I Like:
Keeping that "after-shower clean" feeling any time!
Oh, that heated seat!
Less toilet paper use
What I Would Change:
Faster activation to turn off the water stream if the seat suddenly becomes vacant during operation.
Final Thoughts:
If you've never used a bidet, give the Coway Bidetmega 150 a try and you will never want to go back to a conventional toilet seat again, just be prepared for people wanting to come to your house just to use your bathroom!
Price: $399.00
Where to buy: Coway and Amazon
Source: Sample for this review was provided by Coway.