We use affiliate links. If you buy something through the links on this page, we may earn a commission at no cost to you. Learn more.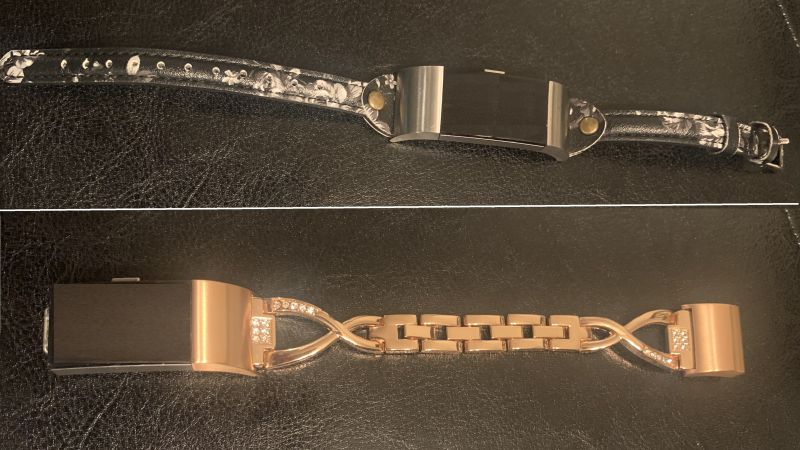 REVIEW – If you own an Apple watch, Fitbit or Samsung watch you need to check out the replacements bands that Wearlizer offers.
What is it?
Wearlizer is a digital accessory brand that manufactures third-party replacement bands for smart watches including Fitbit, Apple watches, and Samsung watches.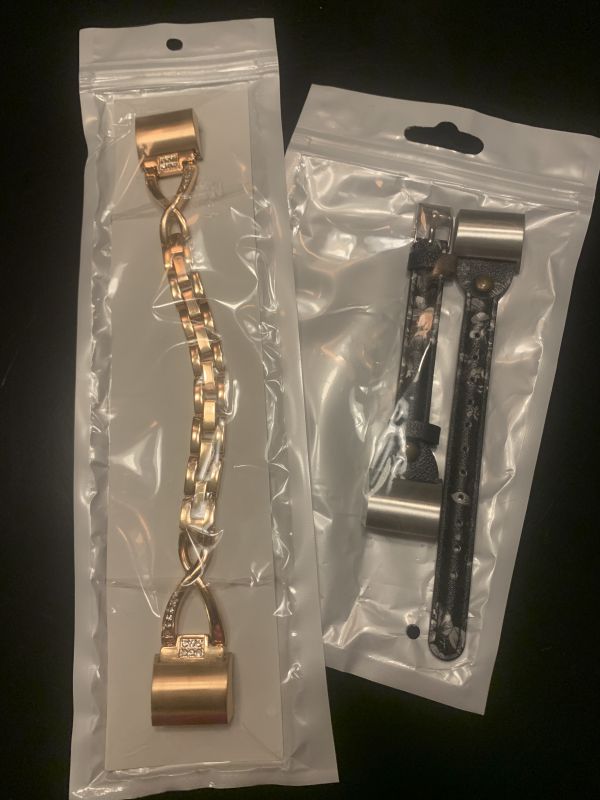 Design and features
I am going to be honest with you, I own silicone watch bands in about every color for my Fitbit Charge 2.  All of them have the same sporty look and feel and get the job done keeping my Fitbit unit on my wrist.  However, I have been wanting something a little more fashionable and unique for occasions in which I need to dress a little fancier or look a little nicer.  So, I was excited about the opportunity to pick out a few of the Wearlizer bands to add to my replacement band rotation.
I chose the Black Floral and Rose Gold options for my review.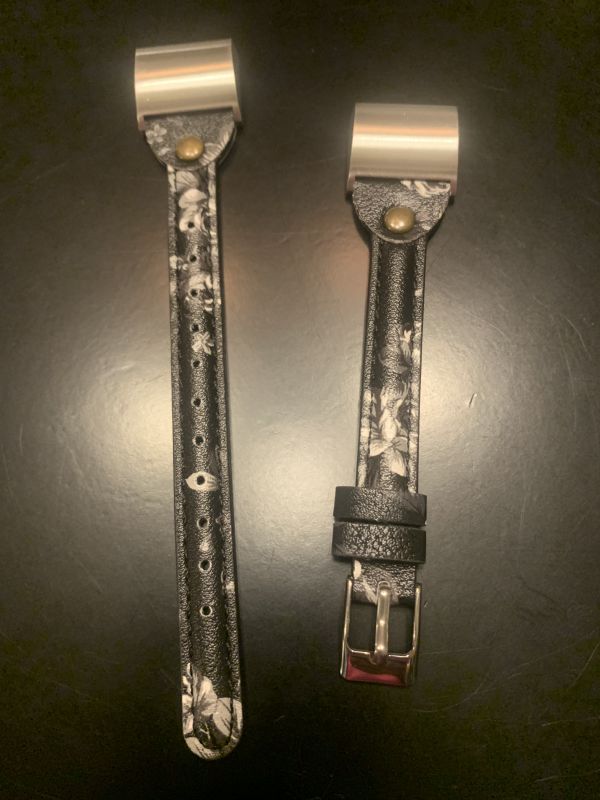 The Wearlizer Black Floral band is a leather band featuring a black, white and gray subtle floral design.  The buckles attaching the Fitbit unit to the band are polished stainless steel.  The notches go all the way around the band to achieve multiple wrists sizes and allow you to find your perfect fit.  The company states this band fits wrists from size 5.6" to 8.6".  My only complaint, as my wrist is on the smaller size and I have more excess band/overhang then I would like.  I would suggest offering a small band and a large band option.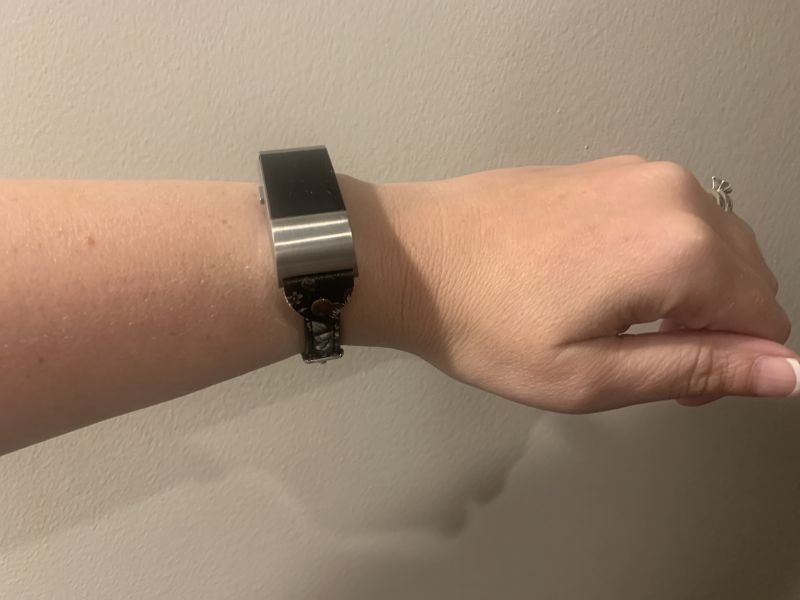 The Wearlizer Rose Gold band is a stainless steel band.  Like the Black Floral band, the Rose Gold band fits a wide variety of wrists sizes (from 5.5" to 8.6").  Unlike the Black Floral band, the strap is adjusted by removing unneeded links.  This process is easy and there is no special tool needed.  You simply snap open the link, remove unneeded links and reattach.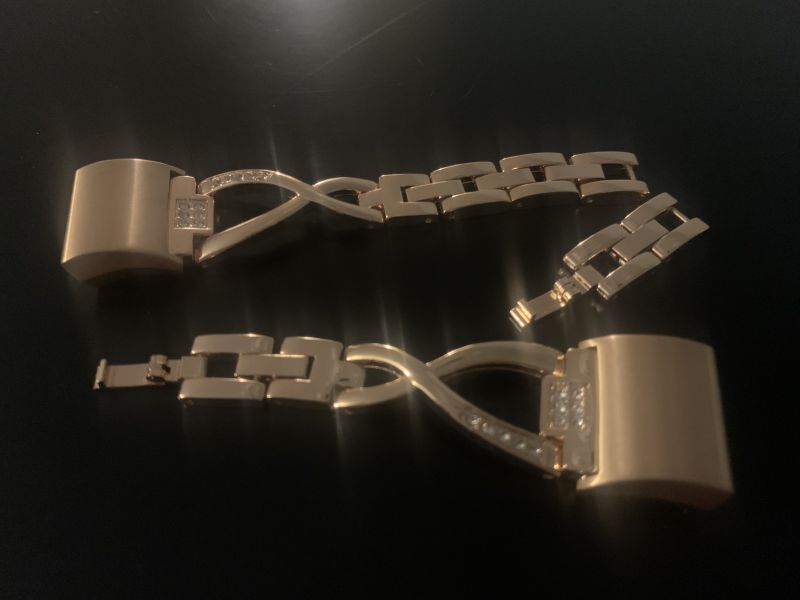 Although this process creates a sleek completed look, it does make it difficult to attach and detach the strap from your wrist, as there is no dedicated clasp.  I prefer to wear my Fitbit tight around my wrist, so it does not spin, therefore it does not slip on/off over my hand.  This design makes it challenging to fasten and unfasten the band on your wrist one handed.  It is doable, but not ideal.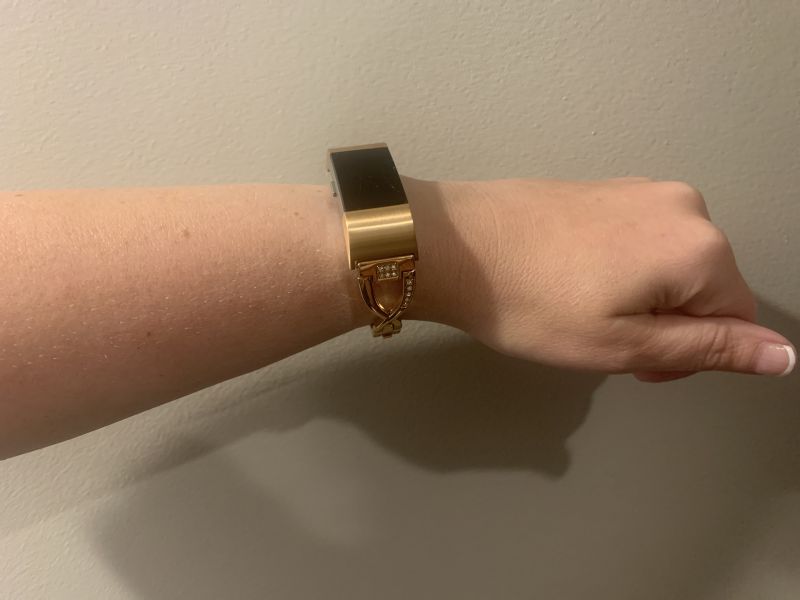 Quality
I have been wearing the Wearlizer Black Floral band almost daily since I received it.  It is extremely comfortable and durable.  I especially like that the band is thinner than the silicone bands that I have been using.  I will be ordering some more of this style in different designs and colors soon, it is my new favorite!
I have only worn the Wearlizer Rose Gold band a few times.  With my current quarantine style of sweatpants and T-shirts, I have not had a need to dress nicer and I feel this band is more of a fancier look.  The times I have worn this band, it is comfortable and I do like the way that it looks.  The only flaw, as I mentioned before, is the difficulty fastening and unfastening the band to your wrist.
I feel safe saying that Wearlizer recognizes the importance of producing quality products.  By offering a 12 month no-hassle warranty with every strap, this shows that they are confident in their workmanship and quality and I like that because I always feel more confident purchasing items that come with a warranty.
What I like
12 months no-hassle warranty
Cost
Comfort
Durability
Stylish design
What I'd change
Length of the band on Black Floral Option – nice that it fits a wide range of wrists, but a lot of overhang for smaller wrists.
No dedicated clasp on Rose Gold option
Final thoughts
Wearlizer offers a combination of many styles and designs for many of the most popular watch options (Fitbit, Samsung and Apple).  If you are looking for a new replacement band for every day or those fancier occasions I would recommend checking out what they have to offer.
Price: $8-$30
Where to buy: Wearlizer or Amazon
Source: The sample for this review was provided by Wearlizer. Please visit their site for more info.