We use affiliate links. If you buy something through the links on this page, we may earn a commission at no cost to you. Learn more.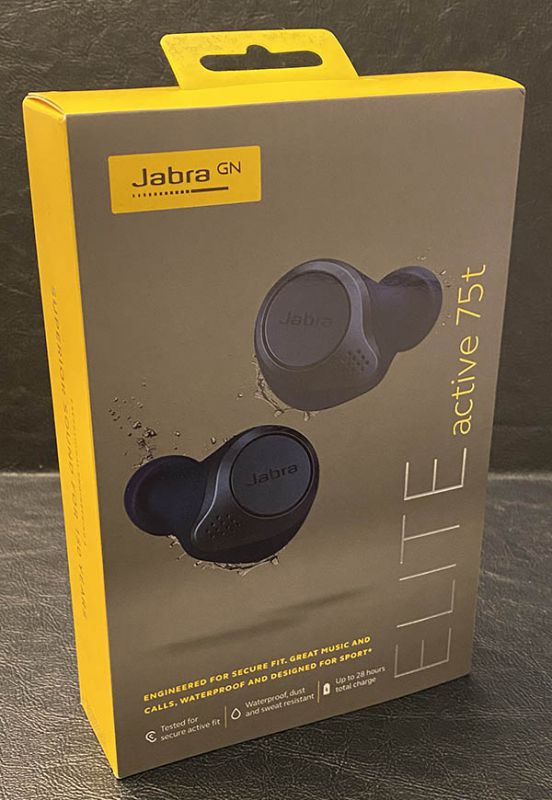 REVIEW – End of last year I had the chance to review the Jabra Elite 75t wireless earbuds. As I stated then "The Jabra Elite series of truly wireless headphones have been my go to choice in earbuds for years" and that continues to be the case. Their secure fit, great sound, compact design, and rugged engineering make for an excellent listening experience. I have used the Elite 75t's daily but have hesitated to do any heavy workouts with them and stuck with my Elite Active 65t's to handle those epic extra sweaty moments. Well as they have done in past years, Jabra has released an "Active" version of their flagship earbuds with athletes squarely in mind. The Jabra Elite Active 75t true wireless earbuds add greater survivability to moisture, liquid, and dust to their latest and greatest…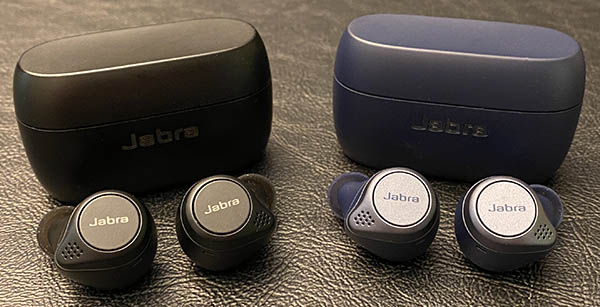 I have been using the Elite Active 75t earbuds exclusively for nearly a month. Using them on my runs, while lifting, time on the elliptical machine, work commute, air travel, etc. And I'll lead off this review with…they're pretty awesome. The Active variant of the Elite 75t's are nearly identical to the non-Active version so I'll be plagiarizing myself but emphasizing the differences between the two.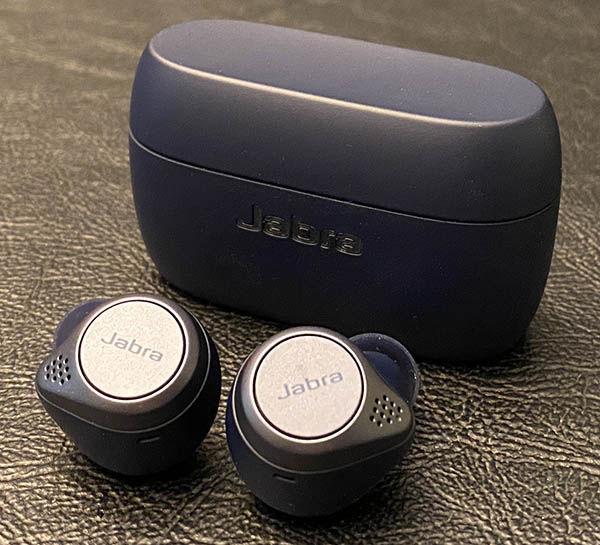 What is it?
Like their twin, the Elite Active 75t true wireless earbuds are Jabra's latest and greatest in-ear headphones but engineered with greater water-,  sweat-, and dust resistance. The 75t's are Jabra's third generation of truly wireless earbuds, both variants sport a new smaller form factor, improved sound quality, and better battery life. The Active version of the 75t's adds an IP-57 rating making them ideal for a run in the rain or epic workout/sweat-fest in the gym.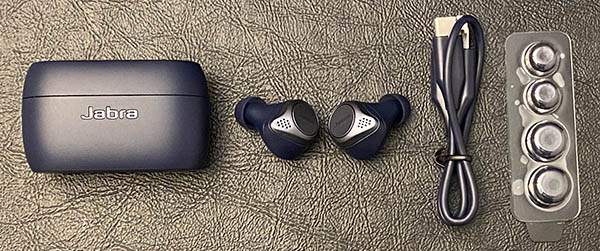 What's in the box?
Elite Active 75t Earbuds
Charging Case
USB-C cable
3 sets of Silicon EarGels
Warranty
Hardware specs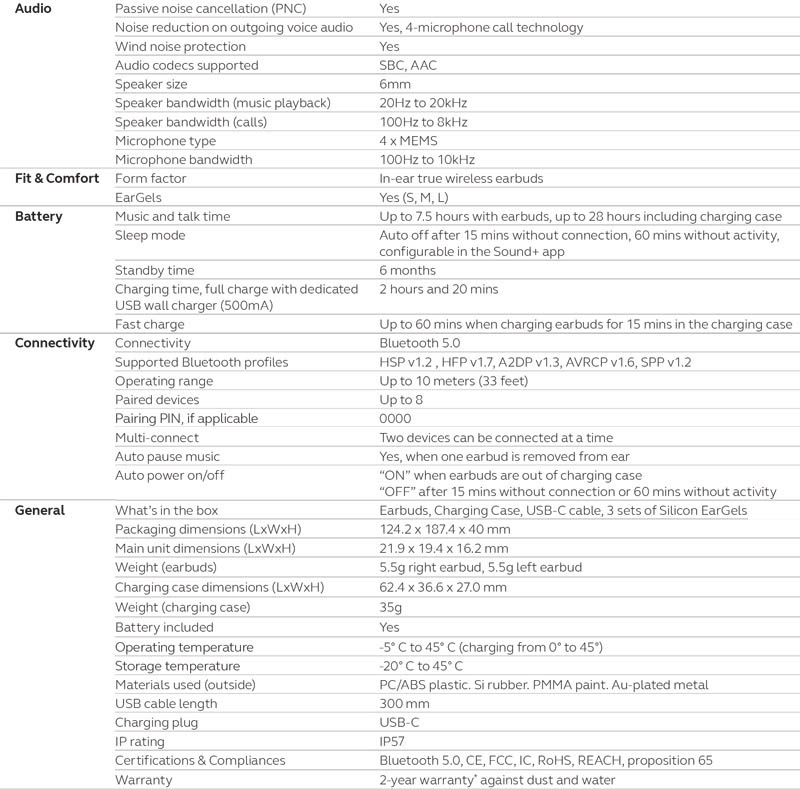 Design and features
The Elite 75t series' design is an evolution in form, improving the fit and overall comfort of the earbuds compared to past generations. Like the 65t's, the 75t's unique shape is all that is needed to securely hold the earbuds in place…no fins or ear loops required. Inserting them into your ears is a simple quarter turn process.
The casing of the Elite Active 75t earbuds is made of hardened plastic with a matte, rubberized coating for a more secure fit in your ears while you're sweating and moving around during your workout. I prefer the feel and grip of the Active earbuds compared to the slick plastic of the regular version of the 75t's. Each earbud has two microphones for better ambient noise and wind reduction, making for crisp clear calls on both sides of the conversation. The Elite Active 75t earbuds each have a pair of metal connectors for charging in their case.
Each earbud has a relatively large, multi-function control button that is easy to find & press while on in-motion. On the right earbud, the button answers or ends calls with a single press and pressing twice will reject an incoming call. On the same earbud when listening to music or other audio/video, pressing once will pause or resume whatever you're listening to. A double press will activate your voice assistant of choice (Alexa, Google Assistant or Siri), and a press and hold will turn the volume up.
On the left earbud, a single press will activate the HearThrough transparency mode on/off and a press and hold will turn the volume down. A double press skips forward while pressing three times goes back. When you're on a call, a single press on the left button will mute or unmute the mics. And finally (I know this is a lot)…a double press on the left side will activate the ability to hear yourself better during calls. This new button control design is definitely different than the 65t's but after a while, easy enough to get used to. Though I do have to admit, I was so used to the 65t's controls I definitely made a wrong press or two at the beginning.
Build quality and style:
Like the Elite 75t earbuds, the material and build quality of the Active version are just as good, if not a wee bit better. The Elite Active 75t's rubberized coating gives these tiny earbuds better grippability, a more secure fit, and makes them a little less drop prone. Overall, their build quality is on par with many other high end brands with a minimalistic styling I prefer to the likes of Bose, Sony, or Apple.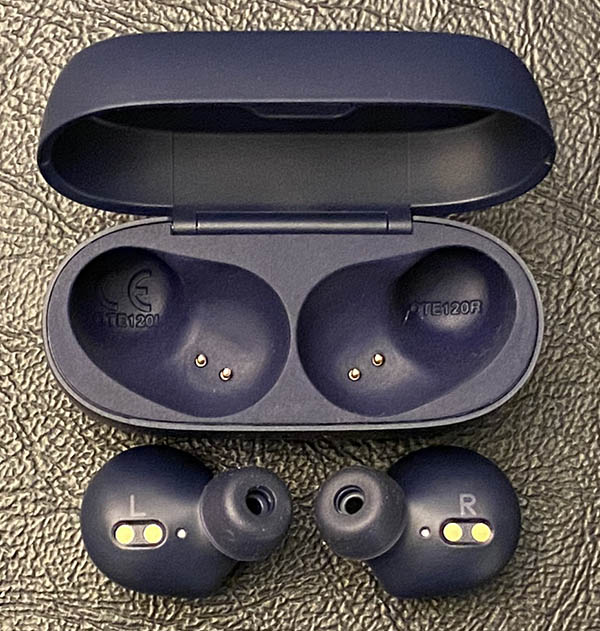 Charging & Storage:
Jabra has definitely improved the Elite 75t series' charging case in nearly every way as compared to the 65t's and every other earbuds I have tried up till now. The charging case is small and well made with the shape of a small pillbox. But Jabra has made it even smaller, easier to open, greater charging potential, magnetic connection with the earbuds, USB-C charging port, and I could go on…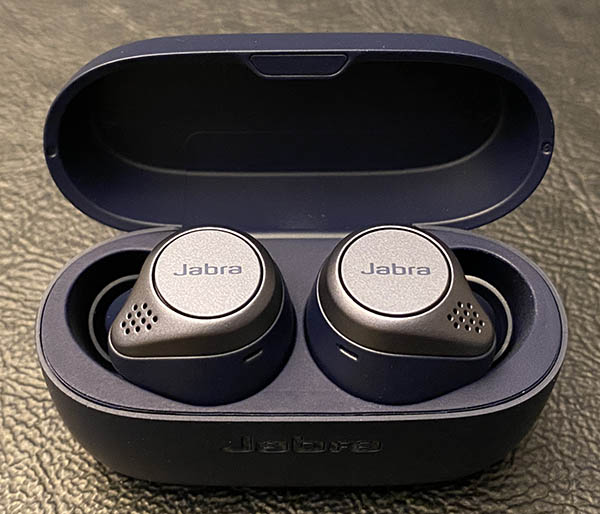 The top third of the case opens to reveal two form-fitting spaces for the earbuds, with each of the earbuds having a LED that lets you know if the headphones are fully charged and ready to go. The lid has a tight, magnetic seal that is much easier to open than its predecessor. The earbuds magnetically click into the case…which is awesome.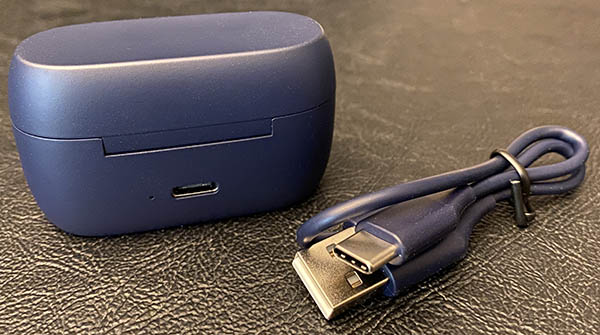 The case is meant to not only charge the Elite Active earbuds but store, transport, and protect them as well. There is a USB-C charging port on the back of the case.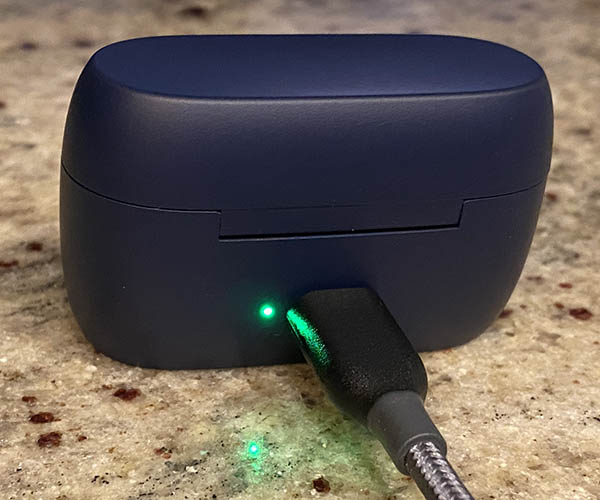 There is a status LED meant to let you know when the case needs to be recharged, is charging, or fully powered up. Jabra promises 7.5 hours of earbud use before needing to recharge. The storage case has an internal battery with approximately three additional charges before the earbuds + case needs to be plugged back in…for a total of approximately 28hrs of playback. If your earbuds run out of power and you want to use them on the fly, a quick 10-15 minute charge gives an hour plus of listening, long enough for most runs, commutes, phone calls, even most shows and videos.
Fit and Comfort:
Like the 75t's, the Active earbuds are so lightweight and comfortable, you barely know they're there. Jabra includes three sets/sizes of silicon EarGels meant to help find an ideal, custom fit. The Elite series of earbuds use passive, noise-isolation (vs active noise cancellation) like earplugs to block out ambient noise. The better the fit and placement, the better the earbuds sound. Jabra's wingless design works extremely well, providing an impressively secure fit. The 75t series are Jabra's second generation of wingless earbuds and they continue to impress me with their fit and function.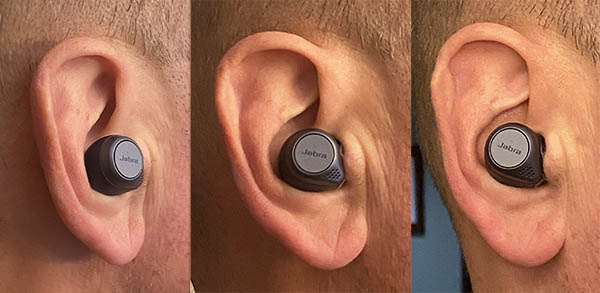 As I stated above, the Elite Active 75t earbuds are very comfortable to wear, so much so you hardly know they're inserted in your ears. Even after a few hours of use, the 75t's remained securely seated in my ears with zero wear fatigue. I rarely had to adjust them for comfort or better sound, especially with the rubberized coating giving a firmer grip in my ears. Even when pressing either multifunction buttons (aka adjusting volume or answering a call) or pounding the pavement on a run, the Elite Active 75t's remain securely in place.
Like their predecessors, the easiest way to get the Elites properly situated/inserted is to position each earbud with the arm facing straight down, and then twisting backward. The arms should point toward your face with a slight downward angle, as pictured above.
Setup
Setting up the Elite Active 75t truly wireless earbuds is simple and easy. Really no different than any other Bluetooth earbuds currently on the market. Once they are paired they are good to go…unless, of course, they need a firmware update.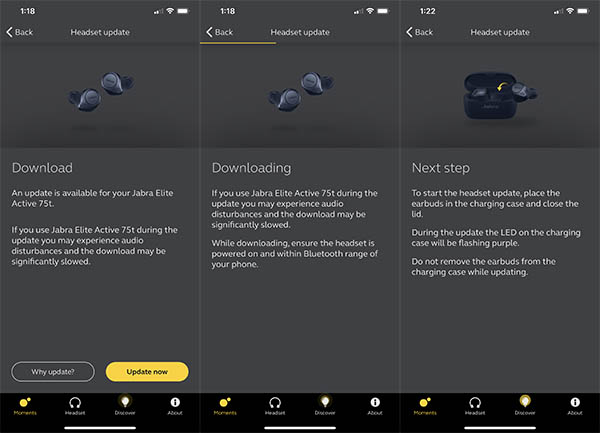 Jabra's Sound+ app walks you through the process of the update and THEN you're good to go.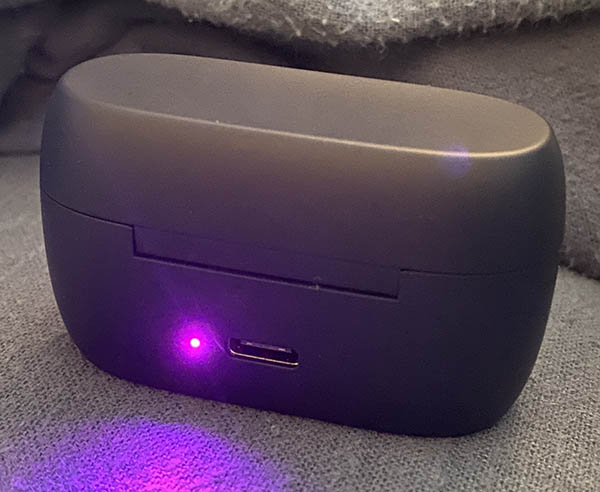 Once you place the earbuds in the case and shut the lid, the LED blinks (very rapidly) Mace Windu purple for about 5-10 minutes while the earbuds updates.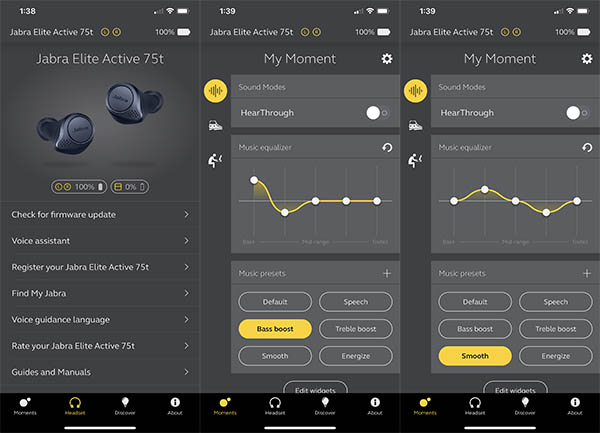 In addition to checking to make sure your Actives have the latest firmware, the Jabra's Sound+ app enables you to tweak the user experience quite a bit based on where you are in your day. You are able to adjust the EQ of the earbuds to your listening preference. I found the various presets well done and easy to change on the fly.
Like the Elite 65ts, the 75t series have a HearThrough transparency mode that lets ambient sound in…great for a run along the roadside. HearThrough can be activated with a short press on the left earbud or via the Sound+ app. In the Sound+ app you can choose to have your music pause when you active HearThrough enabling you to have a conversation without having to remove the earbuds.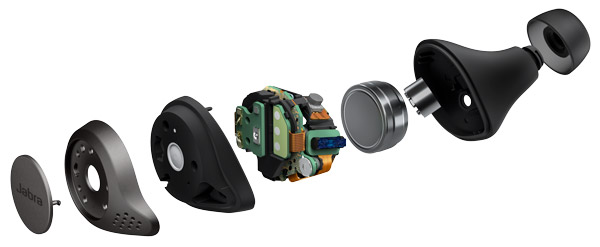 Performance
The Elite Active 75t's listening experience is excellent. Once you get a tight, secure fit the overall clarity and bold bass response are impressive. The 75t's lower end is definitely more pronounced than the 65t's without losing much if anything in the middle or upper ranges. The audio while watching videos, movies, and sporting events was also very clear with a great deal of depth in the sound. In my review of the regular Elite 75t's, I said their call quality was OK but not great. But I have found the Active 75t's call quality to be just fine and well in the good range…not sure if it's the pair I received or due to a firmware update. Either way, the Elite Active 75t's call quality is on par with many other high end earbuds.
As I mentioned above, the Elite Active 75t's have an IP57 water-/dust-resistance rating and should survive the most drippy workout or run. To back this up, Jabra backs the Elite 75t series with a 2-year warranty against dust and moisture.
What I like
Smaller more compact design
IP57 water-/sweat-/dust-proof design
Improved sound quality, excellent clarity with distinctive bass response
Solid construction
Better battery life: 7.5 hours of use between charges
USB-C charging
Secure fit
Improved magnetic charging case
Customizable EQ profiles via Jabra app
Solid HearThrough modes
2-year warranty against dust and moisture
What needs to be improved
Lack of active noise canceling
No wireless charging
In addition to Navy, the Jabra Elite Active 75t true wireless earbuds will be available in a multitude of colors: Copper Black, Titanium Black, Gray, Mint, and Sienna. Jabra's so confident in how durable the Elite Active 75t's are, they offer a 2-year warranty against dust and sweat.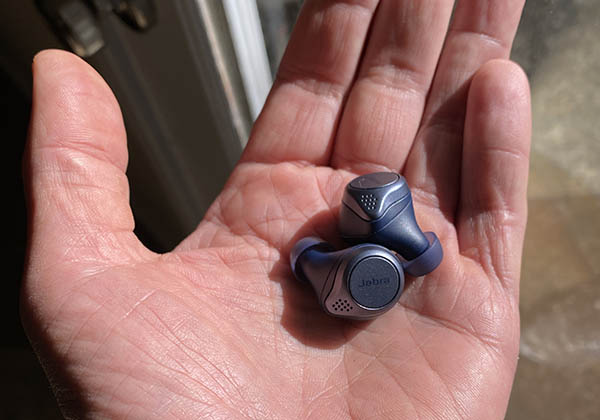 Final thoughts
Bottom line: I like the Elite Active 75t's a lot and will continue to use them daily for work, play, and epicness. Their sound quality, comfort, secure fit, size, battery life, looks, and ruggedness are excellent. Plus I prefer their minimalistic form factor over many, if not all, of the competition. As I said "Admittedly they do not have active noise canceling or wireless charging but I find those minor in the grand scheme of earbuds. In an extremely crowded market, the Elite (Active) 75t true wireless earbuds stand out with the best of them. And with a price point under $200, they are hard to beat" and my opinion remains the same. Though I suggest spending the extra $20 for the better moisture, sweat, and dust resistance of the Active version of the Elite 75t's.
Price: $199.99
Where to buy: The Elite 75t wireless earbuds are available from Amazon or directly from Jabra.
Source: The sample of this product was provided by Jabra.