We use affiliate links. If you buy something through the links on this page, we may earn a commission at no cost to you. Learn more.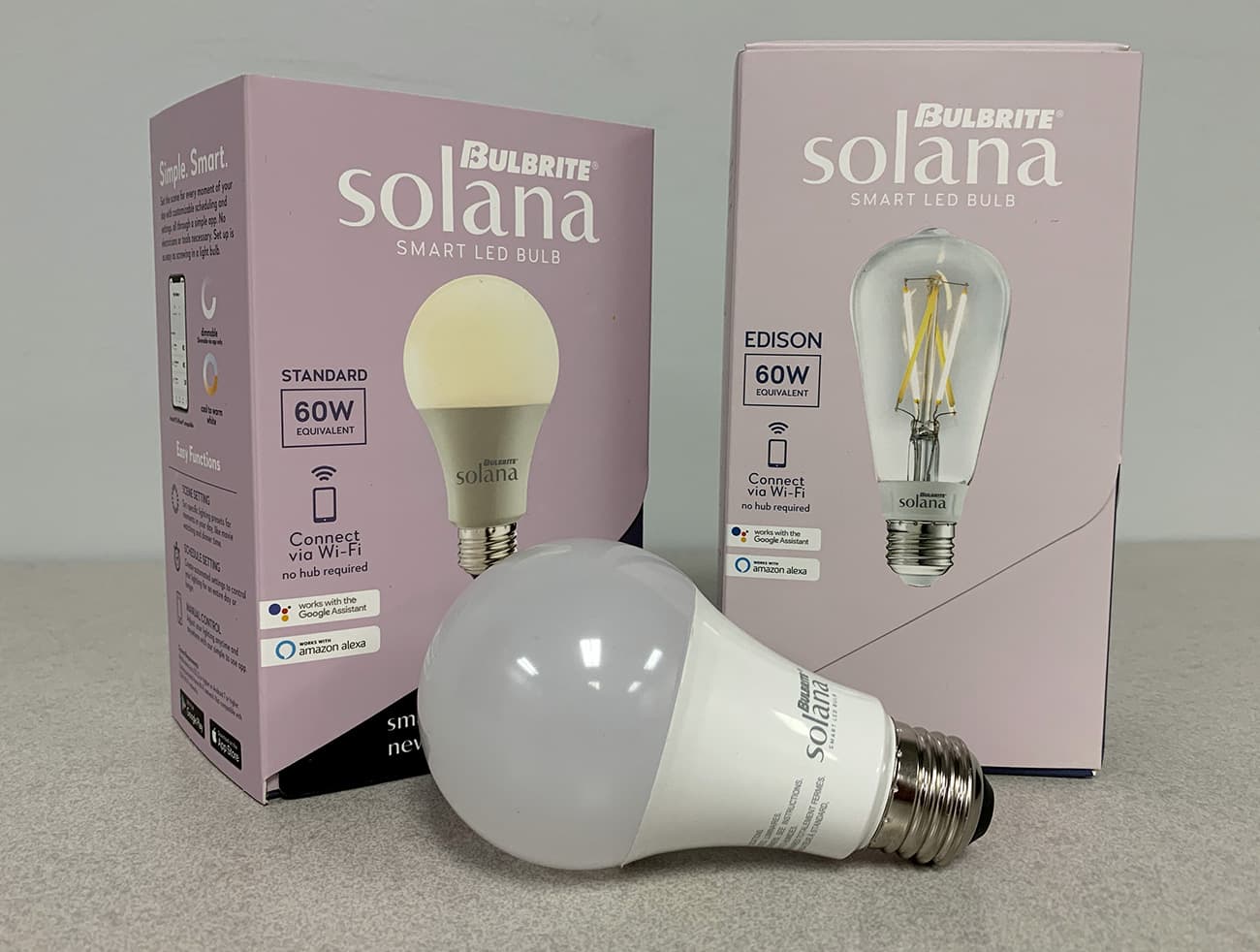 REVIEW – Smart LED bulbs are the de facto entry drug into home automation, but you don't need to be a networking wizard to set them up. Bulbrite's Solana range of smart bulbs could be just the thing to get you started… see why!
What is it?
The Solana Smart Bulbs are a line of wifi-enabled LED light bulbs from Bulbrite. The feature quick setup through their free, proprietary smartphone app, available on the App Store and Google Play.
What's in the box?
One LED bulb
Quick-start card
Hardware specs
Standard Frost style
Recommended for standard table or floor lamp with a shade.
Brightness: 800 Lumens
Wattage: 8W
Life Span: 22.8 years
Watt Equivalent: 60W
Base: E26
Shape: A19
Clear Edison style
Recommend for pendants and chandeliers.
Brightness: 600 Lumens
Wattage: 5W
Life Span – 13.7 years
Watt Equivalent: 60W
Base: E26
Shape: ST18
Design and features
I received two types of smart bulbs from Bulbrite, the standard frosted bulb and the clear Edison style. They're identical in setup and functionality, differing only in appearance, and therefore, application. The clear style Edison bulbs would be right at home in a larger chandelier or "open" overhead light, something that would show off their old-timey style.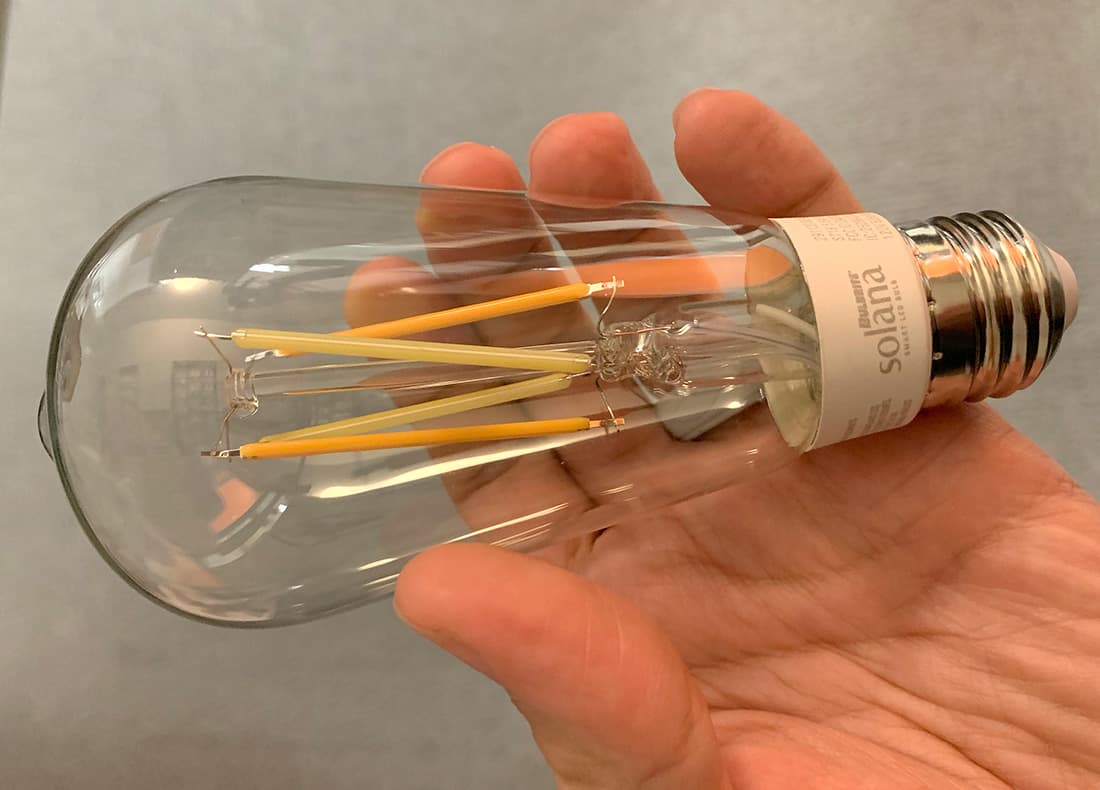 The standard frosted bulbs look like any other LED bulb you've seen, only perhaps a little taller to allow space for the wireless element in the base.
Since the look of the bulb seemed to be the only difference, (aside from the bulb life and wattage, as noted in the specs above) the balance of the review can be read as true for either Frosted or Edison bulb.
Setup
The Bulbrite Solana was the first smart LED bulb I've ever used. Whether by misconception or ignorance, I was under the impression that I could only make use of smart bulbs if I had some house-wide Google Home or Amazon Echo network to control them. This is, to my delight, not the case.
In fact, the only thing you need to get started is a smartphone, to download Bulbrite's app, and a standard 2.4GHz wireless network. I have to imagine both of those are in ready supply for most of you out there.
Most of the setup happens within the app itself. After downloading the app and setting up an account with Bulbrite (I know, another login… but it's required for your bulbs to link up with Amazon Alexa or Google Assistant), you simply screw in the bulb into your lamp and turn it on.
The bulb will start flashing to let you know it's in receiving mode for the app, and the app itself will search for the bulb on the wireless network.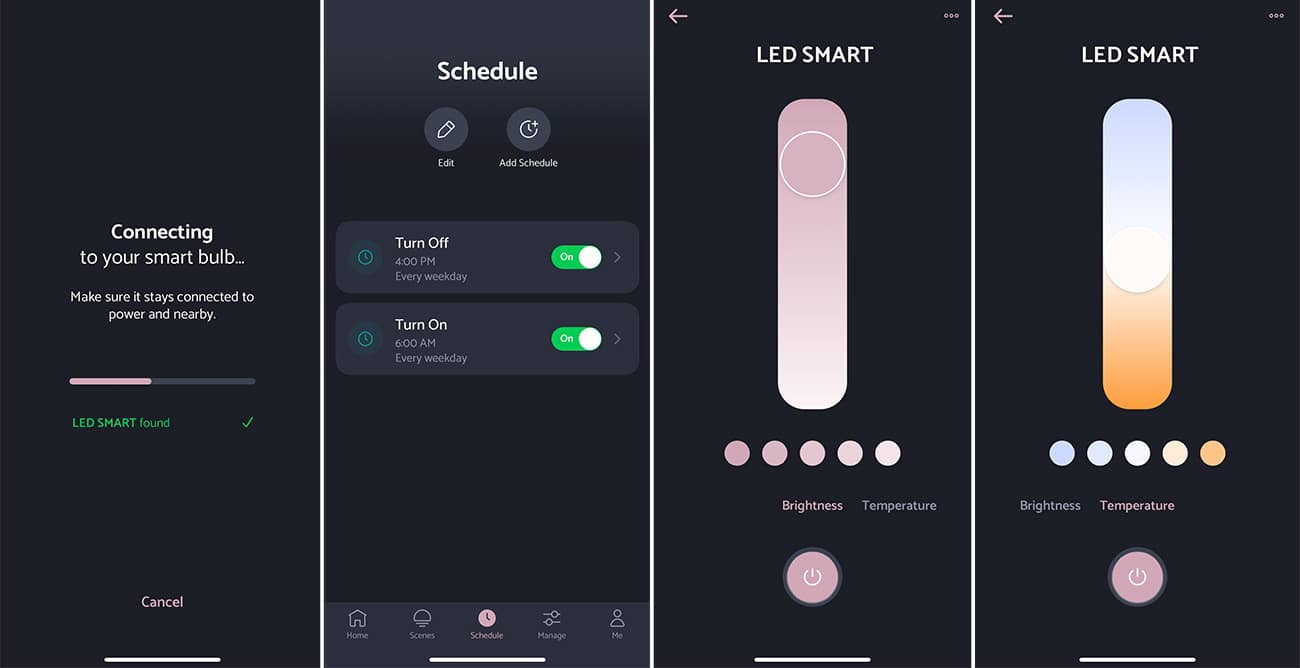 Now, it's worth mentioning that the first time I tried this was in a lamp that was pretty far away from my wireless router, and I couldn't get the bulb to recognize the network. The router was downstairs, the lamp upstairs, and the distance between the two was likely just too far. The app wouldn't "find" the bulb during the pairing process and the bulb simply stayed on like a regular LED bulb.
I moved the bulb downstairs to set it up and the app found it pretty much right away. You have to enter your wireless signal password (provided it's locked, and it should be) so it can be saved into the bulb's memory.
Then you're asked to give the bulb a name and a group. There are maybe a dozen or so groups pre-filled in the app, such as Bathroom, Bedroom, Garage and Kitchen. And the bulb can be named something even more specific, in case you have more than one bulb in that group, like left and right nightstand.
I had exactly two bulbs to set up, and I mostly used one for the duration of the testing, so my list was pretty small.
Now, if you wanted to replace every single bulb in your house at once, you'd be in for a long day of pairing each and every bulb, and giving them groups and names.
The entire setup process only took a few moments, though, and really, aside from 20 seconds of manually installing the light, it's all done in the app.
Performance
Bulbrite's app is the brain of the smart bulbs. Once you have your bulbs paired with the network and defined, the app seemed to me like the easiest way to interact with the bulbs and set up schedules and what Bulbrite defines as "scenes."
Bulbrite made it easy to access bulbs by groups and lists of bulbs. The Home screen simply has a list of groups, with a quick ON/OFF switch right next to the group's name. This can turn on or off all bulbs in that group. By tapping on the group's name itself, you are taken to a list of independent bulbs in that group. From there, you can change the brightness — these bulbs are fully dimmable — light temperature from very cool to very warm, of each bulb.
I'm glad Bulbrite included the ability to change the settings on a whole group at once. Even though I didn't have a lot of bulbs to work with, I can see how a large room with 3-4 bulbs in it could be tedious to manage individually.
The second tab in the app, Scenes, is nice for advanced setups. Let's say you had several bulbs set up in your living room, and you wanted to have every bulb set to the lowest setting, except for that one light in the corner that you want at 50%, for a cozy movie time… you can set each bulb as such in a "movie" scene to do just that in one touch. The possibilities are as open as your patience to actually set them up.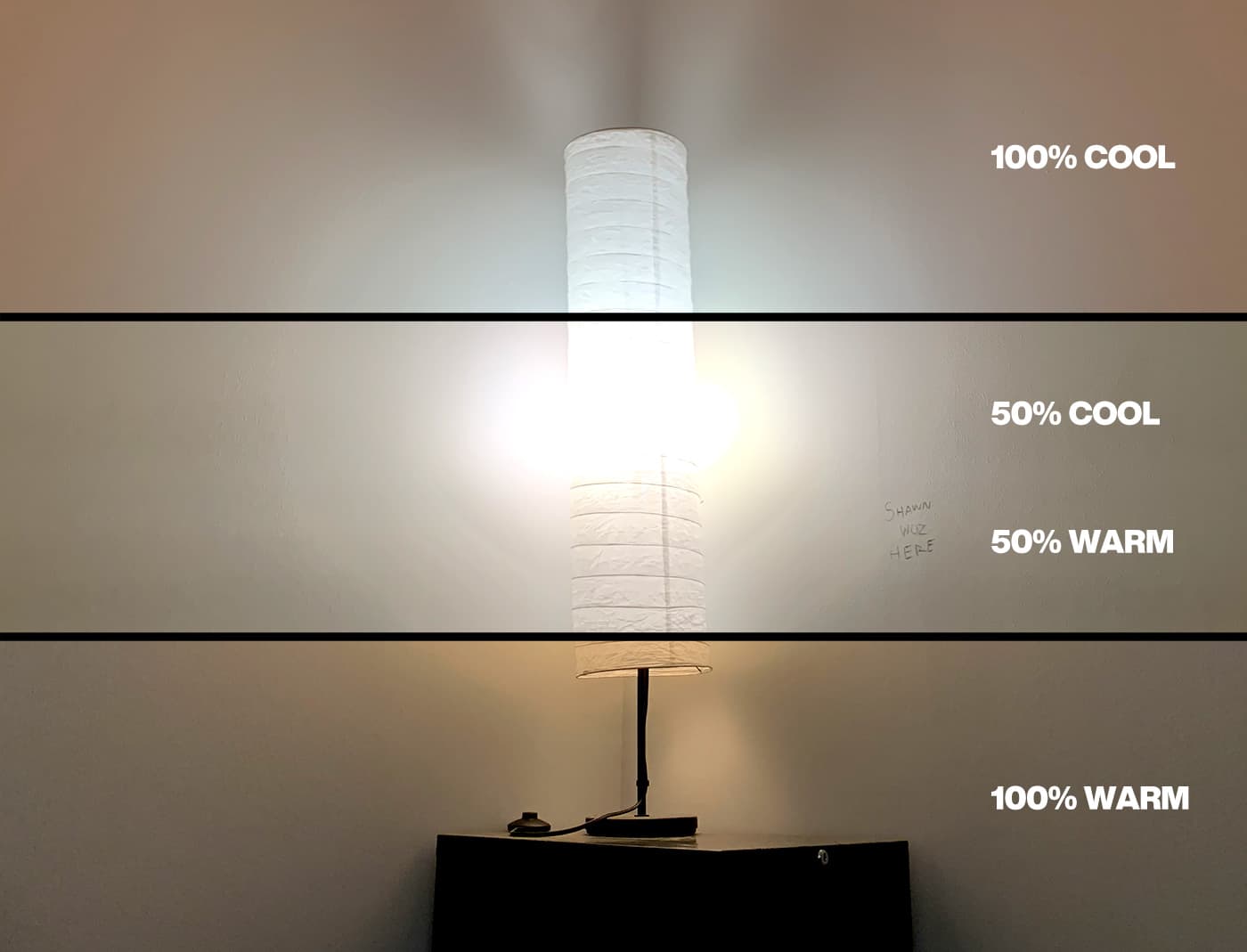 I can see a lot of users loving this process of setting up all kinds of scenes for difference scenarios, just as I can see many other users simply using the app like a glorified Clapper. It's nice to have the freedom to do both.
The Schedules tab allows you to automate turning lights on or off — or execute a scene — based on a specific time or sunrise/sunset. For instance, turn on your bedroom lights at sunrise. Execute "evening lights" to set all lights in a room to 40% at sunset. Turn off office lights at 6pm Monday through Friday. Again, the sky's the limit, here. And all of these are controlled through the app, saved into the bulb, whether or not you're even in the area.
For example, I have a hard to reach corner lamp set up in my room at work to turn on in the morning and go off in the early evening, and it works like a charm.
You can also add people to your Home, so you could add family members and give them access to control the bulbs you have set up.
All of this is controlled through the app, no smart hub required. But if you wanted to go the extra mile, you can add the account you created through Bulbrite, during the first step, to both Amazon Alexa or Google's Assistant.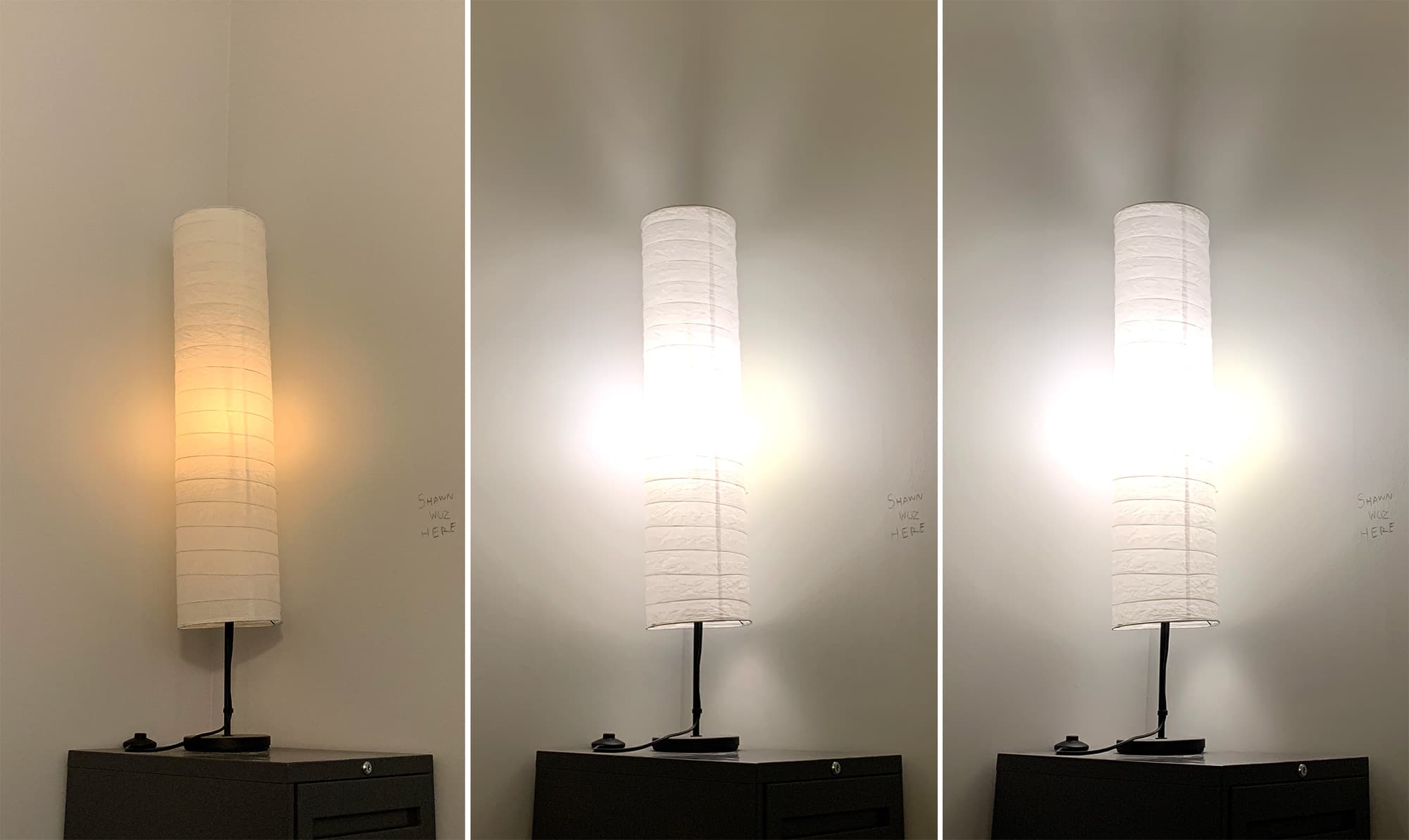 I have a Google Home mini in my room, and in the Assistant app, it was a simple matter to add my bulbs my linking that Bulbrite app. The bulbs showed up in my House tab, allowing the bulbs to be added to workflows like "Hey google turn on my office light." It's certainly not required, but you could simply set up your bulbs in the Bulbrite app and then never touch that app again, opting to use your Google Home to control your lights, instead.
Overall, the whole setup doesn't require a high degree of skill, but advanced users who want to invest the time and energy into creating elaborate commands will be happy to have the freedom to do so.
Last but certainly worth mentioning is the price … Bulbrite Solana frosted LED smart bulbs are only $10 apiece, which seems to be a pretty great deal compared to other manufacturers like Phillis Hue or C by GE. So if you've been thinking about trying out messing around with some smart bulbs, Bulbrite Solana bulbs would be a cost-effective solution.
What I like
Very good value for the price
Variety of styles, even beyond what I've reviewed
Doesn't require a smart hub, just the app
What I'd change
The bulbs are perfect but the app has a few small fumbles
Final thoughts
If you're someone who has been sleeping on smart bulbs until they become cheaper or easier to set up, now's the perfect time to jump in with these Solana bulbs. At $10 a pop, the Bulbrite Solana offers a very low cost of entry and doesn't require an elaborate smart home setup … only a wireless network and a smartphone.
Price: $10.00/ea for A19 standard frosted bulbs or $17.99/ea for ST18 clear Edison style bulbs.
Where to buy: You can pick up a single-pack smart LED bulb in standard frosted, clear Edison, and other styles directly from Amazon.
Source: The sample of this product was provided by Bulbrite.