We use affiliate links. If you buy something through the links on this page, we may earn a commission at no cost to you. Learn more.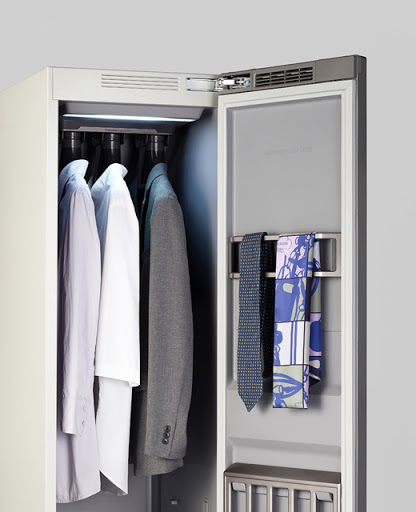 NEWS – The Samsung AirDresser is a magical closet that refreshes and "irons" your delicates and business attire for you. You can hang your clothes in this closet, close it up, select a cycle, and Voila! Refreshed, wrinkle-free clothes! This is a case where the creators were thinking INSIDE THE BOX!
According to a Samsung press release, the AirDresser uses various cycles to treat your clothes. A Jet Air system blows air around your clothes to loosen dust. This system even blows air inside your clothes using Air Hangers which are hollow and allow air to flow through them. Using the Jet Steam system, the AirDresser sanitizes your clothes by using steam to get rid of bacteria, viruses, and allergens.
The AirDresser also uses a Deodorizing filter "to freshen clothes, breaking down the odor-causing particles caused by sweat, tobacco, and food, while preventing unpleasant smells from building up inside the unit." Furthermore, it uses Heatpump Drying to dry your clothes gently at a low temperature to avoid damaging or shrinking them with heat. And with Wrinkle Care, it uses steam and air to get rid of wrinkles. The AirDresser even has self-cleaning technology (using heat, air, and steam) when it's time to clean the unit.
You can select which cycle to use according to the type of clothing you have in the AirDresser. You can even customize your settings using the SmartThings app, according to CNET.
The Samsung AirDresser will be available this April for $1400 according to CNET.