We use affiliate links. If you buy something through the links on this page, we may earn a commission at no cost to you. Learn more.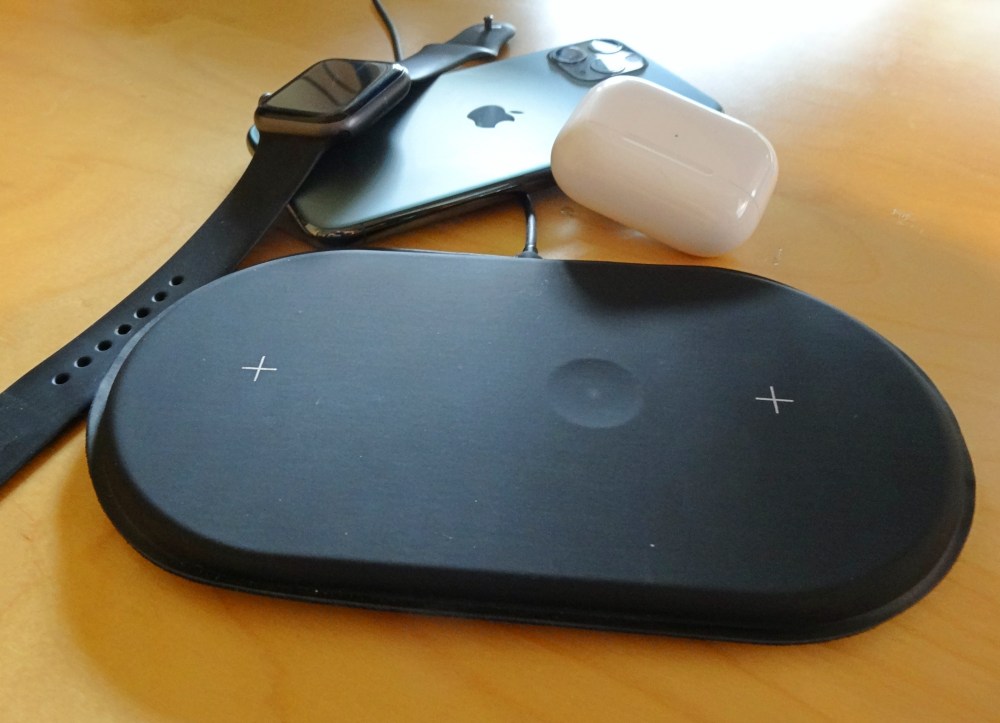 REVIEW – Our favorite devices need constant charging and something we all are very used to. If your main three happen to be an iPhone, AirPods and an Apple Watch there's a new compact product you might want to take a look at. AirUnleashed promises to charge all three of your devices with a single charging mat. I'm always looking for solutions that simplify my charging kit, so once again… it's review time.
What is it?
AirUnleashed is a Qi compatible wireless charger with two easy-to-target charge locations plus a spot for your Apple Watch.
What's in the box?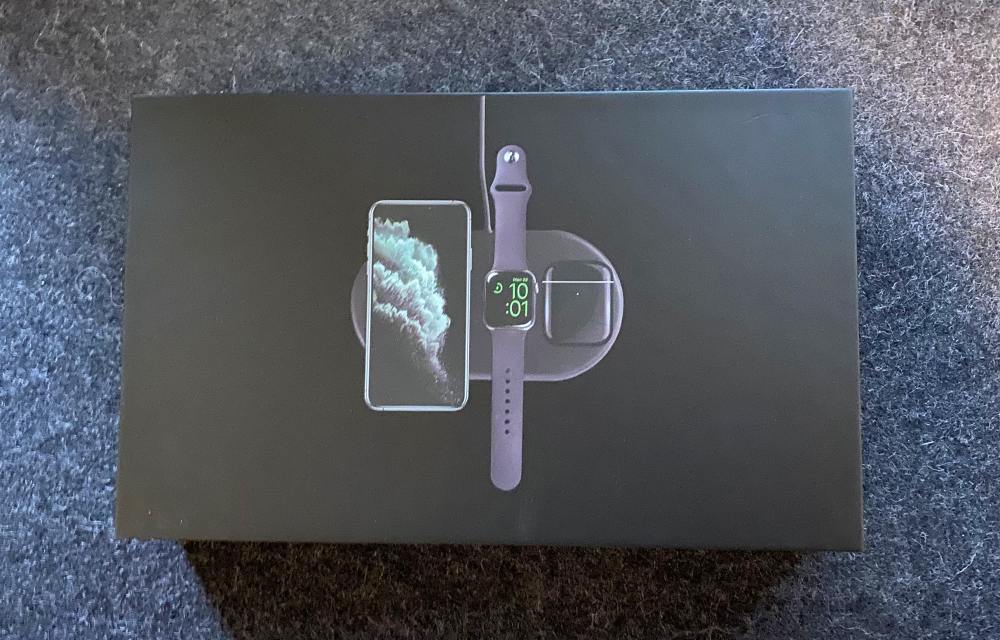 AirUnleashed Wireless charger
Instruction manual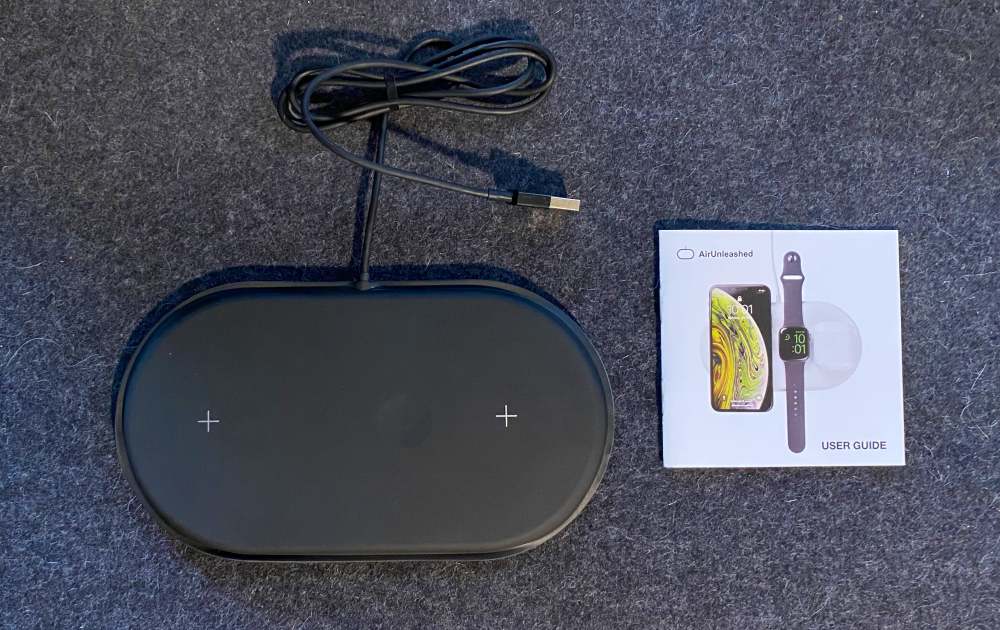 Hardware specs
Power Input: DC 5V/2A; 9V/1.67A via USB-A
Power Output: 5V/1A; 9V/1.1A (10W max)
Charging Coils: Left position 7.5W; Apple Watch 2W; Right position 5W
Dimensions: 190mm x 105mm x 11mm, 172g
Design and features
AirUnleashed allows you to charge three devices at once from a single slim charging mat. It's available in both Black or White.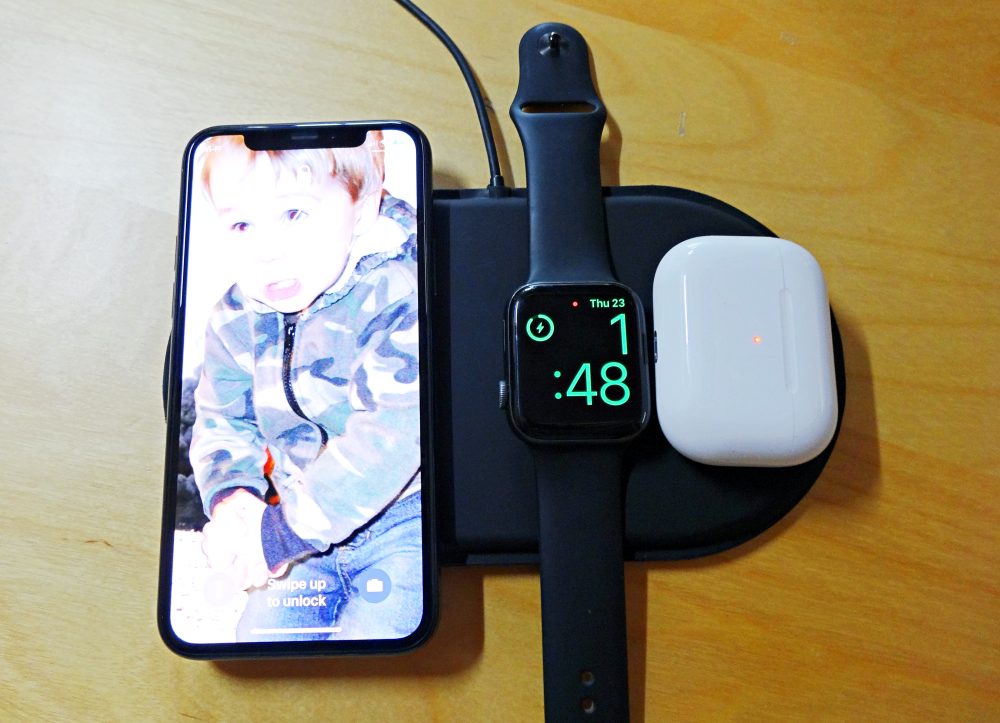 All the smarts are enclosed into a soft structure that is welded closed around the perimeter.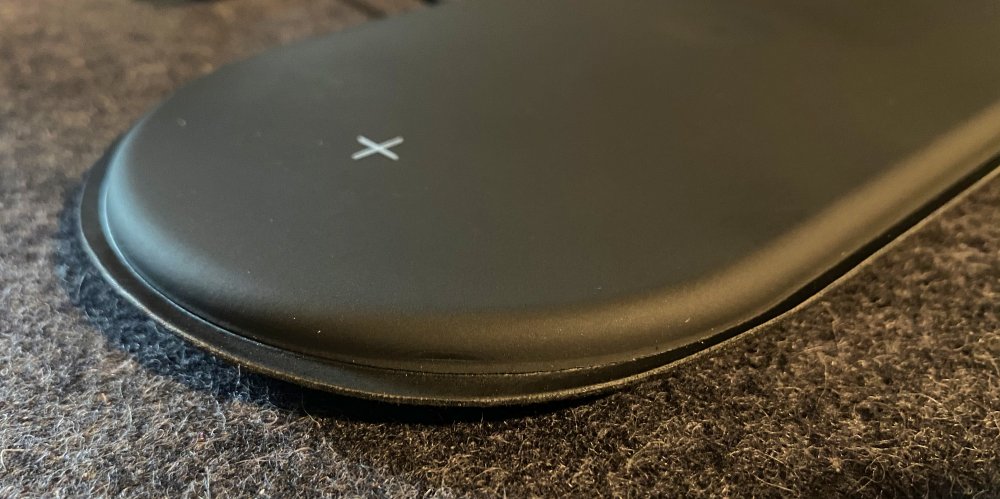 The top is a synthetic leather type material and the bottom a sueded microfiber that helps it stay put.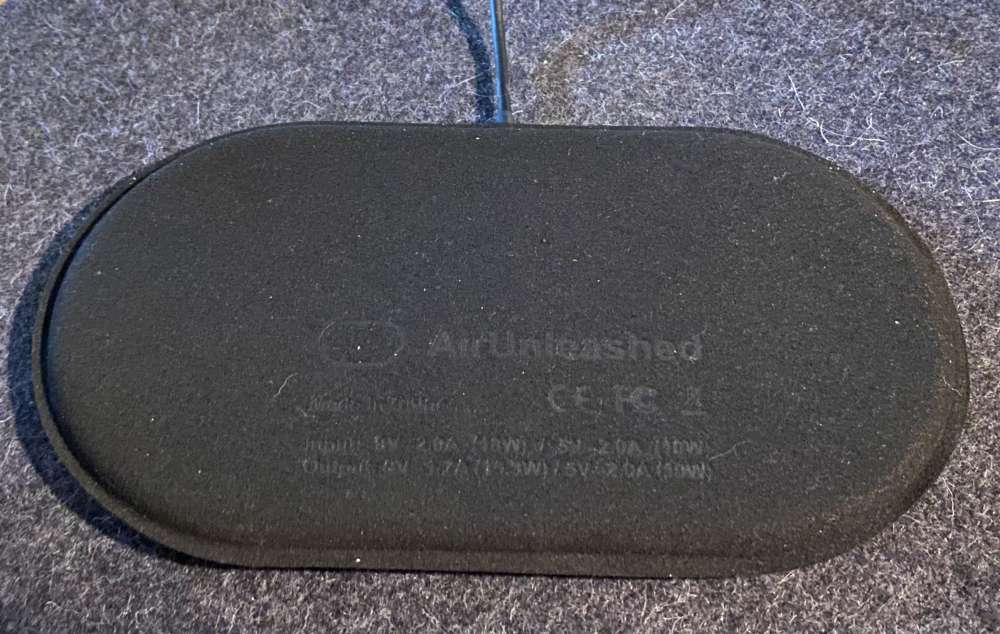 There are no LEDs of any kind, instead relying on your devices to tell you they are charging.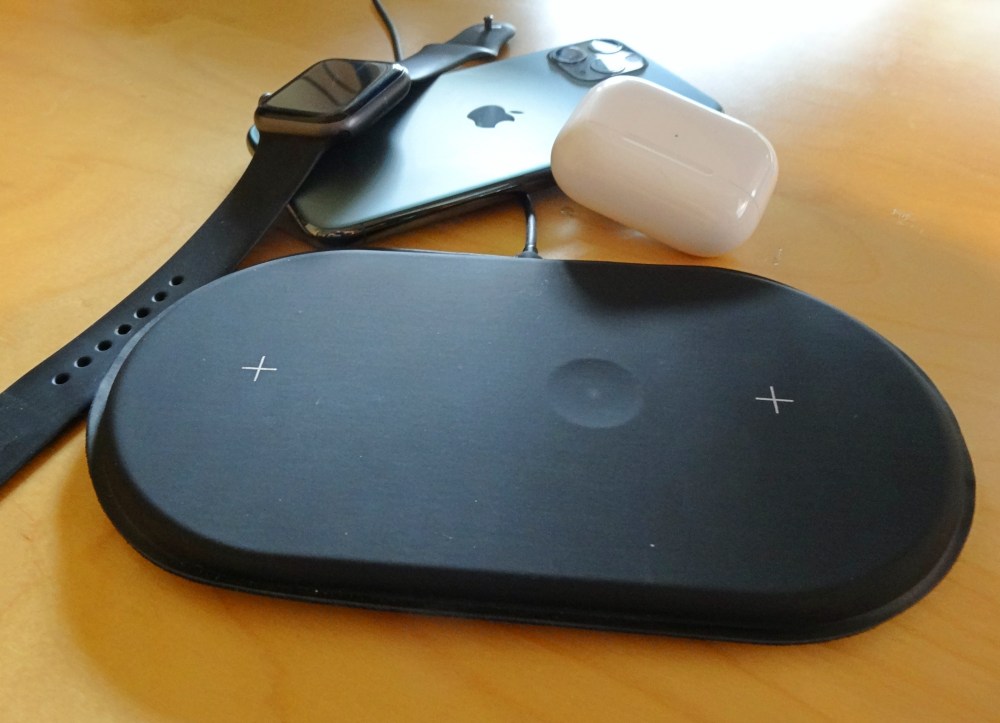 Left and Right charging coils support Qi charging and the crosshairs help you to center your devices. The Apple Watch charging location is more subdued with only a small recess noticeable just right of the centerline.
Setup
AirUnleashed is plug and play. Just connect the tethered USB cable to a 2A/5V/10W source and get charging. In case you're wondering, the standard iPhone charger is only 5W, so you'll need to use an iPad charger or pickup a 3rd party adapter.
The only other thing to note is that you'll need to center your device's charging sweet spot over one of the crosshairs on the AirUnleashed. That spot may differ from device to device so take a moment to move it around and check your device to make sure it is charging.
Performance
It's clear that AirUnleashed saw an opportunity in Apple's AirPower never materializing. It's aimed squarely at users running an iPhone, Apple Watch and AirPods. Safe bet there's a few of those users out there. As with any charging product the key is that it needs to work, and work reliably. Well I'm happy to say that AirUnleashed has accomplished that.
Each charging location has slightly different power outputs. The left position is meant to charge a phone fast which is why it's rated at 7.5W output. The right position tops out at 5W output and the watch location at 2W. Perfect distribution if you're charging the intended iPhone, watch and AirPods. If you're charging two phones just know that the right position will charge a little slower.
Let's cover where it excels. It can charge three devices at a time, or two if you don't have an Apple Watch. In both scenarios you're plugging less things into outlets which is cool.
It's a thin compact design with a tethered cable that is simpler to travel with than multiple cables and wall adapters. The welded seam /soft material construction is very cool. Easy to wipe down if you spill something on it and arguably a less fragile design as well, especially with the tethered cable instead of a connector that could break or bend.
It doesn't have any LEDS! I love that, although not all of you may agree with me. As far as I'm concerned, my devices tell me if they're charging so I don't need another indictor or 3 in this case. Bravo.
What's not perfect? Well let's get this out of the way; if you don't have an Apple Watch, it's a two position charger. And actually, the Watch charge location may obscure some devices from hitting the 2nd charging coil. For instance, my iPhone 11 Pro cannot charge to the right of a charging Apple Watch.
Also worth noting that your watch band could prevent you from charging if it's a bracelet style or angled like this Sport Strap from Nomad. Definitely a band problem, not a charger problem, but something you should know if that's your band preference. Luckily Apple made it easy to disconnect your band on one or both sides depending on the need.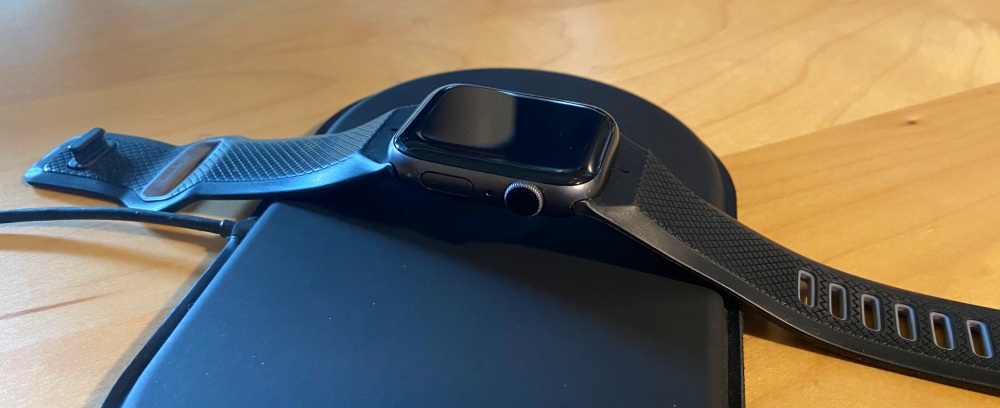 Lastly, at $99 it seems like a wall adapter could have been included. As it is you'll need to squint at the tiny tone-on-tone type of your adapters to find one rated at 10W.
What I like
All-in-one, compact design
Construction and materials
2 Qi coils with targets + Apple Watch charger
What I'd change
Include a wall adapter
Center the Apple Watch position
Final thoughts
If you're fully bought in on the Apple triple threat of iPhone, Apple Watch and AirPods then this is a solid choice for charging all three products at once in a compact footprint. If not, there are likely some better options for you. In my case, I can definitely see this going in my travel charging kit to simplify my overnight charging needs.
Price: $99.00
Where to buy: AirUnleashed
Source: The sample of this product was provided by AirUnleashed