We use affiliate links. If you buy something through the links on this page, we may earn a commission at no cost to you. Learn more.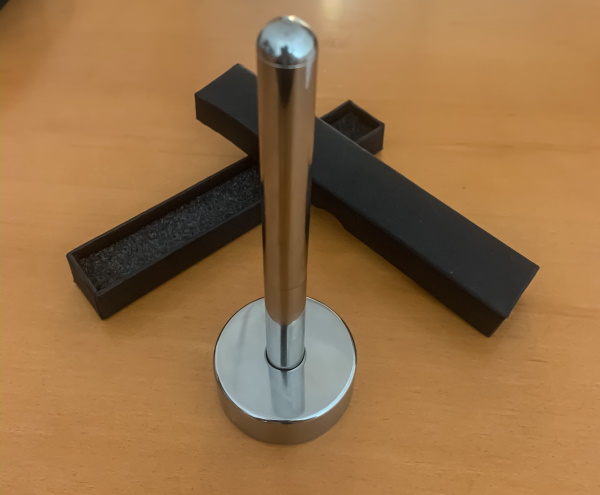 REVIEW – Early in my professional career, I was very particular about the pens I would use, and I would always choose to carry well-made ballpoint pens from companies like Cross, and/or well made Fountain pens. I eventually switched to only ballpoint pens because I could never quite find a Fountain pen that completely worked for me. I always seemed to have an issue with the build quality of the nib that created blotches or harsh writing experience, or they would never immediately write when I tried to use them. On many occasions, after shaking them to get them to write, anyone sitting in front of me would be the recipient of a colorful ink shower. I now wonder if after all of those years, if things have changed. I will now try my luck with this Charles Lethaby Ion Pen.
What is it?
The Charles Lethaby Ion Pen is a Fountain type pen that can be designed and built to preference by the consumer with the options of Titanium, Brass, Stainless Steel or Aluminium.
What's in the box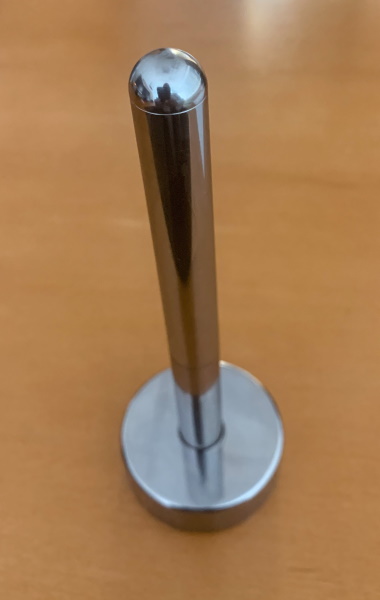 1 x Charles Lethaby Ion Pen
1 x Base
Design and features
This Ion Pen is offered in four different materials and six parts can be changed to create a custom pen. The diagram below shows the parts and build options. The photos below show the actual breakdown of the Stainless Steel pen that I received.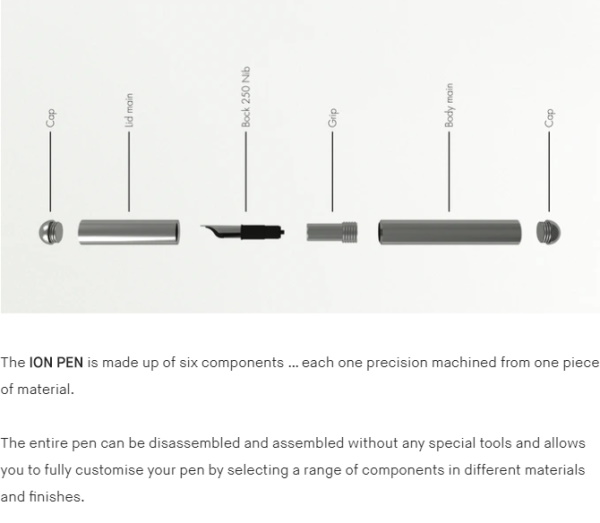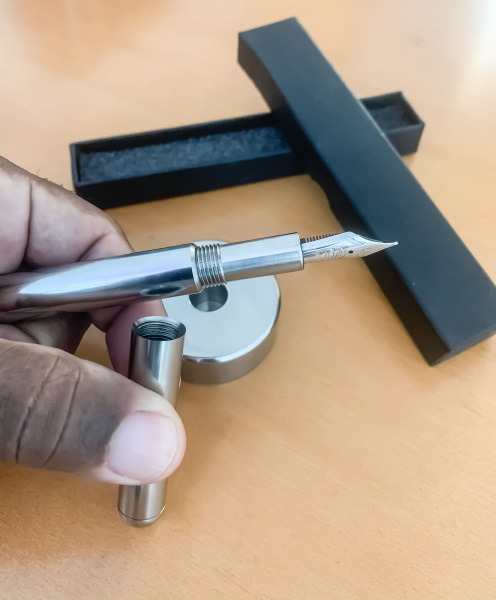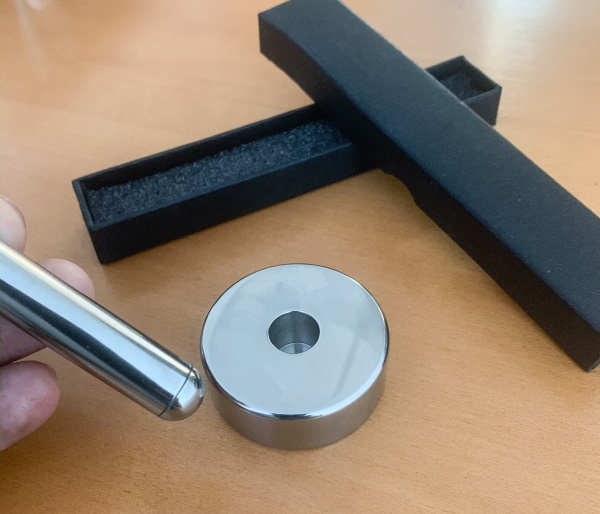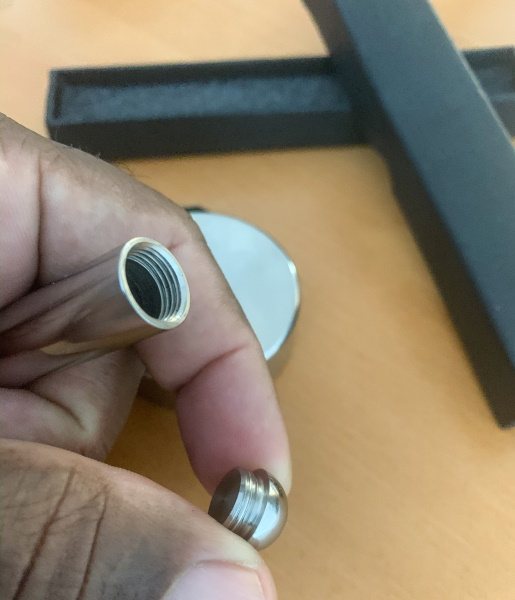 The photos below show the ink cartridge and nib.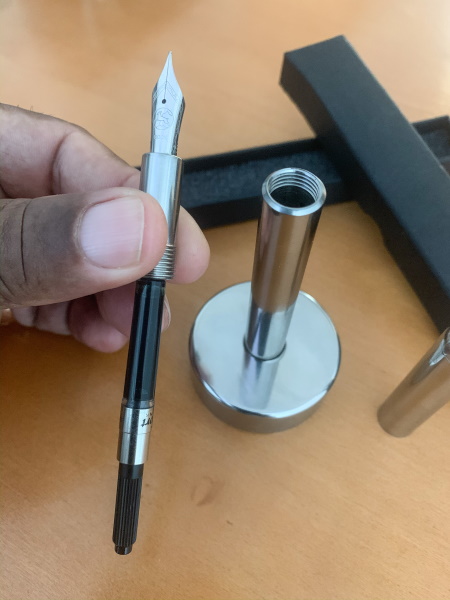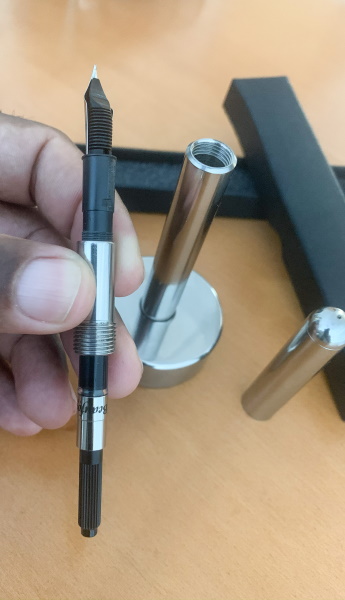 Performance
As previously mentioned, I received the Stainless Steel version of the pen to test and review. This pen is built like a tank and feels smooth and awesome in my hand. The customization options allow you to personalize the pen to some extent, but I do not see an option to add a pocket clip. If it is to work as an EDC pen for me, this is a must. I don't like the possibility of a relatively hefty Fountain pen rolling around in my pocket, or having to reach down in my jacket pocket to grab it. I do like that the ink cartridge is refillable and the nib seems very sturdy. The exterior of the pen has no branding which according to the manufacturer, was a part of the design to maintain the sleek look and feel.
When using the pen, I am still experiencing consistency issues with the ink flow, but this may be due to the many years that I have not written with this type of pen, and the fact that I may be exerting inconsistent pressure when writing.
Otherwise, this is a beautiful pen in looks, feel, weight, fit and finish. In regards to the other build options offered, I did not receive any of those parts to offer an opinion via comparison.
What I like
The amazing build quality
The weight and feel in my hand
The fit and finish
The customization capability
What I'd change
Add a pocket clip customization option for EDC
Final thoughts
It has been many years since I have used a Fountain Pen. This Ion Pen is similar but with customization capabilities. My main objective with this type of pen is to obtain the perfect feel, balance and writing reproduction. This pen delivers with both amazing build quality and feel, but I seem to get inconsistent ink flow when writing. Since I have not used this type of pen in years, the issue just might be the way I write and possibly inconsistency related to the pressure I apply. Also, for nerdy me, I need the option of an add-on pocket clip to accept it as an EDC pen.
Price: Early Bird $85.30 US; Regular $98.45 US
Where to buy: Charles Lethaby website
Source: The sample for this review was provided by Charles Lethaby