We use affiliate links. If you buy something through the links on this page, we may earn a commission at no cost to you. Learn more.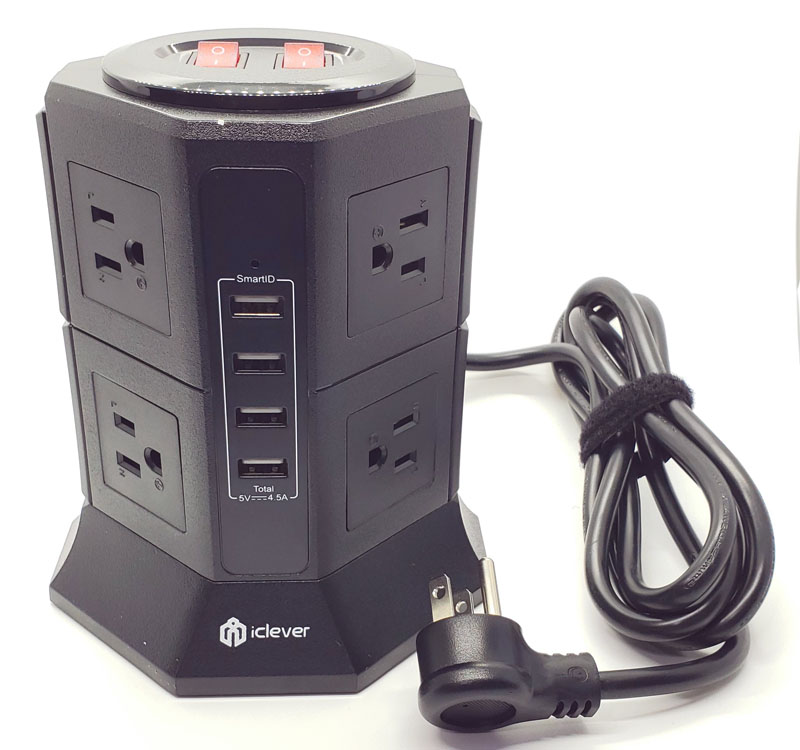 REVIEW – Electricity is an essential commodity for us Gadgeteers.  Everything takes power, and there simply are not enough places to plug in our gadgets. Power strips are nice, but with so many gadgets coming with wall-wart style plugs, it's hard to use a power strip fully.  Add to that a large number of USB-powered gadgets, each requiring its own USB power puck, and *boom*, your power strip is over-full. iClever has a solution for both the space and power outlet challenged among us.
What is it?
The iClever Bootstrap series power tower is a surge-protected power center offering eight 110V outlets and four USB outlets.
What's in the box?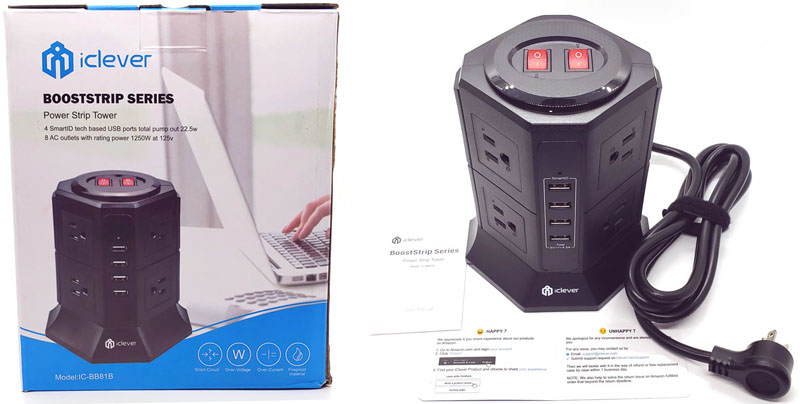 Power tower
User manual
Support contact card
Hardware specs
Material: ABS+PC (fire protection)
Outlets: 8 AC + 4 USB

AC output: 125V/10A
USB output: 5V/4.5A

Total output: 1250W/10A
Surge Protection: 900 Joules
Overload Protector: superpower automatic shutdown
Power cord length: 6.5 feet
Product size: 5.47″ w x 6.5″ h
Design and features
The power center is housed in durable ABS plastic with a light texture to it.
The front of the unit features four AC ports and four USB ports.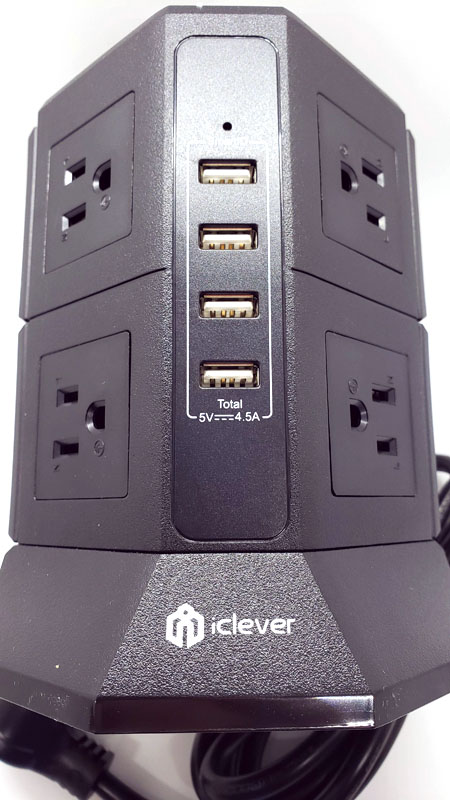 A power indicator light sits just above the USB ports and glows green when powered up.
The back features four more AC ports and the 6.5-foot power cord.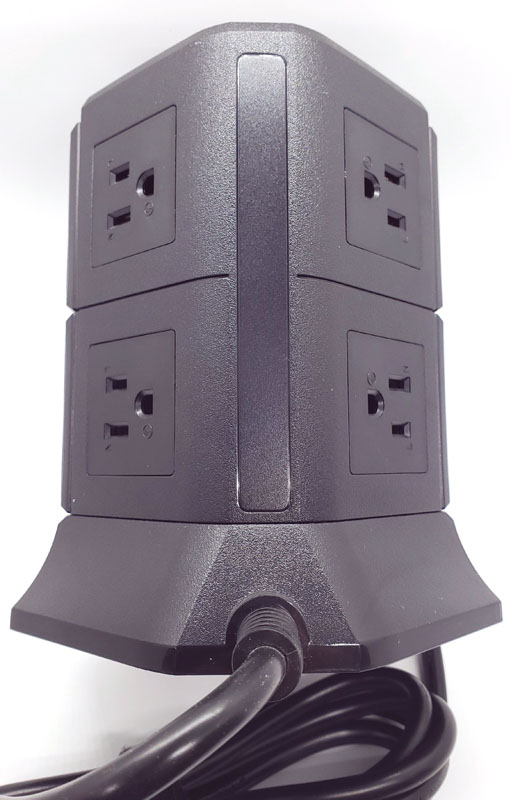 On top, we find two power switches – one for the front four AC ports and one for the back.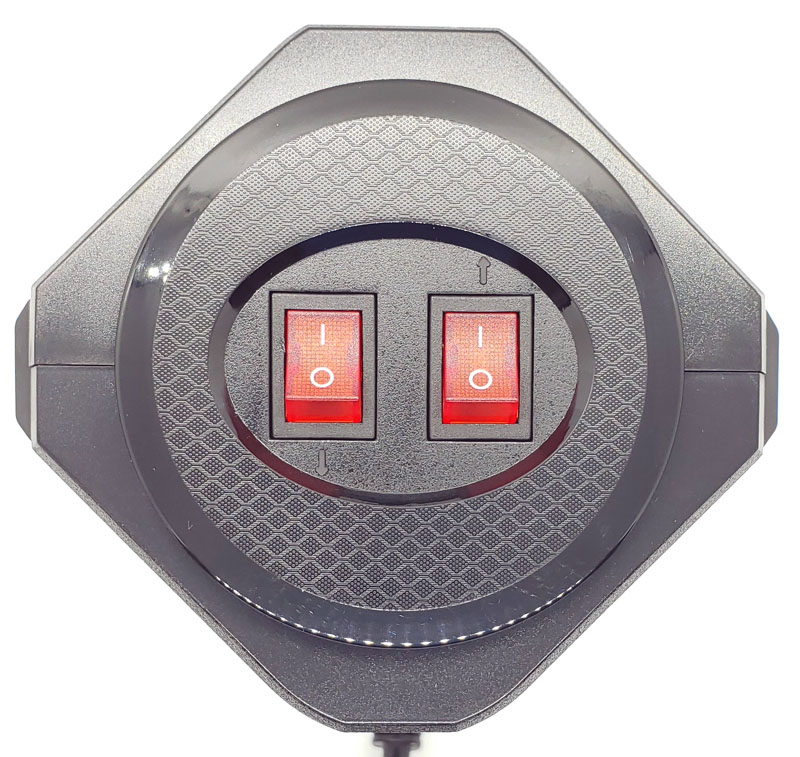 Each is labeled with a small arrow, indicating which bank of ports it controls.
The bottom features six non-slip rubber feet and the power overload reset switch.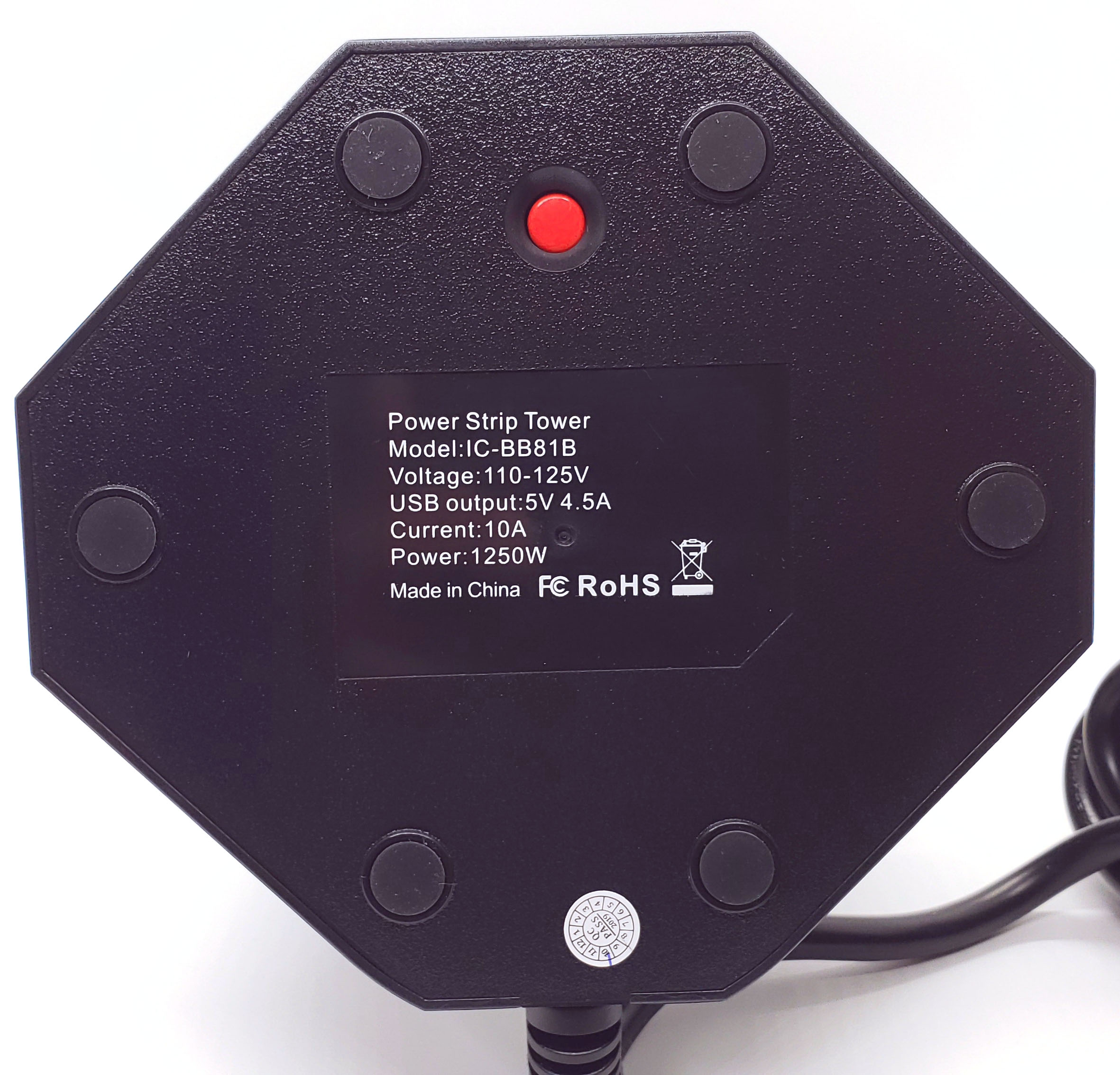 Setup
Setup involves plugging in the unit and then plugging in your stuff.  Here it is, situated behind my monitor.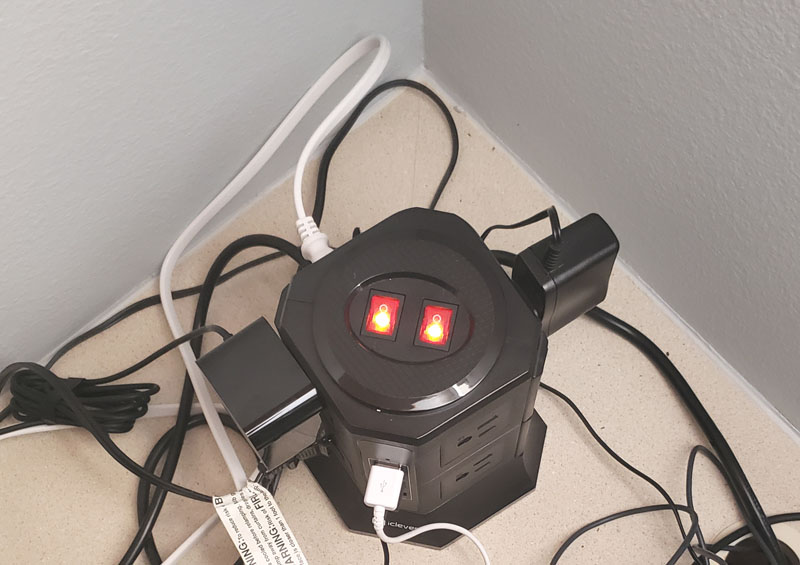 Performance
Performance is hard to determine, especially when it comes to surge protection.  With 900 Joules of surge protection, it should do a good job protecting my gadgets.  Performance, otherwise, is much easier to determine. This replaced an older power strip that dominated this space as it was huge.  The iClever takes up so much less space, given its vertical design, that it opens up that space. This makes it much easier to get to the outlets.  The 2.5-inch spacing between AC outlets provides enough room for most power pucks.  The low-profile design of its power cord plug fits flat against the wall, making it easy to plug in the power tower behind furniture. Also, with four USB ports available, that freed up two AC outlets and two USB power supplies. My only complaint is that while the USB ports are auto-sensing, they are not fast-charge compatible.
For my use, the power switches are not needed, as everything I have plugged in here needs power all the time. For those that regularly turn off the power, having the ability to selectively switch off one bank of plugs or the other is a nice touch.
What I like
Space-saving vertical design
Included USB ports save AC outlets for other use
Surge protection included
What I'd change
Make at least one, and preferably all four USB ports fast-charge capable
Final thoughts
I like this device.  The design helps save space. There are outlets aplenty. The power cord is long enough to make placement easy. The included surge protection helps keep my gadgets safe. It has a permanent place on my Gadgeteer desk.
Price: $25.99
Where to buy: Amazon
Source: The sample of this product was provided by iClever.