We use affiliate links. If you buy something through the links on this page, we may earn a commission at no cost to you. Learn more.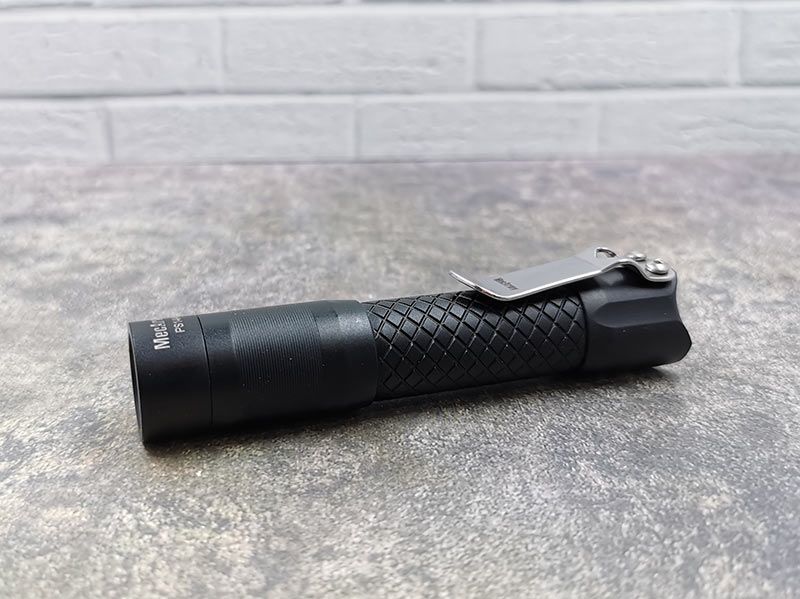 REVIEW – I recently reviewed the MecArmy SGN1 USB rechargeable EDC flashlight and for the price and features I found it to be a great little EDC flashlight. Now I'm back to show you one of their larger flashlights that's also rechargeable. Let's see if it's a winner in value and functionality too.
What is it?
The PS14 Dual Color Temperature LED flashlight from MecArmy is an EDC flashlight that is powered by a rechargeable AA battery and offers two LEDs. One is 4000K and one is 6500K.
What's in the box?
Storage case
PS14 Dual Color Temperature LED flashlight
micro USB charging cable
Lanyard
Spare O-ring
User manual
Hardware specs
LED:CREE XPL-HD LED, max output up to 1200 lumens
Material: Aluminum (also available in Titanium)
Beam distance: 100m
Waterproof: IPX8
Dimensions: 3.894 x 0.807 x 0.807 inches (98.9 x 20.5 x 20.5 mm)
Weight: 1.587oz (45g)
Working voltage: 1.0V-5.0V
Battery: AA or Rechargeable 14500 lithium-polymer battery
Charging time: 2.8hrs
Design and features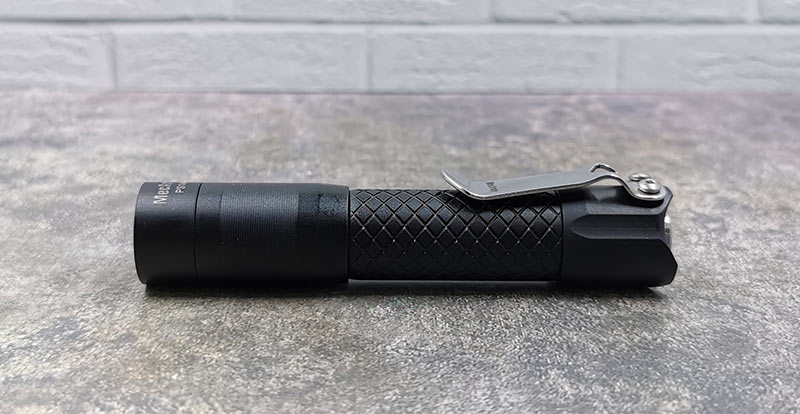 The MecArmy PS14 is a small to mid-sized pocket flashlight that is made of aluminum (it's also available in Titanium) in a variety of colors. I was sent every man's favorite color – black. But that's fine with me. I don't like flashy flashlights. See what I did there? 😉
The handle of the flashlight has a hatched design that adds some grip to it. There's also a heavy pocket clip that you can remove if you prefer.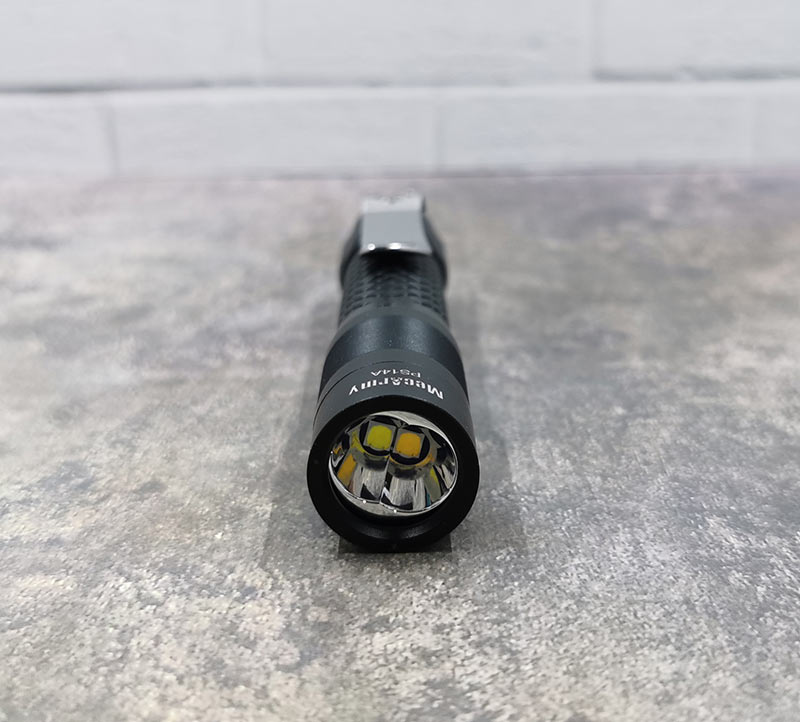 The most interesting feature about this flashlight is that it has two different LEDs that provide light in two different color temps 4000K and 6500K). You can switch to either LED or use them both.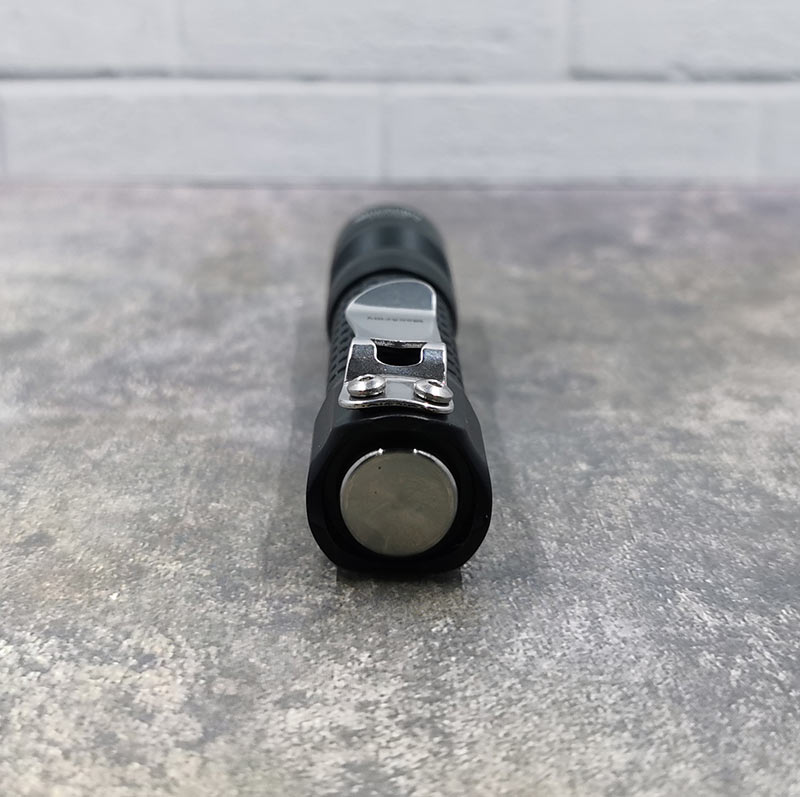 The PS14 has a nice clicky tail cap that provides a satisfying click when you activate it. But the cool thing is that you can also lightly press the tail cap it to activate the light.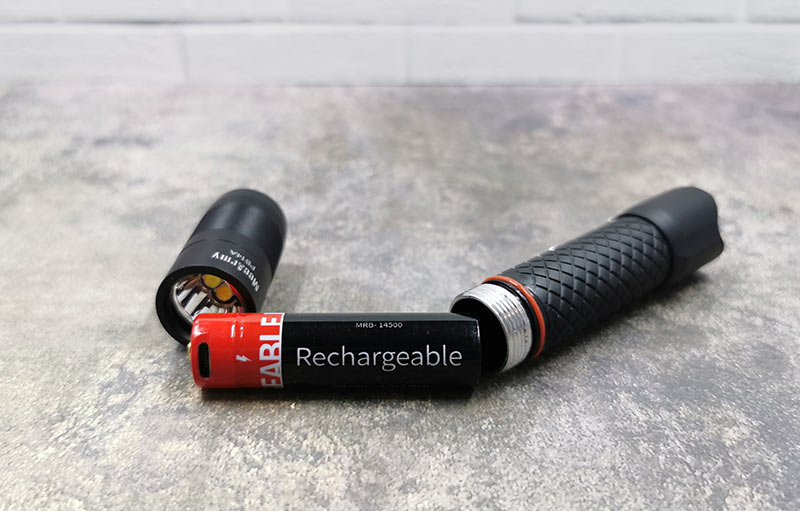 The head of the flashlight unscrews to provide access to the rechargeable battery that you have to remove in order to charge it.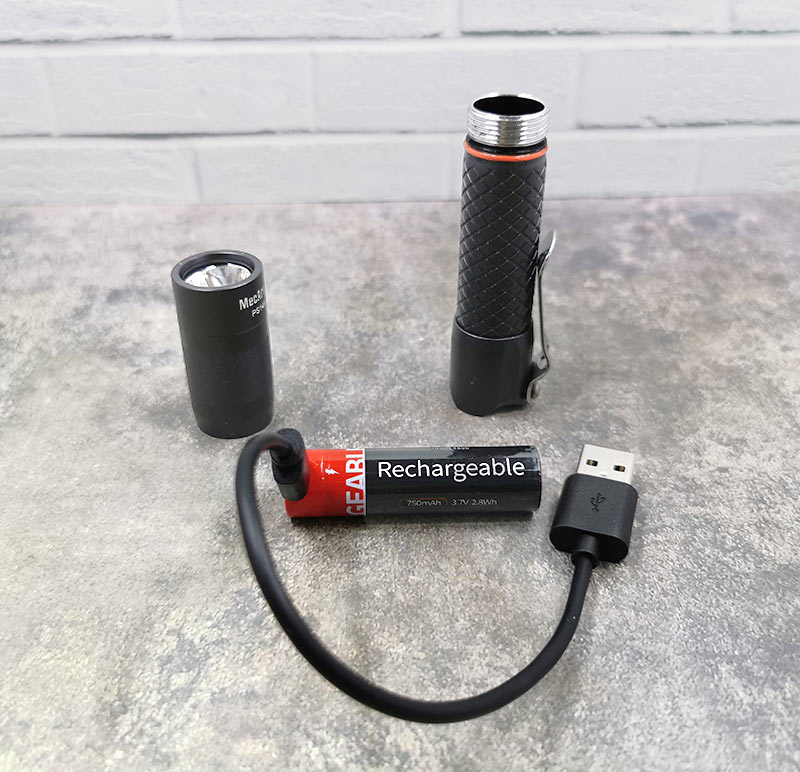 The AA sized battery charges via the micro USB connector that is built directly into the battery.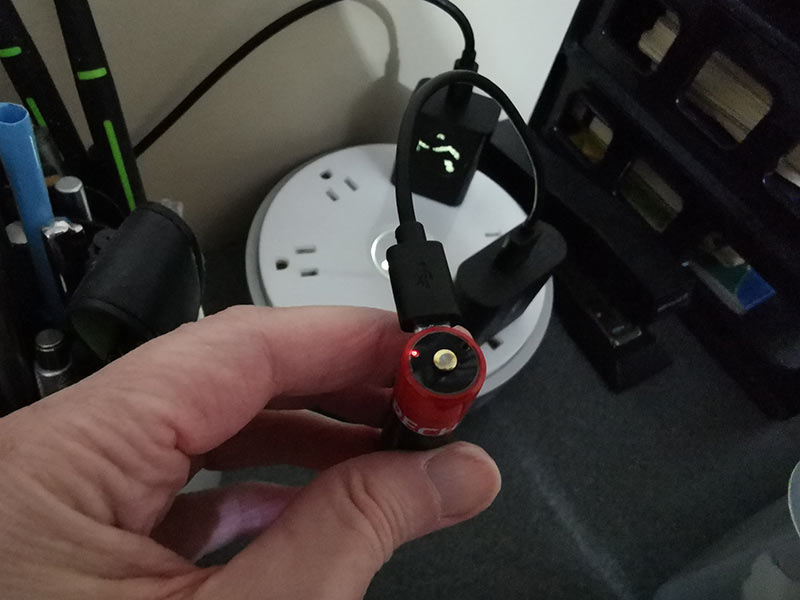 When the battery is charging, a small LED on the top of the battery lights up in red.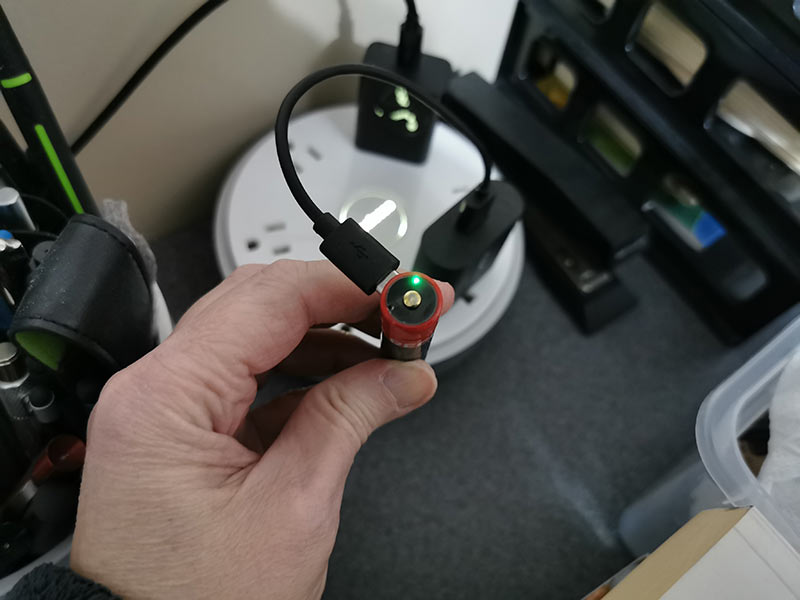 The battery is fully charged the LED glows green.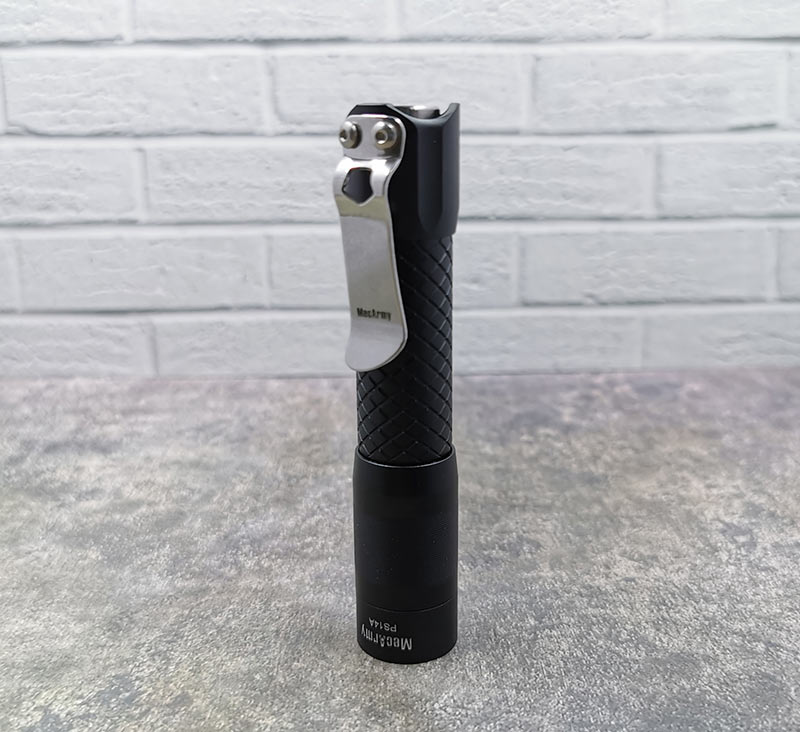 Using the flashlight is a little tricky because there's a combination of the tail cap and loosening and tightening the head of the flashlight to change some of the settings.
If you just use the tail cap, fully depressing or slightly pressing the button will let you cycle through Low, Medium, and High settings. Here's a table that shows the lumens for each setting and for each color temperature.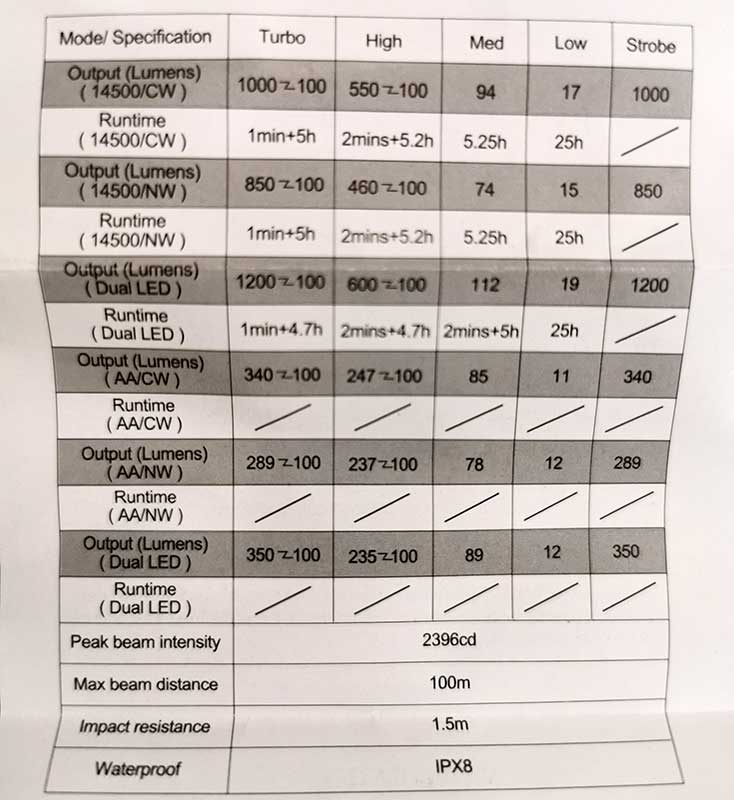 The maximum lumens of this flashlight is 1200 lumens, which is turbo mode. But to get it into that mode, you have to remember to slightly loosen the head of the flashlight while it's off. Then when you turn it on, it will be in turbo mode and you can't change the brightness setting again until you tighten the head. For me personally, I'm going to use the flashlight in this mode 99% of the time because I want the brightest light available.
Note: If you leave the flashlight on a setting for at least 3 seconds, it will remember that setting and that will be the brightness level that it will default to when you turn it on again.
As mentioned, the most unusual feature of the MecArmy PS14 is the dual LEDs. There's a cool white 4000K temperature LED and a neutral white LED that has a 6500K color temperature. You can also use both LEDs at the same time.
Switching between the color temps requires that you loosen and retighten the flashlight head while the light is on to cycle through the color temps.
The images above show the flashlight shining in each color temp. It's not easy (at least for me) to see the difference between the cool white and dual setting, but the neutral white 4000K setting looks more yellow to my eyes when I'm using the light in real life (not the pics above).
What I like
Comfortable size
Rechargeable
2 color temps
Bright
What I'd change
Final thoughts
This is my second MecArmy flashlight review and I have to say that I'm swiftly becoming a fan of this company and their flashlights. In all honesty, this flashlight's dual-color temp LED feature didn't excite me, but I found the PS14 Dual Color Temperature LED flashlight to be well made, pocket-friendly, easy to activate/use, and the fact that it comes with a rechargeable battery is just icing on the cake. Add in the fact that it's affordable, and you have an EDC flashlight that is a great value for your money.
Price: $89.90
Where to buy: MecArmy and Amazon
Source: The sample for this review was provided by MecArmy.