We use affiliate links. If you buy something through the links on this page, we may earn a commission at no cost to you. Learn more.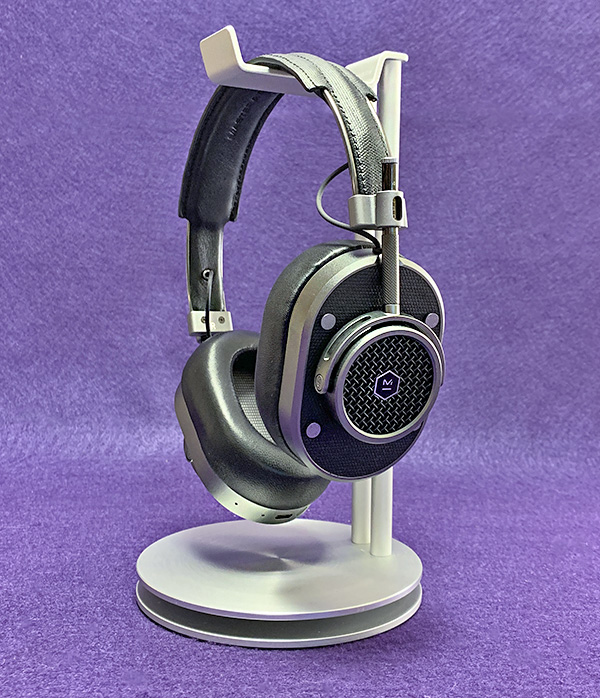 REVIEW – I have reviewed many of Master & Dynamic's headphones beginning with their first in early 2015—the iconic MH40. These headphones looked like no other then—or now for that matter. The MH40 headphones have a retro design reminiscent of the 1940s with modern touches added. In my review of the MH40 phones, I wrote, "As classic and timeless as the MH40 headphones look, they can only be truly appreciated after holding and hearing them. They are that special." M&D is now celebrating five years of producing headphones and earphones by introducing the MH40 wireless over-ear headphones. How identical is this cordless version to the original and does it sound as good? 
What is it?
The Master & Dynamic MH40 wireless headphones are an updated wireless version of M&D's first headphone—the original MH40. 
Specs
Dimensions: 8.07 in. x 7.9 in. x 2.8 in.
Drivers: 40mm Neodymium
Weight: 9.73 oz.
Materials: Coated Canvas, Anodized Aluminum, Lambskin Leather
Bluetooth: 5.0 (AptX and SBC)
Cables: USB-C to 3.5mm; USB-C to USB-A for charging
Microphone type: Beam-forming
Ear pads: Lambskin-wrapped memory foam
Charging: 100% in 80 minutes, 50% in 30 minutes

What's in the box
Headphones
USB-C to USB-A Charging Cable
USB-C to 3.5mm Audio Cable
Canvas Carrying Pouch

Design and features
There's no escaping it: Ever since Apple ditched the headphone jack from its iPhones, wireless has become the future of headphones and earphones. Almost every headphone maker is either releasing new, wireless models or revamping wireless versions of existing headphones—like Master & Dynamic's MH40.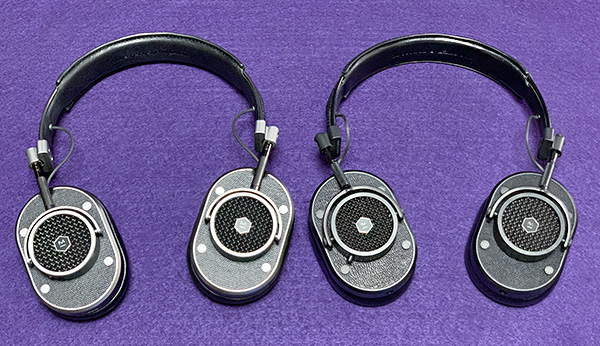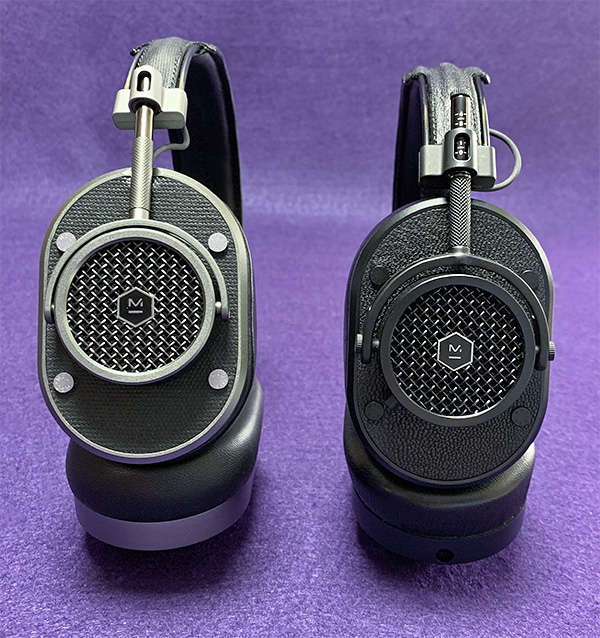 The first thing noticeable about the MH40 wireless headphones is how much lighter they are than the original wired version— almost 3.5 ounces. And yes, you can tell the difference. However, weight reduction does not mean a reduction in quality.
The MH40 is one of the best-designed headphones available at any price. That is saying something because this design is unchanged after five years, yet still timeless. They are that pretty. A mesh centerpiece on the outside of the ear cup might make you think they are open-backed headphones. Unfortunately, they are not—the only complaint I have about the design.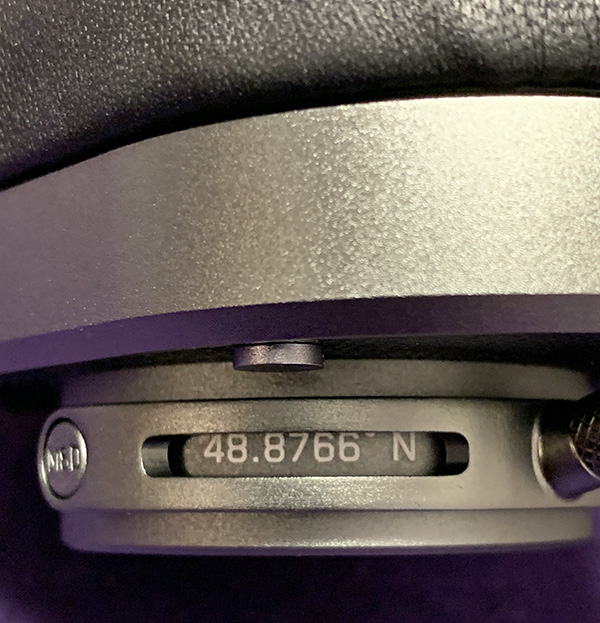 Geographic coordinates are etched on the inside and outside of the ear cups. This is Master & Dynamic's way of celebrating their New York heritage as well as 10 different cultural spots around the world. The coordinates etched on my headphones are for the Louis Vuitton Foundation art museum in Paris, France.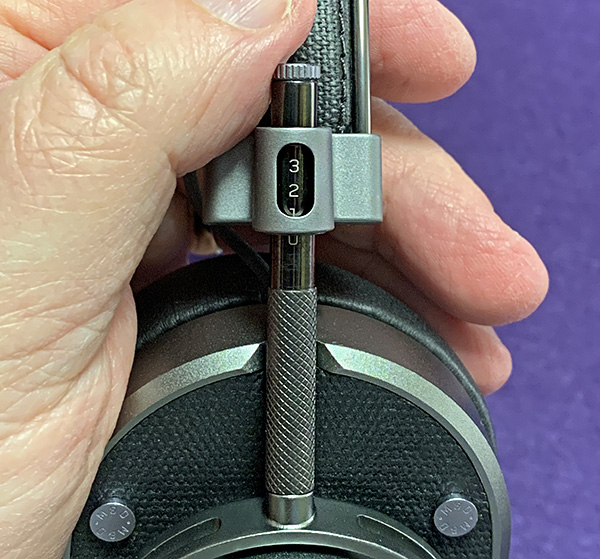 Master & Dynamic's headphones are plastic-free. It's all leather, aluminum and coated canvas construction, so they are as tough as they are beautiful. There are three color combinations available: Black/black, dark gunmetal/gunmetal and silver/brown. I received the Gunmetal to review, but I much prefer the look of the silver/brown colorway MH40.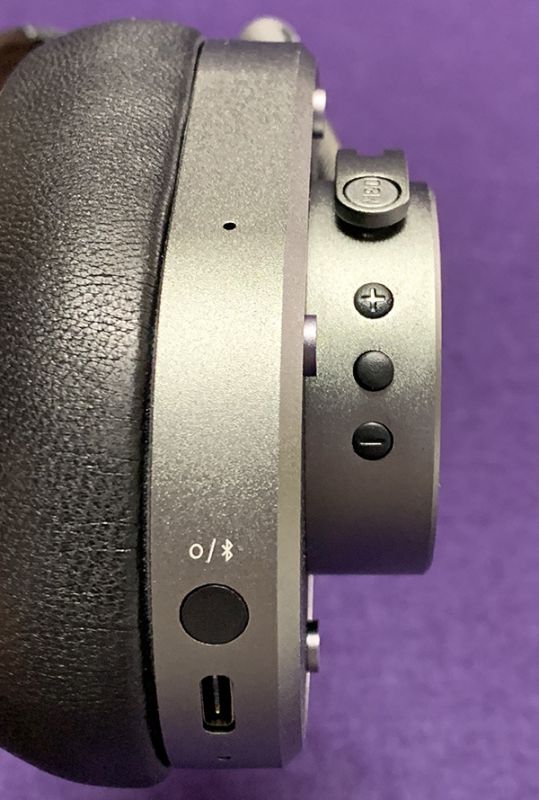 The look of the wireless MH40s is almost identical to the original with the exception of a few added buttons: Volume up; a center multifunction button (Play/pause, answer/end calls, skip forward and back, and voice assistant), volume down, and an on/off/Bluetooth pairing button. That's a few buttons doing a lot and it requires a bit of a learning curve to use.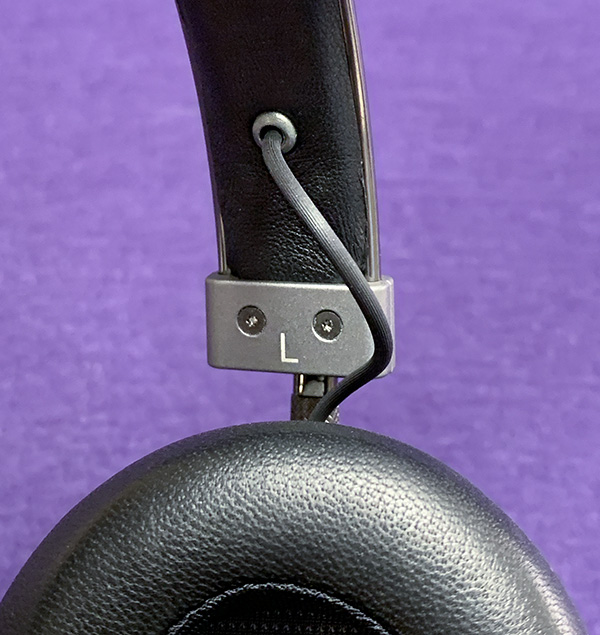 Even the canvas bag is almost identical. It's on the large side because the wireless MH40s do not fold as some portable headphones do. The bag is good protection from dust and light splashing but that's about it. The bag won't protect against dropping or stepping on.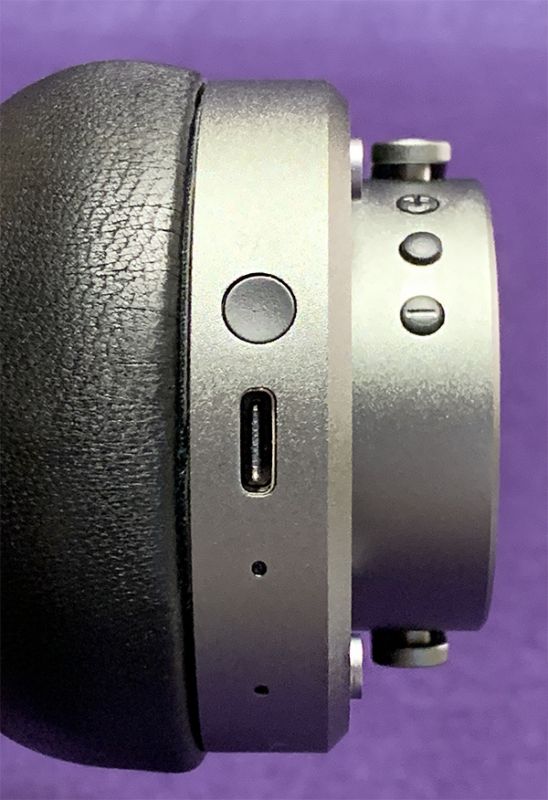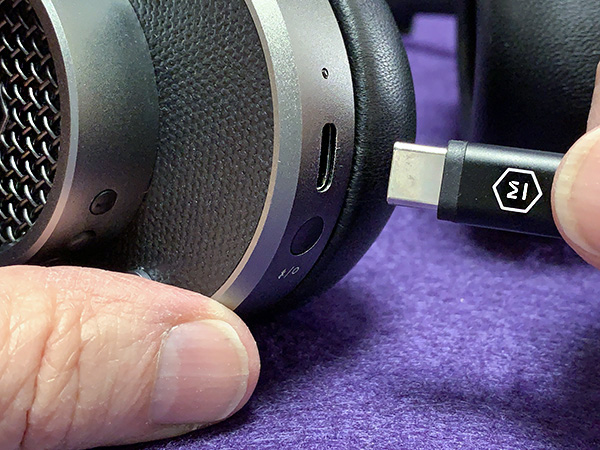 Charging is via the faster USB-C rather than the slower micro USB. USB-C is becoming a more common charging method—always a good thing. There is a charging/pairing indicator light next to the charging port that blinks when pairing and shines green/yellow/red to indicate battery charge. Pairing was easy and fast with no issues. Bluetooth range is a decent 100 ft. In an office setting, walls and a maze of hallways can shorten the signal so YMMV.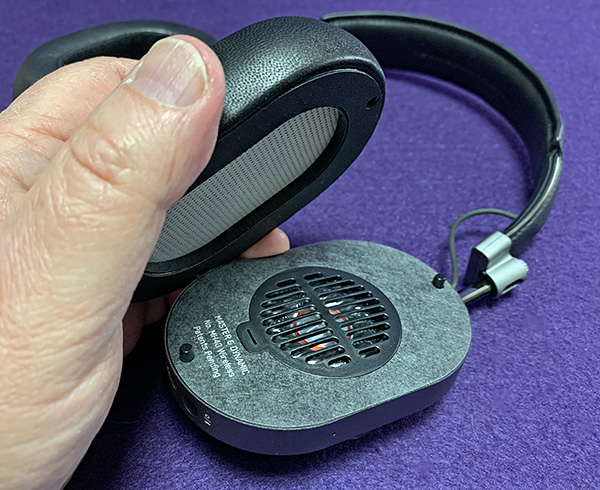 As with most other Bluetooth headphones, the wireless MH40s have a mic array for making phone calls. Unfortunately, also like most other headphones, the parties I talked with complained about my vocals sounding distant and tunnel-like, even though I could hear them just fine. For now, I will stick to my Apple AirPods for making calls.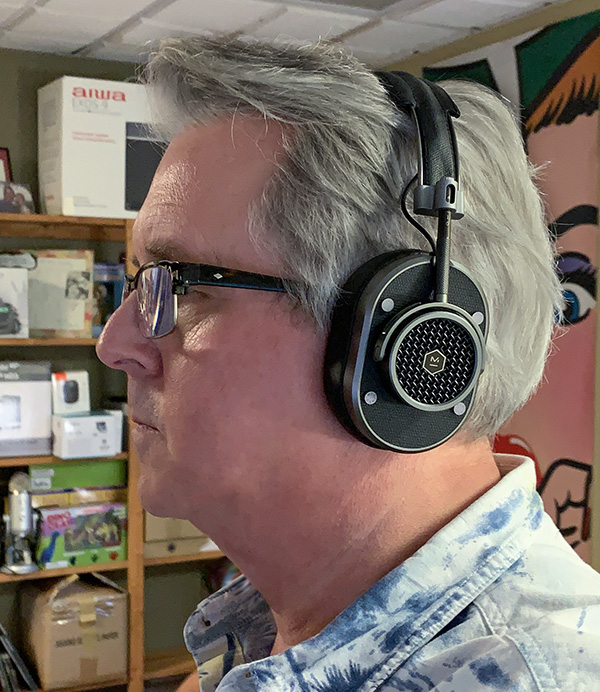 Comfort has been improved over the original MH40 headphones in two ways: They are lighter, so they can be worn for hours with no discomfort. Plus, since they are wireless, there's more freedom to move around not tethered to a smartphone or computer. As I've worn them around the office, I can just slip them around my neck if I need to walk to the printer or break room. The ear pads are magnetic and removable for easy replacement if necessary.
The neodymium speaker drivers have been reduced from 45mm to 40mm. This has not lowered the audio quality, but the wireless MH40 headphones do exhibit a slightly weaker higher frequency. The original MH40s sound a bit brighter.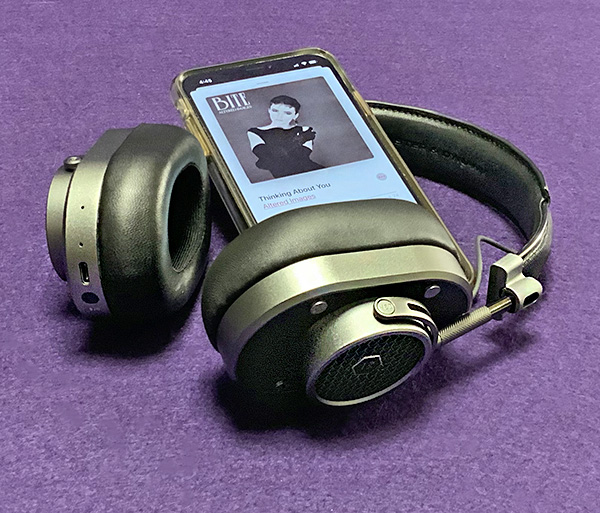 Also, the wireless MH40 headphones sound better when wired using the included USB-C to mini plug audio cable. There is more audio detail when wired—but that's true of every other headphone available today. Bluetooth vs wired audio quality is getting closer every year. Audio quality is quite good—for Bluetooth headphones.
I've been listening to the 2019 remixed version of the classic album, "Space Oddity" by David Bowie. It would be an understatement to say that the audio difference between this recording and the 1969 original is night and day. The improvement from producer Tony Visconti's remixing is breathtaking and the MH40 wireless headphones are able to exhibit all the newly enhanced detail that's been missing from the original. 
The extended mix of Australian group Icehouse's song, "Uniform" has a kick-butt drum line that can sound distorted on lesser headphones. The MH40 wireless headphones show none of this even when cranked to painful volume levels—which I don't recommend.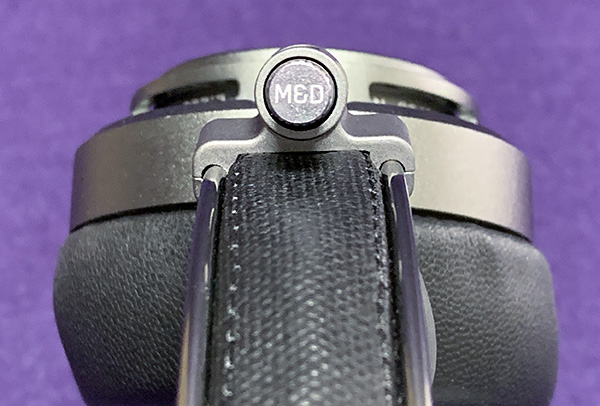 If you own the original MH40 headphones and are not bothered by having to be wired, there's no need to go wireless with these. However, if you listen to music from a source with no headphone jack and wish to upgrade, give the Master & Dynamic MH40 wireless headphone a chance. It will exhibit a familiar sound signature to owners of the original.
What I like
Comfortable
Lighter
Sound as good as the original MH40
What I'd change
They look open-backed but aren't
Expensive

Final Thoughts
Master & Dynamic's MH40 wireless headphones are more comfortable, made just as well and sound as good as the original—but heavier—wired MH40s. Here's the kicker, even though they are not cheap, the wireless MH40s are $100 less expensive than what the originals cost 5 years ago. Now, that's progress!
Price: $299 US
Where to buy: Amazon
Source: The sample of this product was provided by Master & Dynamic.