We use affiliate links. If you buy something through the links on this page, we may earn a commission at no cost to you. Learn more.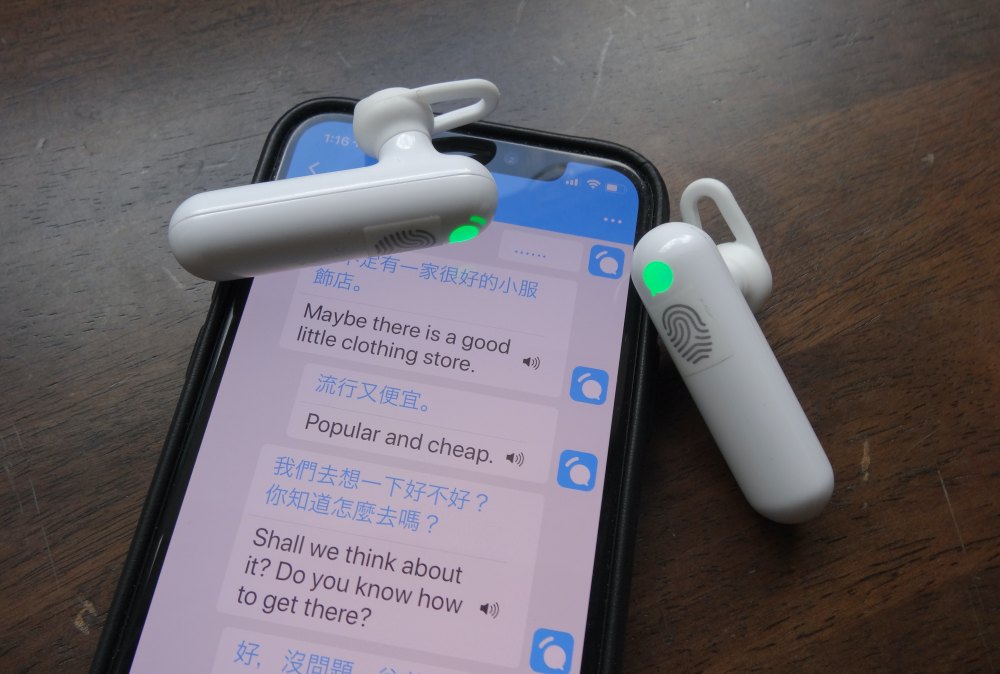 REVIEW – The internet, and more specifically Apps with internet access have done wonders for removing both cultural and language barriers, however face to face conversations continue to primarily rely on learning that specific additional language. There's options like Google Translate and others, which can help, but may not seamless fit into the scenario. Timekettle has introduced a solution which lets you talk and listen naturally with translations all being handled by their new WT2 Plus.
What is it?
WT2 Plus is an AI translator that consists of a pair of mono earbuds delivering near real-time, bi-directional audio while an App serves up visual translation; both supporting around 40 different languages and 88 accents.
What's in the box?

AI translator earbuds
Charging/Storage case
4 ear gels (+2 installed on earbuds)
2 ear hooks
Charging cable
User manual
Hardware specs
Bluetooth: BLE 5.0 up to 10m
Noise Cancellation: Beam forming
Earbud Power: 1.5 hour charge, 5 hours runtime per earbud
Case Power: 1.5 hour to charge internal batteries, 1 full charge (pair of earbuds), Micro-USB port
Design and features
WT2 employs what Timekettle calls 1+2 Technology in that it uses 1 App + 2 earbuds.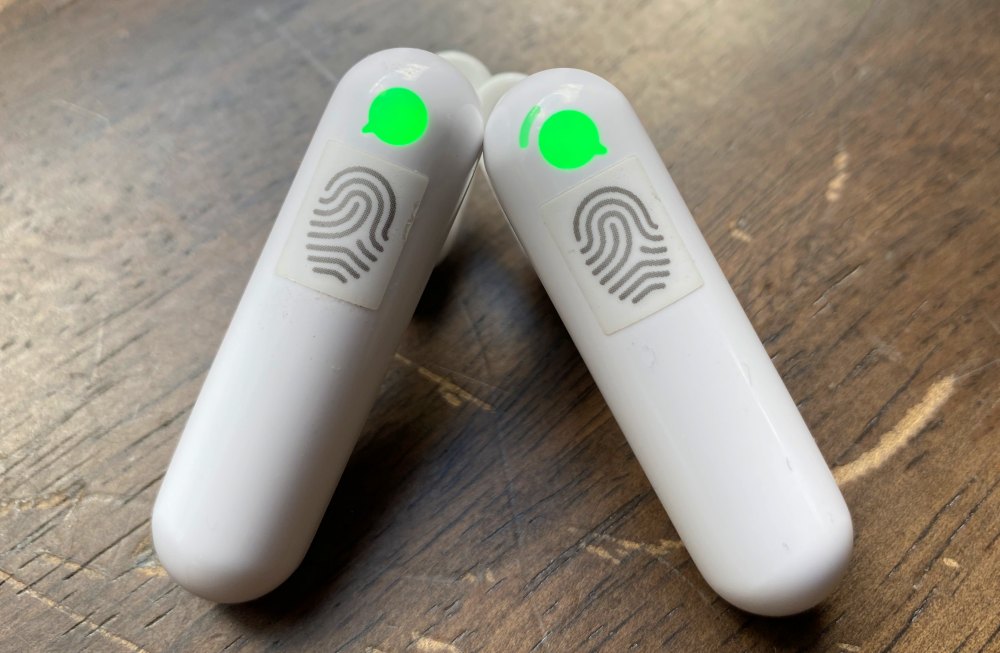 Other translators, require passing a device back and forth or that all parties download an app to get set up first. WT2 lets you setup once and then multiple translation methods are available as needed. The App/earbud combo supports the following modes…
Touch Mode requires that you touch and hold the side of the earbud while talking.
Simul Mode

works without touching and is best in quieter environments and one to one conversations.

Speaker Mode

will translate your speech to the speaker on your phone and allow someone to respond through the phone interface.
The case does triple duty as storage for the earbuds…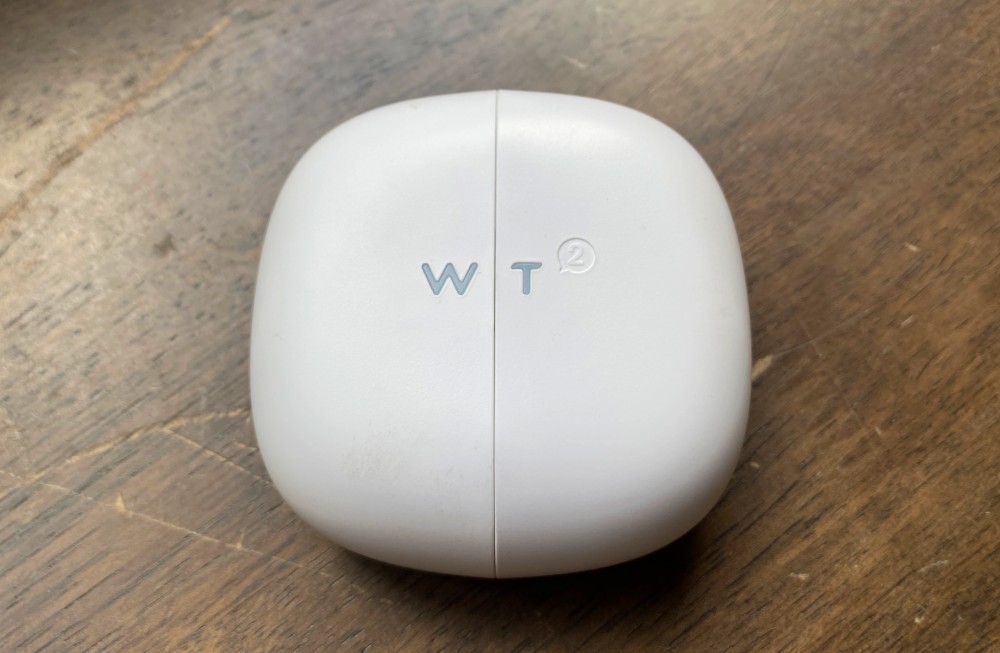 A charger with its own internal batteries and micro port for charging…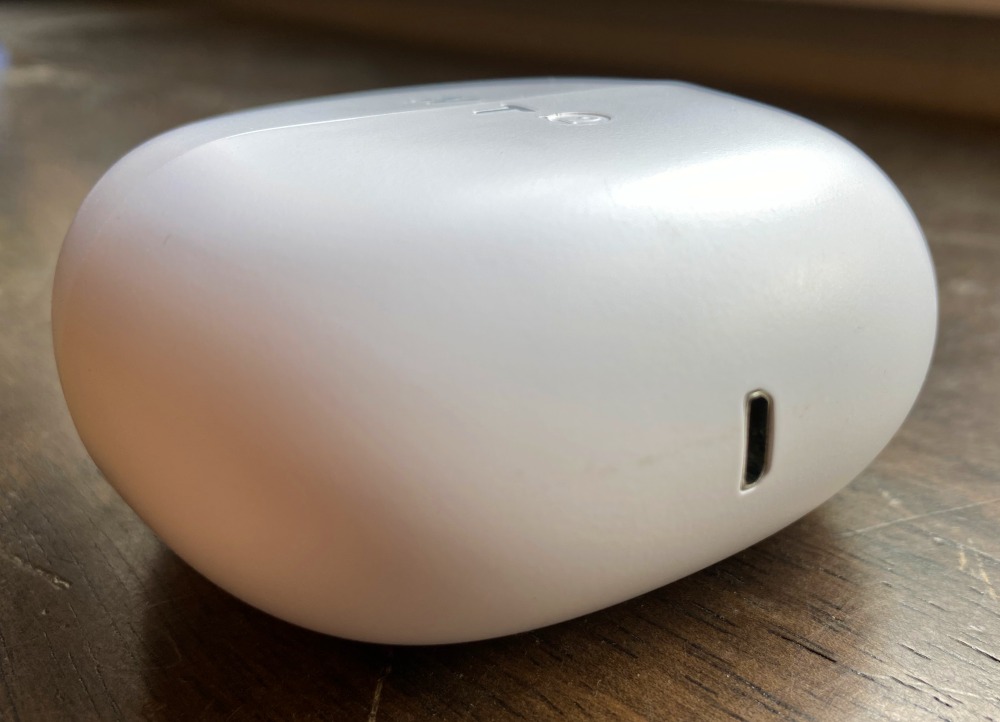 and presentation/intro mode (with the magnets holding the case open).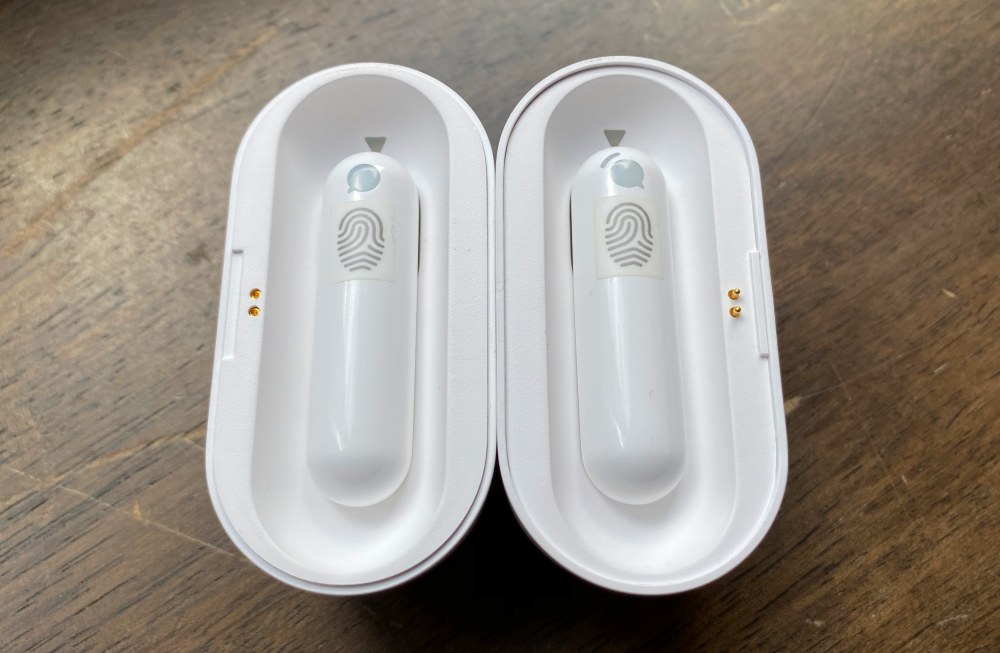 The WT logo on the front doubles as a battery level indicator. As you insert earbuds into the case, the W and the T will flash to let you know the charge level of each.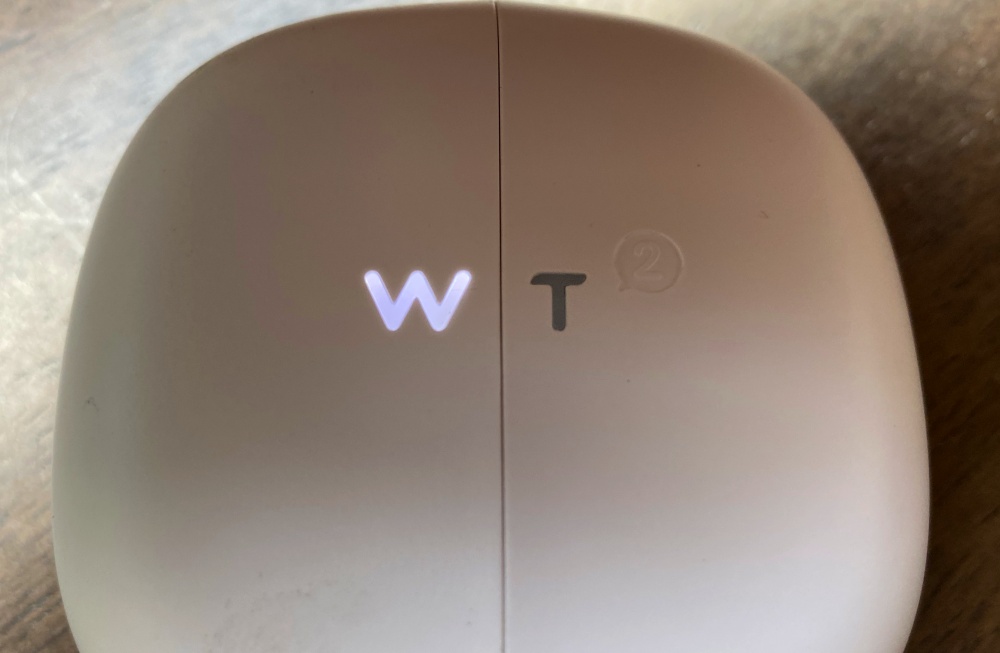 Each flash is a 1/4 charge, so 4 rapid flashes is fully charged.
Setup
Let's get setup. On opening the box you'll find each earbud nestled into its own half of the case. Lift the two halves out and enjoy the magnetic attraction that snaps and holds them together. Very fidgety cool. Close them together fully with a push and connect the cable to charge them up fully. You'll need to bring your own wall adapter or charging port, but while they're charging, go ahead and download the WT2 Plus App from your iOS or Android App Store.
When you're ready to use the WT2, open the case and let the two halves magnetically connect to each other. Select the host earbud for yourself and remove it from the case.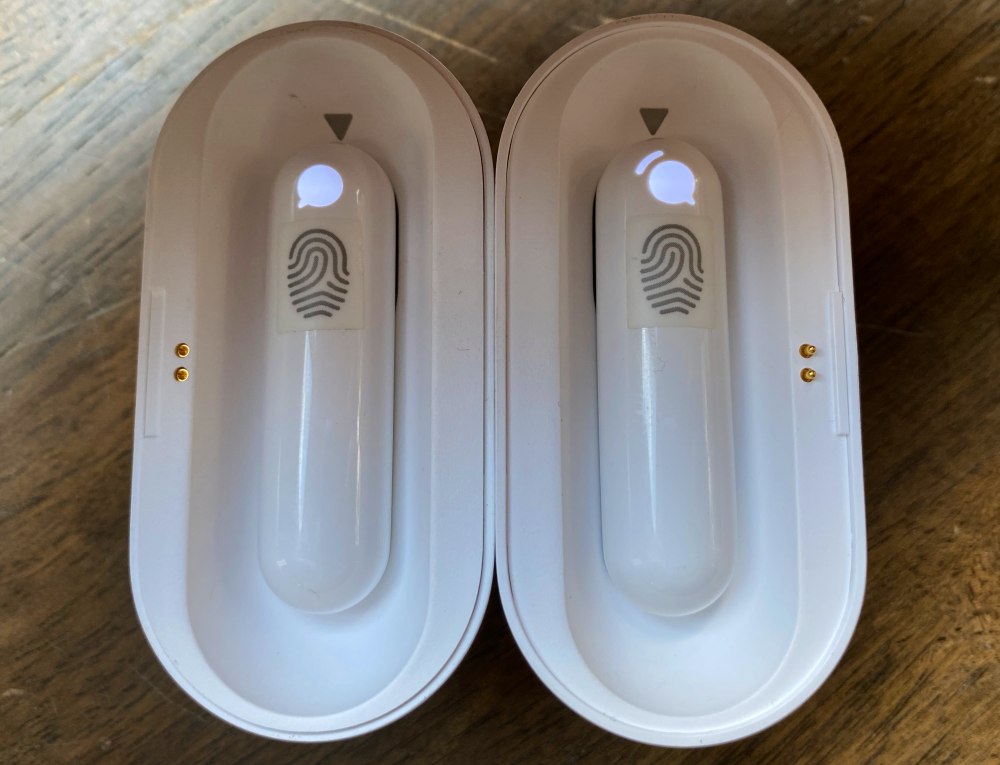 It's the one without the additional line near the glowing white light shown on the left above. Back in the App, click on the device tab in the bottom center and you'll see that earbud show up as WT2-01. In the screenshot below only the guest one is paired.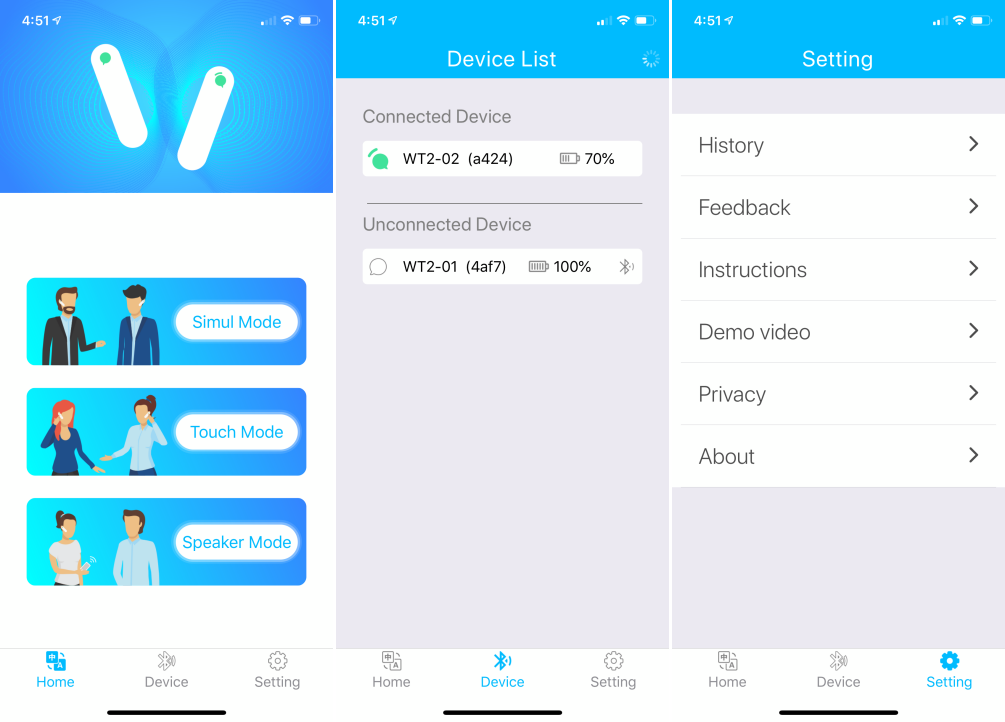 Select it to pair. Kinda nice that's all handled in the App without bouncing you out to the settings App. Repeat that process with the guest earbud and hand that to your foreign language conversation partner. Both earbuds will automatically re-pair any time they are removed from the case. White LEDS on the earbuds mean they're being charged from the case. Green means their paired to your phone and ready to use.
If the earbuds don't fit as securely as you were hoping, try rotating the ear gel (or earmuff as Timekettle calls them). I had to angle mine down towards the back to find some leverage. The earmuffs do not seal off the ear canal which makes locking it in place a little tougher.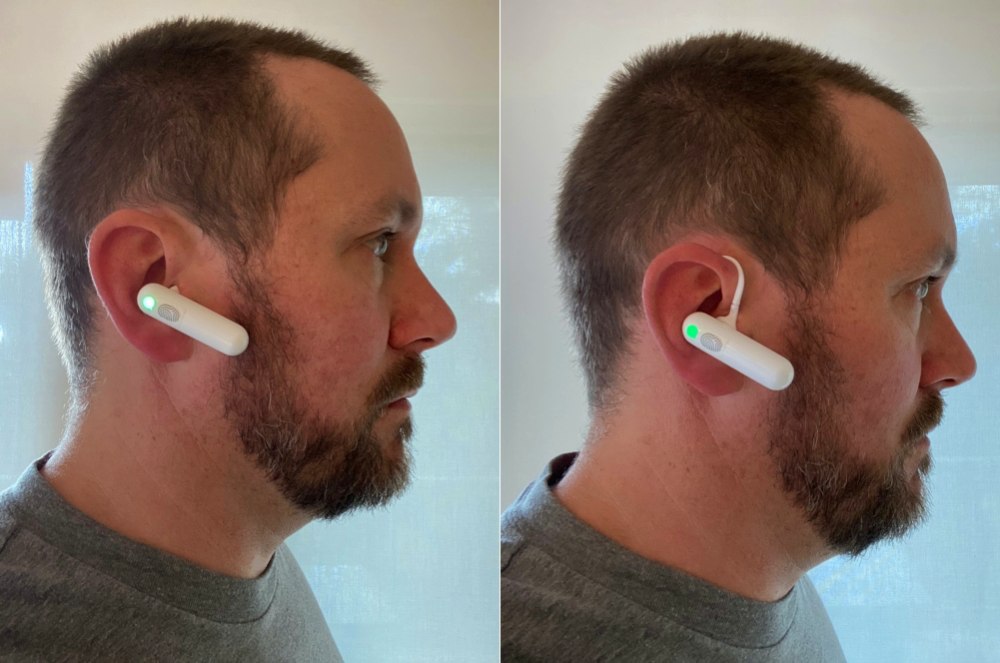 If they still don't stay put, you can use the included ear hooks to help with stabilization.
In the App, choose which of the three modes you suits your needs; Simul, Touch or Speaker Mode.
Timekettle suggests starting with the Touch Mode. I found the repeated hand-to-ear annoying and quickly moved to Simul Mode which handles bi-directional translation automatically. Speaker Mode is best for scenarios like asking someone for directions quickly, or talking to a group where your outbound speech being translated is the key part.
You'll want to experiment with each of the modes to see what works best for you or the specific scenario you'll be in.
Performance
I've wanted a product like the WT2 Plus since the late '90s when I started traveling to China to develop products. I do not speak Chinese, nor any second language (outside of requesting vegetarian food in a couple languages). Luckily I've always been paired with great English speakers. Typically that's been a Product manager or key point of contact that handles translating my questions and insights to a non-english speaking team and their corresponding answers.
If you've ever had to present to a group with someone handling translation, then you know that it's immensely helpful to speak at an even pace and pause frequently. That same approach works well with the WT2 Plus. There is a 1-3 second delay as audio is routed out to the internet and back, and so long sections without an obvious pause to send a snippet can result in a bigger delay. When you wear an earbud in conversation, the english translation is read by an even, smooth women's voice that is very easy to understand. Overall though it feels very fluid and quite freeing.
Similarly it's best to speak as clearly as possible avoiding thinking words like 'umm' and 'like', as well as technical terms that are unlikely to have easy translations. Slang is also best to avoid for similar reasons. It's not that it won't work, but it's more likely to cause some incorrect translations and add confusion.
Possibly the largest hurdle to overcome is asking the person you want to chat with to stick this earbud in their ear. Ears can be gross for one; probably why Timekettle has included so many additional earmuffs in the kit. And secondly it's an awkward icebreaker. It may help to use Speaker Mode first and then offer the earbud as they seem more interested.
Another hurdle is that the product does not support receiving a phone call which is disappointing. That doesn't mean it's not possible. I'm typically on video calls with factories a couple of nights a week and while my main contacts speak English well, they're typically corresponding with co-workers audibly to get the answers I need. I was able to lay the guest earbud in front of my speaker and get translations for that non-direct communication. For me that's super helpful because I'm able to quickly redirect when I can tell my question was misunderstood. That can be a massive time saver. I have not needed to try my outbound being translated in this scenario yet, and not sure the earbud would be loud enough if I held it up to a mic.
Obviously it would be amazing to have a desktop app to support this instead of my makeshift workaround, but hey, it all progress in my book.
For fun, I turned to cable TV and YouTube. I found some streaming shows in Spanish and Chinese and placed the guest earbud in front of my speaker. The WT2 Plus App is pretty useful in its own right, but it's in conjunction with the earbuds that the product really comes into its own as it's easier to follow along with the translations directly in your ear versus from a phone speaker where it adds to the commotion. The translations were accurate enough that I could follow the story line and also tell when the translation was wrong.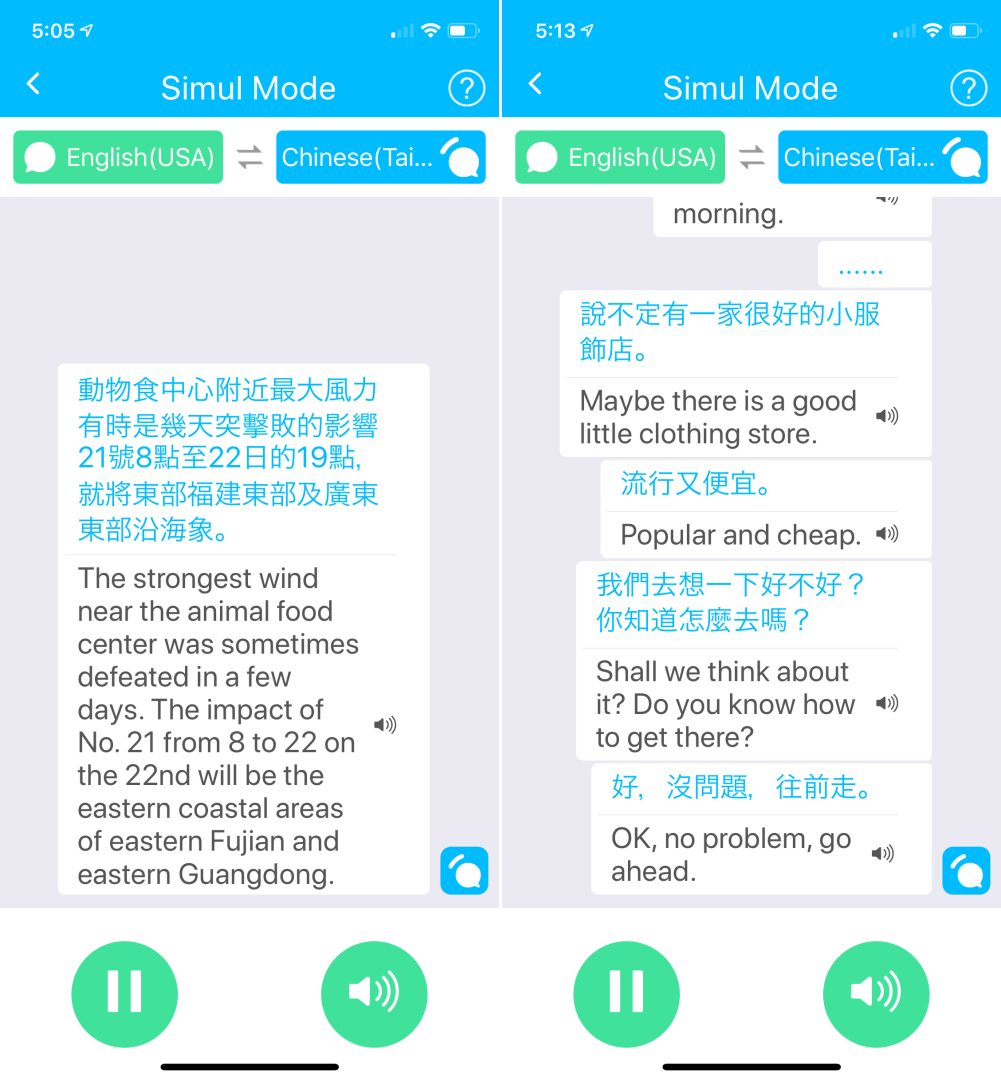 I'll go out on a limb here and theorize that the more complicated and nuanced the language the more likely you'll see some errors. The fact that the input and output languages show up as dialogue on your phone's screen is super helpful as you can follow along there as well to increase your comprehension or troubleshoot something you misheard.
As for charging, it's easy enough to put the earbuds in the case and connect the case to power, but it's a little tricker to know charge levels. There does not seem to be separate indicators for the case battery levels and the earbud battery levels. Once connected to the App, you can see a precise battery percentage on each earbud and that's the best way to know for sure. Any time the earbuds are in the case, the W or T will blink if they're being charged or not blinking if they're full. The case does not have a button, so there's no way to decide when to charge, or check levels other than removing and reinserting an earbud. With 5 hours of working time for each earbud this is unlikely to cause a problem in real world use, but you'll want to make a habit of routinely charging the case with the earbuds inside if you're using the WT2s with any regularity.
Recap of things you should know…
You must have a connection to the internet for the WT2 Plus to work. This means either a cellular plan or being on WiFi. Plan accordingly if you're roaming in a foreign country as that could get expensive.
The earbuds support translation only and cannot be used to take a call or listen to music.
When speaking, talking at a steady pace and pausing frequently helps a lot. The system listens, then translates, so the longer the speech, the longer it takes to start the translation. Avoid slang and technical terms where possible.
All the ear gels/earmuffs are the same size, so the extras are to make sure you have clean ones, not to adjust fit.
There's no button on the case. If the earbuds are inside, they are being charged until they're full or the case battery is depleted.
The case blinks the entire time the earbuds are charging and there's no way to disable. You'll want to flip it LED side down.
What I like
Near real-time translations in your ear with visual representation on the App
Great storage case with built in battery holds almost everything you need
App is easy to use and keeps a log of translated conversations
What I'd change
Add a storage pouch for earmuffs, ear hooks and charging cable
Add a button to check charge level of case/earbuds
Big future request here – Enable inbound translation on phone calls and video chats on desktop pc/mac
Final thoughts
It's pretty amazing how well these work and how much potential there is to change how we communicate with others. For in person conversations these could mean the difference between sitting there silently and having an engaging discussion. The hardest part in using them is asking the person you're with to try. The bigger the language gap there is, the easier that may be. I have a feeling I'll be using these a lot in the upcoming months.
Price: $239.99
Where to buy: Timekettle and Amazon
Source: The sample of this product was provided by Timekettle