We use affiliate links. If you buy something through the links on this page, we may earn a commission at no cost to you. Learn more.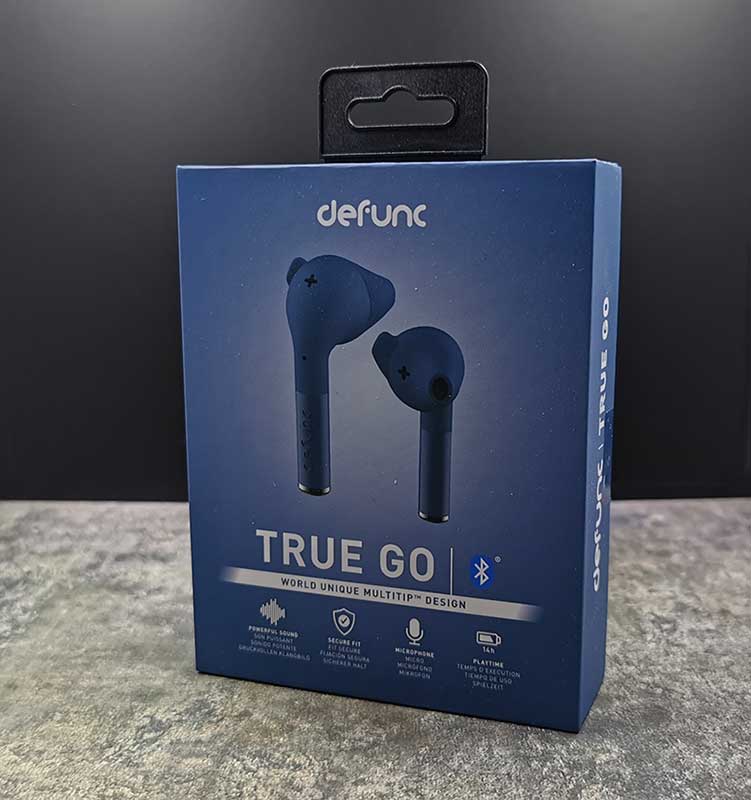 REVIEW – Yeah yeah, I know I said I was done reviewing TWS earbuds, but darn it if I didn't get offered yet another pair that looked interesting to me. It's the defunc TRUE GO earbud shape that intrigues me, so let's check them out.
What is it?
The TRUE GO earbuds from defunc are TWS earbuds. TWS stands for Truly Wireless Stereo.
Hardware specs
Bluetooth 5.0
Touch controls
USB-C charging case
~14hr total playtime
What's in the box?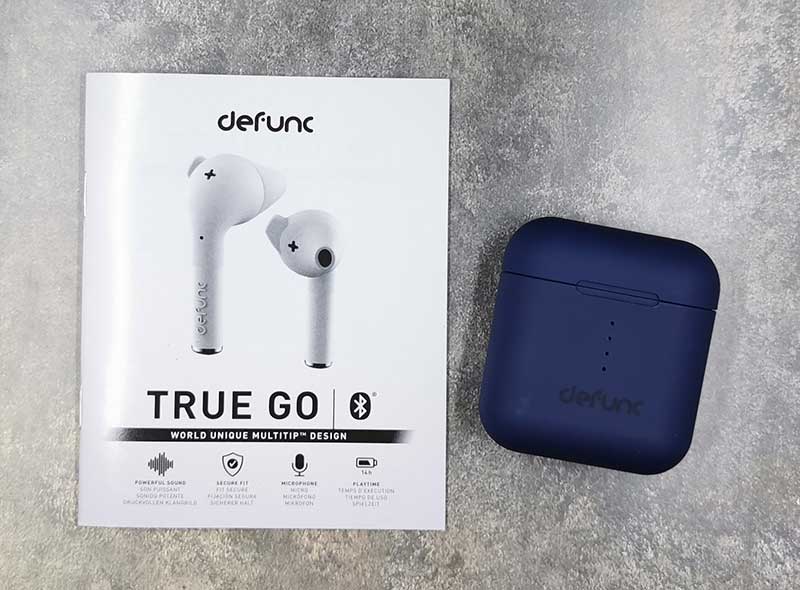 defunc TRUE GO TWS earbuds
Charging case
USB-C cable
User guide
Design and features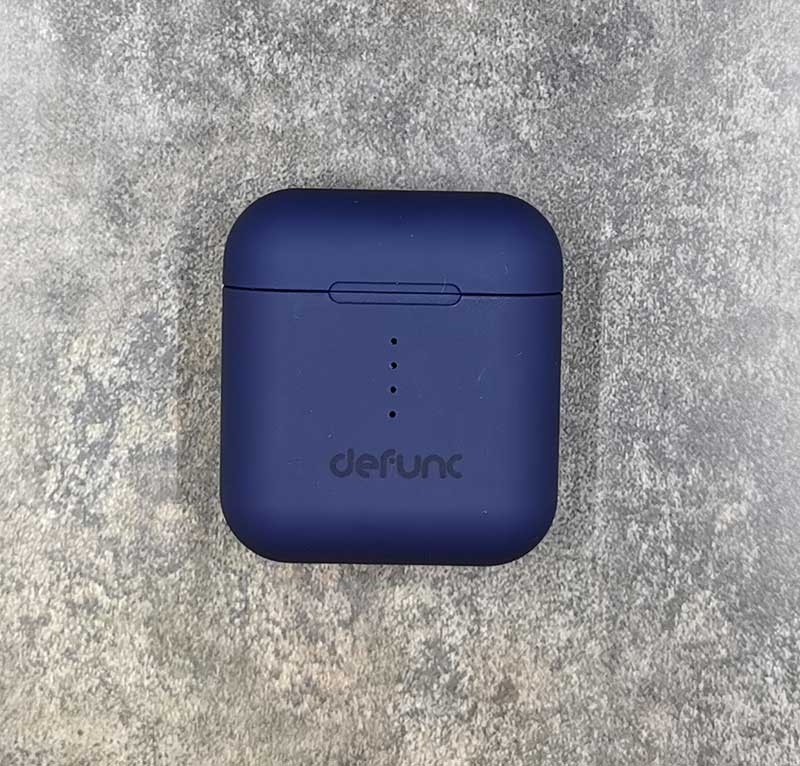 Like all of the other TWS earbuds that I've reviewed in the last year or so, the defunc TRUE GO earbuds come in a storage case that doubles as a charger. The case has 4 LEDs on the front to give you an idea of how much battery life is left.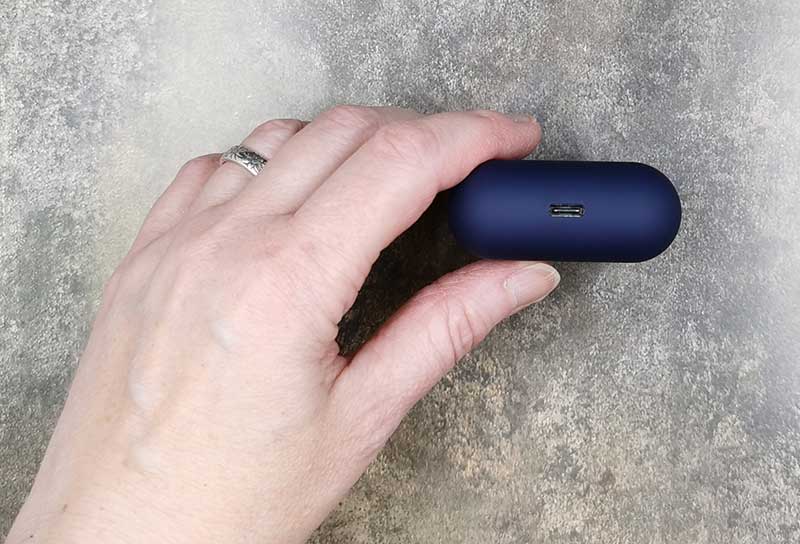 These earbuds charge with a USB-C cable. Yay!
Never miss one of our posts again. Sent MON, WED, and FRI with the latest gadget reviews and news!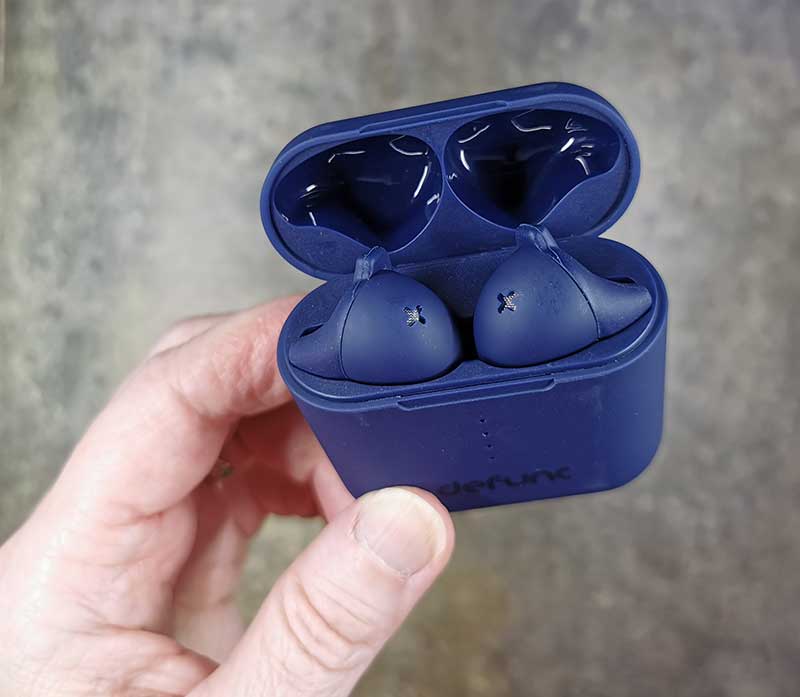 The storage case flips open to reveal the TRUE GO earbuds. I was sent the blue version of the earbuds which are also available in black, red, and white.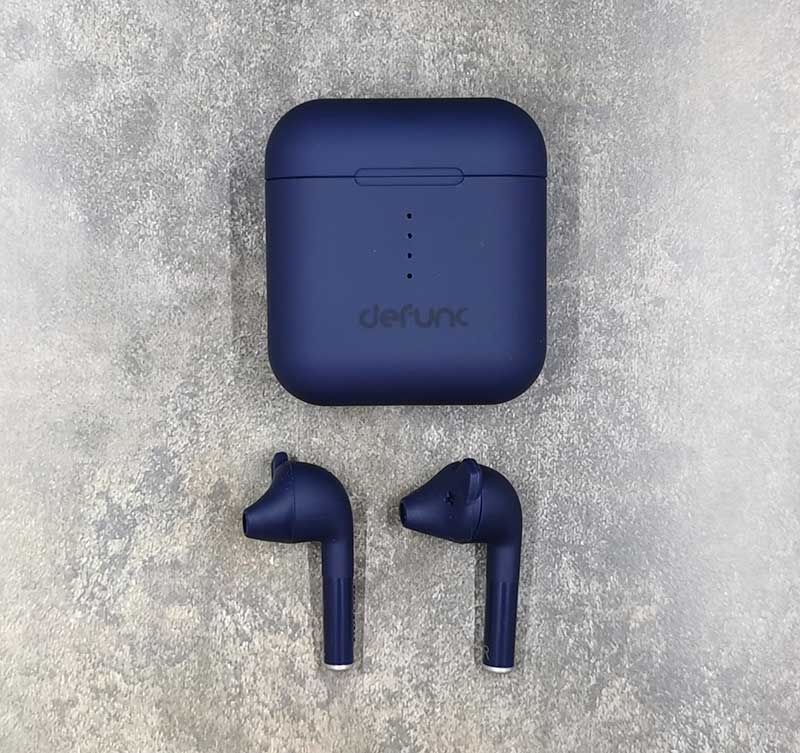 The earbuds have an Apple Airpods style to them with the hanging stems or whatever you're supposed to call them.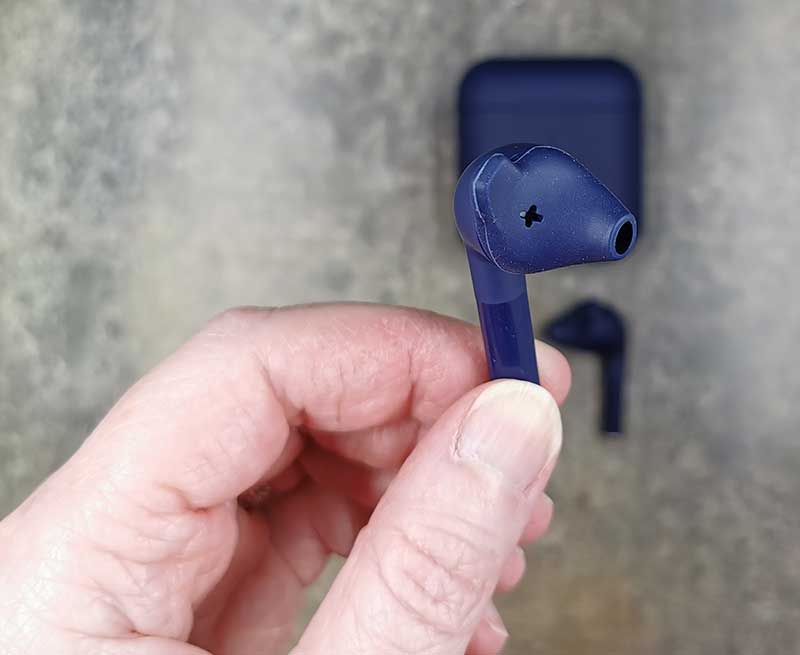 defunc calls their ear tips multitips. Not sure why, because they aren't multi-featured. They are cone shaped with a bud heel (the little tab that is sticking up) and are designed for a secure fit.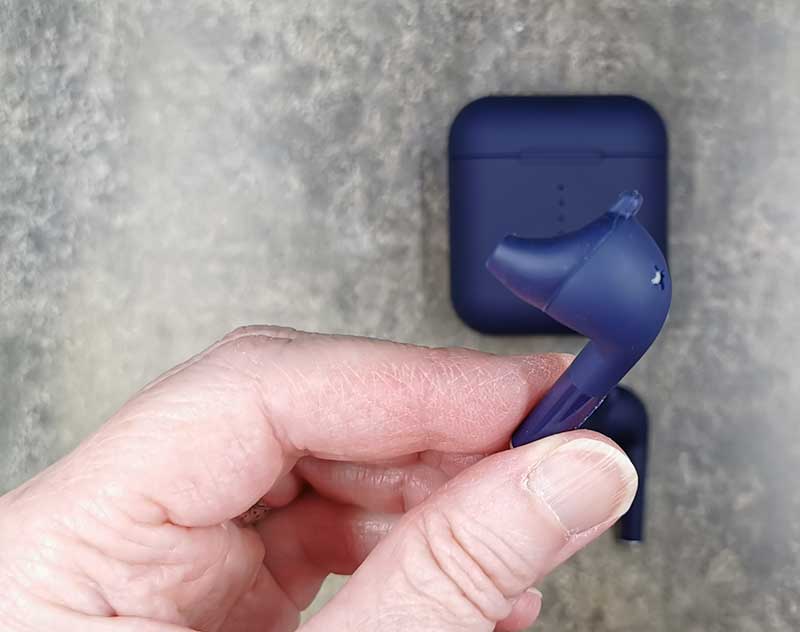 The problem is that you only get the one set of tips, so if they don't fit in your ears, you're out of luck.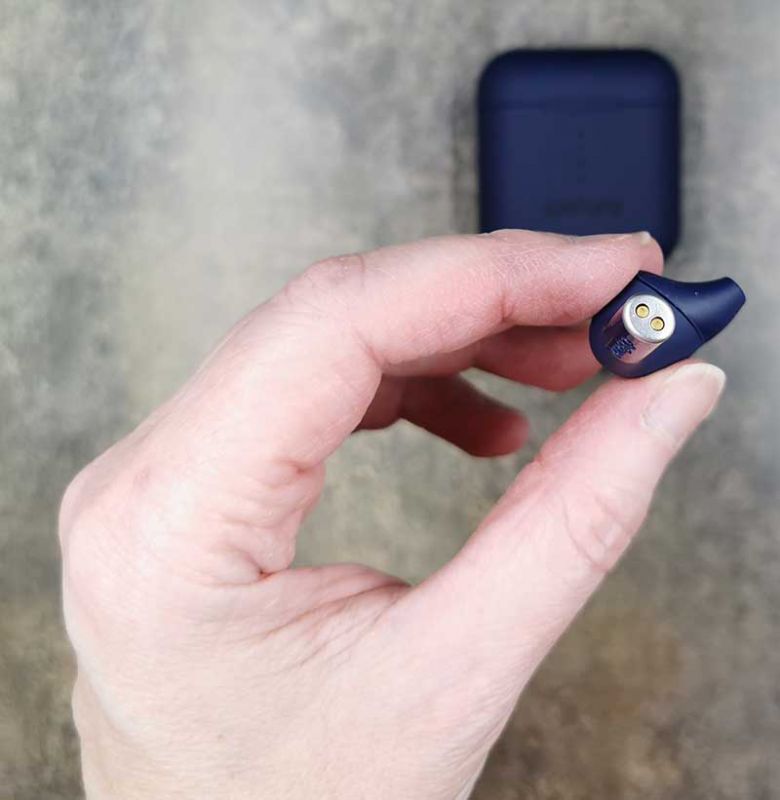 The bottom of the stems has the electrical contacts that charge the TRUE GO earbuds while they are in the charging case.
The TRUE GO earbuds have touch controls instead of a physical button to answer/end calls or play/pause media. You'll need to remember different tap commands for each earbud because some taps only work on a specific earbud.
Answer/hang up – Tap any earbud once
Reject call – Press any earbud for 3 sec
Music play/pause – Tap any earbud once
Next track – Double tap the right earbud
Previous track – Double tap the left earbud
Activate voice assistant – Tap any earbud 3 times
The only function that's missing is a volume adjustment. That has to be done through the paired device.
Speaking of volume, when you pull the earbuds out of their charging case and put them in your ears, you'll hear symphonic type sound like violins playing and then a woman's voice that says Device Paired. Let me just say that the music and the voice are way too LOUD.
Fit and comfort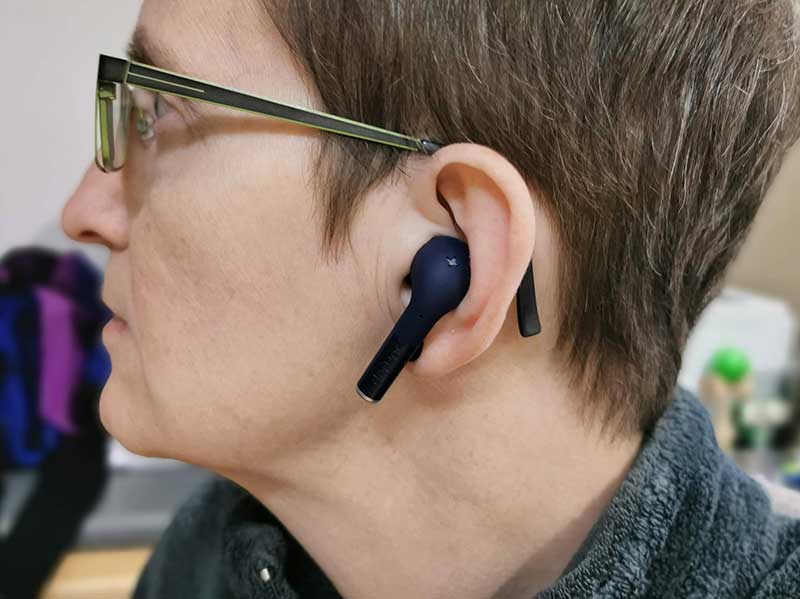 First of all, the TRUE GO earbuds are super lightweight which to me makes them feel pretty cheap, but they should also feel great in your ears right? Ok, no. They didn't fit my ears at all and kept feeling like they were going to fall out. They also weren't able to seal out any surrounding noise because the fit was so bad in my ears.
I can't say that the defunc TRUE GO earbuds will fit your ears better or worse than mine because everyone has differently shaped ears, but just let me say that for me the fit was so bad that I thought I had them in the wrong ears at first!
Sound quality for music, video, and calls
I tested these earbuds while they were paired to my Huawei P30 Pro and a Dell laptop. I listened to music streamed by Spotify and Amazon Music and watched video using Netflix, Hulu, and YouTube apps.
Music sounds good through these earbuds but unfortunately, I noticed a video/audio sync lag when watching streaming services like Youtube and Netflix. The lag is usually very mild, but once or twice while watching Netflix, the audio cut completely out and when it came back, the lag was at least a second. Not good.
As for calls, they sound fine on the earbud side, but I was told that I sounded muffled on the other side of calls.
What I like
Touch controls
Great sound
Can be used individually
What I'd change
The battery life needs to be improved. 3-4hrs is too short.
Better universal fit
Fix video/audio lag problem
Voice prompts are too freaking loud!
Final thoughts
Although music sounds good through the defunc TRUE GO earbuds, the problem with the fit and video/audio sync issues, make these earbuds a NO GO for me. Sorry defunc, I can't recommend them.
Price: $49.00
Where to buy: Amazon
Source: The sample for this review was provided by defunc.