We use affiliate links. If you buy something through the links on this page, we may earn a commission at no cost to you. Learn more.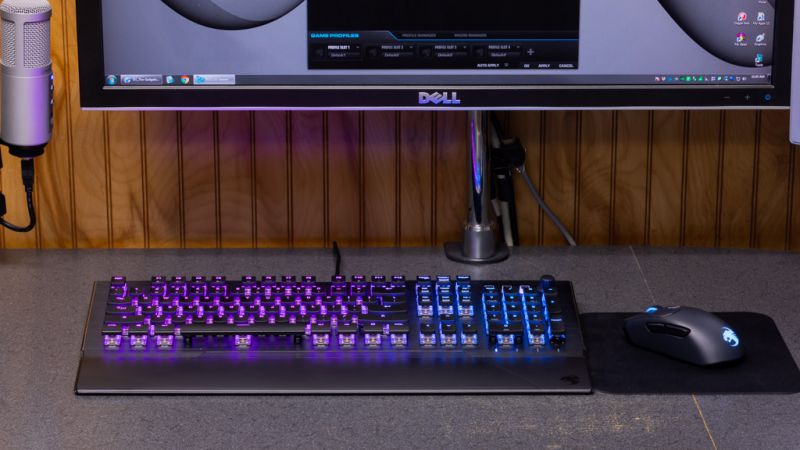 REVIEW – I'm always looking for a better keyboard and mouse. When the ROCCAT Vulcan 122 AIMO keyboard and Kain 200 AIMO mouse review opportunity came along, I thought I would see what they had to offer.
What is it?
The ROCCAT Vulcan 122 AIMO keyboard and ROCCAT Kain 200 AIMO mouse are two of ROCCAT's newest technologies for the gaming community.
What's in the box?
Keyboard
ROCCAT Vulcan 122 AIMO keyboard
Mouse
ROCCAT Kain 200 AIMO Mouse
Charging Cable
Micro-USB to USB-A block
Wireless transmitter
Hardware specs
Keyboard
1.8mm actuation point (tactile, silent)
3.6mm switch travel distance
512kb integrated macro & settings memory
All keys remappable
ROCCAT Easy-Shift technology
32-bit ARM Cortex-M0 based processor
1.8m USB cable
1000Hz polling rate
ROCCAT Swarm software suite
RGB per-key illumination with 16.8m colors
Removable ergonomic palm rest
Mouse
ROCCAT Owl-Eye optical sensor with 16000dpi
PixArt PMW3335
Adjustable lift-off distance
40G acceleration
400ips maximum speed
Mouse acceleration: no
Angle snapping: on/off
1000Hz polling rate
8051 based MCU 36MHz
1.8m micro USB to USB cable
Wired/Wireless combo mouse
2.4GHz wireless transmission
1000mAh inbuilt Li-Ion rechargeable battery
512kB onboard memory
Incl. Omron switches
ROCCAT Easy-Shift technology
ROCCAT Swarm software suite
AIMO illumination – RGB Backlighting and LED lighting effects
System requirements: USB 2.0 Port, Internet connection for driver installation
Operating system: Windows 7, 8, 10
Design and features
My first impression of the ROCCAT Vulcan 122 AIMO keyboard was that it appeared well-built, and well-engineered. The Vulcan is the first keyboard from ROCCAT to feature the ROCCAT-developed Titan Switches. ROCCAT states, "The switches, designed from the ground up, were built for gamers craving a keystroke that was swift and precise while still being tactile."
These switches are designed to recognize input 20% faster than a standard key. Although they do have a short stroke, they aren't too short like some of the newer laptop keyboards are. I did not find the keyboard very "tactile" feeling though, as there was no noticeable "click" to them. The keys are an open design with a clear base, allowing for some great lighting effects.
The key caps are specially designed for easy maintenance and complement the Titan switch's dust-resistant housing. The surface of the keycaps are a matte finish, providing some grip, but still allowing for some fingertip sliding. Each switch features a long-life LED capable of displaying 16.8M colors and a variety of effects via the ROCCAT software.
The top of the keyboard is an anodized aluminum plate that reinforces the Vulcan's structural integrity and protects against wear and tear. The detachable palm rest was quite interesting in that it attaches via magnets, making it easy to remove and reinstall. I usually don't like a palm rest, but the ROCCAT palm rest was very low profile and almost needed when considering that this keyboard has a lower than usual profile. This keyboard could take a little time to get used to if you're used to another keyboard.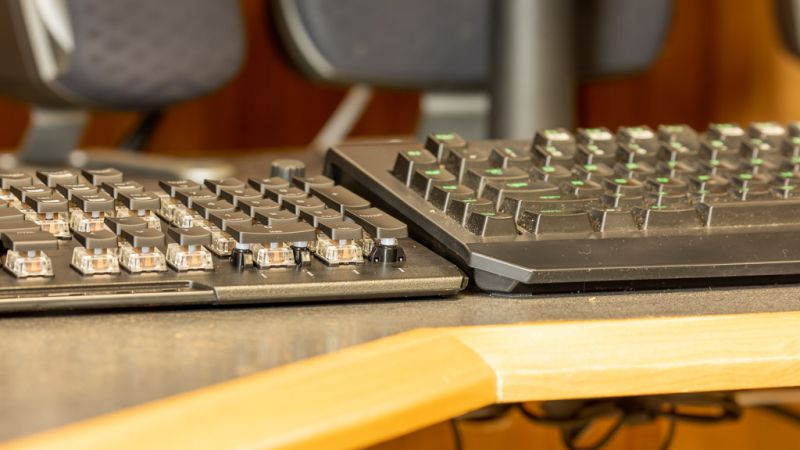 Although I don't need to remap keys, the ROCCAT Vulcan 122 AIMO keyboard cannot only remap keys, but you can also record and playback macros. The integrated mute, volume, and FX keys were an excellent addition to an already stylish keyboard.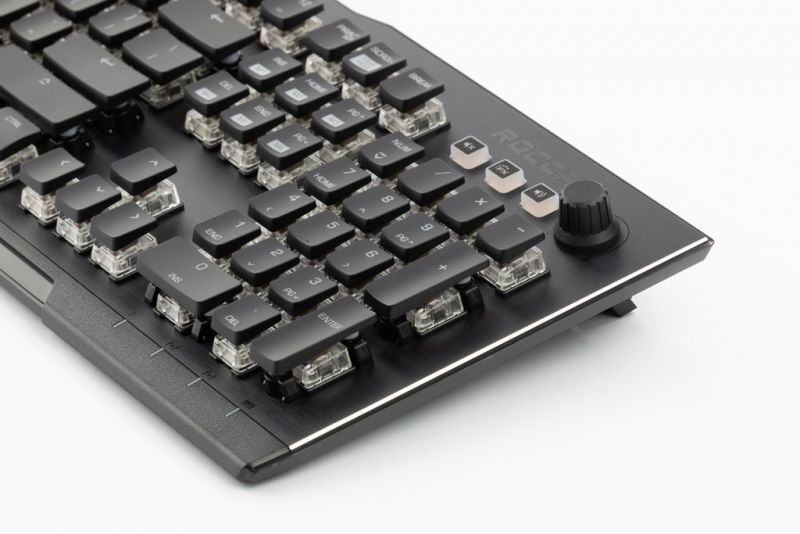 The software does provide the ability to turn on sound feedback for the keystrokes, with a variety of sounds. However, I found the sound plays after the is released, and really threw me off since I'm used to the sound of a mechanical switch, which makes its sound on the downstroke of the keypress.
Another feature of the software is the ability to customize the colors of any of the keys. The customization for each key is almost endless when combined with the effects like fully lit, breathing, and heartbeat.
The game profiles can be used to customize the keyboard for different games (or applications), and there's even an option to have the keyboard automatically switch to the profile when the game or application becomes active.
The ROCCAT Kain 200 AIMO Mouse can be used wirelessly or wired. The charging cable can be plugged into the included adapter so that the micro-USB cable can be used to connect the standard USB transmitter. I found this to be quite a nice feature, so you don't have to use two different ports for the wireless and charging functions!
I found the surface of the mouse, well, odd. It's semi-matte finish just seemed a bit slippery to me. However, the mouse wheel and switches felt absolutely great, and it performed flawlessly. I did have to adjust the DPI a bit to my liking, though, but that was easy with the software's built-in calibration feature, something I had not seen before.
There's also a DPI switch on the mouse, and even an optional voice feedback option when switching. There's a wide variety of options in the software for mouse
Both the mouse and the keyboard had great response times, and I never saw any lag or delay, everything performed flawlessly. The keyboard keys are very well lit and seem very sturdy. I liked the ability to customize the key lighting for different applications.
What I like
Magnetic palm rest
Great lighting effects
Great key assignment and profiles ability
What I'd change
I would prefer a more tactile feel to the keyboard.
The mouse needs to be less slippery.
Final thoughts
I found the ROCCAT Vulcan 122 AIMO keyboard and Kain 200 AIMO mouse to be quite nice. Although there were a few things that I didn't like, they were more of a personal preference than a shortcoming of the product.
Price: $159.99 keyboard, $99 mouse
Where to buy: Keyboard,  Mouse and Amazon
Source: The sample of this product was provided by ROCCAT.