We use affiliate links. If you buy something through the links on this page, we may earn a commission at no cost to you. Learn more.

REVIEW – These days I am a very busy DIYer tackling tasks like rebuilding a bathroom, creating a storage room, and reframing a basement. Both professional and DIY folks have always said "measure twice and cut once". Normally, I tend to measure 3 or 4 times, and for more than one cut at a time. On many occasions, by the time I reach out to the backyard to actually cut the material, I can't remember the measurements or have mixed them up.  In addition, when lengths are inches plus millimeters, I usually average to the nearest millimeter while squinting to try to make sure that I am seeing it right. No one should be surprised that I am thrilled to test this UpTech tools digital measuring tape.
What is it?
The UpTech tools digital measuring tape reads each measurement and displays the precise length on the screen. It does quick unit conversions between US and metric units too.
What's in the box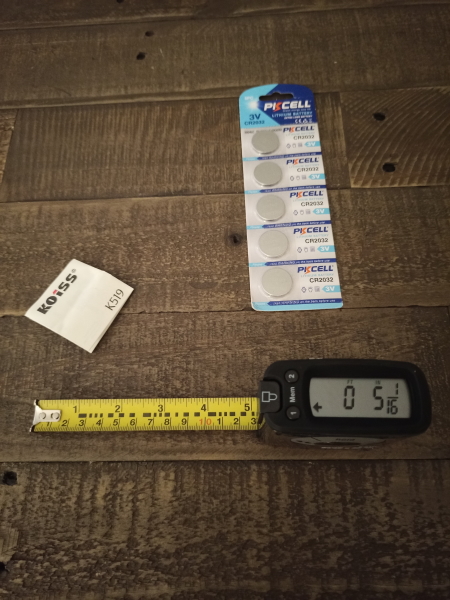 1 x UpTech tools digital measuring tape
1 x User Manual
1 x Strip of Batteries (Freebie for me)
Design and features
Features
Converts between five types of units automatically
Converts between decimal and fraction
Holds two measurements in memory
Calculate mid-point
Screen displays tape blade measurement in Inch – fraction, Inch – decimal, Feet – inch, Feet – decimal, Centimeter
Specifications
Accuracy: 1/16 inch – 1 mm
Length: 16 feet – 5 meters
Tape Blade Width: 3/4 inch
Battery: CR 2032 – one included
Units: Feet – Inch – Fractions ( 10′-1-1/16"); Inch – Fractions ( 50-1/8"); Inch in Decimal ( 1.2"); Feet in Decimal ( 2.5′); CM
The measuring tape has the controls on one of the larger sides and a belt clip on the opposite side. On top, there is the LCD screen and the tape lock button. The tape measure extends and retracts from a bottom edge.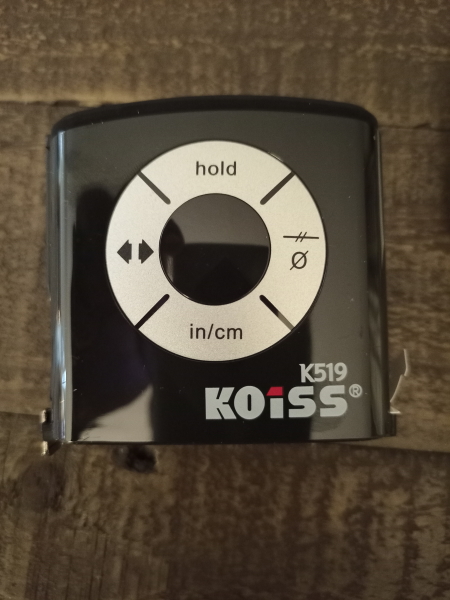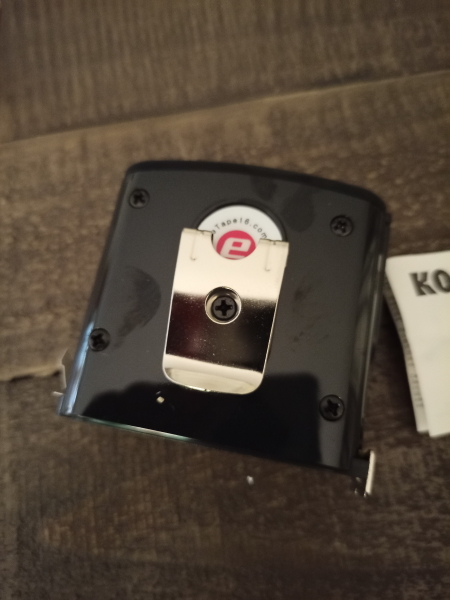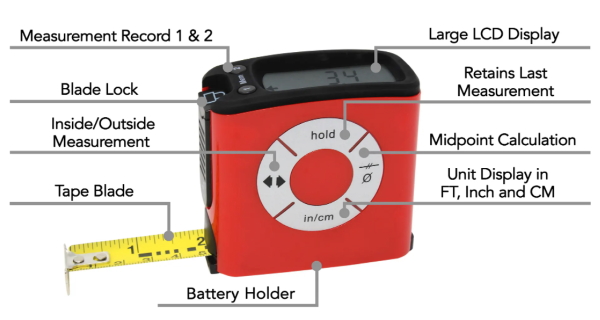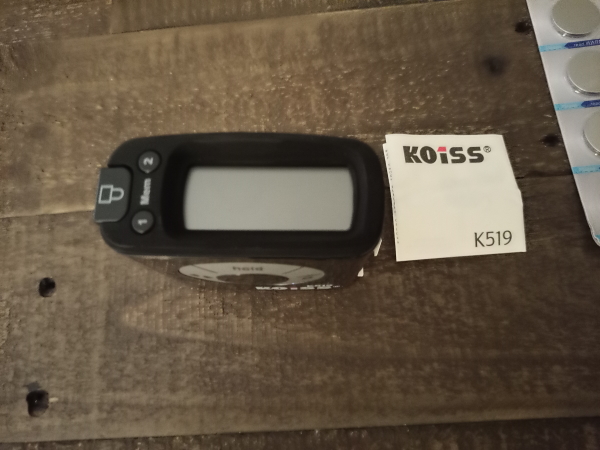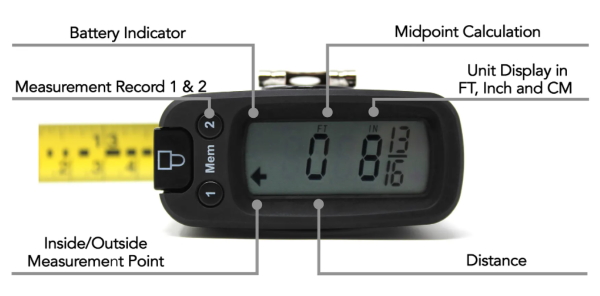 Performance
In terms of performance, this digital tape measure performs well and is extremely helpful when accuracy is important. It measures from the end of the tape to the measurement that you can see in front of the tape, and in situations where you are measuring from one point to the other where you cannot go past an endpoint, it allows you with a press of a button to include the dimensions of the body of the tape measure. What I also like is the ability to figure out the midpoint with the press of a button. The feature that allows you to choose to read the measurement in feet, inches, or centimeters is great since when working with shorter distances the mico measurements are key. When we are at the point where our memory fails us at times, being able to save 2 measurements works well for me. The LCD is clear and easy to read and the buttons are very responsive. This tape measure can also be used as a conventional tape measure when the choice is just to estimate or when endpoints are easy to measure. Time will tell how well it will hold up to the usual tendency to accidentally drop a tool like this.
What I like
The build quality
The easy to read LCD display
The built-in belt clip
The measurement unit options
The ability to save 2 measurements
What I'd change
Final thoughts
After working with this measuring tape for several weeks, it has become the first measuring tape that I reach for, and I have several. The LCD is easy to read and after several comparisons to a regular measuring tape, I find it to be quite accurate. So far I have managed to drop it several times and it is still good to go.
Price: $29.99
Where to buy: UpTech website
Source: The sample for this review was provided by UpTech