We use affiliate links. If you buy something through the links on this page, we may earn a commission at no cost to you. Learn more.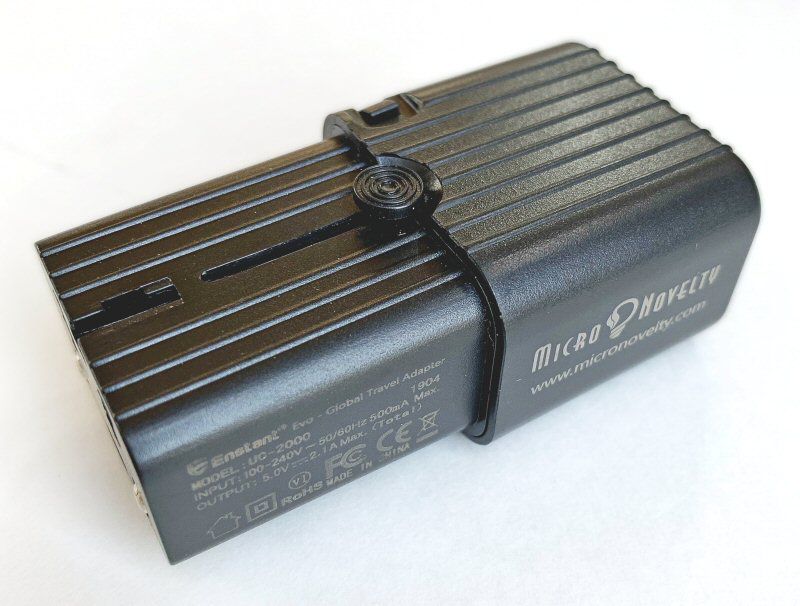 REVIEW – I travel for work fairly often, and typically outside the US 2 or 3 times per year, and for those trips, it's essential to carry electrical gadgets that can be used with the electrical outlets in countries.  I typically carry a fairly standard travel adapter for my laptop, but when I want to charge my iPhone or another device, I often need a second (or third) travel adapter to charge that device and others, which just adds to the growing amount of gear that I find myself having to carry for travel.  The Evo Global Travel Adapter presents a solution to the problem of needing multiple adapters while traveling in other countries.  Let's check it out. Gadget on!
What is it?
The Evo Global Travel Adapter is a double USB charger that can be used with the electrical outlets in multiple countries.
What's in the box?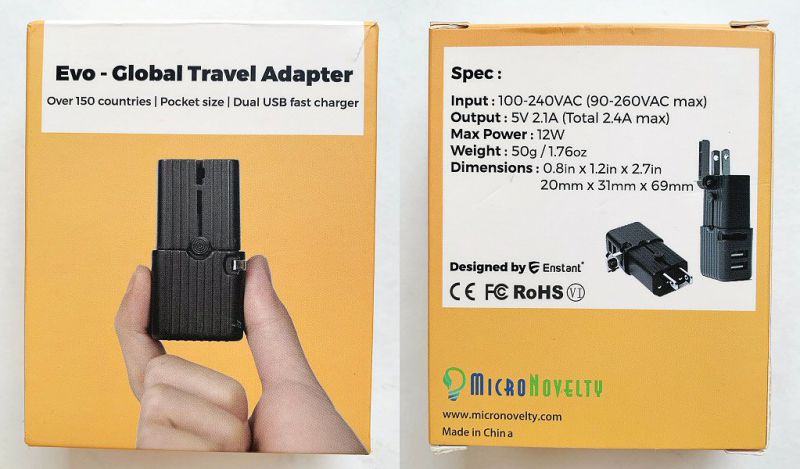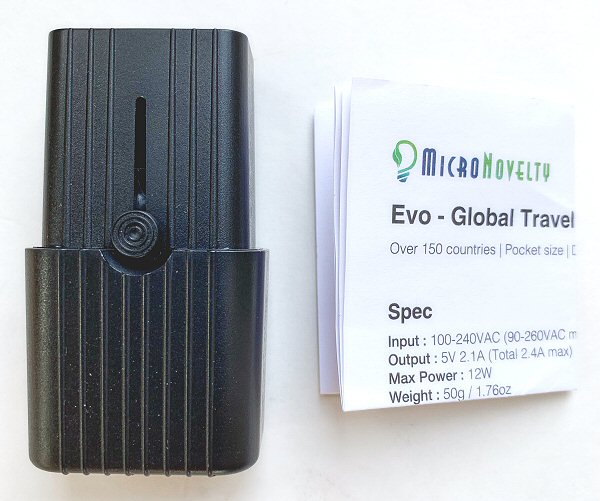 Evo Global Travel Adapter
Spec/instruction sheet
Hardware specs
Dimensions: 0.8 x 1.2 x 2.7 in (20.3 x 30.5 x 69 mm)
Weight: 1.76 oz (50 g)
Input: 100-240VAC (90-260VAC max)
Output: 5V 2.1A (total 2.4A max)
Max Power: 12 W
Material: PC94V0 with fire-, overheat- and cold-resistance
Supported countries: 150
Design, setup, features, and performance
The Evo Global Travel Adapter began as a successful Indigogo campaign and is now available for sale on Amazon.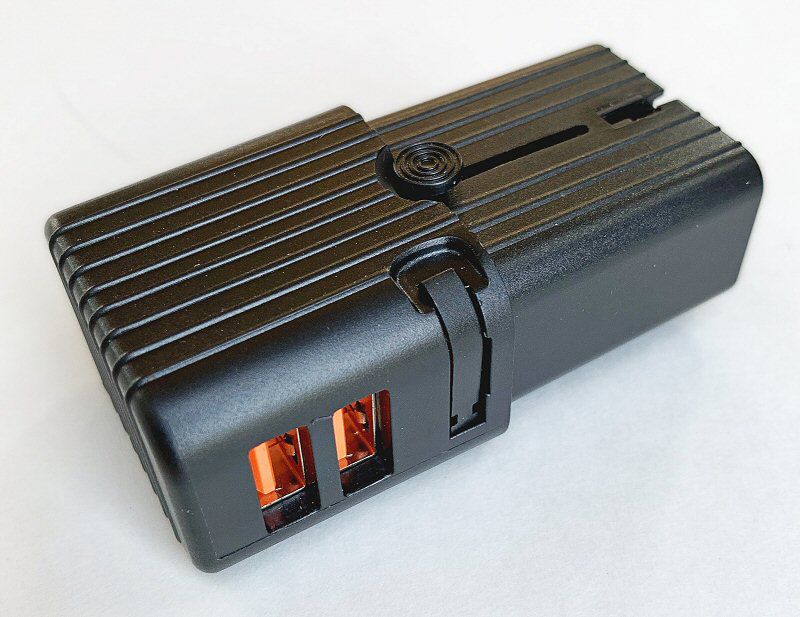 My initial impressions of the Evo were somewhat mixed.  First, I marveled at how small it was.  Second, I realized that it was not a standard travel adapter, but only a USB adapter.  This took me by surprise because I had been expecting to be able to plug my laptop into it like other travel adapters, but this is not the case.  Once I got past that initial disappointment, I shifted my evaluation to judge the Evo on its actual merits.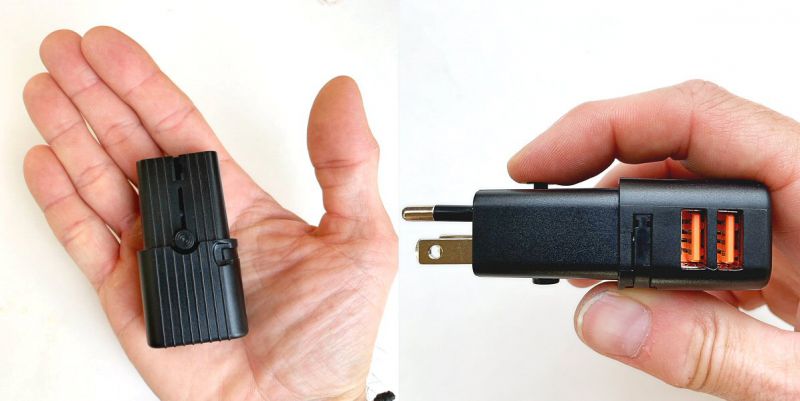 As mentioned above, the Evo is quite small; it is about the size of two iPhone charging blocks stacked atop one another.  This helps makes it a great travel companion because its small size and relatively light weight help cut down on the amount of space required to carry it as well as adding less to your overall carrying load.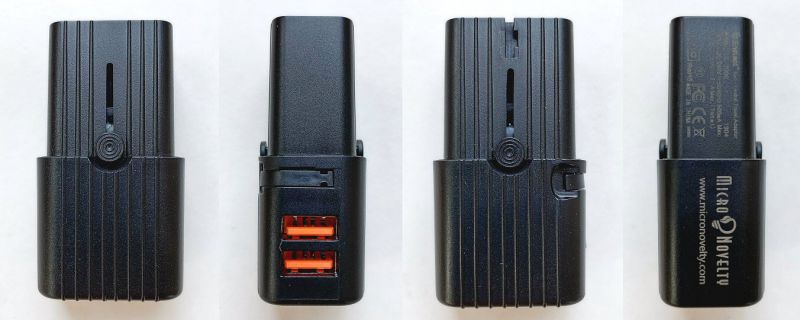 The Evo's shape is roughly rectangular in two dimensions, and it is quite slim.  It has two USB ports situated on one side and two buttons that slide in tracks on opposite sides.  There is also a small removable component that fits into the middle that remains tucked away when not in use.

As mentioned above, the two sets of prongs are actuated via sliding motion outward from the main body of the Evo, and a small button on either side must be depressed to unlock them, as shown in the photos above.  Press down, slide out the prongs and they click into place once fully extended.  Each button must be pressed again to unlock the prongs for retraction back into the body.

The above series of photos shows the appearance of each set of prongs once full in place and locked out.  The photo on the far right also shows the Evo with its additional side component attached (more on this below).

The Evo has a small additional component that is stored in its middle and remains tucked away and locked in place until needed.  It is essentially deployable length of plastic that acts as a dummy prong for outlets in which a third prong ground is typically needed, such as in the UK.

The series of photos above illustrate the progression of the deployment of the side prong from its storage location.  If you can get a fingernail under the prong's edge, you can begin to lift it, then a small, spring-loaded side piece must be depressed in order to release the prong from its storage location.

Additionally, the Evo's sliding metal prongs can be rotated into an angled orientation for compatibility with outlets in countries such as Australia.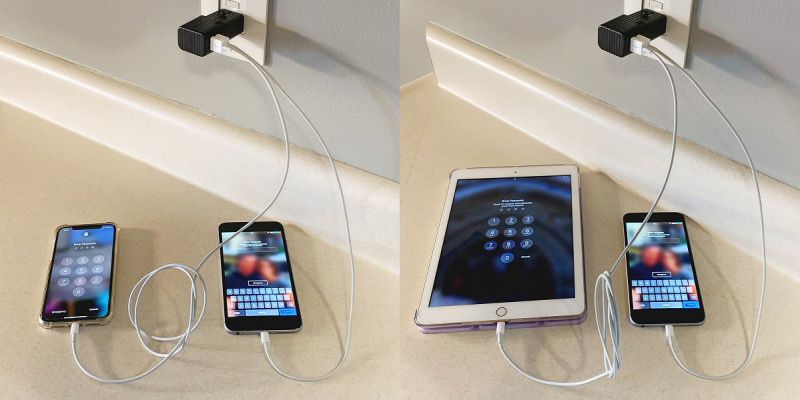 Since I did not have any imminent travel outside the US when I received the Evo to review, I did a bit of experimenting with it.  In the photo above, I've set its prong configuration to be compatible with North American, two-prong outlets.  In this case, it was functioning like any standard double USB charger.  It was able to charge both my wife's iPhone X and my old iPhone 6 Plus simultaneously, as well as my wife's iPad Air and my old iPhone 6 plus.  This was expected considering Evo's output rating of V 2.1A  individually and a 2.4A max total but this exercise confirmed that at a minimum it could charge a higher-current iPad and lower-current iPhone in parallel.

Next, I placed one of my typical travel adapters in my outlet set for standard US flat two-prong configuration.  I then set up both the Evo's sliding and deployable ground prong configuration as if I were traveling in the UK, and plugged it into the UK outlet holes in my typical travel adapter.  The idea here was to simulate usage in the UK.  While I realize that the voltage is different in the UK, what I really wanted to test was the physical prong configuration of the Evo and determine if it would chare devices if using the UK prong setup.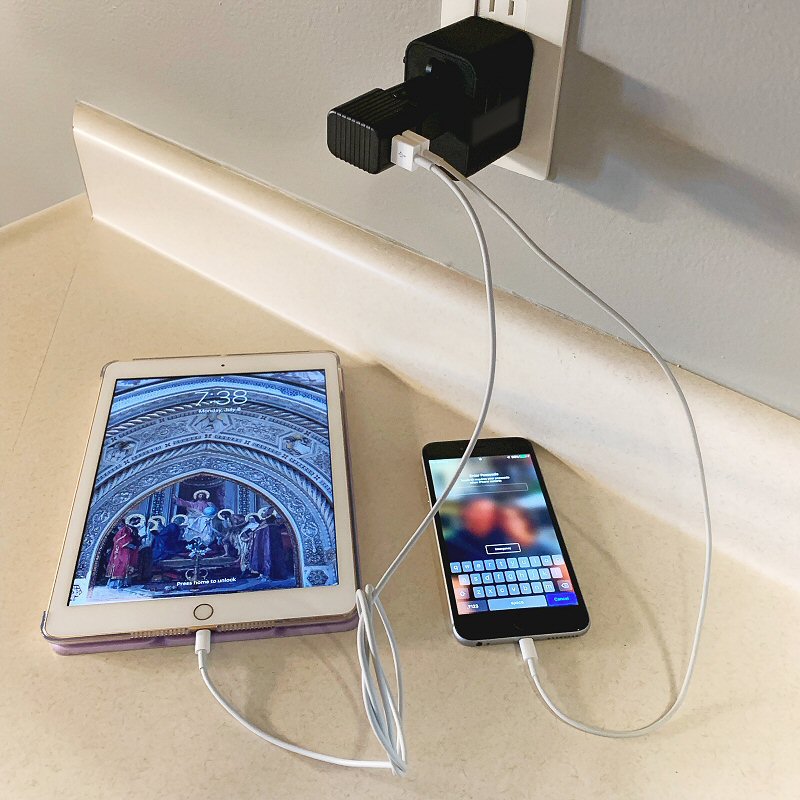 As shown above, the Evo was able to charge both my wife's iPad Air and my old iPhone 6 Plus.  I expect that at some point, I will take another trip outside the US to a country that uses a different outlet setup and perform a full test, but for now, this was the best I could do.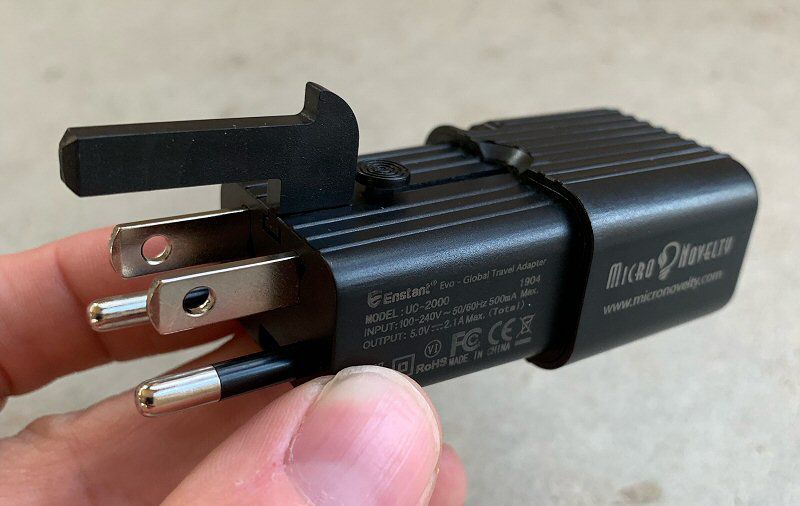 What I like
Small, compact, lightweight
Can charge up to two devices (including tablets) simultaneously
Prong configuration should be able to be used in many countries
What I'd change
Add the capability of being a typical travel adapter (allowing items like laptops to be plugged into it) in addition to being a double USB adapter, but keep its small size
Final thoughts
Firstly, the Evo Global Travel Adapter is not a travel adapter in the typical sense in that only USB cables can be plugged into it.  That said, Evo can charge up to two devices at a time (including tablets),  is very compact and lightweight, and would work well as not only an adapter for USB items while traveling outside the US, but also could be domestically as a double USB adapter in its own right.
Update 6/14/20
I had high hopes for the Evo Global Travel Adapter, but unfortunately, it died when I plugged it into only the second outlet I used in Europe. More specifically, I heard a "pop" sound and smelled smoke, and it blew the circuit-breaker in half the electrical outlets and switches in my hotel room, and I had to call maintenance to come up and fix it. Based on my experience, I would recommend staying away from this product.
Price: $21.99
Where to buy: MicroNovelty and Amazon
Source: The sample of this product was provided by MicroNovelty.