We use affiliate links. If you buy something through the links on this page, we may earn a commission at no cost to you. Learn more.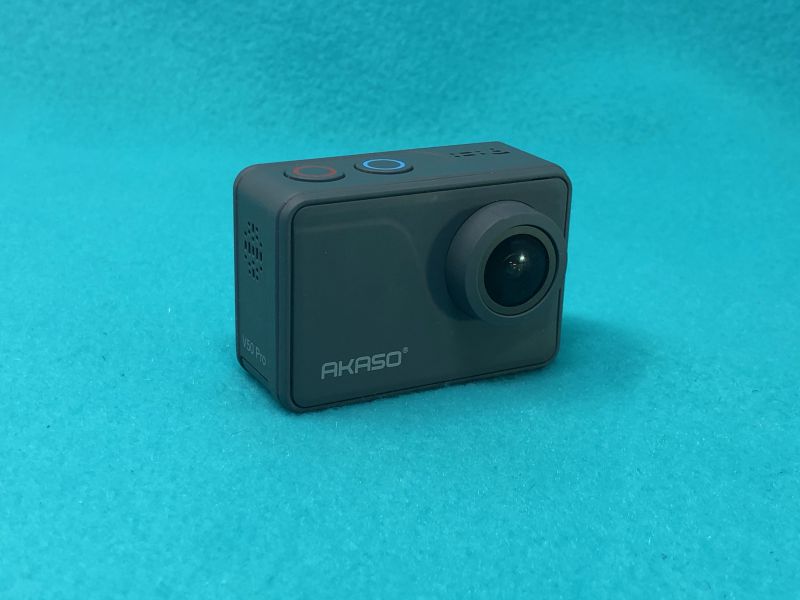 REVIEW – Action cameras have become all the rage, now that the price has gone down for high-quality camera sensors. Is this something you should add to your Gadget Garage? The team was offered a new model from Akaso – the V50 – and I was chosen to review it. Let's see how this can change a Gadgeteer's life.
What is it?
Compact video and still camera with view screen and sound recording capabilities. Included in the package are a number of holders, case enclosures, and two batteries.
What's in the box?
The box is a clear plastic enclosure surrounding the camera and waterproof housing attached to a flat platform. It is hermetically sealed to a pasteboard box that cannot be opened without totally destroying the entire packaging unit. The box, however, does not just serve as a holder for the camera and a few odds and ends. No, this package contains holders for helmet mounting, a fully waterproof (underwater) mounting, on-person mounting, handlebar mounting, and a bunch of flexible mounting brackets and fixtures that will allow you to attach this camera to just about anything you may want to record from. This clear presentation of the product belies the bounty below. Once it's opened, it's a veritable piñata of clamps, mounts, stick-ons, and straps. Look at the picture below of the whole collection. All of that was packed into the pasteboard box!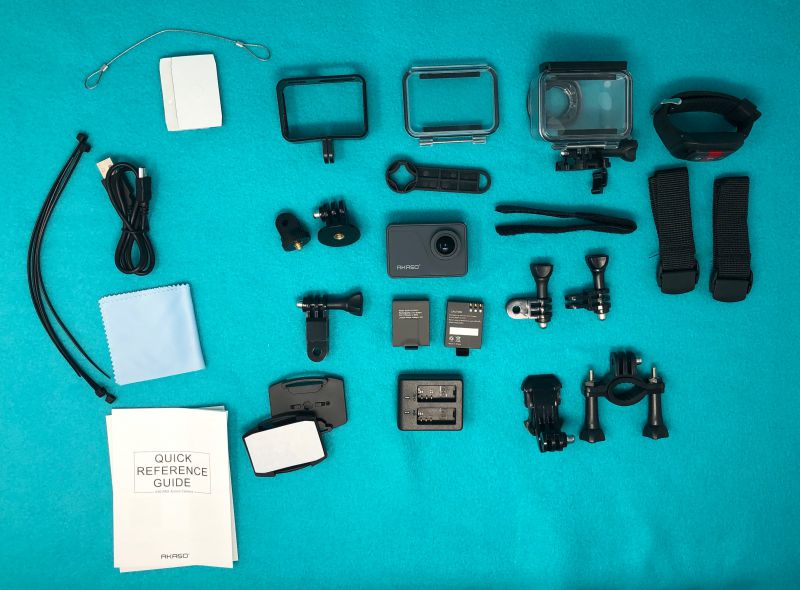 Waterproof enclosure with an extra backing door
Handlebar mount
Helmet mount
Frame for attaching to mounts
Wrist-worn remote
Lens cloth
Straps and bracket for body mount
Wires, sticky pads, and cable ties for snowboard, skateboard, or surfboard mounting
Wrench for mounting screws
2 batteries
Battery charger (for 2 batteries)
USB2< ->miniUSB cable for charging
Hardware specs
Superb Image Quality – 4K/30fps and 20MP images
Electronic Image Stabilization – Electronic Image Stabilization (EIS) with 6-axis gyroscope.
Optional View Angle – adjust the view angle between Super Wide, Wide, Medium and Narrow.
WiFi and HDMI Output
Design and features
Like smartphones, action cameras have seemed to settle down into a standard size and shape. The V50 is a rounded rectangle with a soft-touch surface. Measuring just over 1″ thick by 1.5″ high and 2.25″ long, it fits nicely in the hand. The 90º angle sides also mean it can sit on any flat surface for framing. The .75″ lens sticks out of the front surface .25″, and the entire rear surface is a touch-enabled view screen that is used for framing shots or playback.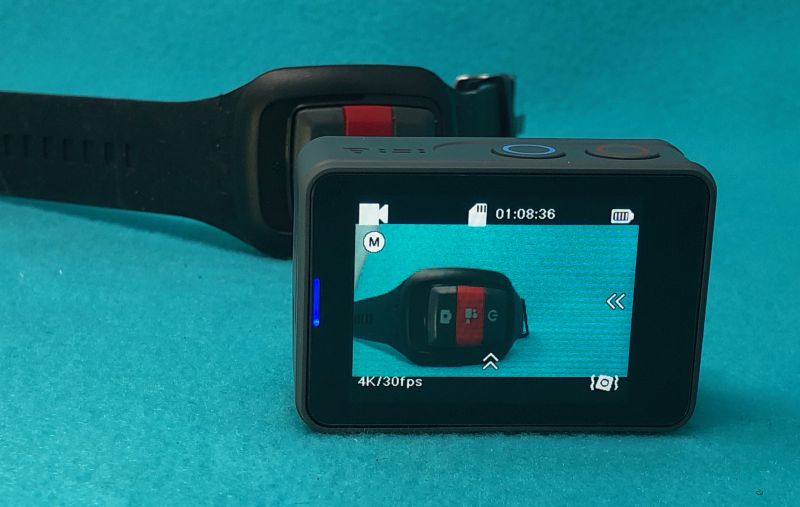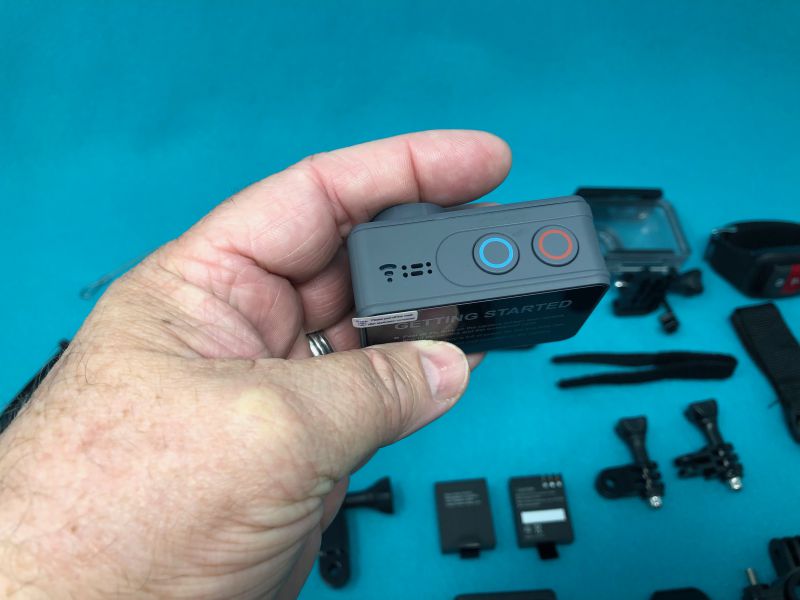 On the top are the only buttons: the red circle for power on/off and for cycling between choices, and the blue for start/stop of video or finalizing choices. All functions can be accessed through the buttons or through the touch screen. Opposite the buttons on the top are a microphone opening and a Wifi signal indicator.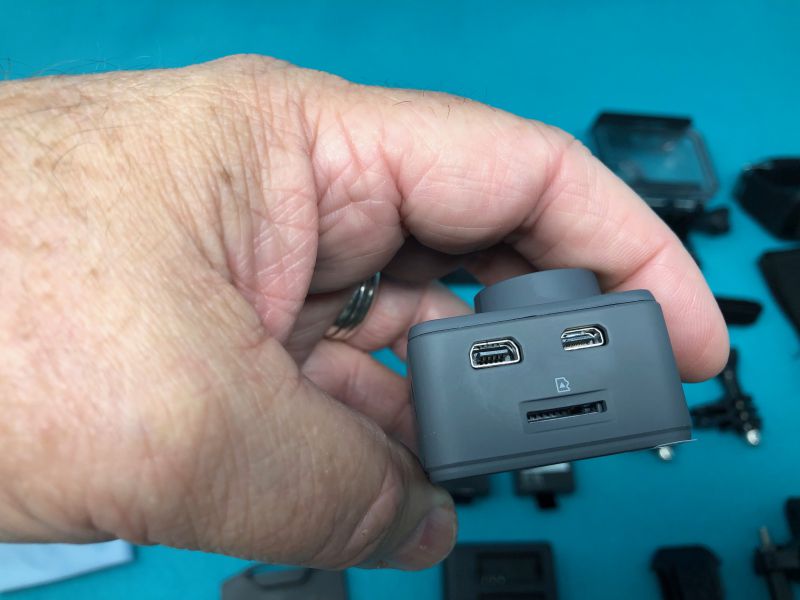 On the left side (as you're looking at the screen) there are three ports: a microSD card slot, a miniUSB port for charging and a mini HDMI port for playback.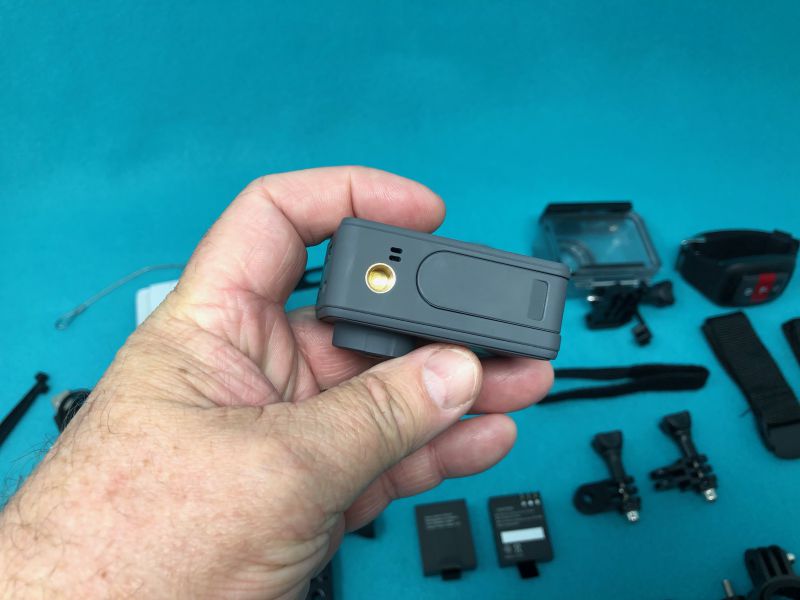 On the bottom are a standard quarter-20 tripod screw mount and the door to the battery compartment. The right side has just a speaker opening.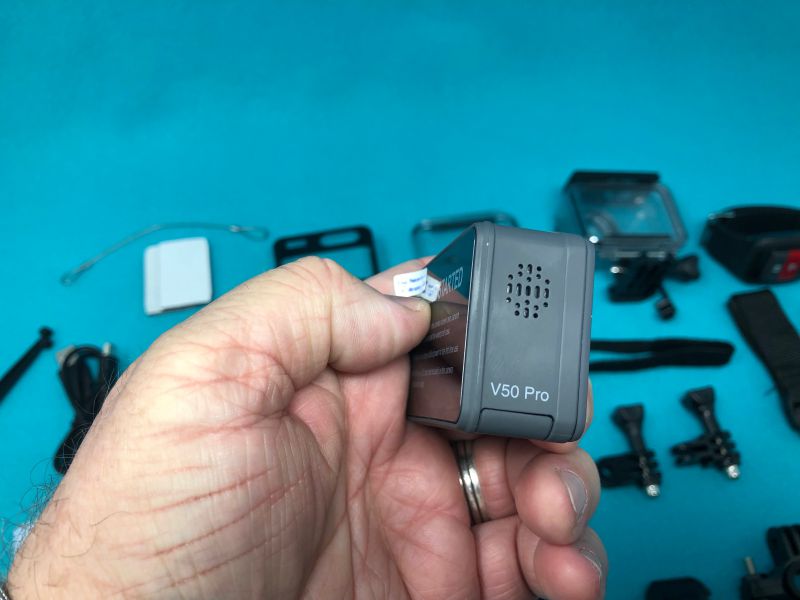 Once the battery is charged (either in the included charger or in-camera) and a data card put in place, you're ready for action. You can mount it on handlebars, various surfaces or just hold it in your hand. There's a waterproof cover to protect it during water sports or rainy rides. There are play-through buttons on the waterproof case, or you could use the remote if you're not in the water yourself. The button passthrough pins look pretty sharp (as in damaging, not as in really cool.)
I found the camera easy to stop and start, and the flexibility of mounting hardware gives many options for most situations. For instance, with the bike shot below, I used just a tripod screw-mount on the handlebars. I could have gone for the more rigid frame that would allow me to only adjust the forward-facing angle, or even the waterproof case, in the event of a shower. Having more options means you're going to try and get more shots.
Since this unit is all but identical to other action cameras on the market, it's a good bet that there are other accessories that can be had. With the tripod mounting socket, you can place it anywhere with a quarter-20 screw. (Did you know this is the size screw that holds on lamp shade finials? Next time you need a tripod, keep that in mind. You're welcome!)
Performance
While I like the rear panel touch screen, it could sometimes balk at finger input. The remote connected without issue and was able to start or stop photos or videos reliably. The time between capture and seeing it on screen is dependent on the card inserted into the camera. I used a SanDisk Ultra 32 GB card in the camera for much of my testing, which is a fairly fast card, and was still getting "Waiting for Capture" for 2-3 seconds when taking a still shot. Maybe the larger images were giving the renderer problems.
What I like
Huge collection of accessories
Nicely compact unit with minimal inputs needed
Card or external storage options
Built-in Wifi
What I'd change
Faster writes to the memory card
less hesitancy with touch input
Final thoughts
Action cameras don't just have to be for Extreme Sports. Tiny, easy to mount, and high-resolution, they may just beat out your pocket point-and-shoot on your next vacation. And that included waterproof housing will sure make those beach photos more interesting!
Price: $119.99
Where to buy: Amazon
Source: The sample of this product was provided by Akaso.