We use affiliate links. If you buy something through the links on this page, we may earn a commission at no cost to you. Learn more.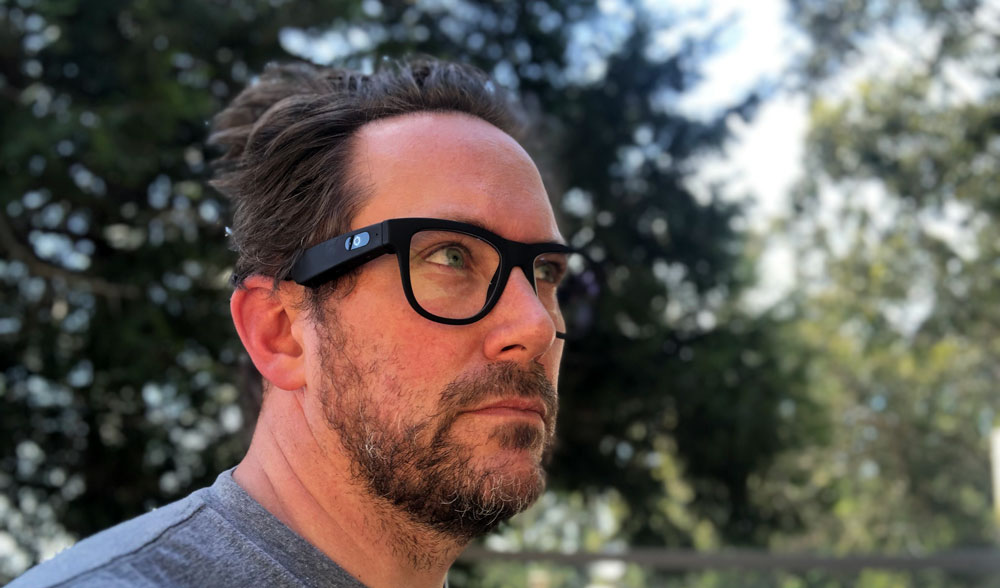 REVIEW – What if you could listen to your music, but still hear everything around you? Would you listen more, or listen in situations where you couldn't before? It's an intriguing proposition, and one I was eager to find out how I'd use such a solution. Lucyd seems to offer just that with their LOUD glasses.
What is it?
Lucyd LOUD is a Bluetooth audio device hiding within a sturdy pair of sport eyeglass frames. The lenses can be customized with a multitude of choices including coatings and prescriptions which look to be Lucyd's primary business.
What's in the box?

1 pair Lucyd LOUD glasses
1 USB-A to USB Micro charging cable
1 case that folds into a triangle for storage
Cleaning cloth
Ear plugs
Instruction manual
Hardware specs
A specification section is nowhere to be found in/on the box or on Lucyd's website, but there is some really hard to read print on the inside arm of the audio glasses themselves with the following info…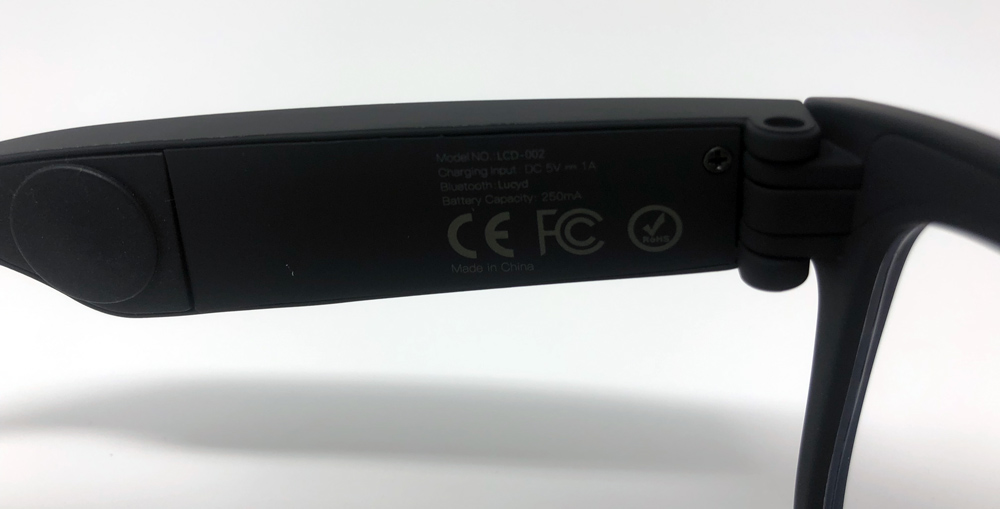 Model No: LCD-002
Charging Input: DC 5V ~ 1A
Bluetooth: Lucyd
Battery Capacity: 250mA
Certifications: CE, FCC and RoHS
These specs were hiding in a couple different places on the website…
Lens Width: 52
Bridge: 17
Temple: 143
Weight: 46g
BT V4.1
Design and features
The LOUDs look like a cross between sunglass frames and protective eyewear in that they're generally good looking with kinda chunky arms hiding the technology.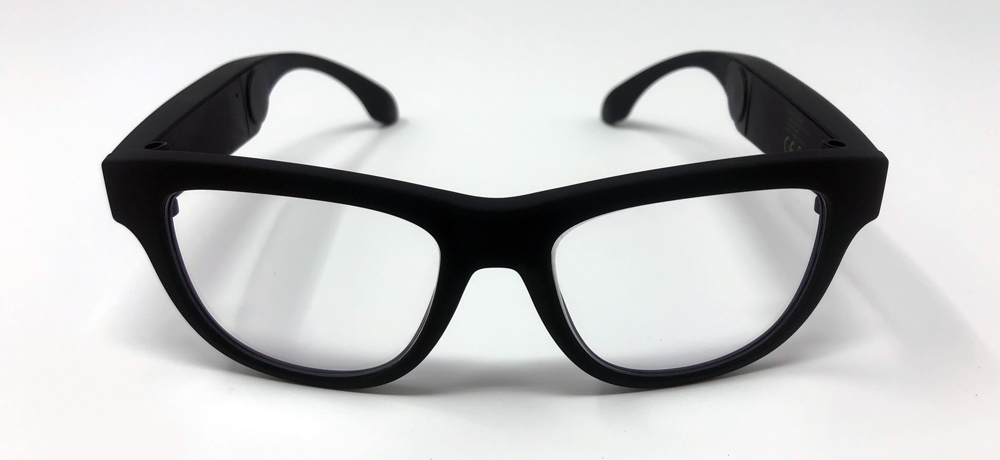 There are two input areas. On the underside of the right arm is the charging port and a +/- rocker switch. This is used for on/off, pairing and volume control.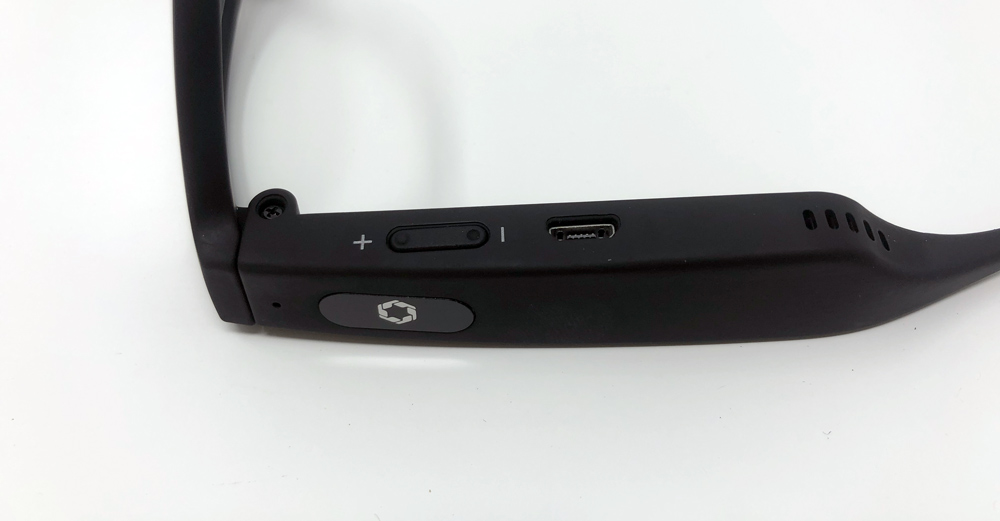 On the outside of the left arm is a touch panel that allows for track controls, using a voice assistant and play/pause or answer/hangup. It looks just like the above without the Lucyd logo and is barren enough that I actually forgot to take that photo because there's no reason to look at it twice. No defined area, just the same soft touch coating over the full arm.
The bone conduction drivers are towards the back of the temples just before the ear stems. They're made of a silicone type material which allow for the drivers to move. These should rest against your head for proper sound transfer. Adjacent to those on each arm are 5 small openings for aiming a large amount of the sound at your ears and for facilitating some air displacement of the drivers.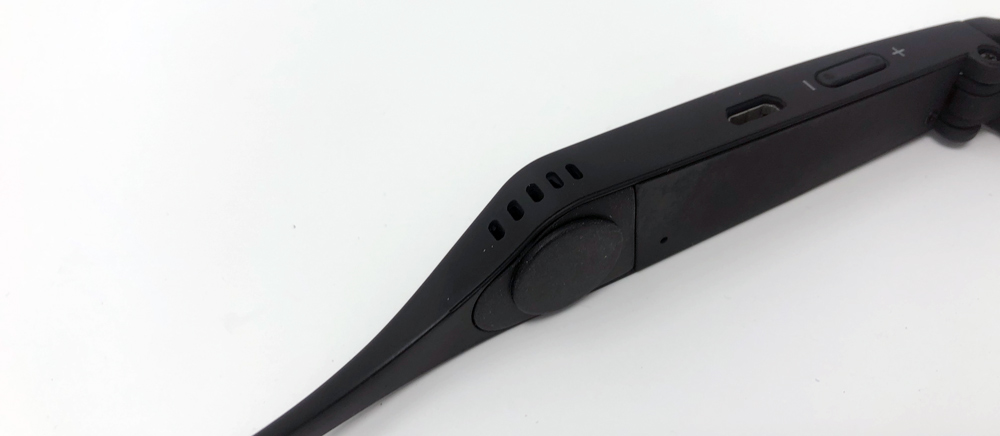 As for the lenses, there are a lot of options at time of purchase. Here's a list of those for each of the three Rx options.

I opted for the standard clear lenses as SF happened to be pretty wet and overcast at the time and I planned to use them commuting on my bike. They arrived crazy quick (just two days) and custom Rx versions look to take a week to 10 days which is to be expected.
Setup
Here are the instructions Lucyd provides:
Fully charge Lucyd LOUD with included cable. The LED will turn off when charging is complete.
Turn on Bluetooth on device you wish to connect to.
Hold the "+" button on the LOUD for three seconds to turn it on. Then hold the "-" button for three seconds to enable pairing. Then select "Lucyd" in the available Bluetooth devices on phone or computer. (It will automatically pair when in range from then on).
Your LOUD is now connected! You can select music and make calls on your connected device or by giving voice commands to the virtual assistant.
Tap the touchpad lightly to play or pause music. Swipe backward to play the next track and swipe forward to go back a track. Similarly, swipe backward to answer a call and forward to decline it or hang up.
Long-tap the touchpad to open the virtual assistant, wait for a tone then speak. Long-tap again to close the virtual assistant.
Be sure to turn off your LOUD when not in use. Hold the "+" button for three seconds to power down. It will automatically power down in 15 minutes when the Bluetooth link is broken.
To loosen fit, very gently bend the thin ends of the arms.
Email [email protected] if you need support!
Performance
First and foremost, if you're interested in a product like LOUD, it's because you want to listen to music or take phone calls without actively blocking your hearing with earbuds or the like. As a result, the sunglass functionality gets demoted to a functional requirement checklist… Do they look good enough for me to wear around? Do they fit well enough to stay on securely? Answering these questions, unfortunately, requires trying them on which is hard to do web-order-style.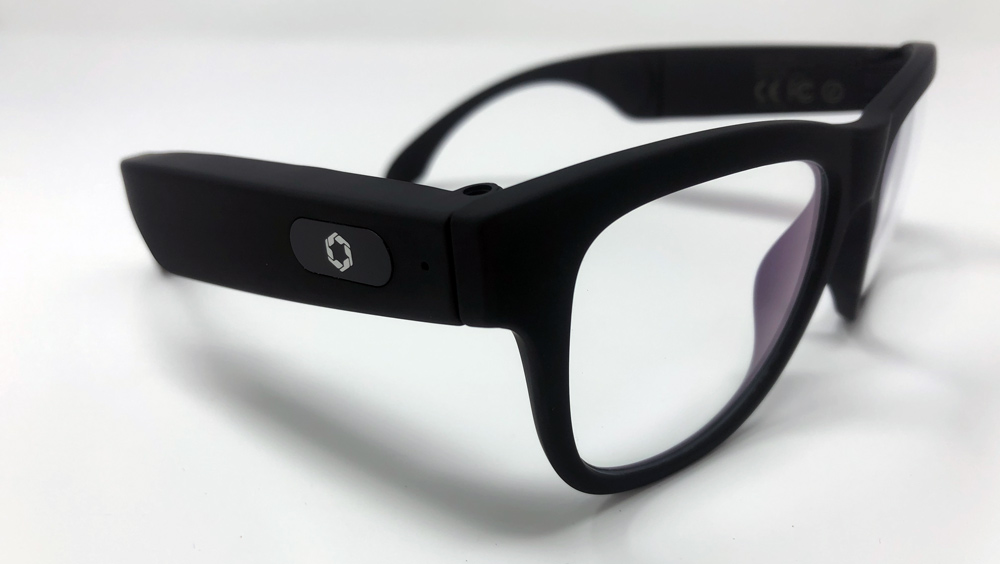 On receipt, the answer for me on both of those was yes. I'm partial to bold black frame glasses anyway and they hugged my head very well. Additionally, the clear lenses were crisp with no distortion peripherally. The ends of the arms are flexible and will hold a new shape if you need to adjust for a tighter fit, but don't expect them to adjust for a looser fit as the thick arms won't budge.
That leaves the primary reason for looking at LOUDs; listening. Lucyd opted for bone conduction drivers which also seem to provide a good amount of sound without the "conduction" effect. The experience is unique and completely dependent on the volume, your selection of music and your environment. It can range from a somewhat immersive listening session in a quiet environment to percussive head massage on your nose bridge and sides of your head.
It's very cool to be able to listen to music without your hearing being obstructed. I commute by bike daily and as much as I want to use earbuds, it's not something one should do. LOUD's let me listen to music while still being able to hear everything around me. Actually, let me rephrase that. LOUD's let me hear everything around me and occasionally my music gets through in an enjoyable way. Considering my safety, that's a better option than no music.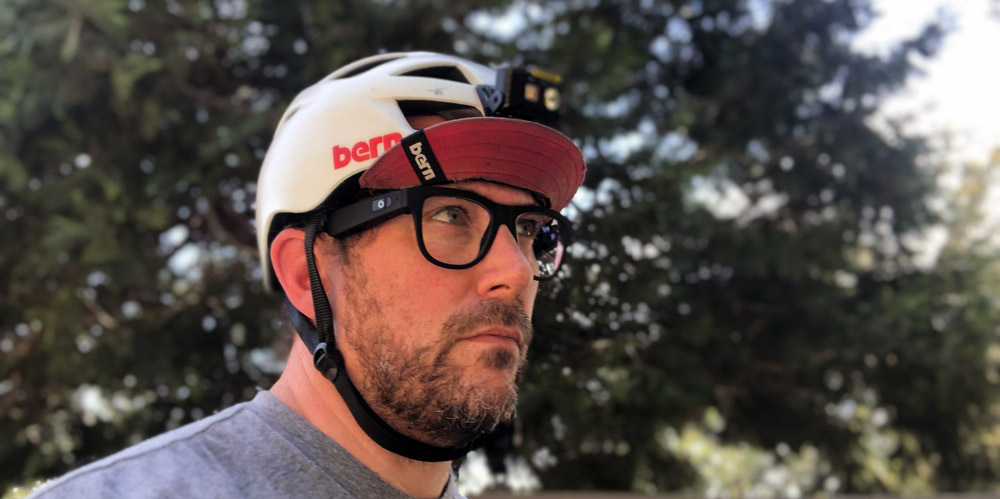 Powering them up is a three second hold on the "+" button which results in a rising 4-tone sound to let you know they're on. A tap on the left touchpad will start your music or answer your call. Another will pause music or end your call. A swipe forward or backward starts your track over or skips to the next one. Turning them off is a descending 4-tone sound after a three second hold on the "+" again.
Charging them is the standard Micro-USB affair, with a solid red light while charging, and a green light when finished that I'm assuming times out at some point per their instructions. I did not have an issue with running out of charge over successive days of wearing without charging.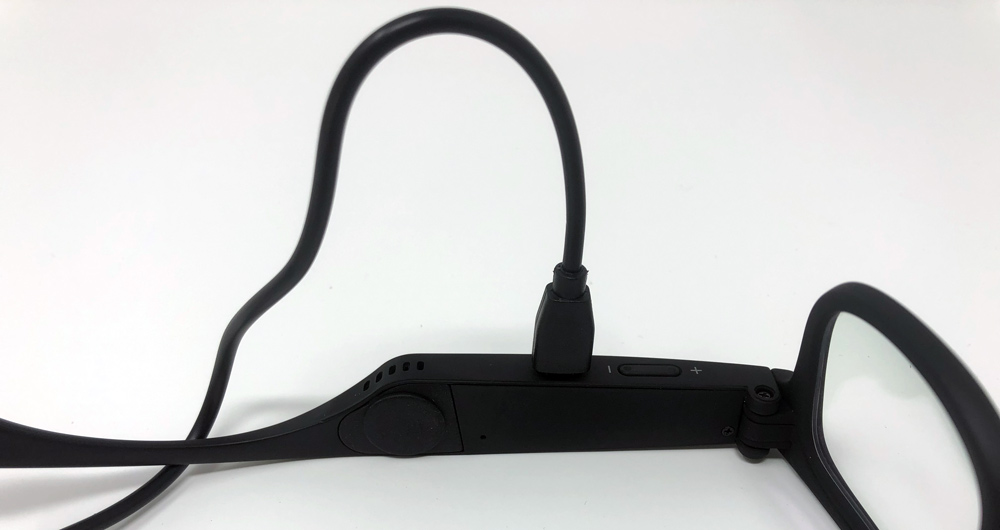 How does it sound? Overall it's underwhelming. I wouldn't try listening to something I've never heard before as I'm unlikely to really listen to what the artist wanted me to hear. It's better than ambient music as it does sound close, even at low volume levels, but it's just missing presence. On my bike, I pretty much need to have it at full volume and listen to things I'm super familiar with or want to sing along to.
While the glasses fit my head well, the conduction driver does not make contact. Unfortunately, there's no adjustment to the depth of the driver itself so what I hear is all the sound I'm going to get. Pressing on the right arm until it makes contact does help and starts to provide a more immersive sound, but I lose some left side sound as that side gets further away.
Pressing on the left side activates Siri with the touchpad, so that's a non-starter. Speaking of the touchpad; it adds a reason to get frustrated. The touch to play or pause is okay but gets activated accidentally all the time as you're taking them on and off or adjusting position on your face. The swipe controls work 1 out of 4 times at best, and it's usually when you swipe forward to forward to the next track (except that a forward swipe on LOUDs is to go back a track… hmmm).
I'm imagining that if those drivers make contact on both sides the sound quality could improve a good bit, but since I can't experience that I cannot say definitively. The closest I could get was putting them on the back of my head in which case there are other options out there.
The "+" button has a raised bump which makes it easy to find with your right thumb. The "-" button is recessed and you go right past it until you feel the open charging port letting you know you missed it. Between the open charging port and speaker holes, I'm not sure how these would fair in a downpour or very sweaty scenarios. I did wear them for about a week straight in rainy weather without incident though.
Can other people hear it? Again depends on your music selection, but yes and it can be loud enough to annoy your coworker.
How about taking a phone call? I took a few calls and in general felt like I had to work too hard to hear whomever I was talking to. They were able to hear me okay but heard more of my surrounding than they would if I was using more traditional headphones or AirPods.
What I like
Overall good integration of audio into eyewear frames
Solid and sturdy construction
Decent starting price
What needs to be improved
Touchpad is frustrating and physical buttons could be larger
Needs more adjustment different head sizes to make driver contact
Charging port and speaker holes need water-resistant coverage
Final thoughts
The Lucyd LOUD glasses are that perfect hit/miss combination. The promise could meet your expectations if they fit your head well and you're okay with some interaction issues. Once the weather got nicer I started to wish that I had picked the sunglass lenses as that would have increased the reasons for wearing, but for me, the non-fit issues are the biggest factor. That's something you won't know until you try them and their return policy for electronic eyewear is within 14 days for exchange or credit only which makes that a very risky proposition.
Price: $99 – $244 depending on Rx customization
Where to buy: Lucyd
Source: The sample of this product was provided by Lucyd.