We use affiliate links. If you buy something through the links on this page, we may earn a commission at no cost to you. Learn more.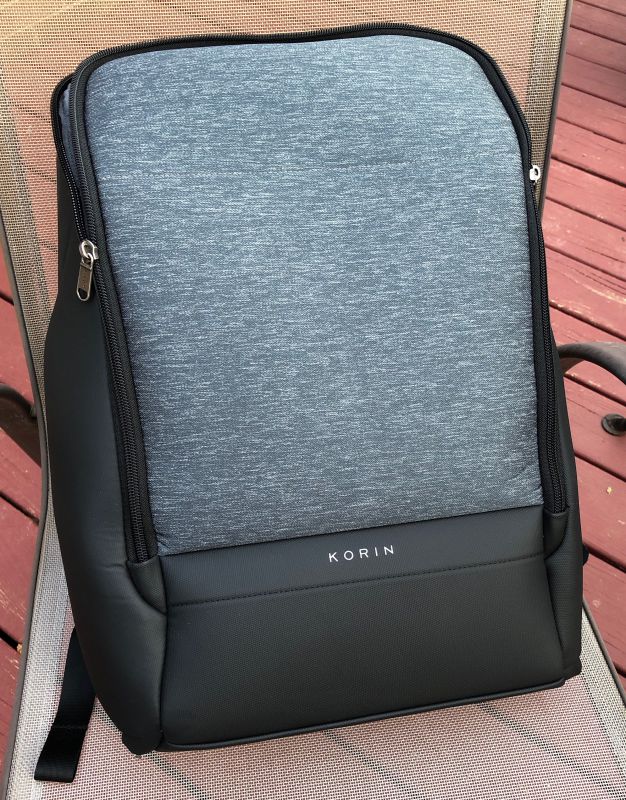 REVIEW – Travel. Just the word can conjure up images of past adventures, or dreams of those events yet to come. These days, however, technology needs to be considered when planning your travels, whether for your daily commute or your global wanderings. I was recently sent the TravelFusion Anti-Theft backpack, and want to show you how it can help ease this possible stressor on your next outing.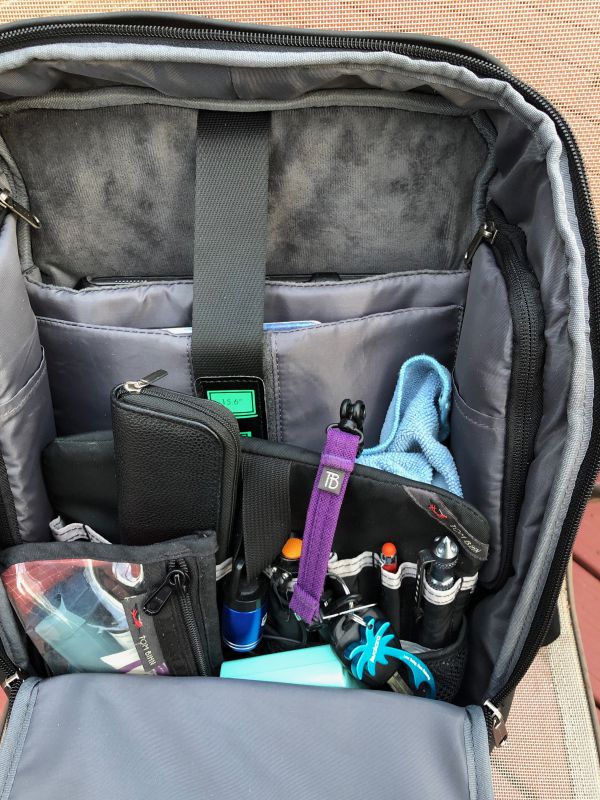 What is it?
The TravelFusion Anti-Theft backpack is a single large opening pack with dedicated screen sleeves, internal wiring for on-the-go charging, accommodations for wet or soiled items apart from the rest of your items, and a few ways to secure your goods while on the move.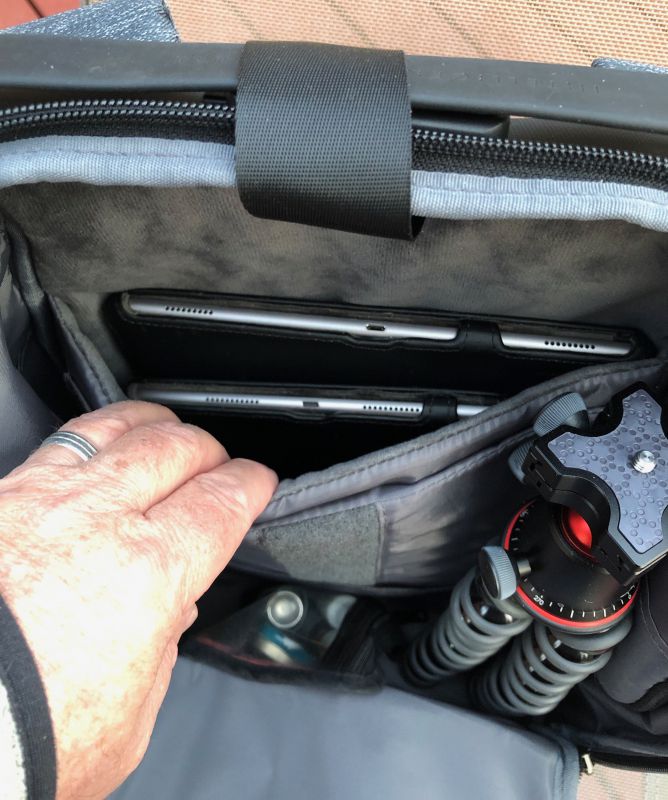 Hardware specs
ANTI-THEFT DESIGN – Retractable high strength metal coil and TSA approved combination lock.
EXTERNAL USB CHARGING PORTS – Easily access your power bank with external USB (type A and C) charging ports.
INSULATED LEAK PROOF INTERNAL POUCH for hot and cold storage. Also ideal to store wet clothing or umbrella. (10 in x 4.3 in x 5.5 in)
DURABLE RUBBER CARRY STRAP
SUPERIOR COMFORT AND DESIGN – Premium padding and breathability in shoulder straps with horizontal chest strap to reduce load and stress.
PADDED INTERNAL POCKET for 15.6 inch laptop. Water resistant polyester exterior and burst proof zippers
18 LITER STORAGE CAPACITY with secure pockets for electronics, important documents, clothing, and more.
FULL ACCESS BACK PANEL for easy packing
SATISFACTION GUARANTEED. If you're not satisfied for any reason, we'll refund your order within 6 months of purchase.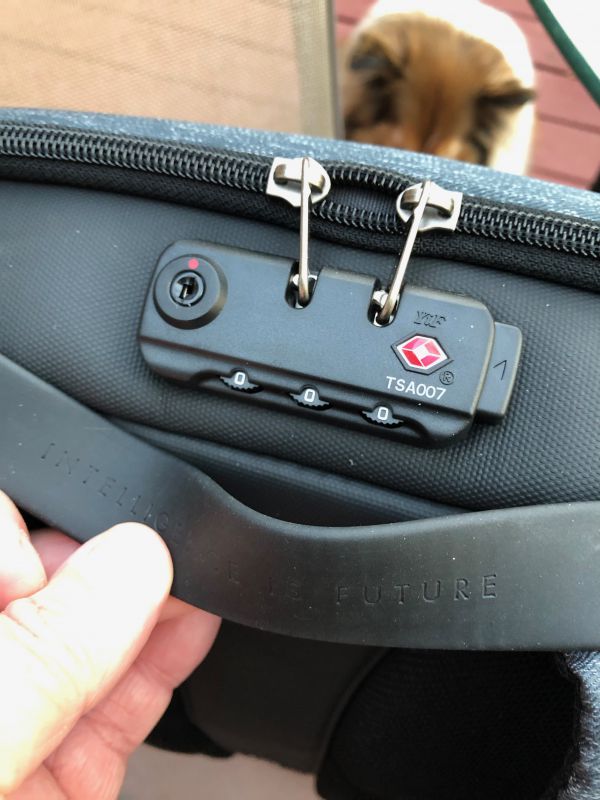 Design and features
The TravelFusion Anti-Theft bag is mostly a single large pocket, sealed by a double-pull zipper. At the top center, there is a 3-digit TSA-compliant combination lock that you click the metal zipper pulls into with a satisfying click.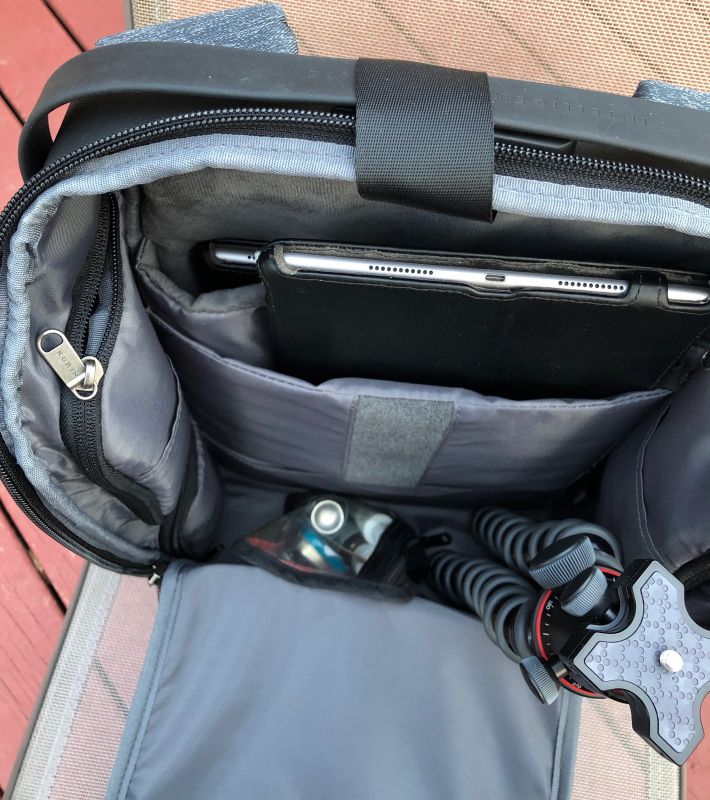 Overall, the bag measures about 17″ x 6″ x 13″. The two straps meet near the combination lock at the top center and are sewn into tabs at each lower corner. There's a 1″ wide silicone hand grip that goes from each top corner across the lock area. It has enough play to allow unencumbered access to the lock and zipper without being too loose.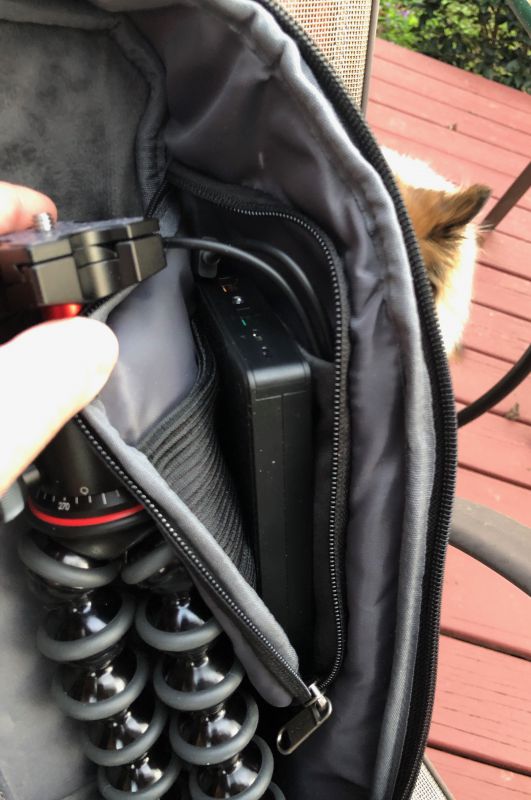 On either lower small side, there is a double-zipped 10″ x 6″ pocket. On the right (when you're wearing it) is a weather-sealed power port with a USB-C and a USB-A jack.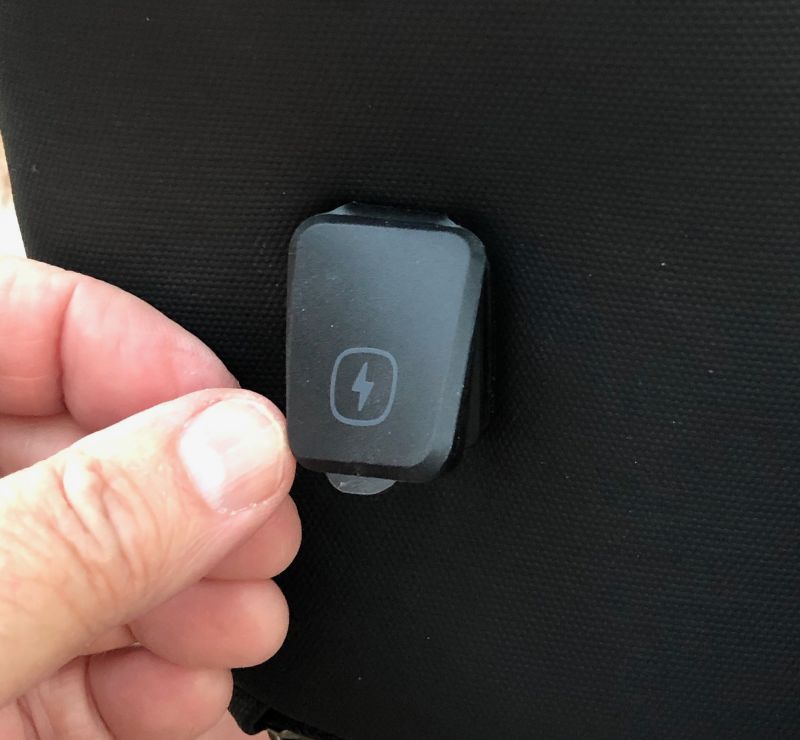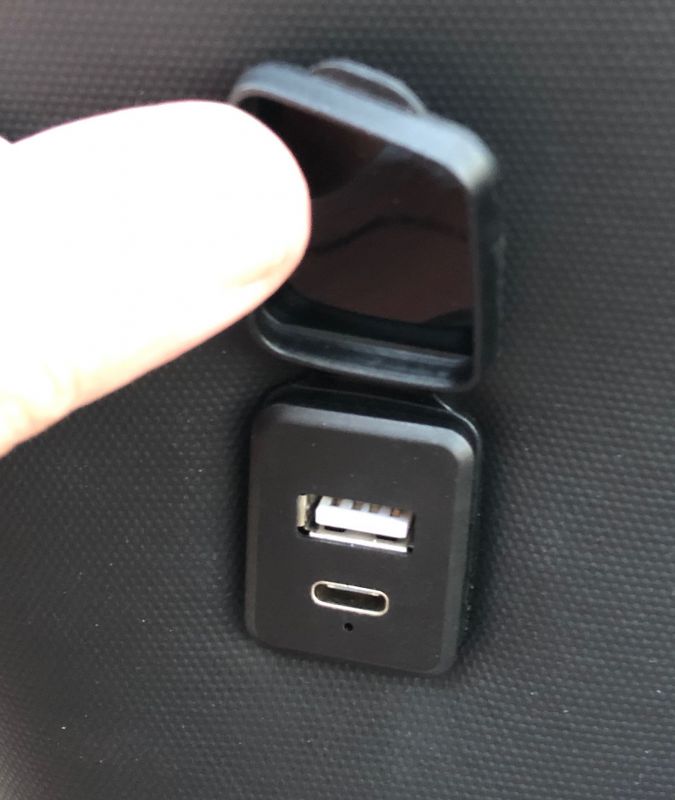 This feeds through the side of the pack into the interior, where you can insert a battery pack (or two!) to power them. There is enough room inside for a phone, gloves, or a passport, but it's not secured. You could easily store coiled cables here as well.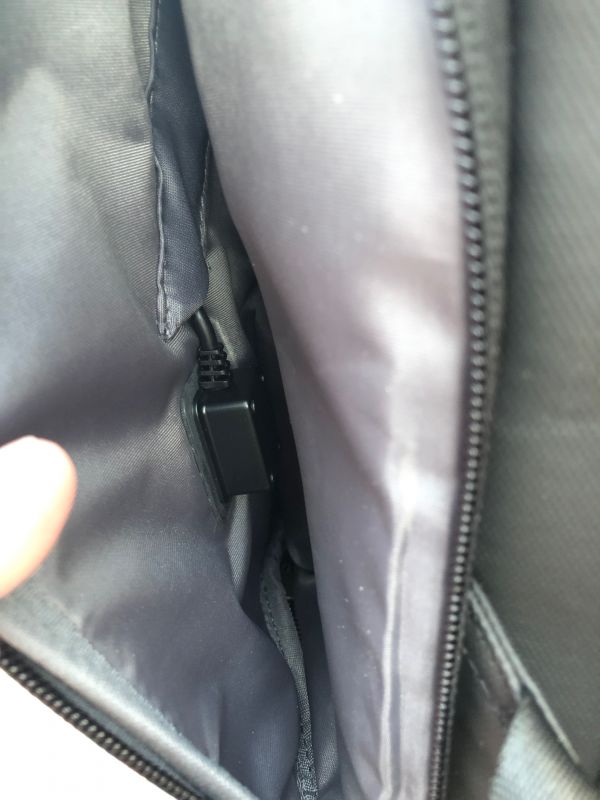 The other side pocket opens to reveal a folded up 8″ x 4.5″ x 4.5″ pocket that can be pushed inside-out into the interior of the pack through an internal zippered access portal.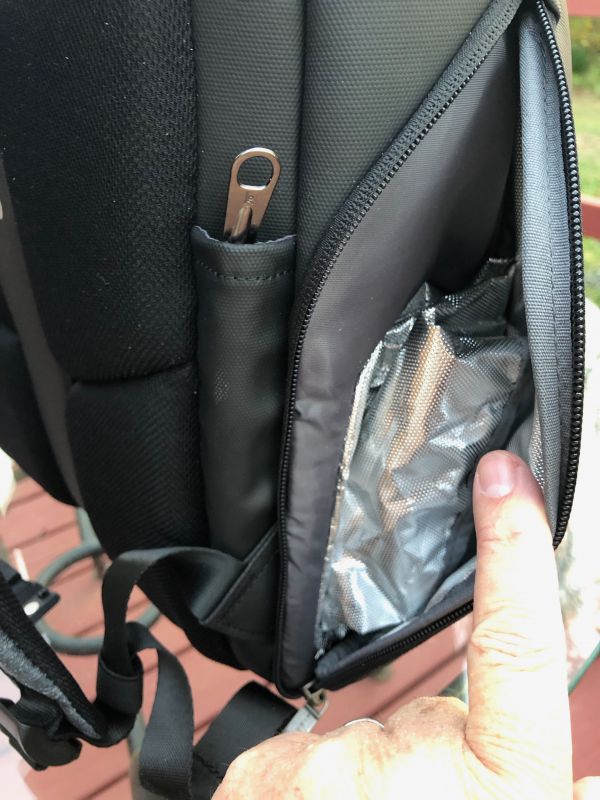 It's made of foil-lined material, so would keep your lunch cool, or prevent your water bottle from leaking into the main compartment.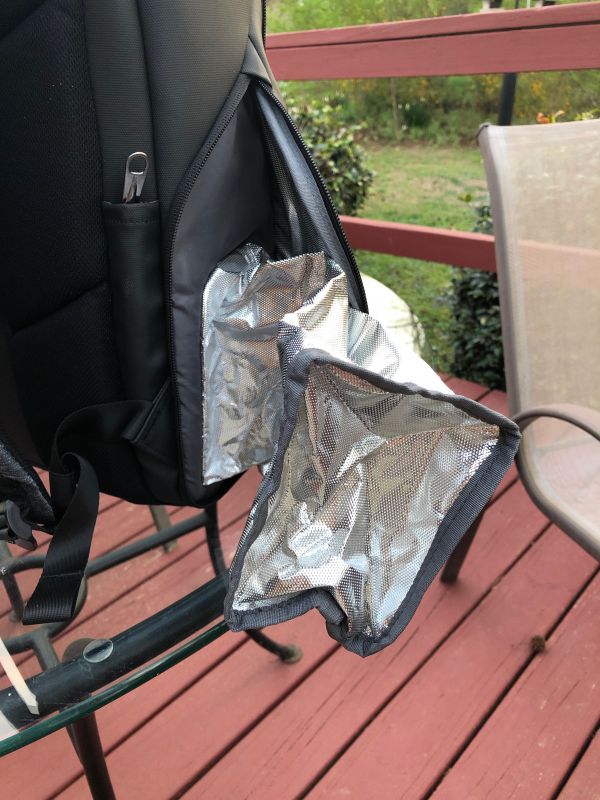 Opening the main zippered area reveals the entire interior in a single compartment. There are two rear flaps against your back, and two on the upper part of the small sides, but these are all very flat.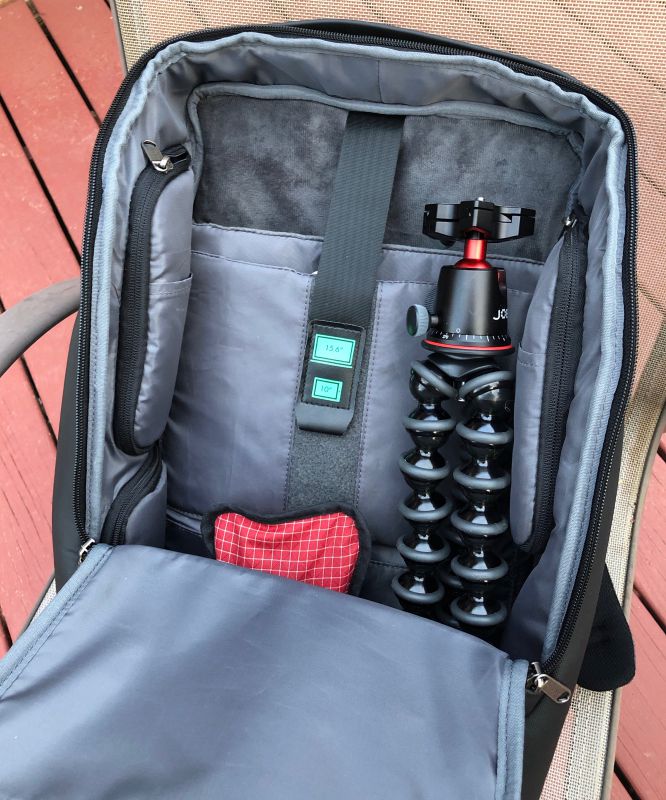 There are a few zipped and mesh flat pockets in the inside cover, so you could unzip and reach into the top of the inner sanctum for items fairly easily, but the mesh isn't very stretchy, so anything with more dimension than a wad of keys, your cables, or earbuds are going to be too bulky. Field glasses, cameras, or over-the-ear headphones will need to be stored elsewhere.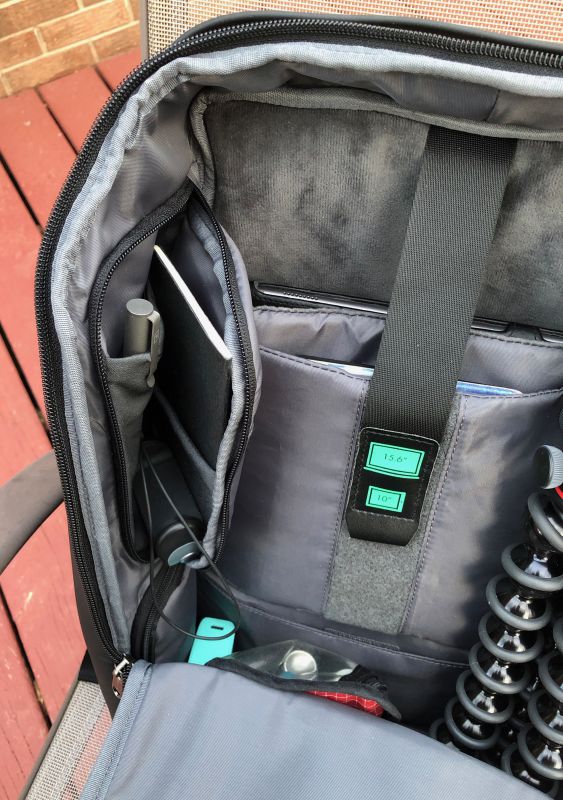 The top side pockets will be good for your computer power supply, power banks for your USB charging needs, and a mouse, if you need one. The rest of the space is totally open (unless you have the foil pocket pushed through). I packed it out in several different configurations and never wanted for space.
The outside of the flap is a grey tight woven-feeling fabric that the company says is water resistant. The lower back, sides, and bottom are all a rubbery-feeling material. It seems very water resistant, but the main zipper isn't weather-proofed.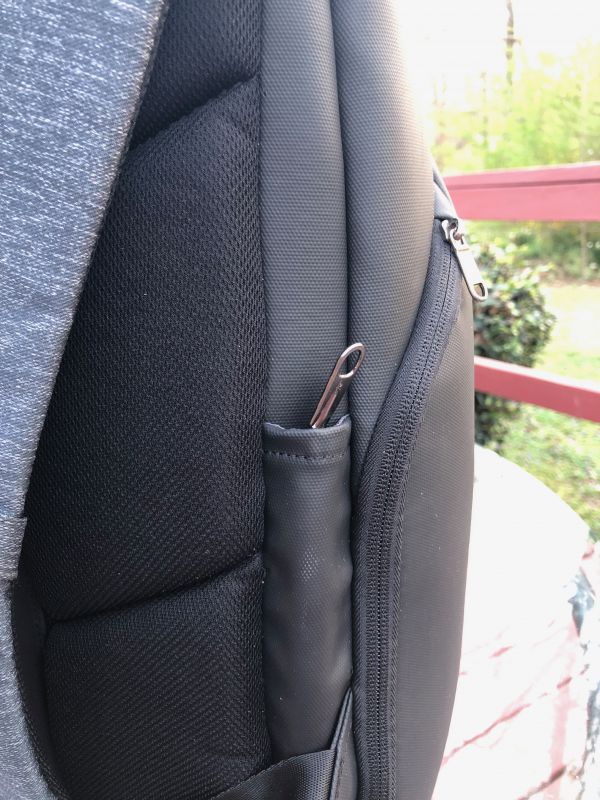 The back and the inner part of the straps is covered in breathable mesh and is nicely padded for comfort and breathability. There is no luggage pass-over strap for your roll aboard.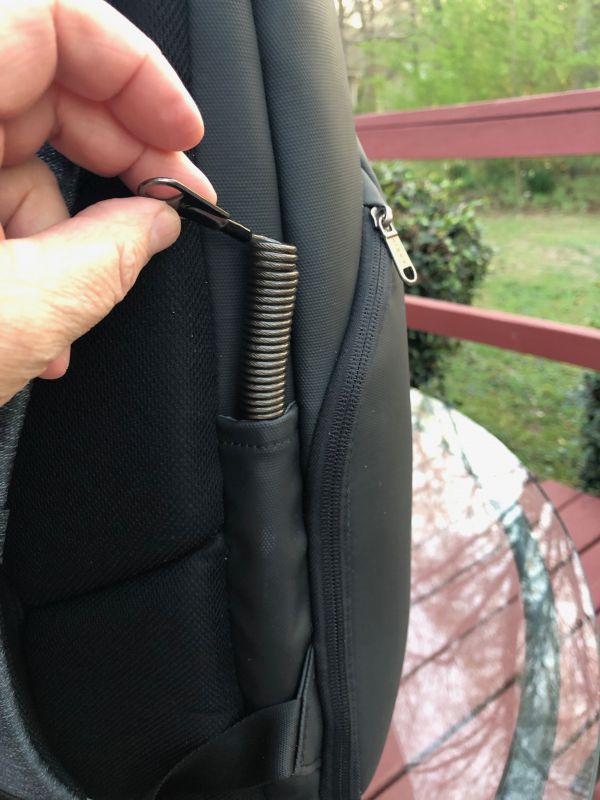 The final superpower of this bag is a coiled plastic-covered steel cable in a sleeve where the left strap attaches. You can quickly pull this out, pass it around something immovable, and snap it into the combination lock. At first, this bothered me, thinking you couldn't use both slots for zippers, and add the tether to the mix. Then I found you could fit in the tether. This makes the bag much more secure if you're in a crowded or notorious zone for snatch-and-grab crimes. Be careful out there, folks!
What I like
Plush laptop compartment will easily hold large laptops or two full-sized tablets
Foil-lined leak-proof pouch is a great place for your lunch or your sweaty running shoes
Locking zippers and steel coil prevent thefts of opportunity
What needs to be improved
The lock has two places to place zipper pulls/hooks. If you lock the cable tether there, it's a tight fit to add the tether to the zipper.
It would be nice to remove the waterproof inner pouch for cleaning.
The Sternum strap pulled out of the adjustment ridge whenever it got a little tight. I finally removed it.
There is no luggage pass-over strap for your roll aboard.
Final thoughts
The look-and-feel of this bag is top-notch. The single large opening made getting to items easy, and the many smaller pockets were large enough for actual use. Having a side power port that sports both USB-C and USB-A is quite handy for on-the-go charging. Being able to remove the battery from the bag is mandatory for some TSA checkpoints. And sometimes, a day takes more than one power bank.
Price: regular price $199.99, on sale for $139.99
Where to buy: Amazon
Source: The sample of this product was provided by Travel Fusion.