We use affiliate links. If you buy something through the links on this page, we may earn a commission at no cost to you. Learn more.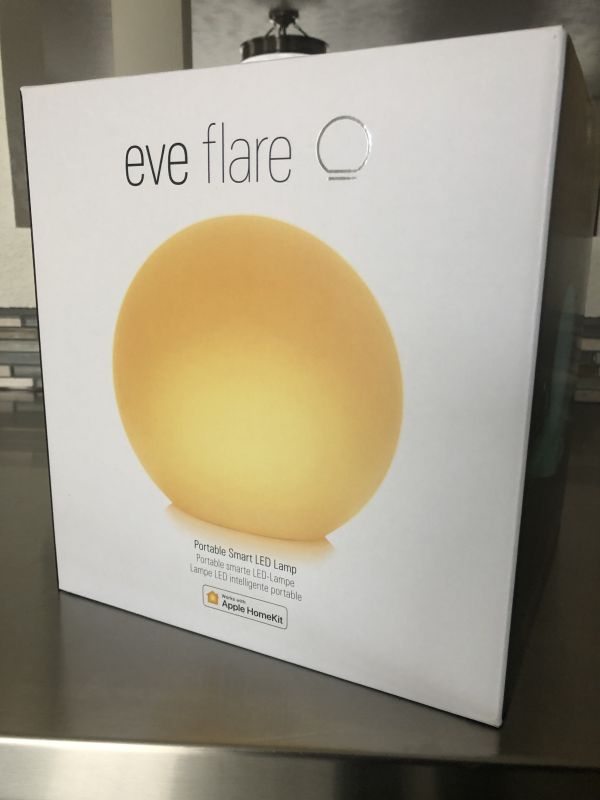 REVIEW – I have recently been made aware of the Eve brand home accessory line, as this will be the first of two Eve products that I'll be reviewing. This is the Eve Flare portable smart LED lamp. This product lets you create ambient lighting pretty much anywhere you desire and has already proven to be quite useful here at the house in a variety of settings.
What is it?
The Eve Flare is a portable 25cm diameter globe LED light with smart functionality and a variety of colors controlled via an iPhone app.
What's in the box?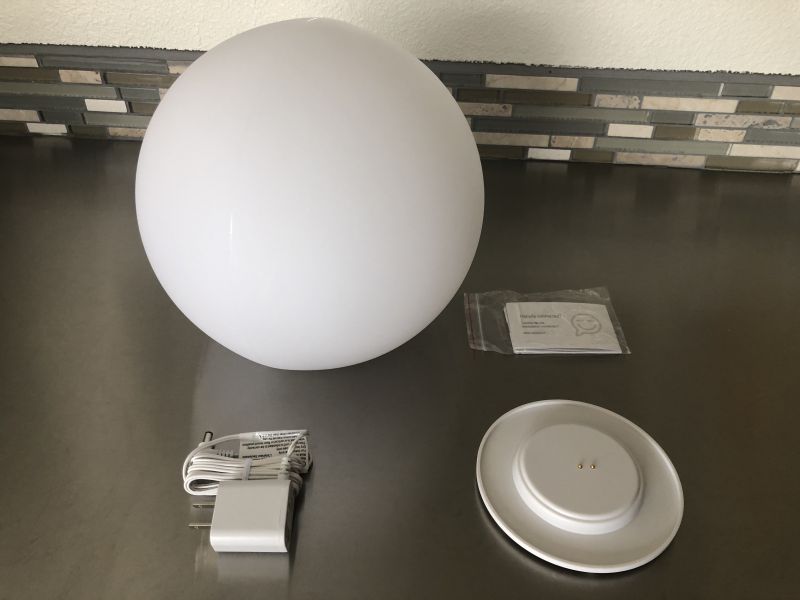 Globe Lamp
Charging cord
Charging base
Instruction booklet
Design and features
The Flare has a very simple design. It's a spherical dome with a flatten base that contains the power button and a hanging hook.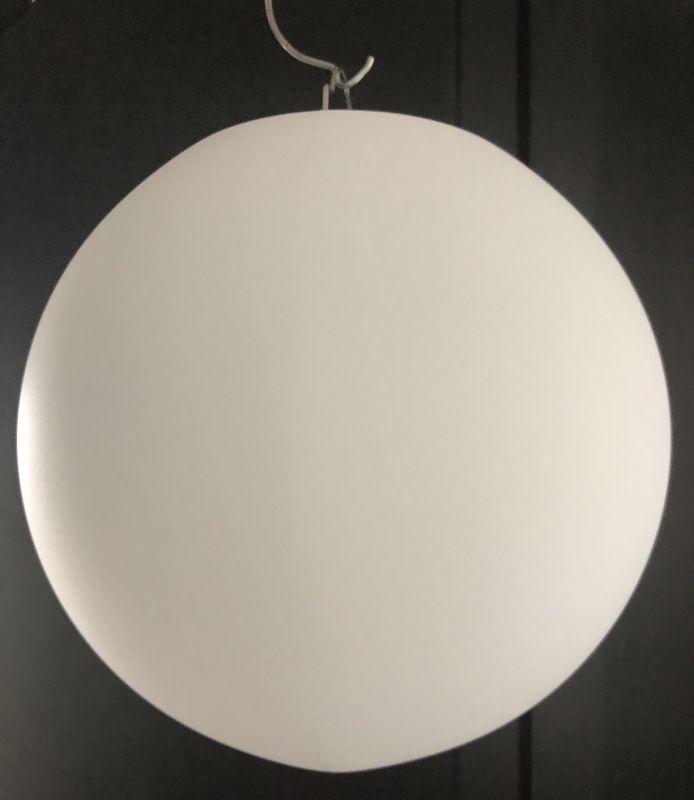 Once you get it charged up, simply download the iPhone Eve Flare app and connect the Flare to your app via the step by step instructions. You can then modify the colors or brightness – as well as control the on/off function from your phone and/or use Siri to change the settings using verbal commands.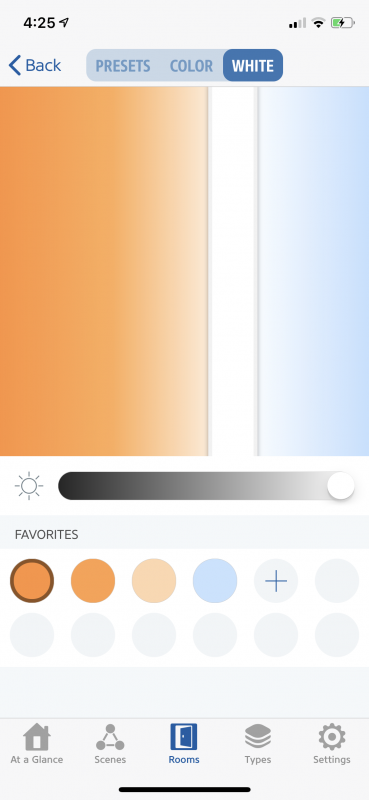 Here you can adjust the white light settings.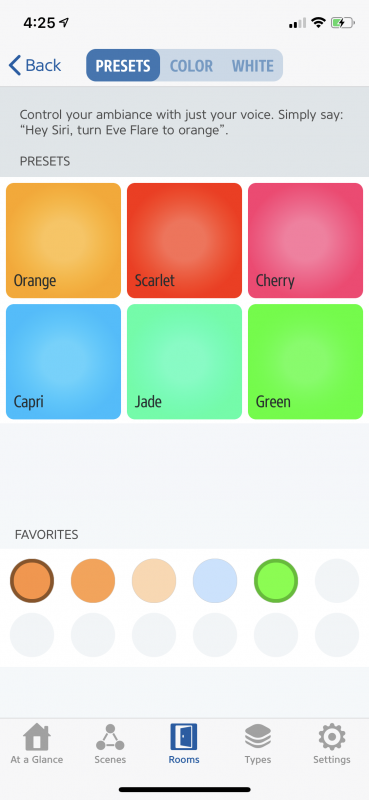 There are several preset color settings loaded into the app.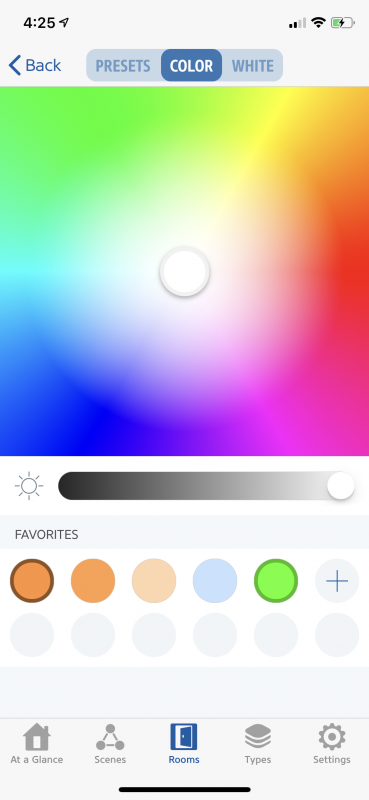 If you have a specific color in mind, you have complete control to change the color via the color wheel shown above.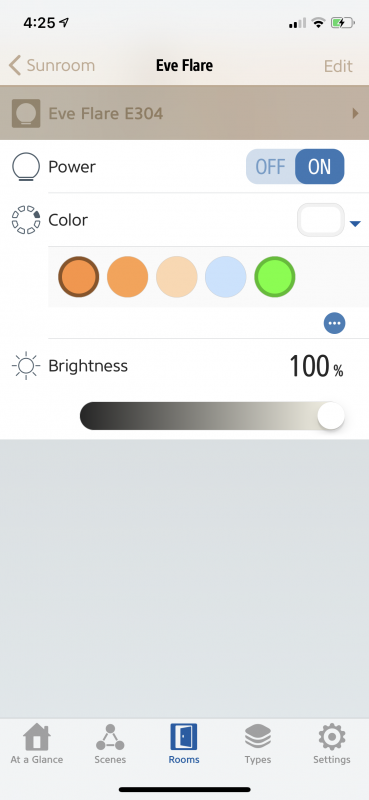 Finally, your base screen gives you the power option, color option and brightness level.
Setup
Downloading the app, then following the step-by-step instructions within the app will get you connected and ready for use. Additionally, it's compatible with the AppleHomekit, so if you already utilize this function then you can simply add this device.
Performance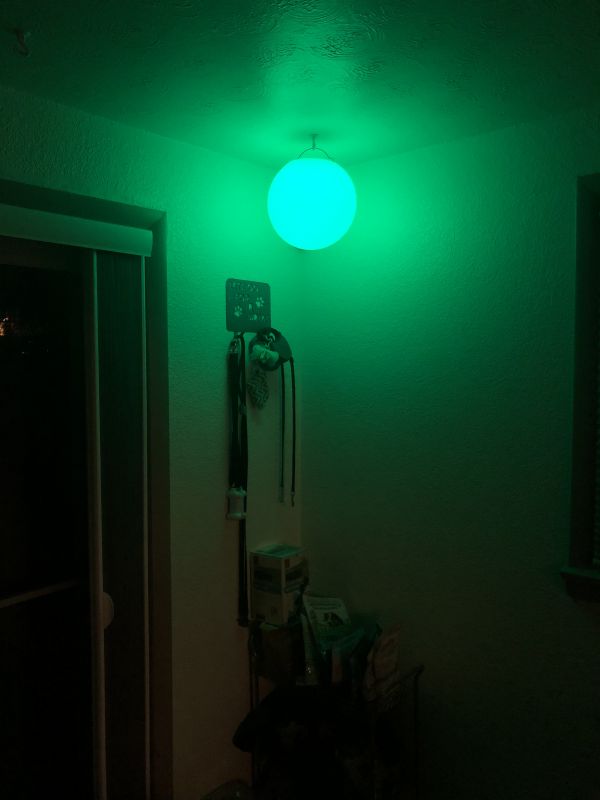 Here is the green setting, with the Flare hanging from its hook in the corner of our kitchen. We have used this product in the kitchen as a bit of romantic mood lighting during dinner, in the game room to provide soft ambient light to the room while watching TV and on the back deck at night while enjoying some wine. Each time we simply found the color that worked best and adjusted the brightness. When we were watching TV in the game room, we always have a problem with the ceiling lights causing a bad reflection in the TV and blocking our views. With the Flare, we were able to set it behind an ottoman and it provided enough ambient light that my wife could weave on her loom while not causing any glare or reflection on the TV screen. It features a 6 hour stand alone battery life but in most cases we just kept it on the charging stand while using, so it could stay on indefinitely. Additionally, it's rated for indoor/outdoor use, with a IP65 rated water resistance.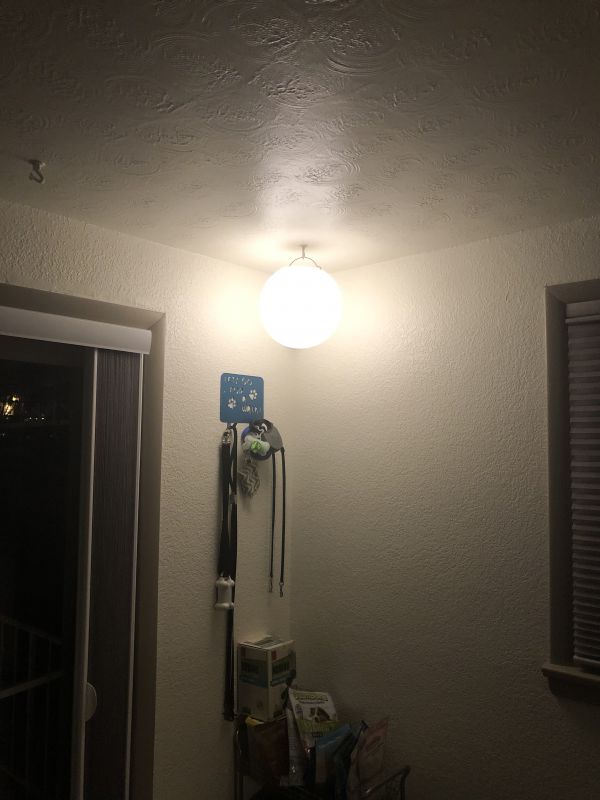 This is at 100% brightness in a room at night with no other lights on. Generally, the phone was the easiest and best way to control the Flare, however at times, as seems to be the case with most wifi controlled devices, connectivity would be an issue and we'd have to turn it on or off manually. At least this device has a manual on/off, as I've run across some that don't and it causes some issues.
What I like
Portable ambient light
6 hour battery life
LED lighting, so no heat and can be adjusted to a variety of colors
Hanger hook on the base increases mobility and usefulness
Indoor/outdoor functionality
What needs to be improved
Connectivity at times is an issue, the range is limited to about 10-20 feet from the unit for control with the phone and even then at times it can get a bit stubborn and refuse to connect.
Final thoughts
We love the Eve Flare, it has come in handy on so many occasions already. At about 1.75 lbs, it's light weight and extremely portable. I'm always looking for more items to incorporate into my Apple HomeKit and being able to adjust the color and brightness on my phone without having to get up is a plus as well. It charges easily and quickly on the provided base and while there is a slight connectivity issue at times, I can't rule out that it could just be indicative of wifi issues in my home. The Eve Flare will be used quite a bit in our house for years to come. At $99.99, I really think this is a great deal, and currently there is a coupon on Amazon for $10 off.
Price: $99.99
Where to buy: Eve Flare can be bought at the EveHome website or Amazon
Source: The sample of this product was provided by EveHome.