We use affiliate links. If you buy something through the links on this page, we may earn a commission at no cost to you. Learn more.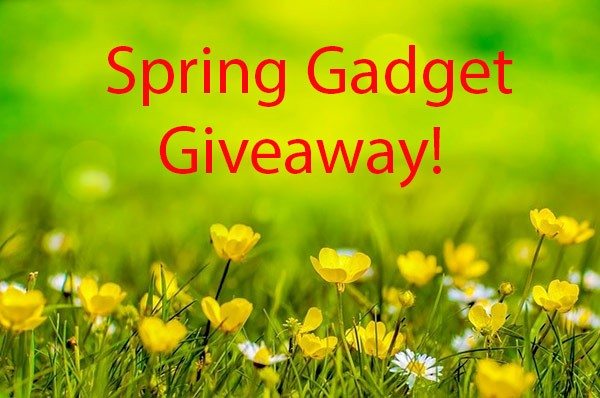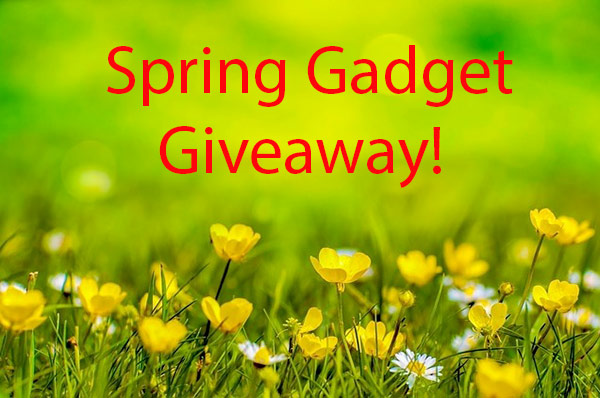 NEWS – Spring is here and we are giving away thirteen awesome prizes. One winner takes it all! Entering is easy! Just answer one simple question in a comment at the bottom of this post and if you're willing to jump through a few extra hoops, you can earn up to three additional entries which will greatly increase your chances of winning. Please read the details on the prizes and the rules before you submit your entries for a chance to win our spring gadget giveaway prize pack!
Prizes:
One person will win a prize pack consisting of 1 of each of the 13 products shown below:
Keyport Anywhere Tools EDC Bundle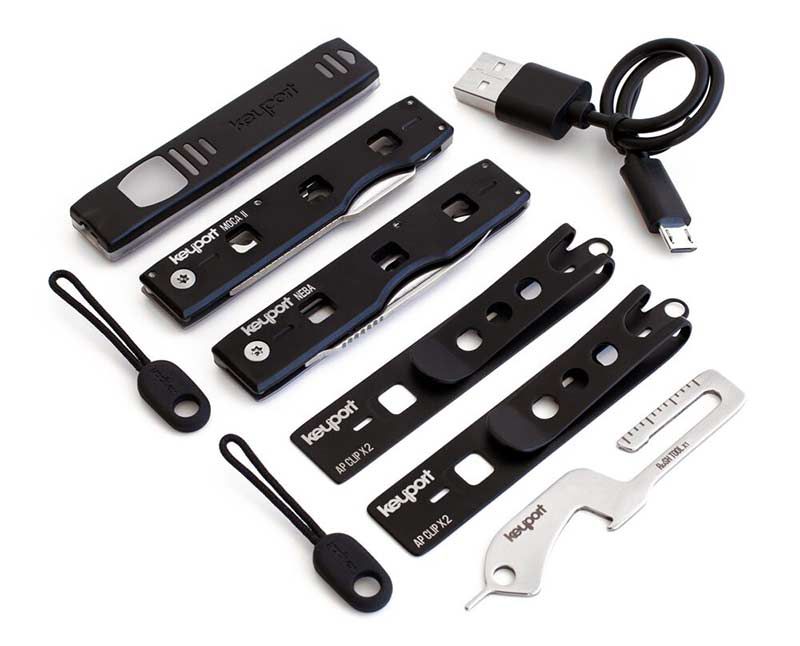 EDC fans will love the Keyport Anywhere Tools EDC bundle which includes:
MOCA II Multi-Tool

NEBA Knife

Pocket Flare

2 Anywhere Pocket Clips

2 ParaPulls.
Customize what you carry and how you carry it.
Our Review: Keyport Anywhere Tools modular EDC system review
Website: mykeyport.com
Follow them on Twitter and Facebook
Mujjo leather case for your smartphone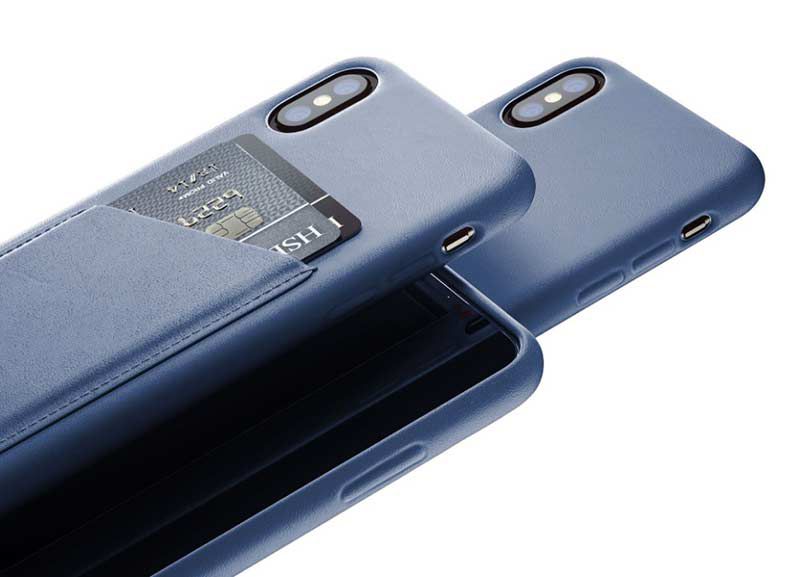 Wrap your iPhone or Samsung Galaxy smartphone in luxurious leather in a variety of colors. Mujjo leather phone cases not only look fantastic, but they will protect your phone from everyday wear and tear and some cases can even hold your most used credit cards.
Mujjo offers cases for the iPhone 6S through the XS Max, as well as the Samsung Galaxy S8 and S9 smartphones. You can choose the exact case that you want as well as the color.
Price: varies
Website: mujjo.com
Follow them on Twitter and Facebook
Eve Aqua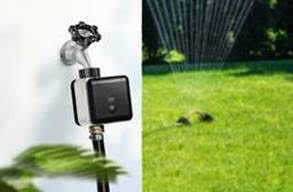 Smart Water Controller with HomeKit Technology, Schedules & Usage Meter
Effortless control: activate your sprinkler via Siri, the app, or onboard button
Auto shut-off: never watch the clock or flood your garden again
Schedules: set to water automatically at specific times; Estimated consumption: track water usage
Operating Range: Pressure: Min. 1 bar / Max. 5 bar. IPX4 Water Resistance. UV Protection
Power: 2x AA Replaceable Batteries
Wireless Connection: Bluetooth Low Energy
Dimensions: 94 x 123 x 80 mm / 3.7 x 5.2 x 3.1 in
Requirements: iPhone, iPad, or iPod touch with iOS 11.3 or later. Automation & remote access: HomePod, Apple TV, or iPad set up as a home hub
Price – $99.95
Available to: Amazon
Website: www.evehome.com
Follow them on Twitter and Facebook
SCOSCHE: BoomBottle® MM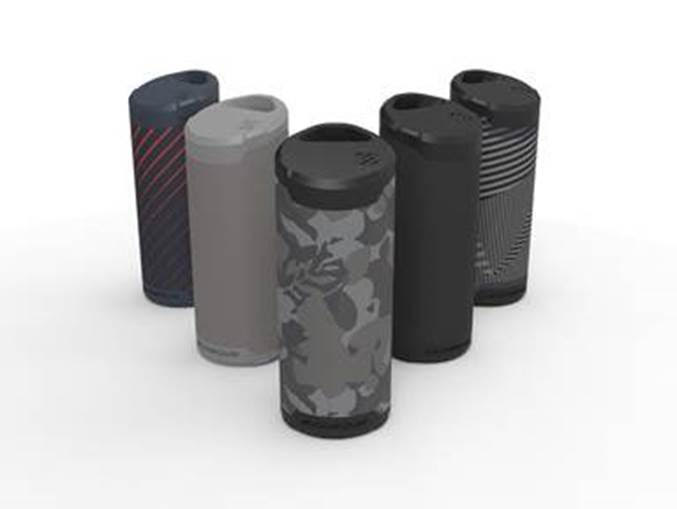 Rugged, waterproof Bluetooth speaker with built-in MagicMount™ technology and bottle opener
Magnetically mount your device to the BoomBottle MM while also magnetically mounting the BoomBottle MM to most metal surfaces
Built-in bottle opener to keep refreshed on any adventure
IP67 rated waterproof/dustproof construction allows BoomBottle MM to play your favorite tunes anywhere from land to water
Includes a built-in microphone for hands-free calling and dual pairing capabilities for true stereo sound
Unique bottle design fits into water bottle cages and cup holders; can also be clipped on to a backpack or belt loop using a carabiner
Rechargeable battery for up to 12 hours of music playback
Price:$129.99
Available at: Amazon
Website:  www.scosche.com
Follow them on Twitter and Facebook
Renogy: E. Lumen Solar Flashlight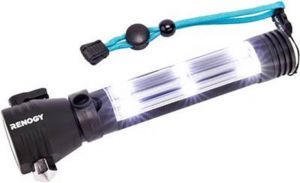 The E.LUMEN is the "Swiss Army Knife" of flashlights, its multi-functionality will come in handy in many circumstances. As the ice melts over lakes in the spring, the integrated safety hammer and seatbelt cutter could help you escape a car in case of an emergency on your commute or road trip.
LED bulb: Allows for easy viewing in low-light conditions
200 lumens output: Shines brightly. Strobe, full, dim, side light bright, side light dim, fast red strobe and slow red strobe modes allow you to choose the ideal setting.
656′ beam distance: Illuminates the night with ease.
Aluminum construction: Provides durability.
Built-in solar panel: Collects solar energy and helps recharge the battery.
Charge a portable device with the 2000 mAh Li-on battery
Price: $24.99
Available at: Amazon
Website: www.renogy.com
Follow them on Twitter and Facebook
Kenu Airframe Wireless

Qi-enabled wireless charging car vent mount
Comes in Black
Equipped with a Universal Push-Button Vent Clip and expandable grip with stainless steel rods
Compatible with Qi-enabled devices including Apple, Samsung, Google, Huawei, LG, Nokia, Motorola, Blackberry and Sony
Includes fan-less ventilation and overheat protection
360 degree Pivot Joint movement allows for seamless change from Portrait to Landscape
Fast charging up to 10W
Includes QC3.0 dual USB car charger and Type C cable
Charge your Qi-enabled phone using this compact, easy air vent attachment
Price:$59.95
Our review: Kenu Airframe Wireless car mount review
Available at: Amazon
Website: Kenu.com
Follow them on Twitter and Facebook
Roland R-07 audio recorder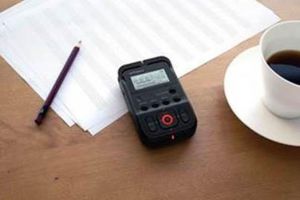 Handheld recording device to capture sound on-the-go with multiple high-quality recording modes, plus unique dual recording and hybrid limiting functions that ensure perfect audio capture every time.
Supports mono and stereo WAV recording at rates up to 24-bit/96 kHz and MP3 recording at rates up to 320 kbps.
Has top-quality onboard stereo mics and
Top-quality onboard stereo mics are always at the ready, while handy scene setups configure all the critical recorder settings with one touch.
Is powered via two AA batteries or USB bus power, and comes in a choice of black, white, and red colors.
Using the free R-07 remote control app on an iOS or Android mobile device, users can wirelessly manage various R-07 functions and also monitor status and levels while the R-07 is placed in a prime recording location that's out of reach.
For added protection during storage and travel, Roland is also offering an optional soft zippered pouch (CB-BPR07) and a sturdy bag with a shoulder strap and pockets (CB-BR07).
Price: $199.99
Our review: Roland R-07 High Resolution Audio Recorder review
Available at: Amazon
Website: Roland
Follow them on Twitter and Facebook
Sphero: Mini

One tiny ball- endless fun. Drive, play games, learn to code and more with this tiny, app-enabled robotic ball. 
Teeny tiny tech: Sphero Mini has a little gyroscope, accelerometer and LED lights.
Change Your Mind, Change Your Shell: Switch the colorful interchangeable Sphero shells to play with the ones that fits your mood best
Program Your Robot: Through the Sphero Edu app, available on iOS and Android, you can draw paths, use Scratch blocks or write your own JavaScript text programs. Use actions, controls, operators and more to control your bot.
Control Your Robot… With Your Face: Mini's Face Drive feature uses your facial expressions to drive the ball.
App connectivity: Use the Sphero Edu app to program your mini or the Sphero Play app to play addicting games
Price: $49.99
Available at: Amazon
Website: sphero.com
Follow them on Twitter and Facebook
PhoneSoap: PhoneSoap Wireless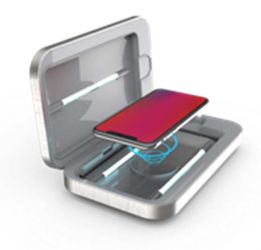 The first and only cellphone charger that cleans and sanitizes your phone while it charges using Qi wireless technology, leaving your phone cleaner than when you bought it.
UV-C light sanitizer kills 99.99% of germs multiplying on your phone in just 10 minutes
Works with any phone operating system (Apple iOS, Android, etc.)
Extra charging ports allow it to act as a universal charger if your phone is not compatible with wireless charging.
Acoustic audio amplifier allows you to hear alarms and notifications so you can leave your phone in the PhoneSoap overnight
Price:$99.95
Website: PhoneSoap.com
Follow them on Twitter and Facebook
Adero: The First Intelligent Organization System

Adero makes any bag a smart bag so you never leave without the things you need, when you need them.
Calms the chaos of daily life by turning any bag into a smart bag through system of Smart Tags and Taglets along with an easy to use app
Place a Smart Tag on your bag (diaper bag, travel carry-on, gym bag or backpack). Then stick Taglets on the things you want to keep with your bag, such as your wallet, passport, headphones or laptop. Now your bag knows if the essentials that belong with it are all together.
Know when things aren't together without having to dig through your bag – just press the Smart Tag. If it lights up green, everything is all together and you're good to go. If it lights up red, something is missing. Check the app to see what's missing before you leave.
Works as a tiny personal assistant by sending push notifications to remind you to grab your bag for activities such as work, the gym or travel and lets you know if something's missing from your bag
Mitigates mental load by helping users stay organized (people who misplace things are 85% more likely to be overwhelmed by mental load)
Recharge Smart Tags to keep you organized and keep them out of landfills
Additional Features: Event-based reminders, LED alerts, water resistant, durable stick
Compatible with Android + iOS
Price: Starter Kit is $69.99 for 1 Smart Tag and 3 Taglets; Standard Kit is $119.99 for 3 Smart Tags and 3 Taglets
Available at:  Amazon
Website: adero.com
Follow them on Twitter and Facebook
Moodo diffuser

Moodo is the first smart home aroma diffuser that enables scent personalization and customization to fit any mood. The app automatically recommends scent presets based on your capsule combination or you can create your own scent by adjusting the levels of each of the capsules in the device.
Personalized aromas: Moodo currently has 8 scent families that come with 4 capsules each, giving users 400,000 possible scent combinations to customize through capsule mixing.
Smart home connectivity: The Moodo device can be controlled via its app, which connects to Wi-Fi or via Amazon's Alexa, Google Home or IFTT.
App control: Moodo's app controls the device from anywhere inside or outside the home, controlling the scent diffusions and intensities to always keep your home smelling fresh.
Price: $139.00
Available at: Amazon
Website: moodo.co
Follow them on Twitter and Facebook
Awair: Glow

Air quality monitor that tracks toxins and chemicals, CO2, humidity and temperature. Breathe better to sleep better by monitoring and improving your air quality.
Turns on your non-smart appliances (like air conditioners, humidifiers, lamps, heaters, etc.) the moment your air quality deteriorates
Provides actionable insights and personalized tips
Has an elegant night light that activates by motion, touch or through the app
Works with iPhone iOS (8 or later) and Android (Jelly Bean 4.3 or later)
Price: $95.00
Available at: Amazon
Website: getawair.com
Follow them on Twitter and Facebook
Kano: Computer Kit Touch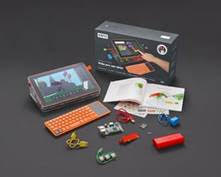 Complete system for learning to code that includes a touchscreen, keyboard, creative tools and hundreds of projects
Following the simple storybook, build a portable, touchscreen computer, and attach a keyboard to bring your DIY computer to life.
Kano's unique operating system takes you through a world of tools and stories where, with step-by-step tutorials and challenges, you use the screen to paint with your fingers, hack Minecraft, create pieces of music and art with simple block-based coding editors, leading to more advanced environments with real Javascript or Python.
The touchscreen helps you learn about tactile interfaces and how touch controls work across everyday devices like smartphones.
Share your creations on ​Kano World​, a free, creative community where anyone can make, share, and play with art, music and games, and tweak it to make it their own.
Price: $279.99
Our review: Kano Computer Kit Touch review
Available at: Amazon
Website: kano.me
Follow them on Twitter and Facebook
How to enter (please read carefully – any missed steps and your entry will be disqualified):
Between now and 04/10/2019 midnight EST leave a comment on this page answering the question below.
Which of these prizes are you most excited to win and why?
Get a 2nd bonus entry by subscribing to our newsletter:
You'll receive 3 emails a week with latest post info. Subscribe here.
If you're already a newsletter subscriber, let me know and you'll get a 2nd bonus entry.
Get a 3rd bonus entry by tweeting:
The Gadgeteer is giving away a giant prize pack of 13 gadgets. Entering is easy! https://the-gadgeteer.com/2019/04/07/spring-2019-gadget-giveaway/
Get a 4th bonus entry by linking to The Gadgeteer home page on Facebook.
Make sure you come back to this page and leave a separate 2nd comment stating that you subscribed to the newsletter, a 3rd comment with a link to your tweet and a 4th comment with a link to your Facebook post. To get the links for Twitter and Facebook, just click the time stamp of your post and it will give you the page with that post so you can grab the link.
At some point on 04/11/2019, I'll pick one random winner using random.org. The winner will be contacted by email and will have 48 hrs to claim their prizes. If I do not receive an answer to my email in that time period, I'll do other random.org drawings till the prize pack is claimed.
Rules:
1. Only one entry per person (warning: I check IP addresses).
2. Gadgeteer writers and their immediate family members may not enter this contest.
3. the-gadgeteer.com is not responsible for any lost packages due to incorrect shipping addresses.
4. the-gadgeteer.com is not responsible for the winner not accepting their prize offer within 48hrs. The winner will be posted on this contest page, in the contest page comment section and will be emailed using the email provided in the comment section. Check your spam folder.
5. Winner must have a US shipping address.
Updates 04/11/19
The winner is comment #32 from John! Congrats John and thank you to everyone who entered and to our sponsors who donated the prizes!