The Gadgeteer is supported by readers like you! If you buy something through links on our site, we may earn an affiliate commission at no cost to you. Thank you! Learn more.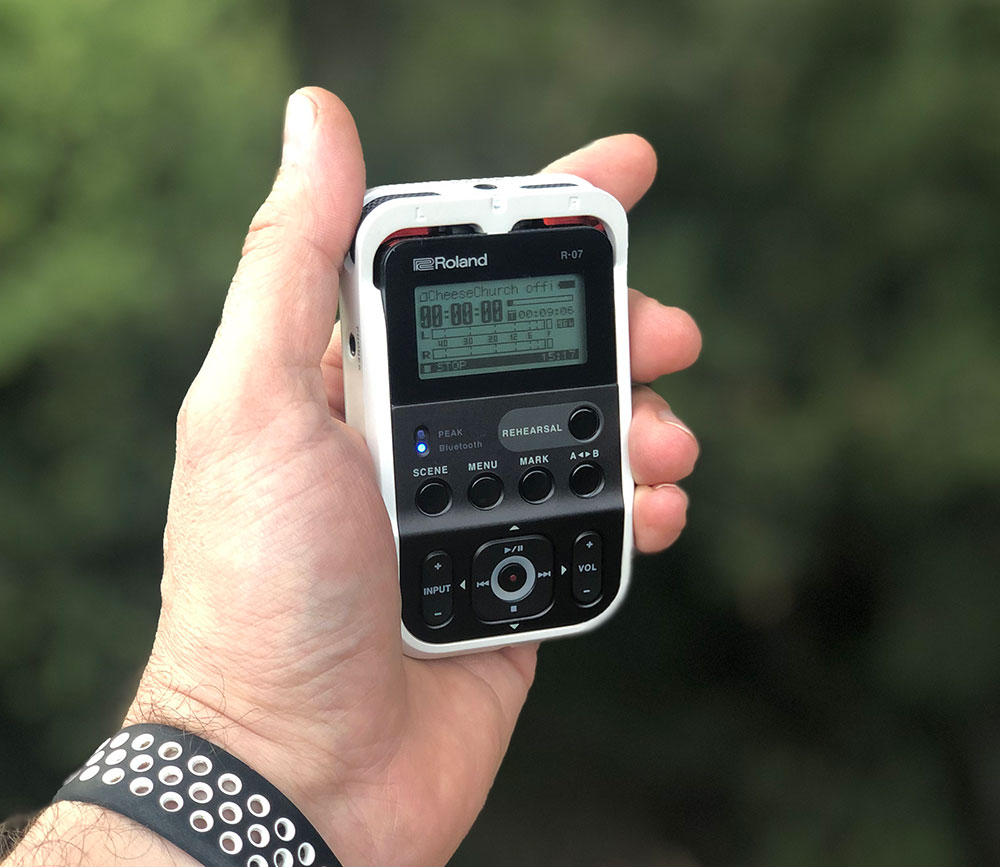 REVIEW – Mobile phones have put so much at our fingertips and have changed the way we interact with the world around us. All kinds of content is created every day directly on phones. When it comes to audio, sometimes you're looking to capture more than just the concept or idea, you want a high quality recording that you can directly use. Roland's R-07 is built for that purpose whether you are capturing music, general sounds or conversation.
What is it?
The R-07 is a high quality, pocketable stereo recorder with a bunch of great features.
Hardware specs
Tracks: 2 (stereo), 4 (stereo x2) * WAV x 2 recording mode only
Signal Processing: AD/DA conversion -24bits 44.1/48/88.2/96 kHz
Data Type:
[For Recording] *Stereo only
WAVE: Sampling Rate: 44.1/48/88.2/96 kHz • Bit Depth: 16/24 bits
MP3 (MPEG-1 Audio Layer 3): Sampling Rate: 44.1/48 kHz • Bit Rates: 64/96/128/160/192/224/320 kbps
WAVE + MP3: Sampling Rate: 44.1/48 kHz • Bit Depth: 16 bits • Bit Rates: 128 kbps
WAVE x 2: Sampling Rate: 44.1/48 kHz • Bit Depth: 16/24 bits
[For Playback]
WAVE: Sampling Rate: 32/44.1/48/88.2/96 kHz • Bit Depth: 16/24 bits
MP3 (MPEG-1 Audio Layer 3):Sampling Rate: 32/44.1/48 kHz • Bit Rates: 32–320 kbps or VBR (Variable Bit Rate)

Memory Card  Compatibility: microSD Card • SDHC format compatible
Inputs/Outputs:
Audio Inputs: Internal stereo microphone, MIC/AUX IN 3.5mm plug-in powered mic (cancels internal stereo mic)
Audio Outputs: Internal speaker (monaural playback), 3.5mm plug-in jack (cancels internal speaker)
Nominal Input Level (Variable): MIC/AUX IN: -31 dBu (Default input level) • * 0 dBu = 0.775 Vrms
Input Impedance: MIC/AUX IN: 4.5 k ohms
Output Level: 3 mW + 3 mW (In case 16 ohms load)
Recommended Load Impedance: 16 ohms or greater
Frequency Response: 20 Hz – 40 kHz (+-3 dB)
USB Interface: USB port: USB Micro-B type • support USB 2.0/1.1 mass storage device class
Bluetooth:
R-07 Remote: Bluetooth technology: Bluetooth Ver 4.0
Audio transmission: Bluetooth technology: Bluetooth Ver 3.0
Transmitting Power: Specification Power Class 2 (Line of sight range 10 m (30 ft))
Profile Support: A2DP, AVRCP
CODEC Support: SBC, Qualcomm aptX Qualcomm aptX low latency
Effects: Playback only. Excludes playback in 88.2 kHz or 96 kHz. Reverb and Speed Change can't be used at the same time.
Reverb: 4 types (Hall1, Hall2, Room, Plate)
Speed Change: 50 – 150 % of playback speed
Other:
Display: Graphic LCD 128 x 64 dots (white backlit)
Power Supply: Alkaline AA battery x 2 (included), or Rechargeable AA Ni-MH battery x 2, or computer via USB
Current Draw: 350 mA (MAX)
Playback Duration: (Alkaline AAs) Playback: Approximately 15 hours • Recording: Approximately 15 hours
Dimensions: 61 x 103 x 26mm and 150g (including batteries)
What's in the box?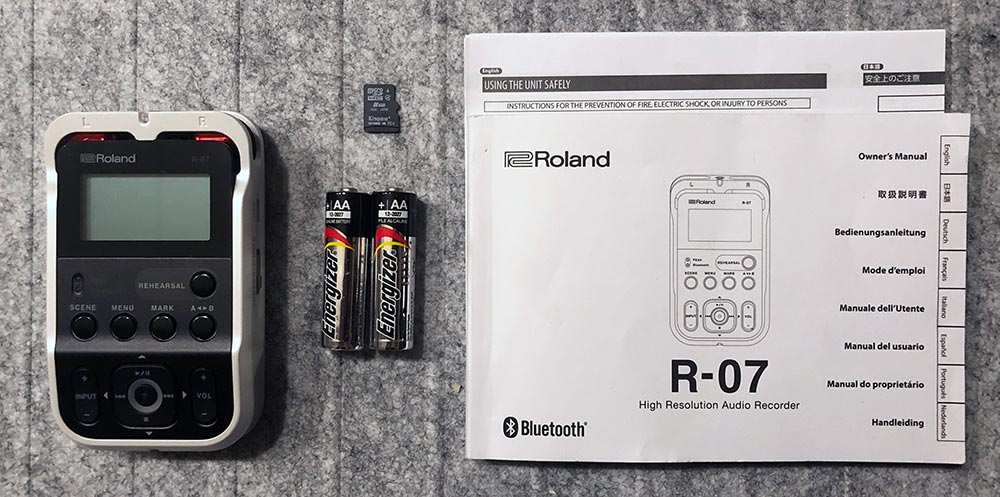 R-07 Recorder
8GB microSD Card (installed in R-07)
AA Batteries (2)
Owner's Manual
"Using the unit safely" Leaflet
Design and features
The Roland R-07 is remarkably small.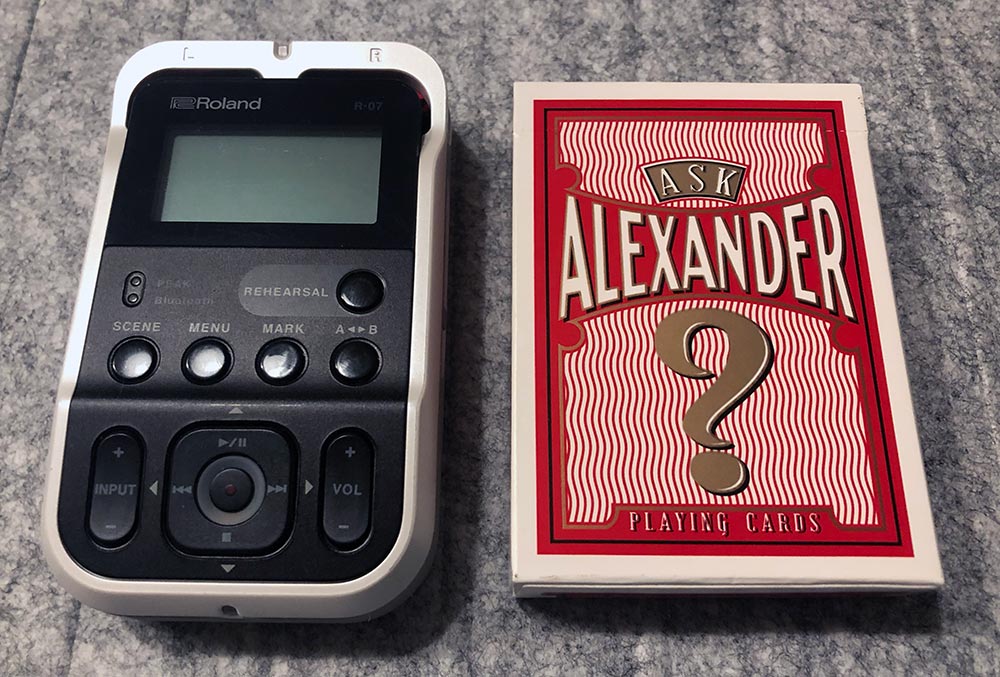 Barely bigger than a deck of playing cards, it really is possible to have it in your daily carry kit and on hand when you need it.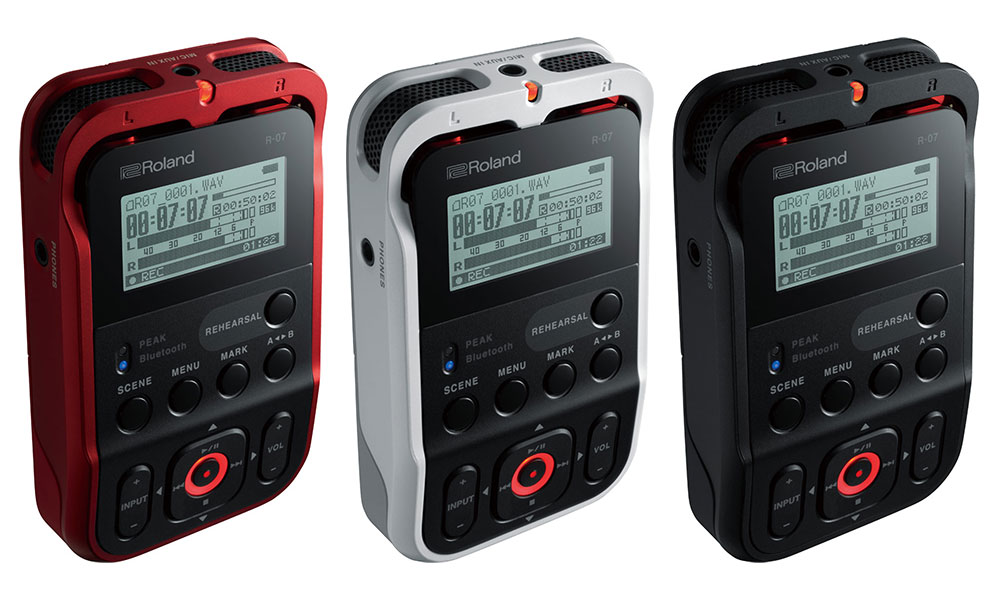 Visually, it hits the technical checkboxes as well as providing some style as it's available in three different colors.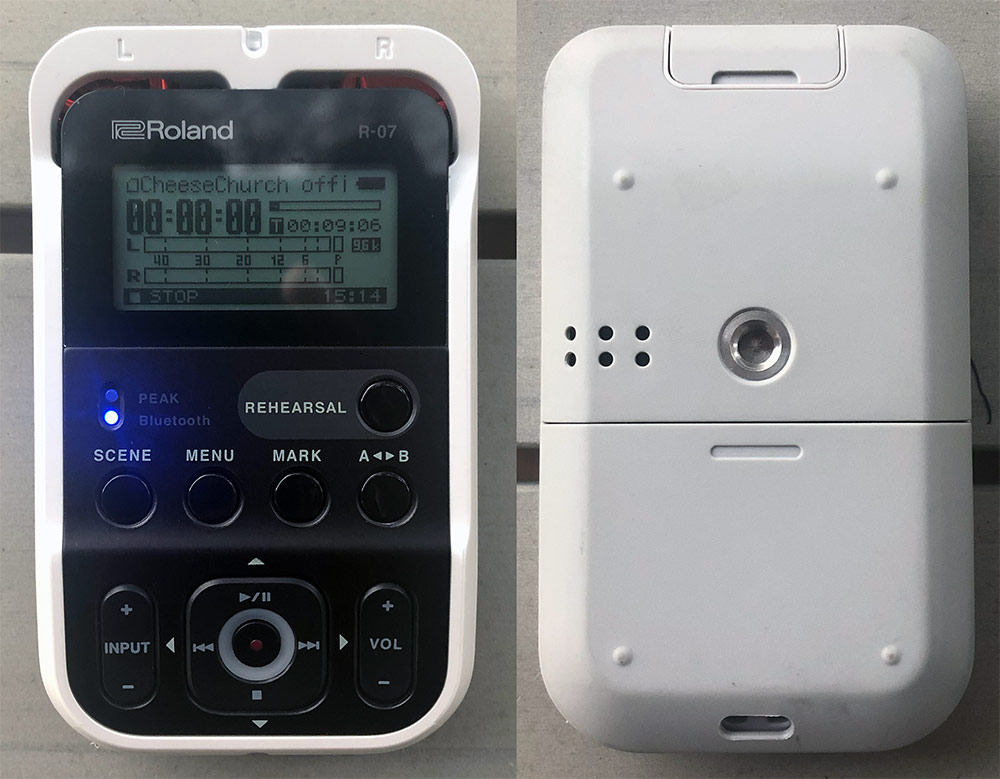 All the controls (other than the power switch) are on the top surface and very clearly labeled. On the back is the battery door, a 1/4 20 threaded insert for use with a stand and the door for accessing the Micro SD Card where you'll find an 8gb one that  Roland graciously included.

The right side has the power switch and micro-USB port. The top end has the two onboard mics and a jack for connecting an external mic or auxiliary source. The left side has a jack for connecting wired headphones.
Setup
Out of the gate, Roland nailed this because the setup is as simple as installing the two AA batteries and powering the unit on. The power switch is a slider, that you need to hold for about 3 seconds to turn on. This is a great feature preventing accidental powering on for a device you're likely to pocket frequently. Follow the same steps to power off.
At this point, you can literally start recording right away, or read the instructions and learn about the many functions and different things you can do.
You'll need to supply a micro-USB cable if you want to connect to a computer to transfer files or update the firmware.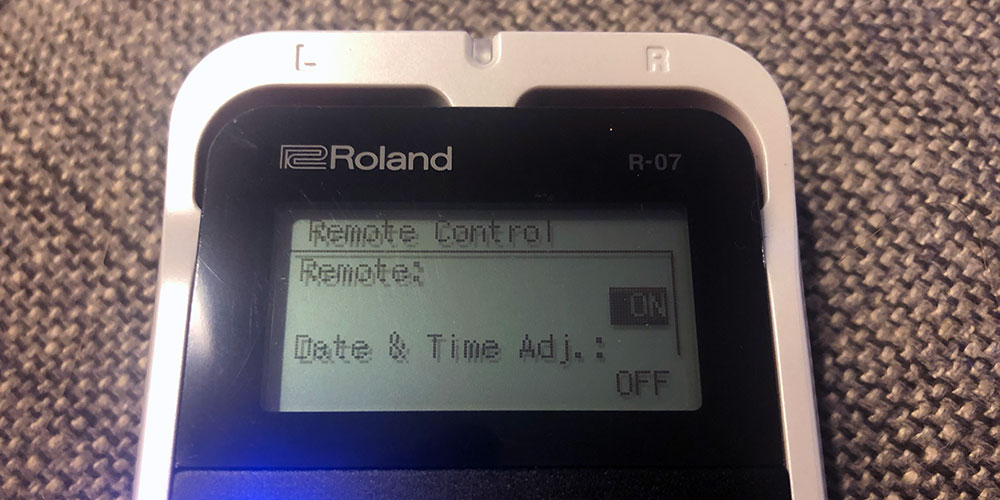 To connect a mobile phone as a remote, you'll need to download the R-07 Remote app first. To connect the R-07, you'll want to power it up, choose Menu / 5) Bluetooth / 5) Remote Control. In that settings menu change the Remote: setting to ON. Make sure your phone is close and launch the app. You may need to hit the (Search) pop up button or hit the R-07(—) in the lower right corner and select Roland R-07 MIDI from the device list. You'll now be able to control R-07 directly from your phone.
To connect Bluetooth headphones or speaker for wireless listening, put them in pairing mode and on the R-07, choose Menu / 5) Bluetooth / 2) Pairing Audio and after a few seconds you'll have a new connection.
The R-07 remembers the last paired device so you may need to go into the menu to disconnect if you switch things up regularly.
Performance
The best way to describe the R-07 is that you may not realize how much you needed this device until it's in your hands. My son had it in his pack the first weekend and ended up recording some ocean sounds while out at the beach. Satch is always humming or drumming around but he hadn't really captured environmental sounds before to my knowledge. That night he sat on the deck for an hour and recorded the acoustic guitar with the R-07 as well and then dragged the audio files to his mac and finished this up.
While the controls are all well marked, there's a lot to learn about how to use the device. Depending on your own experience with recording devices and your needs, there may well be features on the R-07 that you never use.
The rehearsal button isn't one of those. A single press of this button and R-07 listens to your environment for 60 seconds and automatically adjusts the levels to optimize recording. The result is that you can get right to recording and know that what you capture is going to sound good.
The remote function is super cool as it let's you optimally position the R-07 while being able to start/stop and make some adjustments without needing it right at your fingertips. Here's what the app looks like on iOS.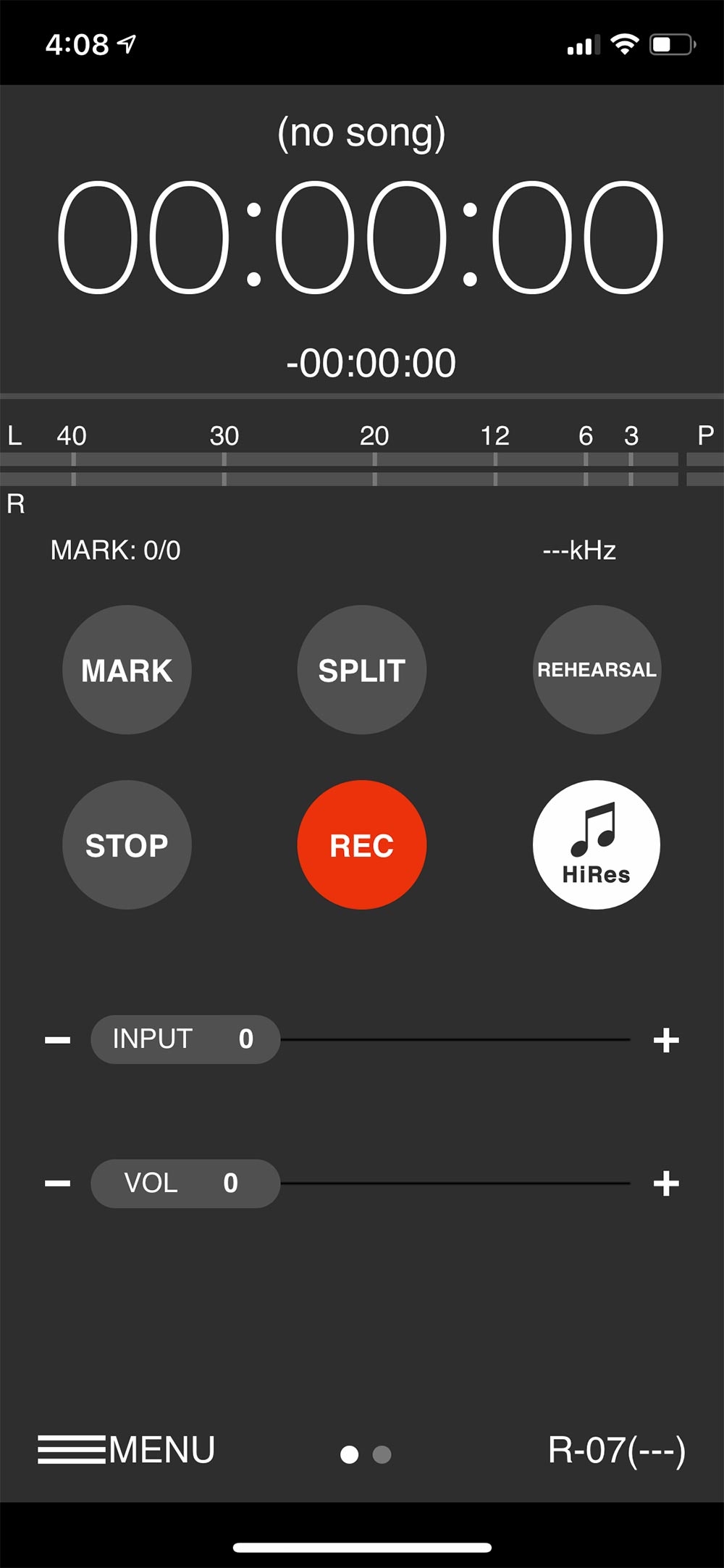 Even cooler is the Apple Watch app.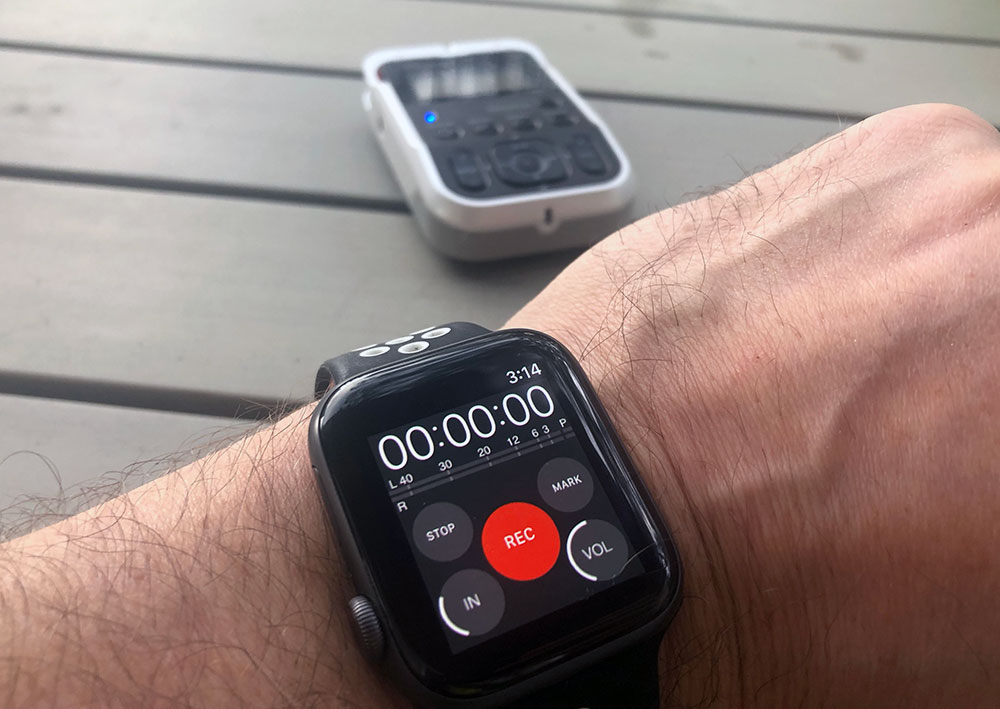 Here's a shot where you can see how easy it can fit into your session.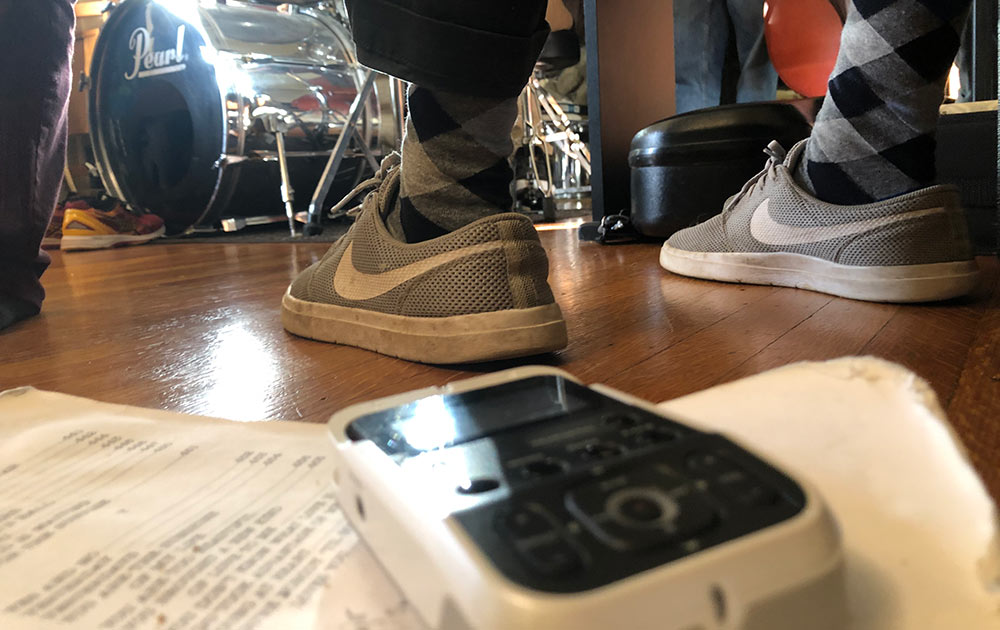 There's a couple of key things you'll want to know. Playback through the internal speaker is over-ridden if you plug headphones into the phones jack. Similarly, the onboard stereo mic is canceled out if you plug an external mic into the mic/aux jack.
As for the right way to use it, there's really no wrong way so experiment. The Scene button sets recording modes for Music Hi Res, Music CD, Music Long, Loud Live, Loud Practice, Instrument, Vocal, Voice Memo, Field or off. Roland has a Practical Guide that is likely to cover most of your recording scenarios and offers numerous tips to get the best recording results.
What I like
Pocketable size
High quality recording without additional mics
Auto level settings with Rehearsal button
Remote control function with phone or Apple Watch
MicroSD card (8gb) included (some bundles available with larger cards)
What needs to be improved
Practical Guide (website) should front and center in the included material as it provides much-needed starting points
Final thoughts
The R-07 is one of those products where there's always more to uncover. It feels a little complicated at first glance, but Roland's website has a lot of help and it really is easy to use once you're familiar with the controls and navigation. The audio quality is stellar and I can't imagine something this feature rich being much smaller.
Price: $229.99
Where to buy: Amazon
Source: The sample of this product was provided by Roland.