We use affiliate links. If you buy something through the links on this page, we may earn a commission at no cost to you. Learn more.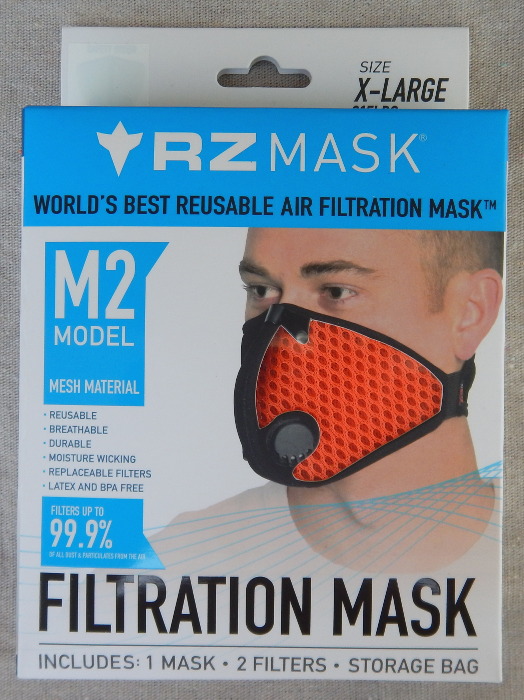 REVIEW – One of my ongoing quests has been to find a air filtration mask for routine home improvement / hobby activities. I have several criteria, including
easy to use
comfortable
effective
versatile
cost-efficient
don't cause my glasses to fog up
My specific use cases are filtering dust from machining wood, outdoor spray painting, clearing yard debris, including using chainsaw, and particulates kicked up during cleaning garages and storage buildings. Let's see if the the RZMask model M2 Mesh Mask manages to tick off all of these criteria.
What is it?
The RZMask line of masks are soft, easy-to-adjust particulate filtration masks. RZMasks feature replaceable filter material and one-way valves design to reduce goggle / glasses fogging.
What's in the box?
The M2 mask is packaged in a hang-tab box with a graphic / cutout on the front which shows the color / pattern of the mask inside.
The product box itself contains
the mask
two filters
a storage bag for the mask and filters.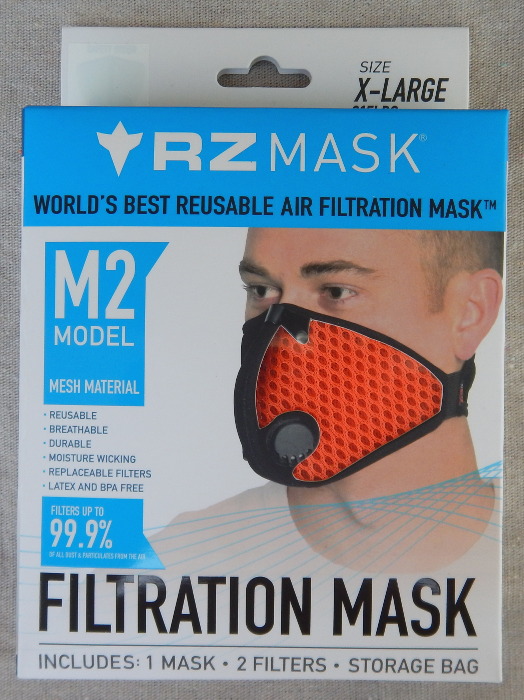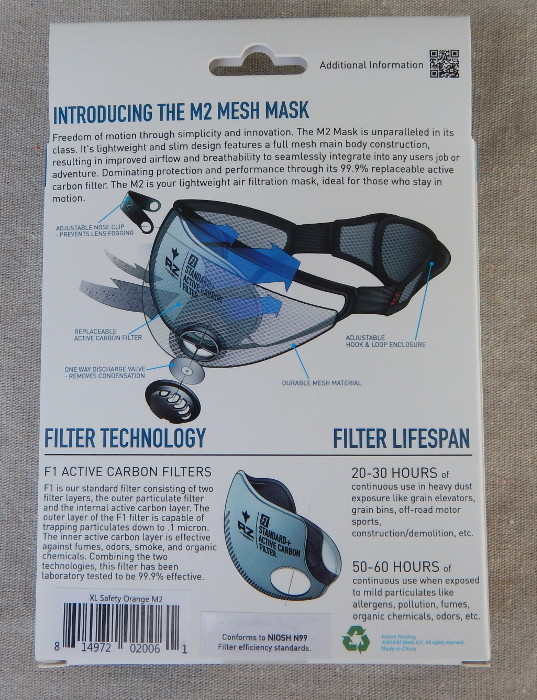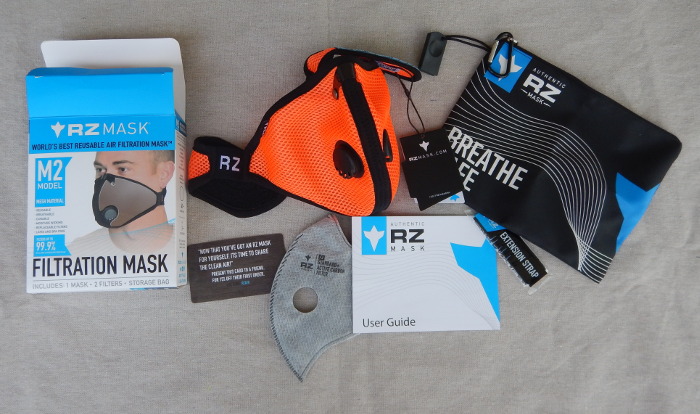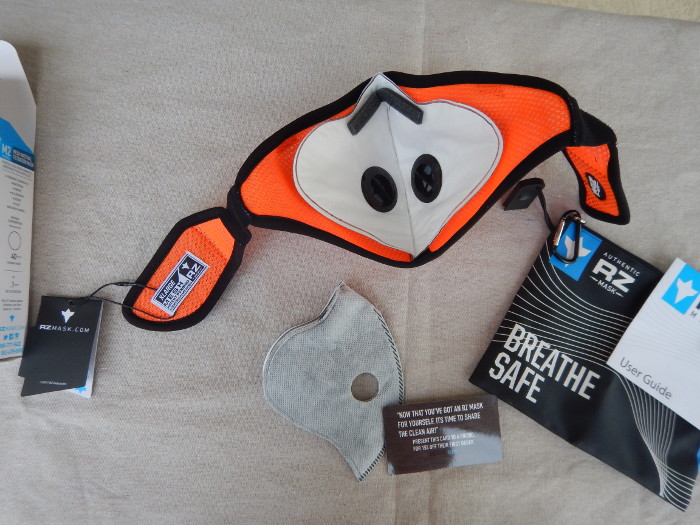 The bottom of the box also has a handy sizing guide (a printed rule) to help you select the proper size mask.
Design and features
The M2 masks are constructed of multiple layers of materials with a mesh outer layer. The masks are latex- and BPA-free and have replaceable filters. They are designed to be
breathable
durable
reusable
moisture wicking
The mask uses a two layer filter, with a particle filtering outer layer and an inner active carbon filter. These replaceable filters are rated for particulates down to 0.1 micron including the capture of organic chemicals, bacteria, allergens, dust, and smoke. The filters have an expected lifespan of 20-30 hours in heavy dust environments such as heavy demolition, grain elevators, and off-road motoring. Medium duty homeowner activities should allow for a 50-60 hour effective life. The filters conform for NIOSH N99 filter efficiency standards.
I purchased the safety orange mask. My choice was dictated by two desires, 1. being able to find where I laid the mask down when taking a break and 2. being able to be identified when working on group projects (let's be honest, my main concern was being able to find the mask when I took it off for breaks).
The mask features an adjustable nose clip and one-way discharge valves to help prevent the fogging of glasses. The mask is held in place with a single adjustable strap that closes with a hook and loop closure. The strap features a wide pad on the back of the head for comfort and to help keep the mask where you want it. I nice touch is that the hook side of the closure comes fitted with a piece of protective cloth so the hooks don't catch on the mesh during shipping.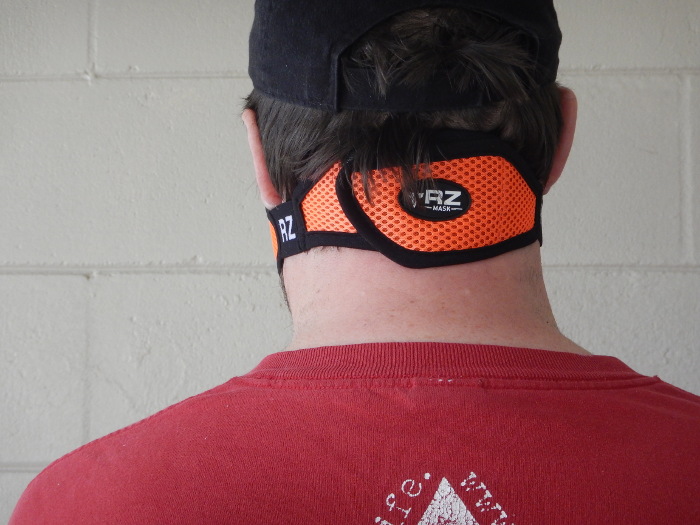 Airflow in the M2 mask is in through the mesh and filter and then back out through the one-way exhaust valves on the lower front of the mask.
Filters
The large filters on the M2 are easy to change. It is just a matter of twisting the lock on the inside of the one-way valve a quarter turn and then removing the outer louver.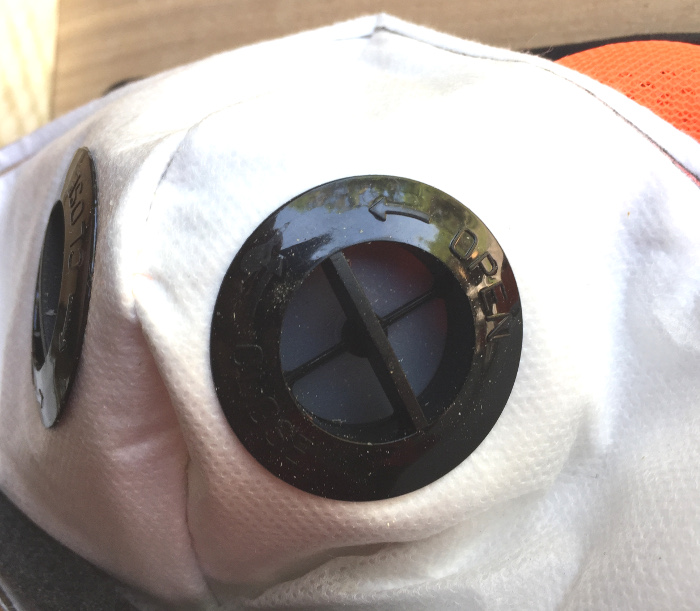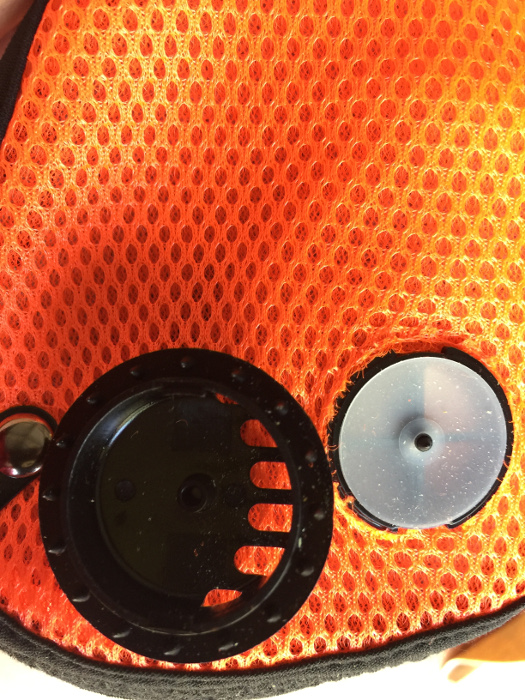 You then pull the valve body out of the mask material.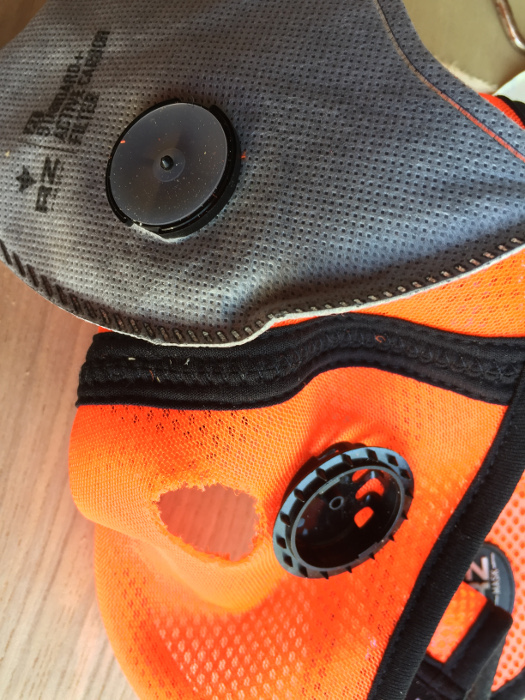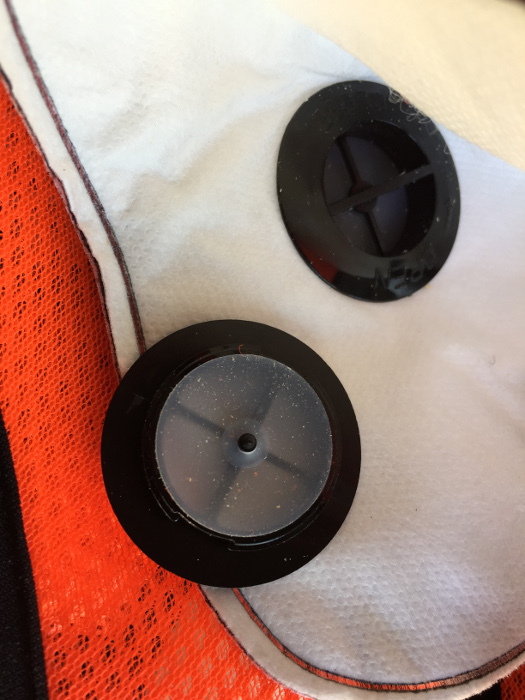 This is repeated on the opposite side. Installation is the reverse of this process. The only gotcha is that you need to align the louvers pointing down and you have to line up the two small tabs on the valve body with the corresponding slots on the louvers.
Points of Comparison
To this point, I have used a combination of paper filter masks, consumer-grade nose and mouth canister masks designed for particulates, wet and dry bandanas, and full face masks both with and without remote canisters, but have not been happy with any one of these solutions. Bandanas are at best a filter for large particles of paper, leaves, grass, etc., but have done little to keep out smaller particles, and the lack of a proper seal over the bridge of my nose means my glasses fog up. Paper filter masks are easy to use and cost-efficient, but are not always comfortable, not that versatile, and only effective at filtering large particulates, for example, they don't do a good job filtering out particulates from spray painting. Some paper filter masks are designed to have good seals over the nose, but others allow enough air leakage that my glasses fog within a few minutes. Nose and mouth canister masks are much more effective and, with the use of the appropriate types of canisters, very versatile. However, I find these masks uncomfortable, hard to adjust, and expensive, but my glasses generally don't fog from exhaled moisture.  Full face masks with remote filters can be very efficient and versatile, again with the proper selection of filters. Full face masks are expensive and take a bit of time to adjust for comfort. I find them harder to use because my glasses tend to fog if sufficient positive airflow isn't provided, and they interfere with my peripheral vision. I should note, that I have a full beard and mustache that is trimmed to a uniform 12mm length with which these masks have had to contend. To date, only the full face masks design has really been able to seal around my beard to my satisfaction.
Performance
The mask is easy to put on and adjust using the single hook-and-loop fastener on the back. Unfortunately, the design of the mask is incompatible with the combination of the shape of my head and my choice of prescription eye glasses and how I have them fitted. As you can see in the photographs, the mask fits high enough up on my nose that it pushes my glasses up out of position so I am unable to see out of my bifocals and the main grind of the lenses. I do wear my glasses down and close to my face, which is unusual, so your mileage may vary.
I was forced to complete my testing using inexpensive safety glasses. I was concerned that I had purchased too large of a mask, but all of the photographs online and on the packaging showed the masks sitting in the same position on the users' / models' heads as my mask was on mine. My mask may have been a bit too big for me, but based on the photographs the next size smaller mask would have interfered with my glasses as well.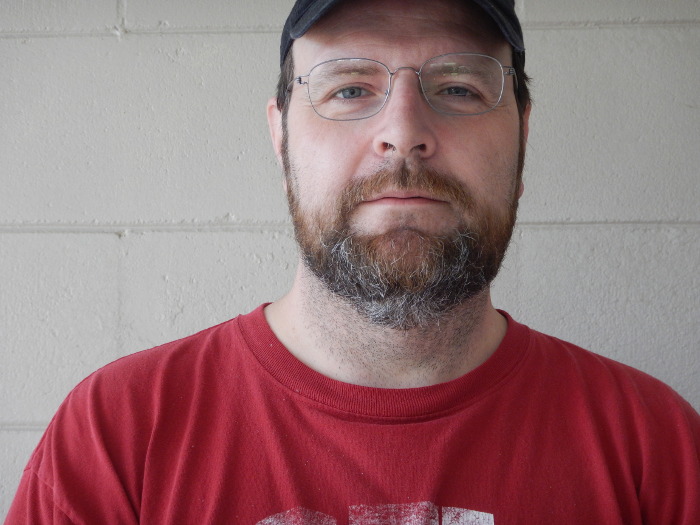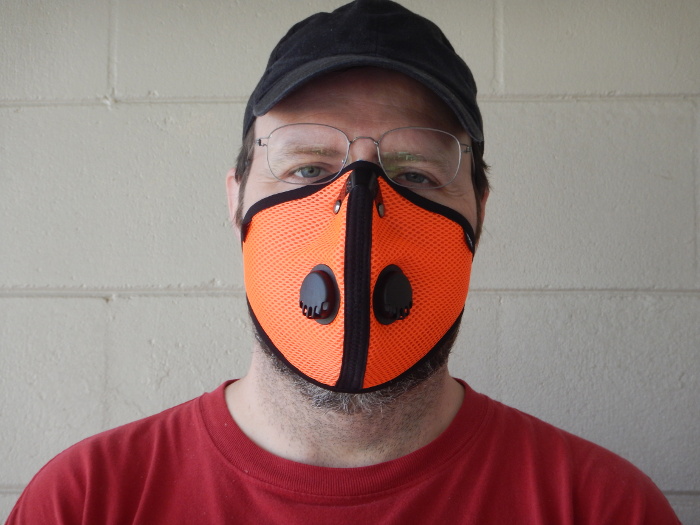 I tested the M2 while building a kitchen work table for my mother. This involved running a router in a planing sled for flattening a 1.75″ thick ash slab cut from a tree that formerly stood on our property, sizing the slab using a track saw, and sanding the cut edges and cleaning up the surface of the slab using a random orbit sander, a belt sander, and hand sanding blocks. I also cut and sanded commercially prepared dimensional ash lumber to build a craftsman-style table base. For those of you unfamiliar with ash, it is a very hard and dense wood (it is one of the traditional woods used for MLB bats) and produces fine, hard shavings and dust. It is not as bad (or as hazardous) as cypress or teak, but the dust is very irritating when inhaled.
The RZMask M2 did a very good job of keeping particulates out of my airways. The one-way valves on the front of the mask allowed me to breathe freely and ensured that my safety glasses didn't fog up. It was much more comfortable than the other masks that I have tried. These factors coupled with the reasonable price and easy availability of replacement filters would seem to tick off all of my requirements. Unfortunately, the incompatibility between my choice of glasses and the M2 mean it isn't particulate mask nirvana for me.
What I like
Easy to put on
Replaceable filters
One ways valves to reduce eyewear fogging
What needs to be improved
Mask is not compatible with all types of glasses / goggles
The sizing guidelines need to include an illustration showing exactly where on your face to measure for size
Final thoughts
The RZMask M2 Mesh air filtration mask does a very good job as filtering particulates from the air and does keep your glasses / goggles from fogging up. Unfortunately, it does not tick off all of my boxes because of the style of prescription eye glasses that I wear. I am not able to comfortably wear my glasses and see out of them properly while wearing the mask. That said, it is a very good mask, and I do intend to keep using mine with non-prescription safety glasses for close up work.
If you don't wear the same style of eyeglasses that I do, give RZMasks a try.
Price: $34.95
Where to buy: RZMask and Amazon
Source: The sample of this product was purchased with personal funds.