We use affiliate links. If you buy something through the links on this page, we may earn a commission at no cost to you. Learn more.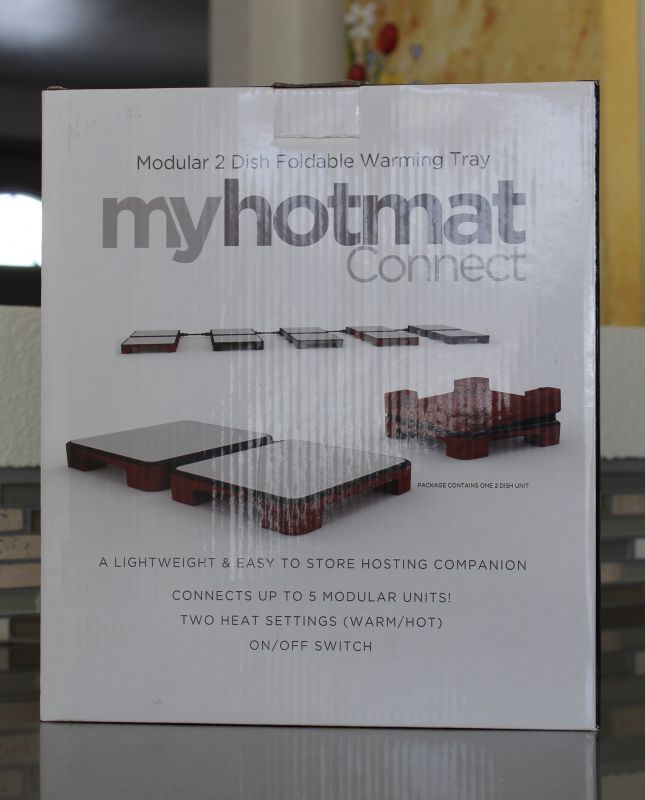 REVIEW – Often when we have dinner guests over, we get lost in conversation and when someone goes back for seconds on a dish, our food is unpleasantly cold. Or we have a party and the queso dip either turns into an inedible block of resolidified processed cheese or gets overheated or burnt in the crock pot from inattention. Given the opportunity to review the MyHotMat Connect warming tray, I hoped to find a solution to these problems.
What is it?
MyHotMat Connect is a dual plate modular warming tray, with the two plates connected by flexible silicon to allow it to be folded over for easy storage. It provides a "Warm" and "Hot" heating level.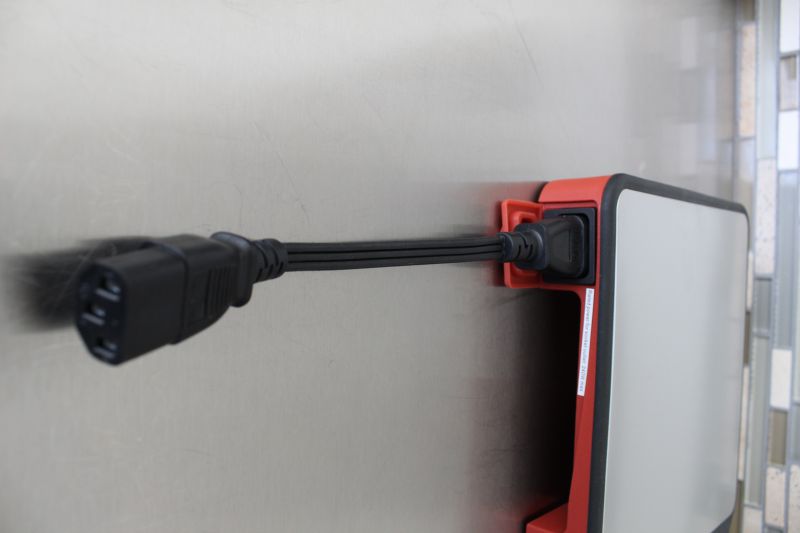 Additionally, each unit has a power port and cord (above) that allows up to 5 total units to be connected together for a total of 10 warming plates.
What's in the box?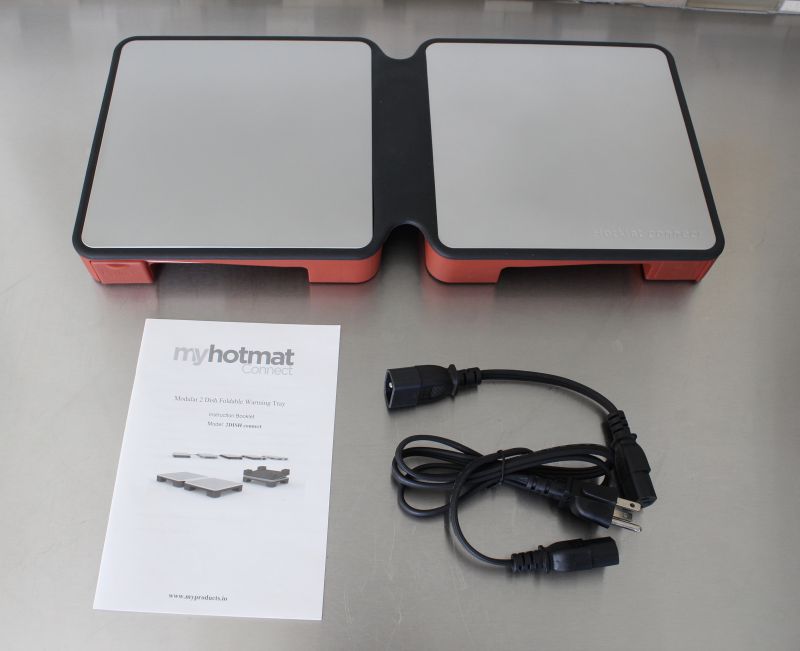 Two Plate Heating Unit
Power Cord
Connection Cord (for connecting to additional units)
Instruction Manual
Controls
There is one control mechanism on this unit, a toggle switch with three settings: WARM (I), OFF (O) and HOT (II).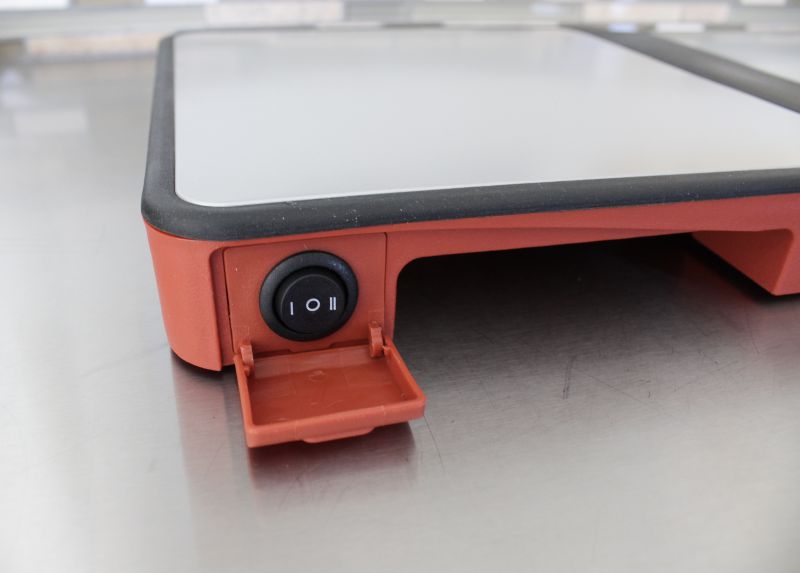 Design and features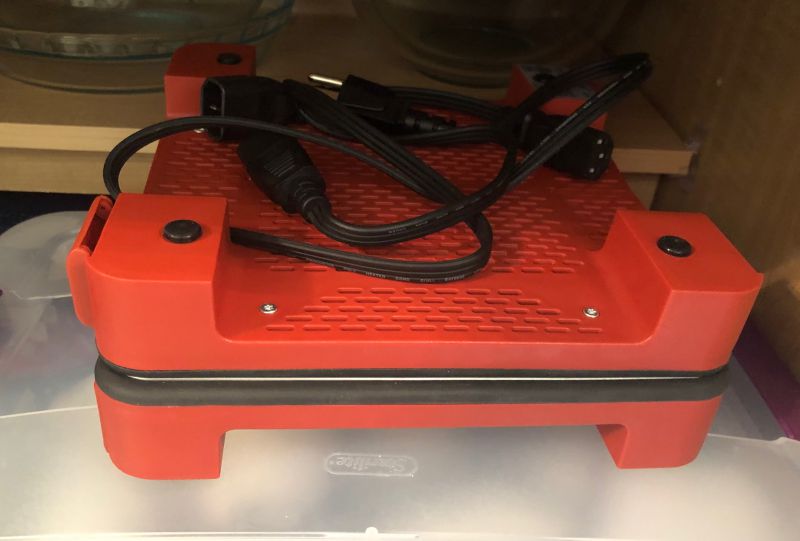 As you can see, it folds over compactly for storage, while folded it has a footprint of 9.8" x 9" x 4.1" and when unfolded for use it is 19.2" x 9" x 1.57". It is available in red and gray for the plastic molding, while the heating plates have a stainless steel finish. For use, the trays take approximately 20 minutes to warm up, so you'll need to think ahead a bit.
Per the project specifications, the unit can be used for up to 72 hours, they do not recommend use beyond that time frame. I was interested to read that this product had been tested and approved to be used during the observance of Shabbat, as I have a Jewish neighbor who observes it and could use a product like this. The HOT setting can reach 302 degrees F while the WARM setting reaches 212 degrees F. Care will need to be taken to keep pets and children from burning themselves on these units. An LED light illuminates the setting once turned on.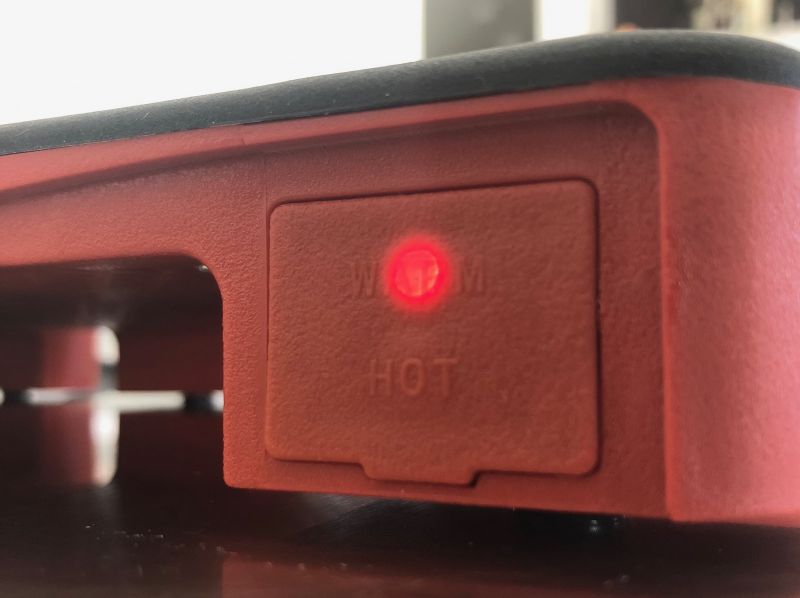 The HOT setting is recommended for soups, sauces and casseroles while the WARM setting is recommended for roasted, broiled or sautéed dishes and dry, baked goods. Additionally, when multiple units are connected, each unit can be set to its own setting. Finally, any glass, ceramic, stainless steel and aluminum containers, pots or pans can be safely placed on the warming plate surfaces.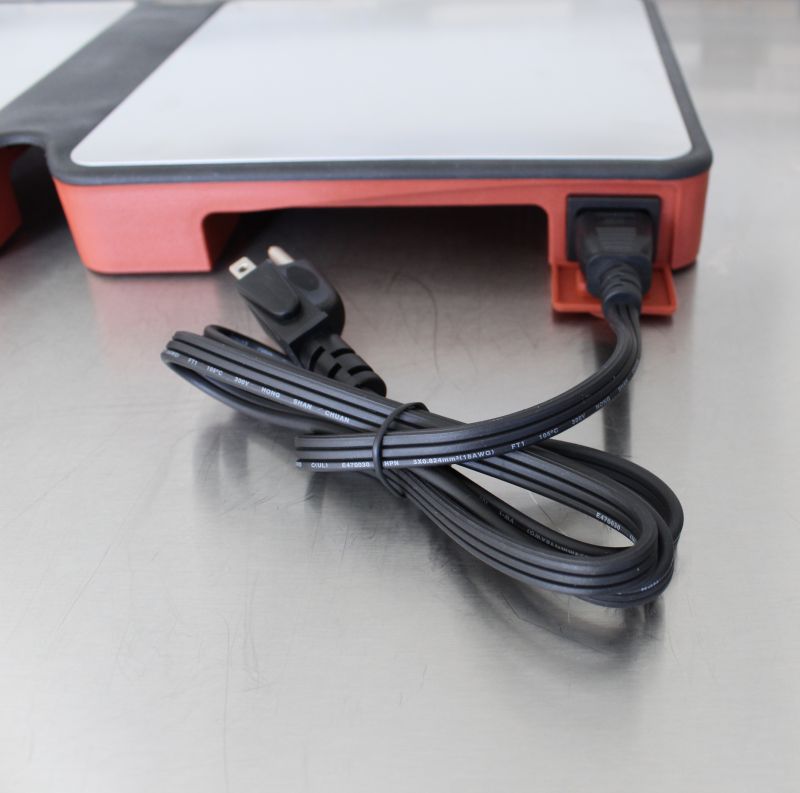 For purposes of testing out this product, I had some friends over for a board game night and made a couple of dishes to use on the warming tray. First was a queso (velveta cheese block and rotel tomatoes) and the second was a bean dip. While preparing the food, I set the tray to HOT and let them warm up. Once ready, I moved the pot of queso straight from the stove top to the warming tray. For the bean dip, I took an oven-safe serving bowl we had and simply dumped the bean dip into the bowl and placed it on the other warming tray. Throughout the evening, my 4 friends and I made multiple trips to the trays to refill our plates. The queso stayed hot, liquefied and showed no signs of burning or curdling that I'm accustomed to when using a crock pot to keep it warm. The bean dip did start to dry out a bit as it got low, but that's expected. The great part of the bean dip part, was that the bowl never got too hot to handle yet the bean dip stayed edible the whole time. A simple stirring of each dish from time to time kept them fresh and warm. Queso is kind of the ultimate test for me personally, as it can be a bit finicky – either burning, resolidifying or curdling if not kept at the right temperature. This warming tray delivered as promised.
What I like
Very simple controls
Storage is easy with the folding silicone connection
Being able to add multiple units for bigger parties/events
The color and design are sharp, fits into a modern kitchen very well
Worked very well at keeping our food hot
What needs to be improved
20 minute heating time can be a problem if you don't remember to turn it on early.
Cord management: there are two removable cords and if you're like me, you could end up losing one or another, maybe have a snap lock tie under one of the units to help store the cords when not in use.
Price may be a bit of a deterrent.
Final thoughts
I anticipate using this warming tray very often, and may have to add a couple more to our kitchen for holiday celebrations that will require multiple casseroles and other hot dishes. The tray is very easy to use, has very simple controls and meets the expectations of the design. It is aesthetically pleasing as well for those who consider that an important part of their food presentation. Once it cools, it's easily folded up and put away. I really had to struggle to find a way to improve this product, all of which don't detract from the utility of the product. Overall, I consider it a great product and a signification improvement over other warming trays, crock pots and heated containers I've used to try and keep meals and snacks warm.
Price: $79.99
Where to buy: You can pick up the MyHotMat Connection on Amazon or on the manufacturer website.
Source: The sample of this product was provided by MyHotMat. You can find out more about their product on their website.