We use affiliate links. If you buy something through the links on this page, we may earn a commission at no cost to you. Learn more.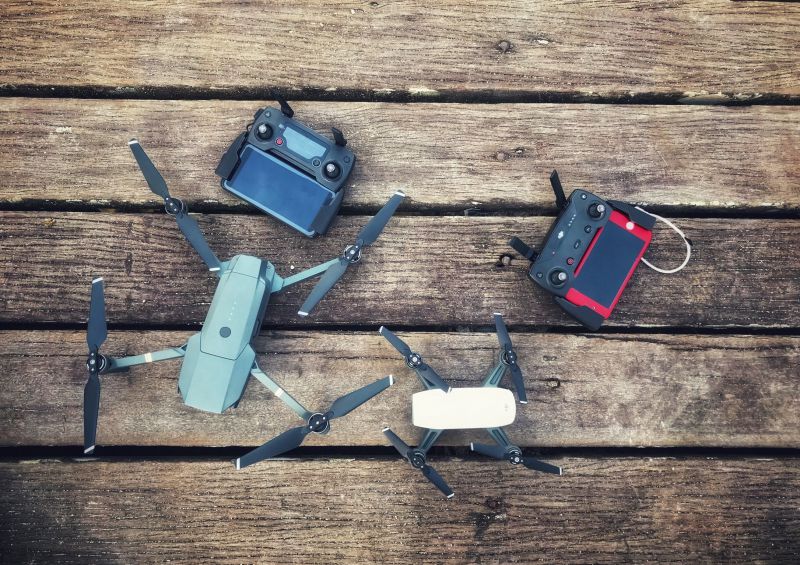 ARTICLE – Consumers arguably became most familiar with drones by getting introduced to the ones that took photos from the sky. Those kinds are still popular, and many drone enthusiasts own them.
But, like any other segment, the drone industry evolves to meet needs. Here are five kinds of drones most likely to gain prominence in 2019.
1. Pocket-Sized/Microdrones
Although there are drones of modest builds that make them maximally accessible to hobbyists, there's a recent push toward drones that could fit in backpacks or even smaller compartments.
AirSelfie unveiled several new pocket-sized drones at CES 2019, opening up the possibilities for people who want drones they can hold in their hands. The AIR 100 is the least expensive option, retailing for under $100. It boasts a 12-megapixel camera and a six-minute flight time.
The U.S. Army is also getting into the microdrone market with plans to equip its soldiers with personal reconnaissance drones that can survey battlefields for their operators and send back footage to them. The drones weigh only 1.16 ounces and are less than seven inches long.
People could see many more uses for microdrones in 2019, especially depending on the reception of these early efforts. It's easy to see how these gadgets could be big hits during backyard parties.
2. Home Security Drones
Households are accustomed to intelligent security cameras that move in response to changes in the environment and even use artificial intelligence to recognize people versus animals, for example. It appears the next level of home security advancements involves drones. Many of the companies offering them suggest that drones get used as part of a more extensive home security system.
If a person noticed something on a camera that caused concern, they could direct the drone to check it out in detail. Sunflower Labs has a drone called a Bee that flies autonomously, guided by sensors called Sunflowers. Users can also make the Bee fly to designated places on their properties.
Companies use most of the security drones now, but Sunflower Labs is among numerous companies trying to make drones staples of home security systems. They could be especially advantageous for people who live on expansive properties, such as farms. The moveable nature of drones could mean an owner could send only one drone to look around the whole property, instead of installing several cameras.
3. Underwater Drones
Thanks to new technologies, people can admire drones in the air as well as underwater. Companies sell models for hobbyists and professionals, with one called the Deep Trekker DTG2 Pro outfitted with 4K camera and video capabilities at a depth of up to 150 meters. Those features make the drone excellent for scuba divers who want footage of their adventures.
And, there's the Geneinno Titan, with its three speed levels and power from six thrusters. This model has an automatic hover mode and can take shots from both high and low angles.
In today's society, people love collecting videos and snapshots and sharing them with others. The nice thing about these water-ready drones is that they give undersea perspectives to individuals on land.
4. Disaster Recovery/Relief Drones
Engineering experts in laboratory settings have suggested drones could be excellent for helping relief workers examine rubble after earthquakes and engage in similar tasks that are dangerous for humans to undertake. In 2019, people interested in drones can expect more real-life applications of those drones.
A recent collaborative project in Japan involved TerraDrone, KDDI, and Secom, and the companies unveiled a drone used for stadium security that detects suspicious people. Representatives believe the drone could be a good fit for disaster relief missions, too.
Also, the underwater drones mentioned above help people acquire footage of surroundings beneath the ocean. But, some could do double duty and assist after disasters, too. In one case, officials in India used a drone to find the body of a miner trapped due to flooding.
That story didn't have an uplifting outcome, but an initiative in Alaska that relies on drones could be different. Drone experts at the University of Alaska Fairbanks are working on a way to use unmanned aerial vehicles to deliver supplies during medical emergencies. The researchers assert mushers on dog sleds handled the job in earlier eras, and now the task seems suitable for drones.
Many Drones to Interest Gadget Lovers in 2019
Some of these drone projects are in the early stages, but they give previews of larger trends likely to happen in the world of drones this year.
People should keep an eye on the headlines to stay abreast with how these possibilities develop, and which other companies follow suit with other ideas that fit into these categories.