We use affiliate links. If you buy something through the links on this page, we may earn a commission at no cost to you. Learn more.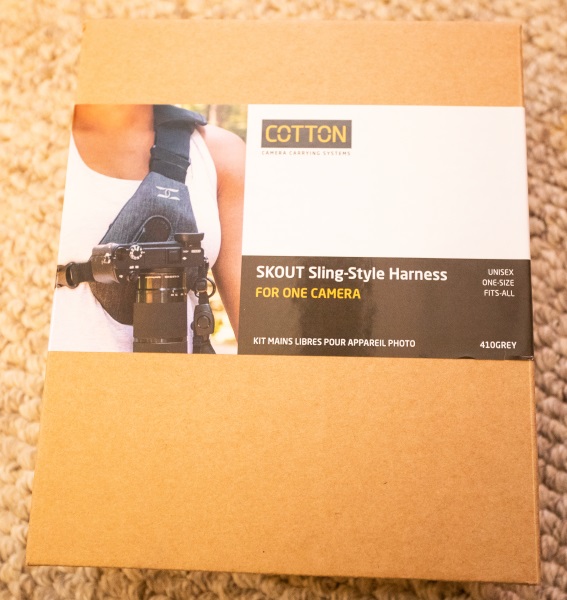 REVIEW – As a photographer, I am always looking for easy ways to carry a camera and have it at the ready, while reducing the stress of carrying it and while keeping my hands as free as possible, The Skout Sling Style Harness seems as if it can be a good fit for moving around while having access to my camera.
What is it?
The Cotton Carrier Skout Sling Style Harness is a camera harness that straps around your shoulder and upper chest and allows you to clip your camera to it in a secure but easily accessible way.
What's in the box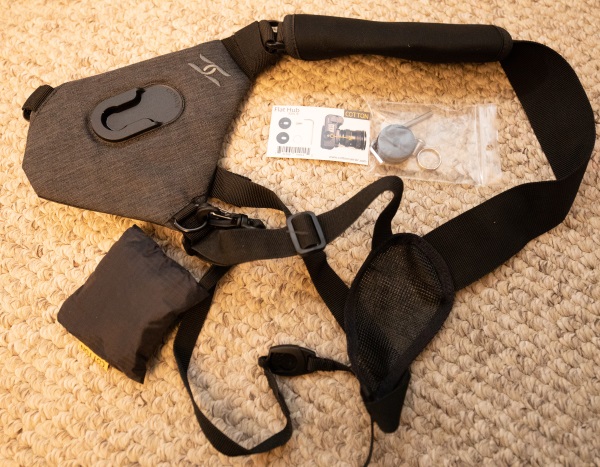 1 x Skout Sling Style harness
1 x Camera Weather Cover
1 x Aluminum Hub, Spacer, Attachment Screw, and Allen Key
1 x Informational Leaflet
Design and features
The sling harness is made up of a padded cotton pad that includes the aluminum hub receptacle to hold the camera and web straps that go over your shoulder and around your chest.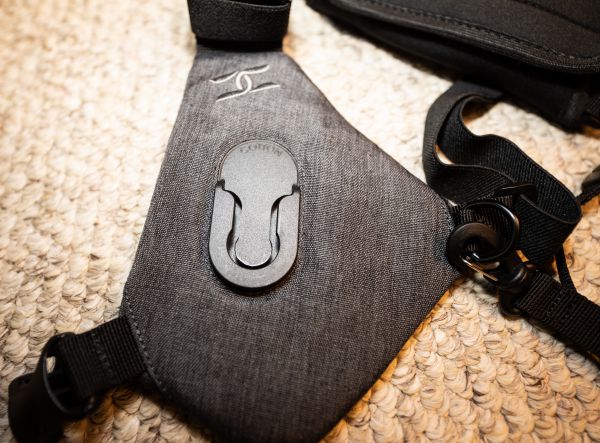 On the back of the padded section, there is a zippered pouch where you can store small and flat accessories.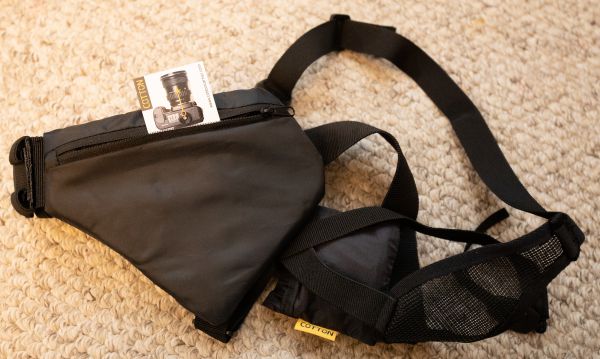 The buckles and clasps are made of ABS plastic so they are very strong and should hold the expected weight of a camera and lens without issue.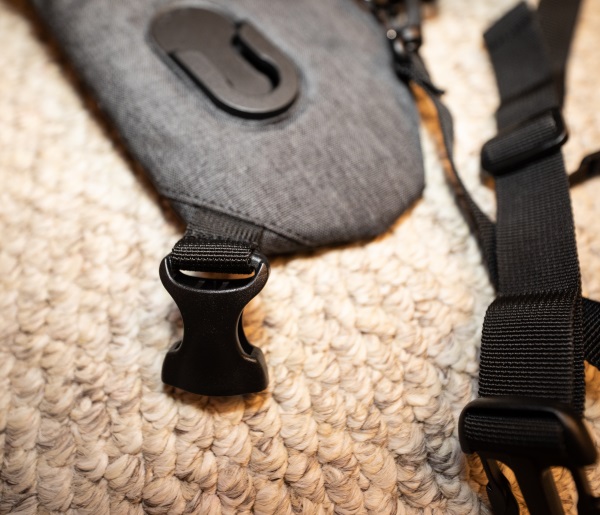 There is a camera weather cover that is included to cover your camera and lens. The size of my camera and lens seems to put both the cover and my camera and lens under some stress, so below I show the manufacturer's picture of how it is supposed to work.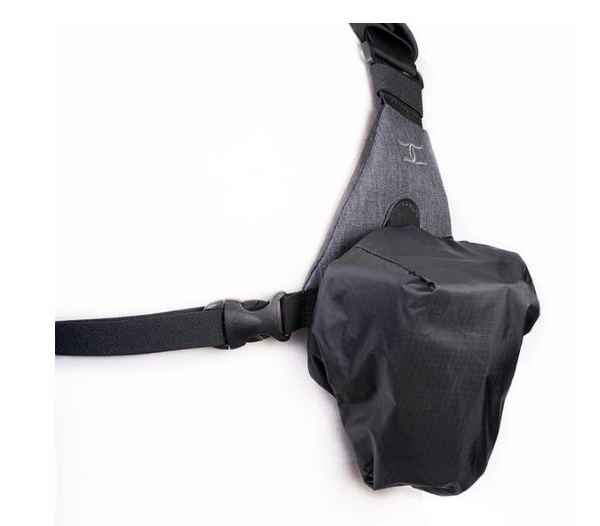 Performance
The Cotton Carrier Sling Harness is very easy to put on and very easy to adjust. Once the aluminum hub is attached to the bottom of the camera, it is ready to be clipped onto the harness.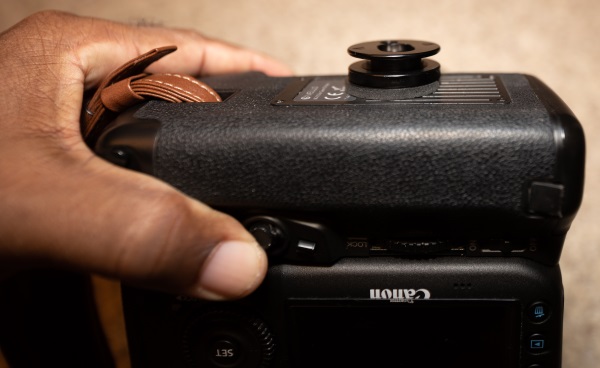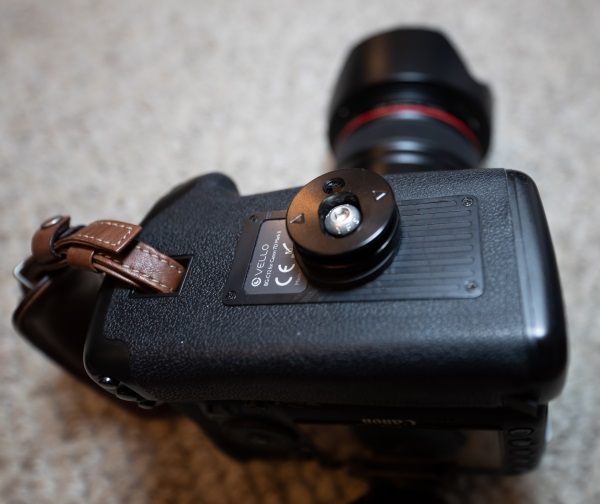 After adjusting the harness as much as it allowed, it was still too slack for the body frame of my model. The pictures below show that most comfortable position that she was able to find. It also shows how awkward a fit it is with a large professional DSLR camera and especially so if the camera includes the extended grip. Since this is her usual camera setup, it was important to try it this way.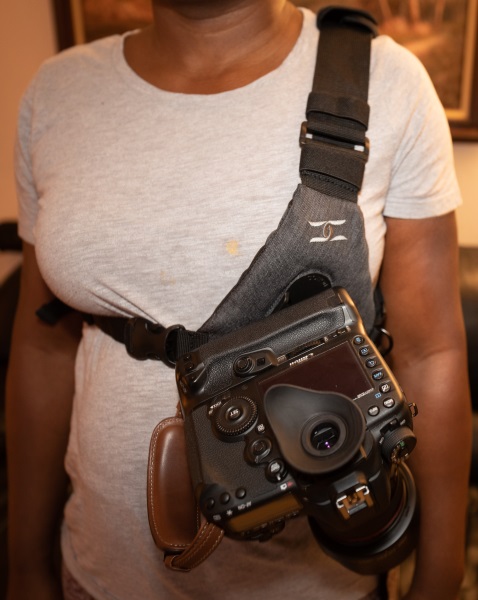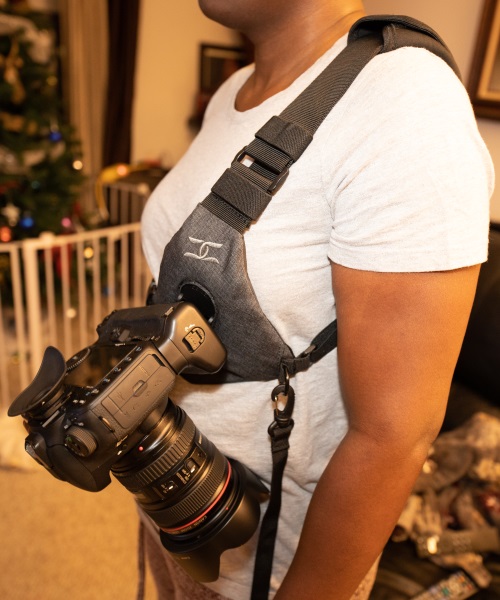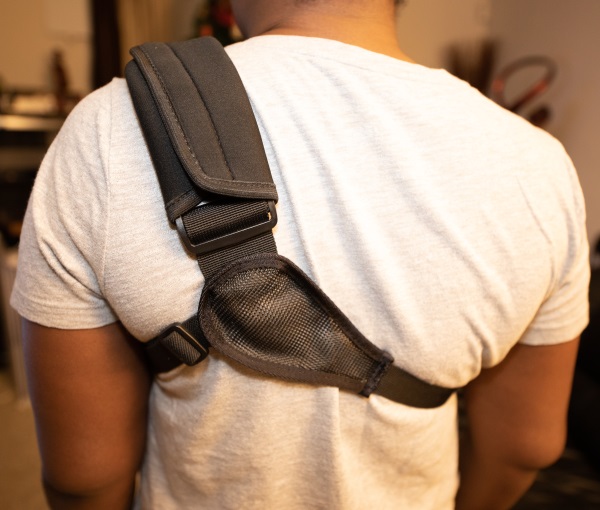 As you can see in the pictures above, attaching the larger professional DSLR made the fit a bit cumbersome. Even at the maximum adjustment of the over-the shoulder-section, it was still too long for my model's comfort. While she did indicate that the position shown above proved to be the most comfortable for carrying that size of camera and lens, it did not feel comfortable enough for her to walk around with for an extended period of time. I do suspect that it would prove to be much more comfortable with a smaller DSLR or a mirrorless camera. It is very easy to remove the camera from the harness with a simple 45-degree turn and then pulling upwards.
What I like
The construction of the carrier
The concept and design of the carrier
What can be improved
Design improvements that would accommodate larger professional cameras
Multiple sizes or more adjustment to allow for a better fit for more body types
Final thoughts
I actually like the construction of this camera sling harness, and for a person with a larger frame than my model, it would fit much better. I did try it on myself, and while it fits ok, it did feel awkward once I added my large DSLR. The pictures on the company's website show that the carrier should be worn with the mounting pad closer to the middle of the chest, but neither the model nor I found it to be more comfortable in that position especially with the large camera and lens. Since I do not own a smaller DSLR, I have not been able to try it with the smaller camera body, but I do intend to do so when I can get my hands on one. For many people with regular consumer DSLR or mirrorless cameras, this harness will work well and will allow them to move around freely while having instant access to their camera.
Price: $79.00
Where to buy: Cotton Carrier and Amazon.
Source: The sample for this review was provided by Cotton Carrier