We use affiliate links. If you buy something through the links on this page, we may earn a commission at no cost to you. Learn more.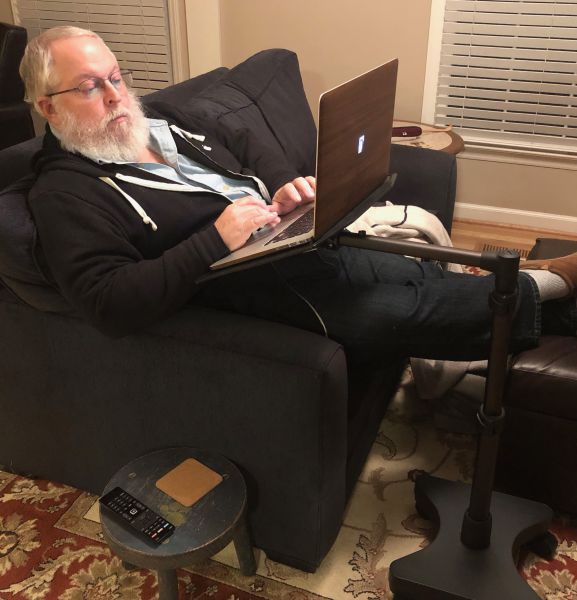 REVIEW – Mobile devices are great, in that they can be moved from place to place with little effort, and real work can be done virtually anywhere. But if you want to sit in a place where you don't have a "desk" for a while, but need your laptop, or a tablet or even a large book, the Levo Rolling Laptop Workstation may be what you're needing. I've been using one for a month or so and found some interesting things I'd like to share.
Note: Photos may be tapped or clicked for a larger image.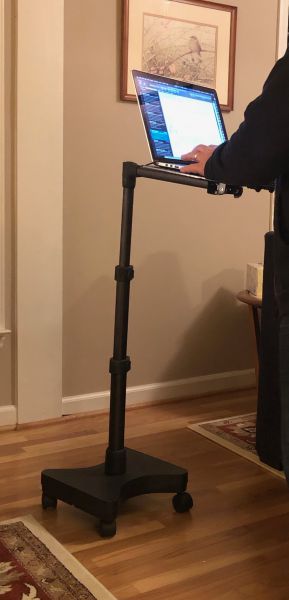 What is it?
The Levo Rolling Laptop Workstation (RLW) is a weighted rolling base with a single vertical telescoping pole, topped by a single arm mounted at a right angle to the pole. This supports a 16.5" x 12.25" work surface that can be almost infinitely adjusted to hold what you need to be held. The main pole ranges from 23" to 41" from the floor. The base is in an hourglass shape, which helps it to get close to you in various chairs and tables.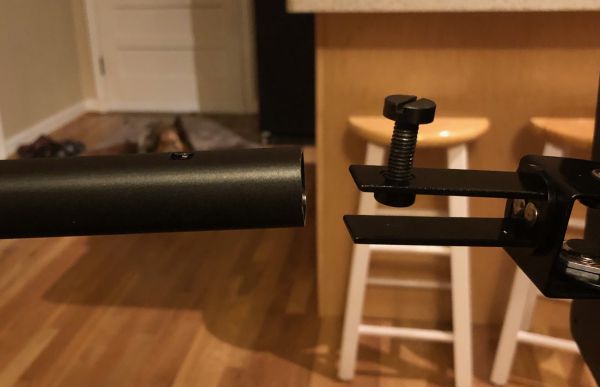 What's in the box?
Workstation, in pieces. Easy assembly takes less than ten minutes.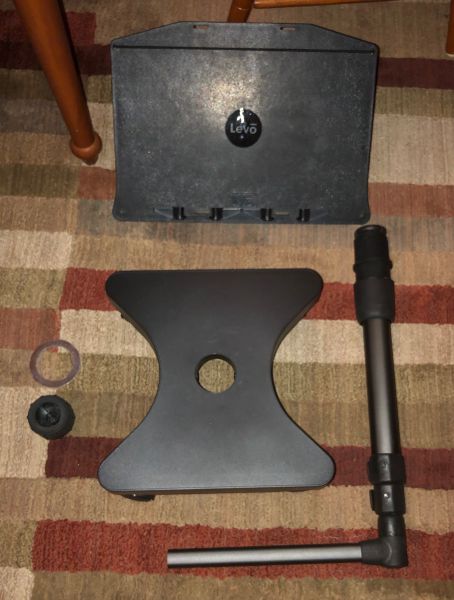 Design and features
The RLW is a compact, well-designed piece of kit. The three sections of the main pole are adjusted with two friction clamps that open and close with ease using custom clamps that have 1.5" finger locks. You're not going to be breaking nails or looking for screwdrivers to pry them open, and they are going to stay where you clamp them. The 13" horizontal arm terminates in a three-piece U-joint that lets you adjust the angle of the center-mounted work surface to almost any position. For safety, the side-to-side tilt motion has a lock that only allows about 15º from either side of true horizontal.
The work surface itself is made from a hard plastic with a pebbly texture. Across the top, there is a thick woven elastic cord that can be used to hold your device in place. I found it perfect for my 15" MacBook Pro, as well as the cases of my iPads. (Note the safety cord holding my 10.5″ iPad Pro below.) With this in place, I never worried they would slide off when I wasn't right there paying attention.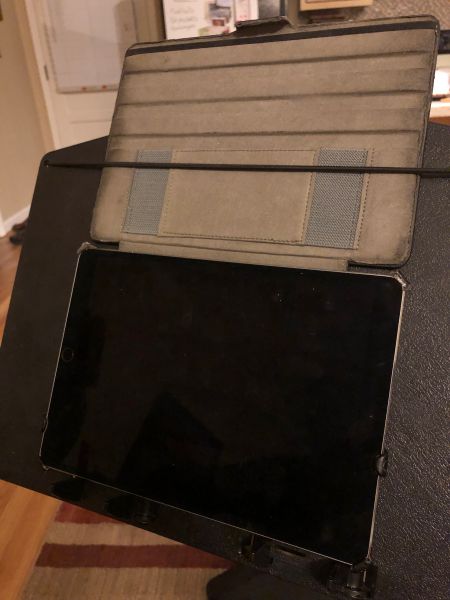 In addition to the elastic band, there are 4 flip-up "fingers" across the bottom of the workspace. They can be clicked up halfway or at a full right angle from the surface. These let the user have items on the surface that might otherwise fall off – pencils, rulers, or smaller digital devices. With the fingers only, all my devices will stay on, but I'm more worried than when they are held with the elastic as well. But if I want to just sit my iPhone there, for instance, I don't have to worry about it sliding off, if the fingers are deployed. I did find them to get in the way when typing on an iPad onscreen keyboard or a MacBook, however.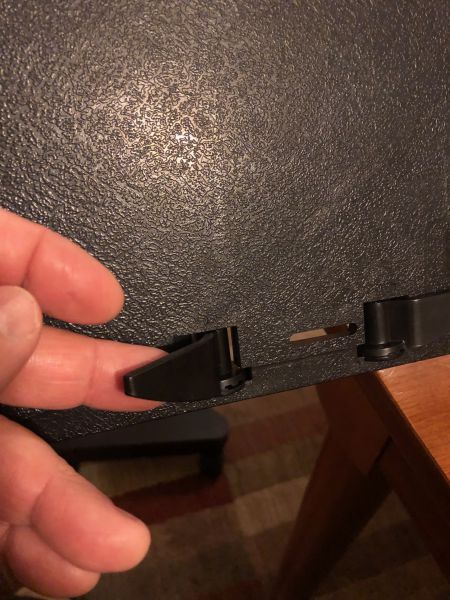 In addition to being good for digital devices, the RLW has a Book Kit available, which consists of two hook-and-loop straps that secure the book to the stand, and two page holders, which allow the reader to quickly turn pages but keep them from flipping back or forward. One of the slots for the straps can be seen in the photo above between the flip-up fingers.
What I Like
Non-fiddly. You set it to the height and angle, and go.
Flip-out fingers and elastic loop are strong enough but easy to deploy/stow.
What needs to be improved
Short arm means base needs to be close. This is sometimes difficult.
When extended a good bit, it tends to lean or bow a bit.

Final thoughts
Sometimes, you just want to work from someplace different. It may be the kitchen table or counter, the sunroom, or the deck. You may have a table there, or not, but you need to have your technology for working near at hand. Or, in an office setting, you may have to wander around a large area, checking on patients, wiring closets, or classrooms, while needing your equipment at each stop. In these instances, a light, portable, yet functional stand can help. The RLW can handle any size laptop you throw at it and will adjust from standing to squatting with just a flip of the clamp. With the safety tether, you're not going to have your laptop slide off, either. At $180, it's a tad on the pricey side of what I'd want for a quick-and-dirty home solution, but the build quality and materials are there to last quite a while, even in a corporate environment, and I've seen "name-brand" stands cost far more.
Price: $179.99
Where to buy: Levo Store
Source: The sample of this product was provided by Levo.