We use affiliate links. If you buy something through the links on this page, we may earn a commission at no cost to you. Learn more.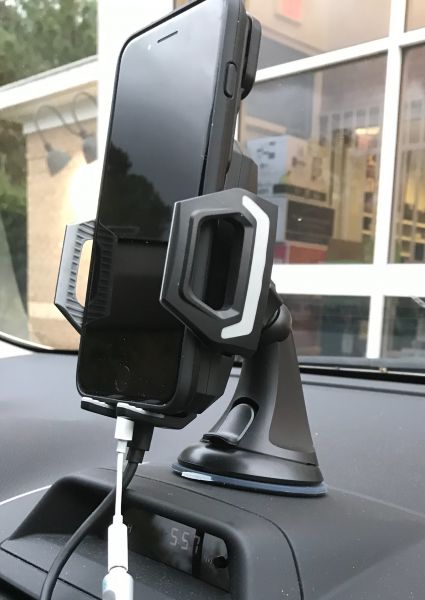 REVIEW – As the market for wireless (primarily Qi-compatible) chargers heats up, I'm starting to enjoy the benefits of this technology. I was sent a different brand wireless car charger a good while back, but am always interested in testing the approach other makers use. I was recently sent two items from Choetech: their desk USB-C wireless charger, and their car dash model with the suction cup. (They also make a car model with a vent clip.) I've added them to my life, and am ready to report!
Note: Photos may be tapped or clicked for a larger image.
CHOETECH Desk Charger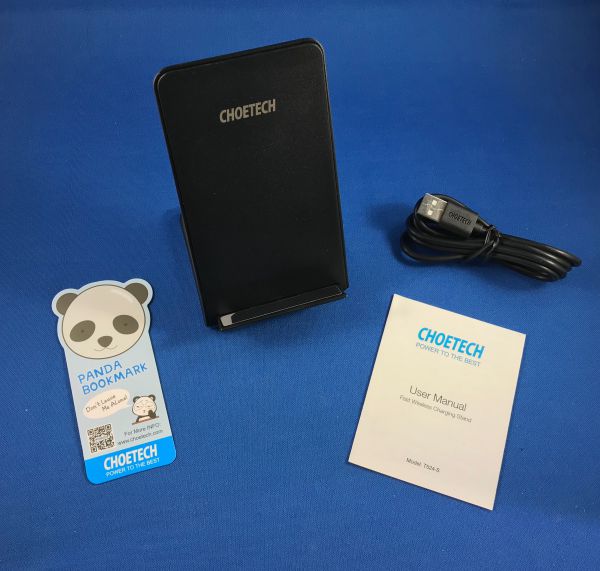 What is it?
The first item is the wireless charging stand. This has a USB-C connection and has nothing but the bottom rail to hold your phone up. I put it on my desk, and it's been nothing short of fantastic. Before when I would plug my phone in mid-day to get the charge topped off, I would have to find a good place to put it. Amid the soda can, coffee cup, and my usual desk items, there wasn't really a good place for it to sit. But this stand not only gives it a reserved seat, but it also doesn't require two hands to put down or pick up. And I don't have to worry about it getting charged up too quickly because the stand and the phone discuss safe charging practices.
Hardware specs
Intelligently identify charge models – fast wireless charge up to 10W for the Samsung Galaxy S9, S9 Plus, S8, S8 Plus, Note 9, Note 8, S7, S7 edge, S6 edge+, 7.5W wireless charging for iPhone x/ XS/ XS Max/ XR/ 8/ 8 Plus ( QC2.0/3.0 adapter needed for fast charge) and 5W standard wireless charge for All Qi-enabled phones.
High-efficiency charging stand – built-in 2 coils fast wireless charger stand allows to charge cell phones vertically or horizontally and provide you with a more flexible choice for reading, listening to music, watching a video or work sessions.
Case friendly design – our wireless charger can identify your phone sensitive and support phone case within 5mm(0.2 inch) while 4mm(0.16 inch) is the best wireless charging distance (please Note that metal attachments or credit cards will interfere with charging ).
Sleep-friendly&safe protection – built-in intelligent indicator shows you charging status, extremely soft Green LED light for well sleeping without distraction during sleeping at night, multi-protection system for all-around protection against over-charging, over-voltage, over temperature and over-current, provide a safe charge to protect your devices.

What's in the box?
1 x CHOETECH Fast wireless charger stand
1 x 3.3ft USB-C cable
1 x user manual
18-month warranty card

Design and features
The desk stand is a single angle (about 30° from vertical) that has a grooved shelf along the entire width to place the phone in. This allows me to glance at it when notifications come in and easily read it from my position behind the computer keyboard. Since I'm using an iPhone 8 Plus, I don't have FaceID, so I have to touch it to actually turn the screen on (like an animal!). There is a subtle (in office lighting) green LED that is under the shelf the phone sits in, which does not turn off when charging is done. I think this has something to do with Power Delivery, but I have a simple cable that has such an indicator in it, and it turns off power and the LED when the charge is at 100% on my iOS devices. Not sure why Cloetech has the "remove from the charger when charged" warning for iPhones. This LED would probably make for an irritating bedside table unit. (According to the manufacturer, the light goes out when Android phones are fully charged. Go figure.)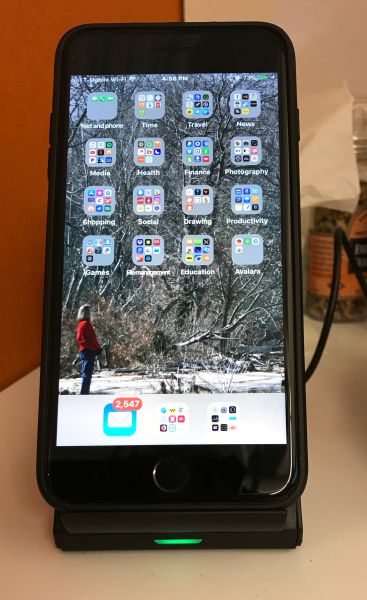 CHOETECH Wireless Car Charger
What is it?
The second item I was sent was the "CHOETECH Wireless Car Charger, USB Type C 7.5W Wireless Car Charging Mount Stand Compatible with iPhone XS Max XR X 8 Plus, 10W Fast Wireless Charging Samsung Galaxy S9/Note 9, 5W for All Qi Enabled." (Just rolls off the tongue, doesn't it?) As the name says, this is a stand-type charger for modern Qi-enabled phones. It has a suction cup which affixes to a smooth surface, and your phone is held tightly by side rails.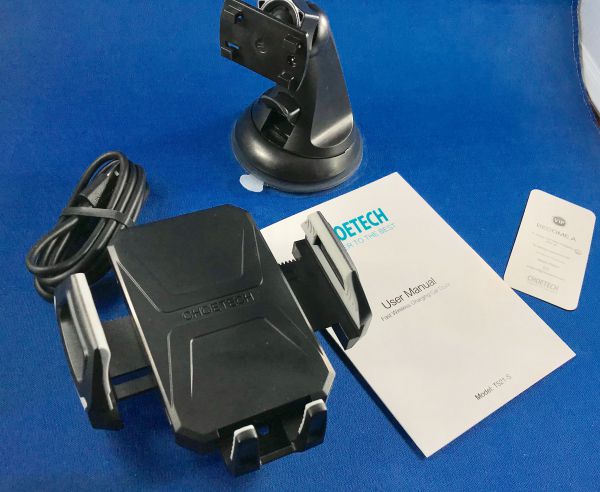 What's in the box?
Cradle
Stand
USB-A to USB-C cable
User Manual and warranty card

Design and features
This unit consists of a cradle that connects to a stand via a 4-point keyhole friction lock. The tabs on the lock are mounted to a piece with a ball-joint connection to a mounting stand. This ball joint has full rotation through 360º and tilt/yaw through probably 100º. It's easy to move yet tightens with a thumbscrew and hold position well. The clutch for the ball joint is on a right angle shaped piece that has a 3" suction cup at the other end. The suction cup is silicone and uses micro-suction to enhance the hold. It also has a lever-activated vacuum enhancement. Due to the 360º rotation, you can easily mount it to the dash or the windscreen and it will stay through rough roads, weather, and all manner of bumps and knocks.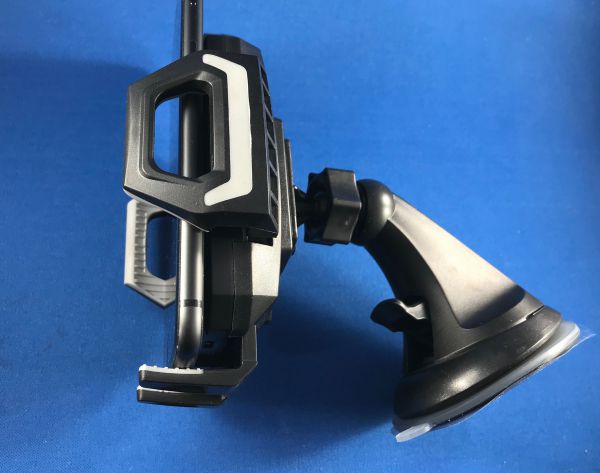 The rear of the cradle has two buttons – one at the top that actuated the side rails, and another at the bottom that releases the bottom spring-loaded rail that adjusts the lower wide of your phone. This lets you tune it to the sweet spot for charging. I found touching the top button releases the side rails just barely, which allows the phone to be removed one-handed. (Well, once I unplugged in the audio cable. I don't have a BlueTooth infotainment system yet – but the holidays are coming, right?)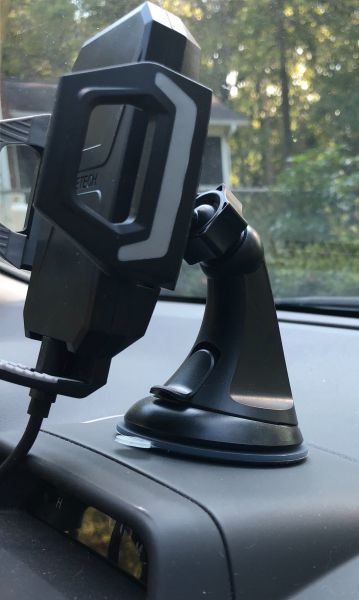 Performance
I found both the car and desk units keep my phone topped up with very little effort on my part. It's good to have a consistent spot to place my phone at my desk, and it allows me to keep it between the 20%-80% recommended charge easily.
What I Like
USB-C connection
Light indicates active charging
Holds unit solidly to avoid losing connection during charging.
What needs to be improved
The car charger is a bit bulky.
The desk charger should have a way to turn off or cover the charging light.
Final thoughts
Wireless charging is fairly new to Apple product users. It was first introduced with the iPhone 7, which for me was an off year. I had bought the iPhone 6s less than a year before it was released and was very happy with it – and the thought of doing without a headphone port was scary back then. (Still is aggravating, but I understand the tradeoffs and don't have the animosity some of my friends still bear.) So the 8 Plus that I've had for the past year is my first and only item with Qi. Recently, my Lovely Bride left her iPhone 6 on the roof of her car as she left the parking garage. Needless to say, it needed to be replaced when she finally recovered it after several cars ran over it. So her iPhone 8 is another unit using wireless charging. It's time to get serious. I even invested in a wireless unit for her bedside table. These units from Choetech are not that much more expensive, but with USB-C and PD, they are going to last longer and do a better job than the low-cost knock-offs.
Price: Desk stand – $16.99, Car stand – $26.99,
Where to buy: Stand at Amazon – Car Cradle at Amazon
Source: The samples of this product were provided by Choetech.