We use affiliate links. If you buy something through the links on this page, we may earn a commission at no cost to you. Learn more.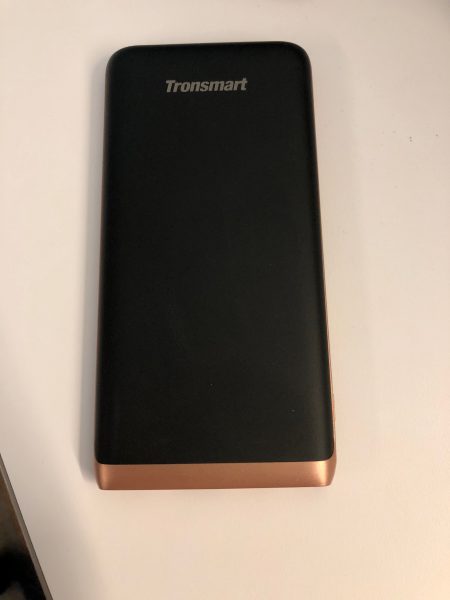 REVIEW – By now, everyone in the world who uses technology daily has at least one power bank. Those little portable chargers that can top up your phone or iPad while away from the grid have saved everyone's bacon at some point, I'm sure. Now, the move to USB3 is taking hold, and phones, laptops, and all manner of devices are starting to be powered by this new spec. Tronsmart has answered the call with a 10,000 mAh slimline power bank they named the Trim, for obvious reasons) that not only includes the new port for both input and output, but also preserves the output for good ole USB-2. I was sent one to test and am ready, as ever, to report my findings.
Note: Photos may be tapped or clicked for a larger image.

What is it?
The Tronsmart Trim 10,000 mAh power bank is smaller than most modern smartphones. It is about the same weight, at 6.8 ounces, and can easily hide in a pocket, purse, or backpack and you'll never know it's there – until you need it.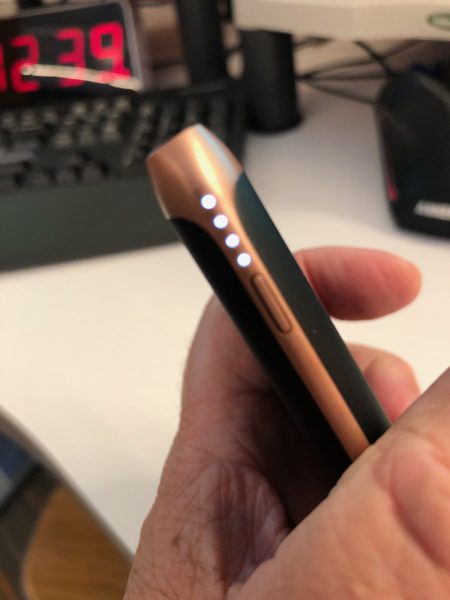 Hardware specs
(from Tronsmart website)
Model – Trim PBD01
Technology – PD (Power Delivery 3.0), VoltiQ, Quick Charge 3.0, compatible with Huawei FCP technology
Capacity – 10000mAh
Material – Anodized aluminum + plastic frame
Ports – 3 Ports: USB Type-C, USB-A, MicroUSB
Power – 18W Total Output
Input – Micro USB: 5V/2A, 9V/2A; USB-C (PD): 5V/2A, 9V/2A
Output – (USB) USB-C (PD3.0): 5V/3A, 9V/2A, 12V/1.5A; USB-A: 5-6V/3.0A, 6-9V/2.0A, 9-12V/1.5A
Certifications – FCC, CE, RoHS
Dimension – 5.62 x 2.75 x 0.46 in (143 x 70 x 11.8 mm)
Net Weight – 194.3g / 6.85oz
What's in the box?
Power Bank
8" USB-A to microUSB cord/lanyard
Instruction sheet

Design and features
The thin, sleek Tronsmart Trim is a departure from most 10,000 mAh battery packs. Most are much thicker, heavier, and clunkier. This svelte unit rivals most phones or other handheld devices for style and build quality. The subtle 4-LED gas gauge tells you how much juice remains. There's a place to add a tethered leash, if you like. (The included short USB-A to microUSB cable doubles as such a leash. I like these short minimal cables that have started appearing. If I'm not having to plug into a wall outlet 4 seats way at an airport gate, I really don't want a 10 meter cable to deal with. I just need a few inches to connect to the phone or iPad I'm holding in my hand while it charges.)
In addition to the USB3 input and output, there is a microUSB input port and a USB2 output. The matte black rubberized case has a copper/rose gold band around all edges, as well as a full metal front where the ports are.
The Trim is very easy to take along, and simple to deploy. It charged both my iPads (12.9 and 10.5 pros) as well as my iPhone 8 Plus without issues. I didn't run any long-term tests of trying to run anything down and seeing how quickly it came back using just this powerbank, but I did find that the power bank will hold a full charge for a good while (weeks) without losing any stored power, and this can bring up anything from your drone batteries, your watch, or your phone quickly. If you're going to be away from grid power, or just moving around from place-to-place, you're going to find it will serve you well, and with the USB3 I/O, will be useful for a good while to come.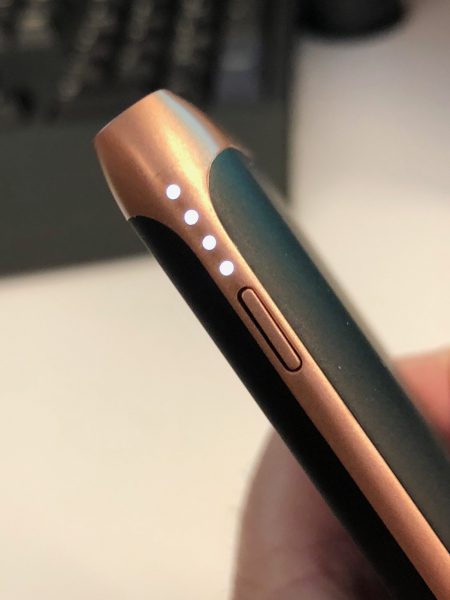 What I Like
Small footprint
Multiple output options
Good capacity/size ratio
What needs to be improved
I can't think of anything.

Final thoughts
Battery packs are a fact of life for Gadgeteers. We constantly have something that needs charging or at least topping off, since we use portable gadgets all the time. This slim, yet large capacity charger adds to the mix by having a USB-C option, both for charging and to connect to your devices. Adding in the slim form factor and modern styling, and it's an easy must-have for anyone looking for a power bank for personal use or as a gift.
Price: $25.99
Where to buy: Amazon
Source: The sample of this product was provided by Tronsmart.